Supercross SpinDrive Cassette Hubs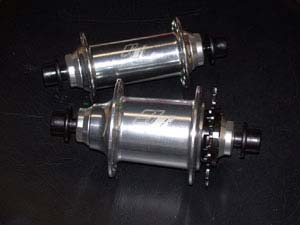 Think about high end cassette hubs and 9 times out of 10 you will think Profile, but they aren't the only players in the industry with an up market cassette hub. Supercross announced theirs late in 2003. Just like their frames and other products they have a very clean, simple and classic look about them. If you were to compare the back hub to any other hub it's very large, that's because of the drive mechanism, we will get into that later.
Instead of us blowing second hand smoke we thought we'd ask Bill Ryan from Supercross to describe the SpinDrive hubs for us. This is what he had to say: "The Supercross SpinDrive hubs are CNC'd 6061 T-6 shell with a 7075 T-6 axle and 4130 Cromo studs, which make this hub set a super-light and super strong hub, the Dual Seal Sealed Bearings keep them rolling fast and smooth."
We asked him what makes them different to any other cassette hub. Bill said "Our drive mechanism is unique in that it utilizes a Dual Track system which has 2 retaining springs and 6 sets of pawls which work independently of each other so that while one track is working the second is at rest getting ready to do the job." By default a dual track system means that if one track should fail it works like a safety mechanism, the second track will still work and get you across the line. Needless to say a single track system would see you on the ground in a screaming heap.
When I first put them on my race bike, back in December, I must admit I was a little worried that the allen key cromo wheel bolts didn't look like they would be able to lock on to the frame as well as normal wheel nuts so I added some chain tensioners, which are pretty much a must for a big fella like me anyway. Much to my surprise the allen key bolts haven't let me down.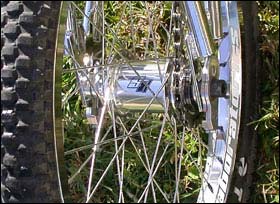 I have spent nearly 5 months using the hubs and I have no intention of reverting back to my perfectly good previous set of wheels which also have a cassette. Even after a bunch of riding, training and racing, the hubs are still spinning just like they did when they were brand new. I haven't had to worry about them coming loose, they don't even make a noise, apart from the cassette mechanism doing it's thing, and that's always comforting to hear.
With my previous set of wheels the cassette cog had to be replaced because it was badly worn into the "sharks tooth" shape. There is no sign of wear at all on the SX cog.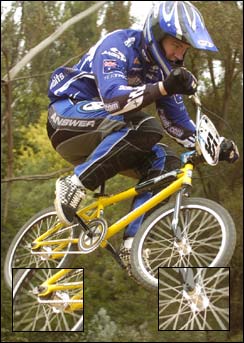 How to they feel to ride?
Just as you would expect, fast and smooth, they are very responsive when you want to get the power down out of the gate and out of corners, and you can't ask for more than that out of a set of hubs.
Additional information:
Available in High Polish only
36 and 48 spoke versions available
Around the same price as Profile cassette hubs
They come stock with a 16t Shimano compatible 3/32nd rear cog
There is a mini version that Supercross have as a prototype
Rating 19.5/20:
| | |
| --- | --- |
| Value for money: | 5/5 |
| Weight: | 4.5/5 |
| Functionality: | 5/5 |
| Looks/Finish: | 5/5 |
Comments:
The SpinDrive hub set is high end with a few more features than other hubs in it's class and built to last.
These aren't for junior riders, they are an awesome all-rounder that are perfect for the big boys, they may not be the lightest on the market, but they aren't anywhere near as heavy as they look.
Everything you could want from a hub and more, I love the dual track mechanism.
I've been around the BMX block a few times, and it's always the simple, classic style that catches my eye. No gimmicks here, these puppy's are clean and very slick. They will turn heads.
For more information about Supercross and their product range check out www.supercrossbmx.com