Supercross Pro LT Cassette Hubs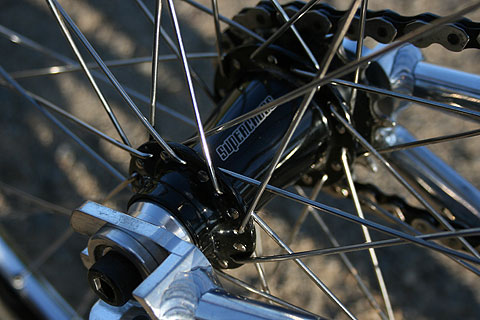 Profile Racing hubs have dominated the world of after market BMX race hubs for many years now. Throughout that time there have been many other hubs hit the market but were stuck in the shadows of Profile's domination. The Supercross Pro LT Cassette hubs seem to be breaking out of the shadows and making a bigimpact.
The reason for their hike in popularity is difficult to determine. It could be the stripped back and simple design of the hubs, or the feather weight 600 grams for the pair (a couple of grams lighter than Profile Mini hubs), or it might even be that they are 20% cheaper than Profile mini hubs. After being in the BMX scene for decades it's common to see people looking for something different, a reliable alternative to the norm, Supercross could be riding that wave right now, but time will tell.
Straight out of the box these hubs spin well and look ready to race. Laced up into a wheel set is no different. I had these built into some Sun Envy rims to bling out my own personal cruiser and have never had a problem with them in the months I have been using them, not a bearing come loose, not a groan, not a clunk, nothing. When you are racing in the heavy weight division it's very important to find a hub that's reliable and able to withstand additional abuse.
One measurement that seems to be a selling point for hubs these days is points of engagement, sounds more like a milltary or a political term, but is important to some BMXers. So I checked with Bill Ryan from Supercross and this is what he had to say "The double wide pawls have 6 points of engagement on 36 teeth on the ring." To some it just means it will make a bigger clicking noise while freewheeling than hubs with more teeth on the ring.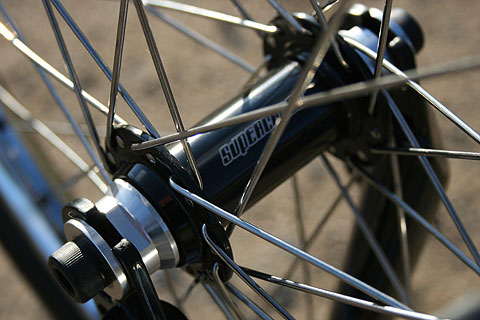 You might have noticed when you set up on the gate and adjust your cranks backwards until they are in your prefered starting position, you then apply pressure to balance and they roll forward a little again until they engage. It can be annoying to some that hubs can take a while to engage because you may never get your front pedal height exactly where you want it. The more teeth on the ring to less your cranks will roll forward. This is far less important than the hub actually engaging. I have had many problems with freewheels not engaging or even exploding on the gate, which usually would result in injury. I have never had that problem with a cassette hub and there's been no indication at all from the Supercross Pro LT hubs providing any trouble any time soon. I'm happy knowing that the pawls and springs are bigger and stronger and I can rely on them to engage and get me across the line.
Compatibility with Shimano cassette cogs is great if you are wanting to change your gearing, you shouldn't have any trouble sourcing them from your local store or a pro shop at the track.
I love the allen key bolts for the wheels, it means an 8mm allen key is all that's required for the tool box and the shifter can stay at home, great for riders who travel a lot with their bikes and don't have a lot of room for tools. Since it's a larger 8mm bolt head it's easy to get a lot of torque on it to make sure it's nice and tight, and less chance of rounding off than the standard 15mm nuts. Aside from that they look much neater.
Features:
Full CNC'd 6061 T-6 Aluminum Shell 7075 T-6 Oversize Aluminum Axle
4130 Cro-mo Allen End Bolts ( 3/8″ x 26 )
Shimano Compatible Spline for Cassette.
2 Oversize Sealed Bearings in the Front Hub.
4 Oversize Sealed Bearings in the Rear Hub
Double Wide Pawls and Springs for Fast and Secure Engagement
Comes in 36 or 28 hole.
Available in Black anodize, White powder coat and additional anodize colours including red, blue, purple, teal and gold.
If you are in the market for good, reliable race hubs check out Supercross Pro LT hubs.
Rating 20/20:
| | |
| --- | --- |
| Value for money: | 5/5 |
| Weight: | 5/5 |
| Functionality: | 5/5 |
| Looks/Finish: | 5/5 |
Comments:
Supercross are known to provide lightweight, high quality market leading products for a great price the Pro LT hubs are no different
At 600 grams per set you won't get a much lighter hub set
Great reliable hubs, what more can I say?
Supercross products are always well designed, well produced and well thought out, these hubs will turn heads
For more information about Supercross check out www.supercrossbmx.com.
review by Shane Jenkins/6 Nov 2009