Supercross Sinners Cranks
Are you looking to add some "bling" to your bike? Or maybe you are simply looking for some of the stiffest cranks on the market. Either way the Supercross 2 piece 4 bolt cromo cranks will certainly fit the criteria. What's not to like about a merging of bleeding edge technologies and good old reliable cromo?
We have all seen how many of the worlds elite riders have taken to Shimano's aluminium 4 bolt cranks, and they have trickled down to some high end complete bikes now too. Instead of jumping on the bandwagon Supercross have started one of their own.
The Sinners cranks use the same bone shape molded arm that the race proven Supercross 3 piece StrongArms have.
When we asked Bill Ryan from Supercross about the advantages of a 2 piece cromo crank, here's what he had to say.
"The main advantages we were looking for in a crank are simple, we want them lighter, stiffer, stronger, smoother.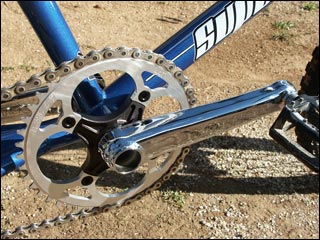 To achieve the lighter and stiffer we went to the oversize 24mm spindle that increased the spindle diameter from 19mm so a 5mm increase over a 25% increase, that adds to the rigidity, we also were able to reduce the weight by going with the thinner wall of the stronger larger diameter structure. By doing this we were forced to go to the MEGA EXO style of BB kit which is an outboard as you cannot get a bearing that will work well with a 24mm spindle inside the regular Euro BB shell, you can find some, but none that would hold up to the abuse of a BMX bike.
By doing that we had the advantage of a further increased stiffness with the bigger bearing and the wider stance. The Larger Bearings are also much smoother  and handle more load than the smaller Euro style bearings."
Let me tell you those cranks are stiff, very stiff in fact. After numerous gates sessions and riding tracks I didn't feel them move in any way, actually it started to worry me because I have been running some tired old pedals and if something is going to give it's going to be the pedals.
I never really took the time to think what the advantages of a 4 bolt system might be, I just assumed that it was all just inherited from the original MTB design. It does have it's advantages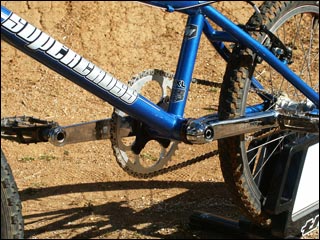 though, the most obvious is being able to change gearing quickly without having to remove the cranks.
Having had no experience with an outboard bottom bracket it took me a little while to realise I should just dump most of the spacers and the plastic sleeve that come with the bottom bracket. Any spacers on the drive side put the chain out of alignment. To ensure I had full lock on the spline on the non drive side and no side to side play in the bb I used just one spacer, once I had that sorted out it was just tighten up the axel bolt and the dual pinch bolts, set and forget. If you are unfamiliar with changing cranks I would recommend you ask your local bike store to do the install for you.
We asked Bill "Why Cro-mo over aluminium?" His response. "Good question, it is what we were already working with, it is proven to be a reliable crank material and we were able to match the weights of the Aluminum cranks."
The Supercross Sinners cranks are available in 175mm or 180mm crank length. You will need to buy the chainring separately, which is not such a problem now as it would have been 6-12 months ago. It seems that 4 bolt cranks are here to stay so there are plenty of manufacturers now punching out chainrings to fit. Supercross make their own super-light chain rings, but we used a 44 tooth Profile chainring for this review.
When we asked Bill about future developments on the cranks he didn't want to give anything away. "What's in the future, well I could tell ya, but I would have to kill ya." I guess you will just have to keep your eyes peeled.
Rating 19.5/20:
| | |
| --- | --- |
| Value for money: | 4.5/5 |
| Weight: | 5/5 |
| Functionality: | 5/5 |
| Looks/Finish: | 5/5 |
Comments:
Add about another 50% to the price of Profile cranks, but then shave some of the weight, and then consider how much easier it is to change gears
The lightest full size cromo cranks on the market I have come across at 37.6 oz (approx 1065grams) without the chainring
A stiff crank than converts 100% of the drive through to the back wheel, I think that's what we all dream of
These are not "me too" cranks, there are no other 2 piece cranks that look like them or even that are made of cromo. Neat welds, slick design, and a superb finish in either the limited edition show chrome, black or white. I must say I am quite partial to that show chrome, click on the images above for a closer look, I am sure you will agree. They look sweet!
For more information check out www.supercrossbmx.com
Reviewed by Shane Jenkins/bmxultra.com November 20 2007