S&M slam bars have rule the handlebar market on the BMX scene for many years. There are obvious reasons for this, their strength, reliability and a life time warranty to the original owner would be the main factors.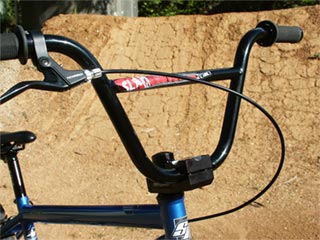 Since S&M began with their 4-Q heat treated XLT models they started shaving weight of their bars and forks. Their pitchfork got so light they were able to drop the race fork from their product line and have one great fork that would cover most BMXers. However the race fork has returned in an XLT model. The handlebars are another story, the line of bars that S&M have to offer continues to grow. Weighing in at 1.7lbs, the Slam XLT's are 0.2lbs lighter than the Pro race model.
The race bars have the same 8″ rise, the same with at 28″, the same back sweep of 12 degrees, the same up sweep or 1 degree but the Slam XLTs are just that little bit lighter.
Usually shaving weight from any BMX product can lead to weakness and failure, but you can be assured that S&M will stand by their products, you wouldn't put a lifetime warranty on a product that would fail would you? Besides S&M take a lot of pride in their products and even more pride that they are made in California USA.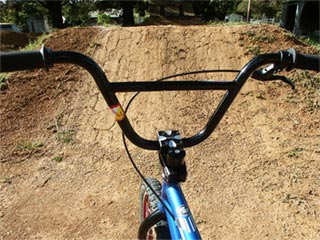 I have used S&M Pro Race bars before, I wasn't a big fan of the bends initially, but it's just a matter of what you get used to. I think I am now used to the S&M bends because I have been comfortable through the Slam XLT review process.
I have to say straight up these bars are very stiff and very strong. I weigh over 105kgs and can't make them budge or flex, not matter how hard I try.
I'm not a big fan of the zipper decal on the crossbar, but that would normally be covered by some pads and a plate anyway. The paint job is awesome, their gloss black always knocks my socks off. Although it may be a little too think, I had trouble fitting some lock on grips and a brake lever because the outer diameter of the bar seems to be a little bit bigger than usual, I am pretty sure it's the paint. The welds on the cross bar are impossible to see because of the paint, but the smooth finish looks very slick regardless. Oh and the bars have a gnarled area to help your stem grip.
Rating 19.5/20:
| | |
| --- | --- |
| Value for money: | 5/5 |
| Weight: | 4.5/5 |
| Functionality: | 5/5 |
| Looks/Finish: | 5/5 |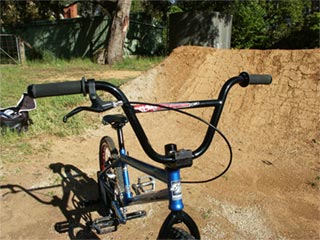 Comments:
Lifetime warranty, you need better value for money than that?
There are lighter bars on the market, like the S&M Race XLT, but if you are looking for a handlebar than can take anything you can dish out check these out
Slam XLTs have all you could ask for in a set of bars
S&M always have a well finished product that looks fantastic
For more information check out www.sandmbikes.com
Reviewed by Shane Jenkins/bmxultra.com November 9 2007
Posted in: Handlebars · Reviews