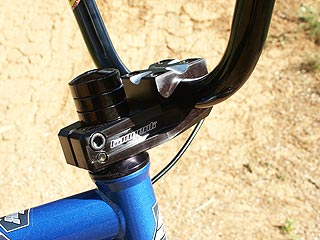 Tangent have been making fine BMX products for many years now, they are probably best known for their pads and plates than their other offerings. When I first saw this 4 bolt top loader stem I had no idea that Tangent even made stems, but soon found the X Loc made it's first appearance in 2003. So it's not exactly new to the market.
The Tangent X Loc stem is high quality race stem machined from 6061 aluminium. It has some nice CNC'd styling that not only makes the stem look good but shaves some weight as well. Since this is a 4 year old design it's hard to compare it to other products designed more recently to reduce weight to an absolute minimum, but if you are looking for the lightest stem on the market and like the looks of they Tangent X Loc stem you will either need to compromise on the weight gain or look else where. That said I would certainly have to rate the looks of the X Loc up amongst the better looking stems in the bunch, and stiff? Well I haven't been able to make it budge, not one bit. It's as stiff as you would expect your stem to be, which means that you won't be losing any power winding up down the start hill our out of corners (that's right folks not all your power comes through your cranks).
After a whole bunch of gates, dirt jumping and just everyday track riding I didn't have any problem with handlebars moving or even the stem moving on the fork. Once this stem is on your bike it's set and forget, which is perfect for any BMXer. I know I would prefer to spend 100% of my spare time riding than wasting time having to work on my.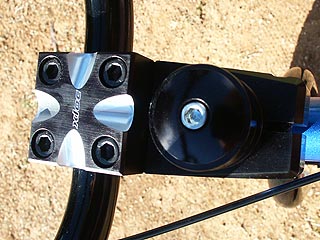 If you are looking for a stem that's stiff, strong, clamps well and looks great then the Tangent X Loc stem is for you.
These stems are a little shorter than most standard sizes and the fork clamp extends out into the rider area, it's up to the individual to decide if that's a problem, but I didn't have any issues with the rider area.
Pro sizes are 1″-1/8 steerer tube:
Pro 53 mm or Pro XL 58 mm
Although polished silver and gold have been available in the past it looks like Black seems to be the only colour option these days.
Rating 17.5/20:
| | |
| --- | --- |
| Value for money: | 4/5 |
| Weight: | 3.5/5 |
| Functionality: | 5/5 |
| Looks/Finish: | 5/5 |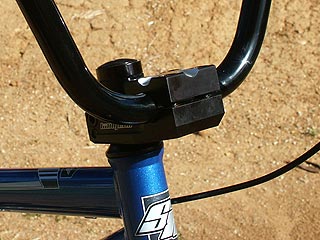 Comments:
This stem is in the same price range as many lighter stems.
It's actually a pretty heavy top loader by today's standards, but if weight isn't an issue you will love this stem.
Stiff, strong and clamps securely to the bars and fork steerer tube.
A great looking stem, that's very nicely finished.
For more information check out www.tangentproducts.com
Australia specific information:
Elite Cycle Imports are the distributor for Tangent products in Australia.
Reviewed by Shane Jenkins/bmxultra.com November 8 2007