Supercross G6e 24″ XL cruiser frame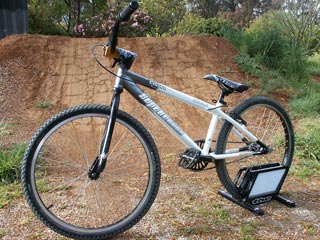 Supercross BMX have done some great work with their frames over the past years, but one of the best things they did though was to hook up with Easton to push the development of their EVO series of frames, and alloy frames in general for that matter, to a whole new level.
We got our dirty little hands on the first Supercross G6e frame ever made, an exclusive for bmxultra.com, especially for this product review. You may have seen this frame before, it was used in their 2008 catalog.
A few people have told me that all the model codes that Supercross use on their frames get a little confusing so I hope this helps a some. All the alloy frames make up the EVO series. The EVO S7, SX's high end pure bread race machine is made from Easton Scandium Alloy and the XL pro frame weighs in at just over 2.6lbs.Which in my calculations makes it the lightest 20 inch bmx race frame on the market, but with that there is a price tag that's not for everyone. The EVO iS has the same geometry as the S7 but is a lot cheaper, using 6061 T-6 alloy.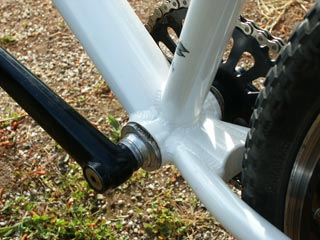 The G6e fits in between the two, using a lot of the technologies used in the S7 but using Easton EA6X tubing. Why is it called G6e? It's a "re-introduction of the classic G6 in an enhanced mode" according to the 2008 Supercross catalog.
We asked Supercross head honcho Bill Ryan if he was happy with the way the new EVO series worked out, this is what he had to say "I think it is the best frames we have done yet, the S7 and the G6e both rock!!"
At first glance the head gusset, that has been a part of the whole EVO appearance is gone in the G6e. Bill said "the new shaped tubes we are doing from Easton along with their butting the head tube gusset is no longer needed." New shaped huh? Oh, wow, yeah, the top tube and down tube have very subtle shape changes through tubing, you would hardly notice though unless you were looking very closely. I think the bling of the three colour paint scheme is just too distracting, not that it's a bad thing. It's more obvious when you look at the bottom bracket to where the down tube is attached and also towards the head tube.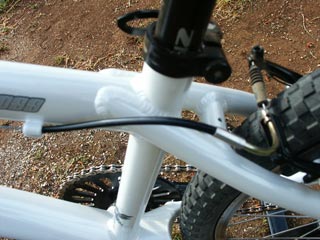 This is one of the best looking production frames I have ever seen come straight out of a box. There is a choice of 4 tri-colour combo paint schemes, what you see in the photos is the Smokin' Joe Sowers signature colour way. I must add that it has very clean welds, and is perfectly finished, certainly a frame to be very proud of.
Ok, so it looks good, but how does it ride?
I moved all my own cruiser parts over to the frame, which by the way felt lighter than any pro sized frame I have ever touched, let alone a cruiser. I built it before I had a chance to weigh it myself, but for those of you interested the weights they go like this: 3lbs flat for the Pro XL, 3.15lbs for the Pro 24" and 3.2lbs for the Pro XL 24" in this review.
The first test was the backyard on my 2 man "stumpy style" track. I was cutting hot laps in no time, then a bunch of guys rocked up and were up for a challenge race, so 7 guys on 20 inches and myself on the G6e XL cruiser, on a track built really for 20 inch bikes and I did pretty well. On a bike that was basically brand new I hadn't used for more than 30 minutes. It handles just like a 20 inch, even turning or jumping. I think the weight has a lot to do with it, making it easier to throw around. But also an awesome race geometry, and the stiffness of the frame allows for great power transfer.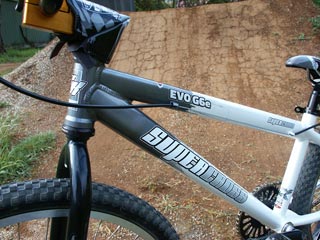 Usually after one session of riding you know if you are going to have problems with chain or crank clearance on the frame, Supercross seem to have all that worked out, I had no problems at all.
Next stop was the race track for a gate session. No surprises there, this is a hell of a frame, despite the short back end it felt perfectly balanced almost like it was built for me. It does have a 22″ top tub length, which isn't a common size in the SX range but they do occasionally make short runs of Pro XL cruiser frames. It also felt very comfortable cornering and was a whole lotta fun to jump.
Ok time to race. I didn't have any concerns with the bike at all, nothing I had to be careful of so I could focus on my racing. The frame was very stiff, I didn't notice any flex or movement at all, it's usually on the gate you notice it most, but nothing. Maybe I could do with some more training, but that's nothing to do with the bike.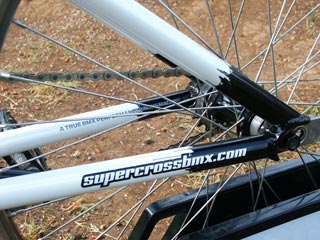 I can tell you what though, it was amazing how many people wanted to check it out, it's really turning heads.
This EVO frame range is going to set some standards in the BMX racing industry. What I want to know is where can Supercross possibly take the EVO series from here? They already have a perfect race frame.
Rating 20/20:
| | |
| --- | --- |
| Value for money: | 5/5 |
| Weight: | 5/5 |
| Functionality: | 5/5 |
| Looks/Finish: | 5/5 |
Comments:
Cheaper than the S7, a high performance race frame with economy in mind
You would be hard pushed to find a cruiser race frame in the same weight range
I couldn't fault it. I'd have to put this as my all time favourite cruiser frame
Clean welds, and an awesome tri-colour paint scheme that's set to turn heads
The Supercross EVO G6e is available in Expert XXL, Pro, Pro XL, Pro XXL and 24" Pro sizes.
For more information about Supercross check out www.supercrossbmx.com.
Supercross is distributed in Australia by Supercross BMX Australia sxaustralia@supercrossbmx.com.
review by Shane Jenkins/1 Nov 2007