The newest handlebar in Answer BMX's line up are the super light weight Cromo Lite Bars. This pro sized handle bar comes in 7″ or 8″ rise and weighs in at a measly 670 grams.These bars weigh over 100 grams less than the S&M Slam XLT and Supercross' Pro bars. So if it's weight savings you are after these just might be the answer you are looking for (no pun intended).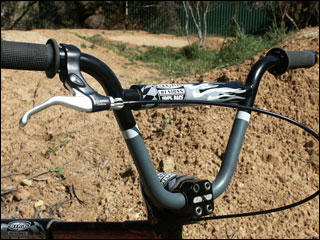 The geometry, that Answer claim is "power transferring" is comfortable, however the bars are a little narrower than S&M Slams or Supercross Pro bars. Given the number of people I hear about that cut their full size bars down I don't think it's a huge issue. Larger riders like myself need a wide grip and even a few mils either side can make a real difference.
When riding they feel as responsive and sturdy as any other bar. No flex on the gate, or anywhere else on the track for that matter. They feel as comfortable in the air jumping as they do on the ground power off the gate, around a corner or even manualling. I took the bars riding to a few tracks and even managed a couple of crashes, but they remained in one piece and straight, which was my main concern.
Their two tone black/gray colour combination sets them apart from other bars.
Rating
19/20:
| | |
| --- | --- |
| Value for money: | 5/5 |
| Weight: | 5/5 |
| Functionality: | 5/5 |
| Looks/Finish: | 4/5 |
Comments:
Around the same price as the more popular bars on the market with some weight savings, I'd call that value.
Super light pro bars, you can't do better right now.
Did everything I expected from some racing bars.
Very different finish, reminds me of the old Haro bars from back in the 80's, some of the bars I have seen have the white band (separating the black and gray) at different heights on the same bars. It wouldn't take much extra time for someone to line them up properly.
Answer BMX is distributed in Australia by Advance Traders www.advancetraders.com.au. For more information about Answer BMX check out www.answerbmx.com.
Reviewed by Shane Jenkins/bmxultra.com September 17 2007.
Posted in: Handlebars · Reviews