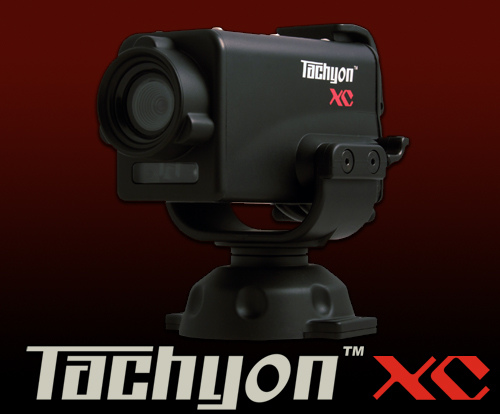 I have been pretty excited about the wave of affordable helmet cameras that are available, they are already popular in the mountain biking scene, it was only a matter of time before they made their way to the BMX tracks. When the guys at Tachyon sent a Tachyon XC helmet camera for us to check out and review I didn't know exactly what to expect. There are a number of cameras that come with a basic kit and you have to add stuff like extra mounts to suit your specific needs, purchase additional proprietry batteries, increase the memory size and so on. I was pleasantly surprised to find that the Tachyon XC comes with takes standard AA sized batteries and they use 4-32gb SDHC memory cards which are reasonably priced. The bundled camera mounts allow you to connect directly to helmets, goggle straps, tripods, bikes, dashboards & many other surfaces and objects. On top of that the Tachyon XC is waterproof to 10m, ok so that's not too deep, but unless you are scuba diving it's deep enough.
After setting up the Tachyon XC I noticed it has four quality settings that range from quite poor to 640×480 pixels, so it's unlikely that the footage from the camera is going to be used for any DVD, but it's perfect for sharing videos on the web and especially YouTube, oh and Tachyon has it's own community where Tachyon owners can show off their videos. The obvious option was to set it at the highest quality despite the fact that it would use more memory. I had an 8gb card in the camera and it wasn't about to fill up any time soon. You can switch between the two colour formats PAL and NTSC if you like, but that seems to only matter if you are producing footage to play through the TV.
Connecting the camera to your computer is easy. All you need is the USB cable, flip the back of the unit open and plug it in, your computers operating system will help you access the files from there. If you are planning on recording lots of video just make sure you have plenty of hard disk space to spare.
When I started testing the camera the only obvious mount to use was the goggle strap mount, even though I'm not a big fan of goggles unless it's very muddy. I had a couple of small issues with the mount, firstly the camera and the mount are light weight but heavy enough to drag the helmet strap down the helmet and the angle you had the camera on to start off with ends up slightly off by the time you are finished. That was easily fixed by sticking some grippy rubber on the inside of the goggle mount so the plastic didn't slip down the helmet surface. The next problem was keeping the google mount wrapped around the goggles. It literally sides down over the strap with the bottom side of the mount completely open, it really needs something to clip it securely over the google strap. I spoke with Tachyon about it and they suggested using the heavy duty 3M Dual Lock™ Fastening Strips. That's a valid suggestion unless you aren't keen to stick anything to your helmet.
As a cheap Point of View camera it does a pretty good job and is fairly simple to use, although I'm not sure that it really needs a power button on it. If you want to record it should just turn on when you press record and if you want to stop why not shut off, it would use less batteries. And I think the record button should be a lot bigger, it can be difficult find if it's attached to your helmet while you are wearing it.
I like the fact it's waterproof, it would be great for lake jumping sessions during summer. Since it's waterproof the microphone is a bit muffled, but I prefer to add music to the videos anyway. It's difficult to determine just how much abuse it will take though it looks as if the whole body is just plastic, probably a good reason to use it on a goggle strap, at least it would have more chance of surviving a crash if it's not totally secured. While trying to put it on my goggles while I was wearing my helmet I dropped it, but it didn't skip a beat, it just kept recording and has kept working well since, which is a good sign that the helmet cam can take some bumps and knocks.
While the Tachyon XC is a great POV camera I thought I would try and get a little more creative and see if I could use it as a normal video camera, the answer there is sort of but not really. You have no zoom and you don't really know what you have recorded until you get back to your computer. It's best just to use it as a helmet camera but you can get some nice effects if you are patient and creative.
Editing the video can be done with any video editing software, even the simple software that comes standard on your computer will be fine.
Pros
Cheap
Waterproof
Loaded with mounts
Uses AA batteries
Remote control
Cons
Plastic body
Goggle mount could be better designed
Doesn't like rechargable batteries
Here's a couple of simple videos we created from the Tachyon XC.
Eastfield BMX Track
The BSX backyard track
Rating 19/20:
| | |
| --- | --- |
| Value for money: | 5/5 |
| Weight: | 4.5/5 |
| Functionality: | 4.5/5 |
| Looks/Finish: | 5/5 |
Comments:
The Tachyon XC is great value for money
Light enough that you won't notice it hanging off your helmet, but it could be smaller and lighter
Easy to use and great quality for the price
It looks a little square and chunky, but clean, for the price though you can put up with the looks
For more information about the Tachyon XC check out www.tachyoninc.com/XC2010.html.
review by Shane Jenkins/25 Nov 2009
Posted in: Helmet cams · Reviews