Maxxis DTH Foldable BMX Race Tire
Lusty Industries took over distribution of Maxxis bicycle tires mid way through 2018 and shot us a couple of sets of tires to check out. I personally haven't had a lot of experience with Maxxis tires through my decades of BMXing, I've spent most of my years running Tioga tires. Needless to say I was very keen to see what Maxxis had to offer, after all, they are a giant in the tire industry, making tires for motorcycles, cars, 4x4s, light trucks, trucks and buses, ATVs, lawn and garden products, race karts, industrial vehicles and trailers. These guys know tires!
The Maxxis DTH tires are the first off the rack. DTH stands for Drop The Hammer, a perfect name for a tire designed specifically for BMX racing.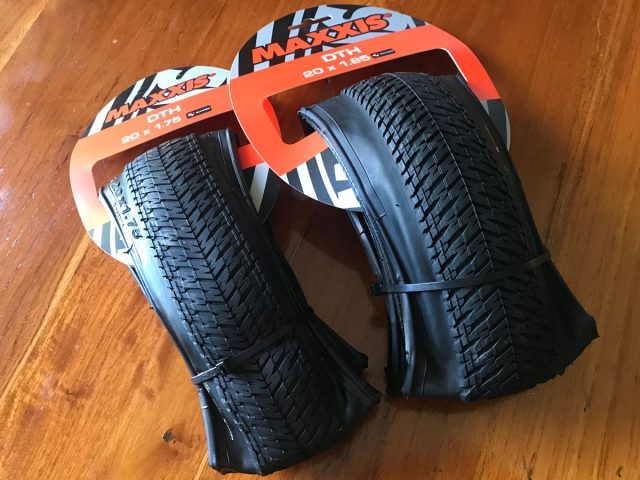 Manufacturer's Description
Drop. The. Hammer.
Grooved slick tread design
Lightweight casing
Skinwall option available on select specs
While originally designed as a BMX race specific tire, the DTH has found success beyond the track including street riding, pump track, skate park, and slopestyle. The grooved slick maximizes rolling speed by minimizing drag. The DTH is available in 20″, 24″, and 26″ sizes.
Size
ETRTO
TPI
Bead
Weight (g)
Compound
Max PSI
Tech
Color
Application
20″ Rim Size
20X1 1/8
28-451
120
WIRE
245
DUAL
85
SilkWorm
Black
BMX
20X1 3/8
37-451
120
WIRE
315
DUAL
65
SilkWorm
Black
BMX
20X1.50
38-406
120
FOLDABLE
295
DUAL
110
SilkWorm
Black
BMX
20X1.75
44-406
120
FOLDABLE
345
DUAL
110
SilkWorm
Black
BMX
20X1.95
49-406
120
FOLDABLE
375
DUAL
110
SilkWorm
Black
BMX
20X2.20
56-406
120
FOLDABLE
485
DUAL
110
SilkWorm
Black
BMX
24″ Rim Size
24X1.75
44-507
120
WIRE
440
DUAL
65
SilkWorm
Black
BMX

What is SilkWorm?
I'm always interested in new technologies, but find myself confused by marketing terms, especially when they use terms that don't relate at all to function. When I saw SilkWorm on the packaging and on the tire I had to find out what it was. I was amused to find that it was puncture protection, this is a bonus as far as I'm concerned, Maxxis should make a bigger deal of it not hide it on a page on their website.
"Silkworm Technology is an exclusive material incorporated into the casing of select models. The Silkworm material helps to increase puncture and tear resistance. Silkworm is featured as a bead-to-bead cap ply (denoted as Silkworm B2B) or under the tread as a breaker (denoted as Silkworm)."
Who doesn't need a little more protection from punctures?
Weight
While not the lightest race tire on the market they are right up there with the leaders in the weight race and even some of the newer tires on the market.
Comparison of 20 x 1.75 tires
The foldable Maxxis DTH weighs in at 345 grams.
The Maxxis Torch is 345 grams.
Tioga Powerblock is 305 grams.
The new Vee Speed Booster is 385 grams.
Grip
The tread pattern is quite simple, a whole bunch of M's, you can go a long way back through BMX history and you will see manufacturers use logos in tread patterns, most recently in the S&M Trackmark tire where the tread is made up of S's and M's. The tread pattern of the DTH is deeper and it has a lot more negative tread than most current slick style race tires. Not only does this help with providing a little more wear than other tires, it also provides a great balance of reducing rolling resistance and increasing grip. It's no wonder the DTH has found its way from the track to so many other aspects of BMXing. Although the DTH has been around for a few years now it stands out as a great all rounder.
High Pressure
With today's highly groomed race tracks higher tire pressures are a must. It's not unusual for a BMX racer to run 100 PSI. The Maxxis DTH foldable tires are rated 85-110 PSI. I run mine at 85 PSI for a slightly softer ride. At 85 PSI the DTH is still very firm and corner well without the fear of movement or tire roll even in the tightest of corners.
How Do They Ride
There's no real surprises from the DTH tires, they have the pedigree and all the features you would expect from a premium BMX race tire.
Low profile/low rolling resistance
Good grip
Light weight
Long wearing
High pressure
I found plenty of grip cornering regardless of moist clay or dusty dry dirt surface. On top of that, no matter what surface, there was amazing drive off the hill and out of corners.
If people were more about running great products, rather than running the latest and greatest, I think we'd see a lot more Maxxis DTH tires on race tracks today.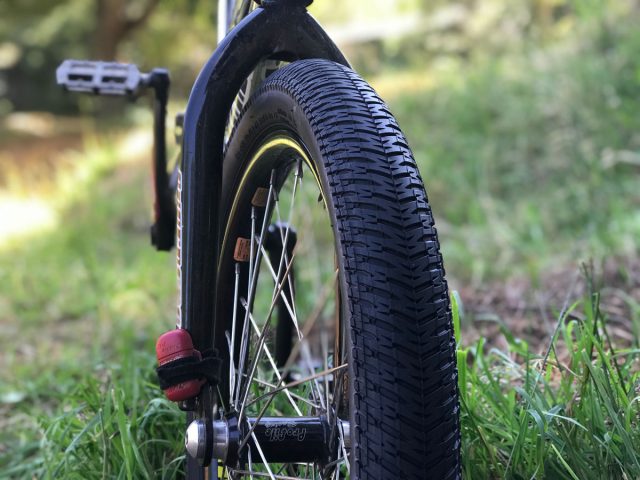 Gallery
Rating 19.5/20
| | |
| --- | --- |
| Value for money: | 5/5 |
| Weight: | 4.5/5 |
| Functionality: | 5/5 |
| Looks/Finish: | 5/5 |
Comments
The foldable Maxxis DTH has everything you would want in a tire, especially if you take your ride beyond the race track, and at a competitive price. If you are looking to save a few dollars, there is a wire bead version of the DTH in most sizes.
While the Maxxis DTH isn't the lightest on the market it's still right up there with the best of them, even years after hitting the race tracks for the first time.
A reliable race tire with plenty of grip for racing but is versatile enough for just about all aspects of BMXing.
The DTH looks like an aggressive modern race tire and it lives up to it's looks.
Lusty Industries are the Australia distributor for Maxxis. For more information about Maxxis products in Australia check out www.lustyindustries.com/brands/maxxis.
review by Shane Jenkins/29 December 2018