Product Spotlight: 50th Anniversary Vintage 24K Gold Box Crankset
Profile spent 2018 celebrating their 50th anniversary, digging through the dungeon and sharing some of their rich history with us. As well as digging up some old stock and making it available for Profile fans. The latest and probably the last of the limited collectibles is the 50th Anniversary Vintage 24K Gold Box Crankset. You will need to be quick to get your hands on a set of these beauties.
Manufacturer's Description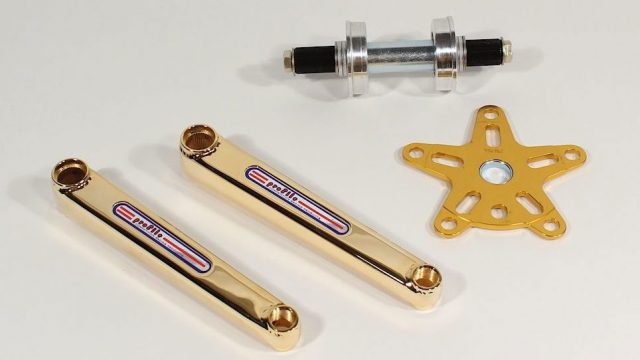 2018 marks the 50th anniversary of Profile Racing. To help celebrate this occasion, Profile Racing re-released the remanufactured original box style cranksets. The cranksets are made on our original 1979 tooling. They are replicas of the originals including decals, grade 8 gold zinc bolts and washers, aluminum spider, American BB in polished with 5-3/4″ solid axle, spacer tube, Vintage Gold Anodized 5-bolt 110mm Spider and 24K Gold Plated finish. (No Lifetime Warranty)
Sizes:
12 total sets of 175mm
13 total sets of 180mm
Color: 24K Gold Plated
Weight: 1142g/39.97 oz (complete crankset)
DISTRIBUTED ACROSS AUSTRALIA BY ELITE CYCLE IMPORTS
Profile Racing is distributed across Australia by Elite Cycle Imports.
Posted in: News