Troy Lee Designs XC race gloves reviewed by bmxultra.com
What more can you ask for in a glove beyond comfort and protection? Troy Lee Designs have come up with the latest feature filled glove called the XC.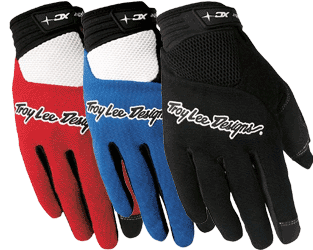 The XC race glove features:
4 way stretch spandex
terry cloth on the thumbs for wiping sweat
rubber printed on the grip for brake lever fingers
air mesh on the back of the hand for ventilation
neoprene wrist with molded rubber wrist closer and pull tab
durable Clarino (synthetic) leather palm with padding for palm protection
These gloves are built to last. I tested a pair for nearly two months using them for training and racing, I even took a couple of falls (this is not normally part of the testing regime) and they still look as good as new.
How do they fit? They are designed for a comfortable snug fit, and that's how they feel. The 4 way spandex stretches quite a lot, make sure if you purchase them you get a firm fitting pair, a loose pair will be uncomfortable and you will probably find the palm will bunch up on your grip. The padding in the palm is perfect, it's so thin you don't feel that it's there, but it still provides a softer more comfortable feel. You shouldn't get any blisters wearing these gloves.
Does the ventilation on the back of the hand actually work? The gloves are made up of materials that feel soft and quite thin, yet still strong enough to survive a couple of falls and daily use. I didn't feel the back of my hand over heating, but then again neither were my fingers.
The XC glove is a great all-rounder, enough protection for BMX racing (you don't need padding down the back of your hand and fingers for racing) and comfortable enough to wear all day long down at the local dirt jumps, either way the terry cloth thumbs will be very handy (no pun intended).
The XC race glove is available in red, blue or black, and sizes range from small to double extra large.
Troy Lee Designs is distributed in Australia by Steve Cramer Products. For more information on the Troy Lee Designs product range check out www.troyleedesigns.com
Posted in: Race Clothing · Reviews