Utopia Warrant Bones goggles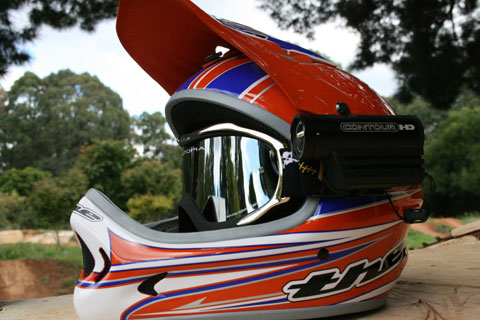 I've been wearing goggles a lot lately. It started off wearing them only to play with a couple of helmet cams that I reviewed for bmxultra.com. What I had to begin with were some old goggles that I saved for racing in the rain, the lenses are scratched, but it's better than getting mud in your eyes. If it wasn't mudddy I took the lense out, since it's only the goggle strap that I really needed to mount a camera to. I started to think "wouldn't it be nice to have some new goggles". Some that didn't fog up when the lenses were in, and if I was going to take out the lense again, some that would be easy to get the lense back in without requiring an engineering degree and the percision hands of a surgeon. Maybe even some nice tinted lenses for sunny days. After all I plan to use the helmet cam a whole lot more. Well apparently if you put your mind to it you can make things happen because out of the blue I was sent some Utopia Warrant Bones goggles, with some extra smoke mirror lenses. Hold that thought, I'm going to think up what I want next…hmmm, how about the mortgage fairy pay off my house for me. Ok, now I have that out of the way, it's time to tell you all about Utopia's Warrant Bones goggles.
First of all Utopia make goggles for MX and Snow. They have 3 different models of MX goggles which starts out with the Too Dirty, then moves to the Slayer and the Warrant is the top end model. The "Bones" in Warrant Bones refers to the design of the goggles, not suprisingly the strap has skull and cross bones through it, as well as a sewn on Utopia logo with cross bones on one side. Aside from that it has some gold bling around the frame.
Since they are made for MX they have the pins mounted in the lenses which are for tear off lenses, which aren't particularly useful for BMX. I thought that they would get in the way of your vision but they are most obvious when you first put the goggles on, but come time to race or ride you don't notice them at all.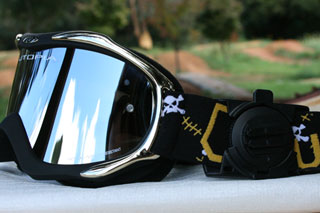 Features:
100% Lexan lens with scratch resistant anti-fog UVA/UVB protective.
Super pliable injected 100% Polyurethane Grilamide TR-90 frame constructed of homopolymade nylon characterized by an extremely high alternative bending strength and high resistance to chemical and UV damage. TR90 is virtually indestructible and it comes with an outrigger system for even distribution of pressure and a better fit.
Triple layer foam

1st – Tight density closed cell foam for a complete face seal and comfort.
2nd – Open cell moisture absorbing foam that pulls sweat away from face and traps within for evaporation.
3rd – Super soft sweat mop fleece for non absorbing all day comfort.

Double buckle for easier adjustability, jacquard three color graphic strap with anti-slip silicon includes, Utopia's Money clip also referred as the 3rd clip for smooth tear off management.
Lifetime Warranty
I hate it when manufacturers use all the technical words to describe their product, but the features list is pretty impressive, what I think they are saying is that these goggles are comfortable and made with the latest materials which makes the frames nice and stiff, they will also last forever and if they don't you have a lifetime warranty. Man I love those words "lifetime warranty", they mean that the manufacturer will stand by their product and you get good value for money. Nice one Utopia!
I have to say I am impressed with the Utopia Warrant Bones. The only things I found were a problem was the logo sewn onto the strap is on the right side, this is the side I mount my helmet camera to, so now I have to put it on the left side and operate it left handed, if that's an issue for you, look at some of the other versions of the Warrant goggles, they don't have the sew on logo. I did notice that to fit the goggles to my helmet the strap had to be adjusted to it's full length, but the main thing is it fits even the bigger helmets available.
What stood out for me was:
they have never fogged up or showed any signs of it
I love the simplicity of changing between lenses and how quick it is to change them
the soft foam makes them comfortable against your face in all conditions
they have crystal clear lenses, but like all lenses they only stay that way if you look after them so make sure you put your goggles back in the bag, that they came in, between uses and clean them only as directed.
It's getting to the wet and muddy time of the year for BMXing in Australia, if you are looking for some good goggles check these out. If you are reading this and it's summer, grab some and get some of the Smoke Mirror lenses to kill off the bright sunlight and look cool at the same time.
Rating
19.5/20:
| | |
| --- | --- |
| Value for money: | 5/5 |
| Weight: | 5/5 |
| Functionality: | 4.5/5 |
| Looks/Finish: | 5/5 |
Comments:
Lifetime Warranty = Value for money
The goggles might look bulky, but they are so light weight you don't notice them at all
They do the trick, give you vision when you need it most (mud/sun), stick well to the helmet (silicone backing on the strap works very well even with a helmet cam strapped to it.) But the sewn on logo can get in the way for the growing number of helmet cam users
They look great and are available in a variety of colours
Thanks to the Australian Utopia Importers zylux.com.au for the goggles. For more information check out: www.utopiaoptics.com.au/store
Reviewed by Shane Jenkins/bmxultra.com June 4 2010
Posted in: Race Clothing · Reviews