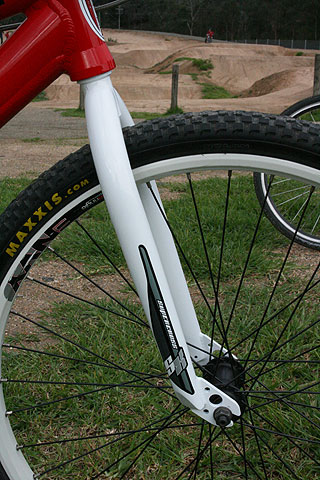 I've been following Supercross BMX products for some time now and done many reviews, it's hard not to do this review myself but thought it was time to show someone else's perspective of the Supercross products, and in particular the Supercross SLT Forks. Simon Trewin is a handy 30 plus class rider who's been getting consistent results for some time now. He has been interested in lightening up the front end of his cruiser so we hooked him up with a pair of Supercross SLT forks and asked him to give us feedback. He upgraded from some standard heavier cromo forks that came with his bike, the SLT forks helped him drop around 350 grams, a nice start.
SLT forks feature:
a new larger Butted and Tapered Leg
a Forged Cro-mo Internal Spiral Fluted Steerer tube with welded in star nut
new smaller micro 1/4″ thick cromo dropouts
full black oxide rust proofing inside and out
full post weld heat treatment
Let's take a look at the weight for a minute. The 20″ SLT forks weigh in at 27 ounces (1.69 lbs or 765 grams) which compares to 30 ounces of the 20″ S&M Race XLT fork isn't bad. The 24″ SLT fork comes in at 29.5 ounces (1.85 lbs or 835 grams) compared to 34 ounces of the 24″ S&M Race XLT fork. Don't get me wrong, the S&M Race XLT forks are a great fork and do have a lifetime warranty, which is awesome, but if you are out to save weight the Supercross forks are lighter and Supercross' warranty isn't too bad either. The SLT's are just a smidge over the weight of carbon forks, but a whole lot cheaper. For example the Answer Scythe Carbon Cruiser fork weighs 805 grams. That's just a 30 gram difference. Except! The Supercross SLT forks have a built in head lock, while you will need to buy and fit a complete headlock unit for the other forks mentioned. Why is that a big deal? The Supercross SLT forks are nearly half the price of carbon and more importantly there is no weight limit. No matter how you look at it those two points are very important when considering purchasing a new set of forks. Can you take your carbon forks to the local dirt jumps and skate parks?
Simon picked up 2 things when fitting his forks. Firstly if you were expecting the forks to be stickered up like they are on the website you could be surprised as his forks have the standard Supercross fork stickers on them, secondly there isn't a heap of clearance in the fork for a bulky tyre. Simon was running a 24 x 1.85 Maxxis tyre on the front but had to replace that with a 24 x 1.75 to make sure he had plenty of room between the tire and fork arms.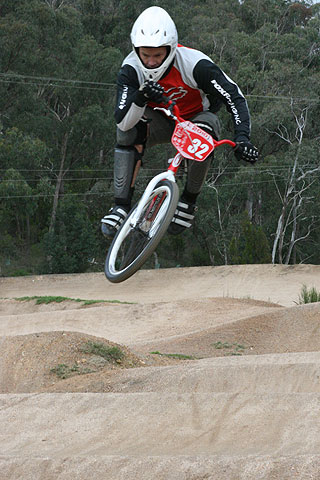 Once the forks were fitted Simon was off riding and immediately noticed a huge difference when manualling and jumping, he says that it requires less effort to lift the front end, his initial feedback was "Wicked! Awesome!" and said with a big smile, that really means something special. We gave him a few more days to really get used to them and this is what he had to say. "I'm loving riding the cruiser again since using the Supercross SLT forks. Gates feel heaps better. Better stability, no twist on the gate. The lighter weight made it easier to get a good snap out the gate. I can now manual better at race pace too. They feel more responsive and less bouncy than my old forks. If I had the option between these cromo forks or carbon I would take the Supercross SLT's any day, they are wicked!"
Well there you go folks. Supercross have done it again, and they have won a new fan, but I've gotta say I'm not surprised.
Rating
20/20:
| | |
| --- | --- |
| Value for money: | 5/5 |
| Weight: | 5/5 |
| Functionality: | 5/5 |
| Looks/Finish: | 5/5 |
Comments:
Great light weight fork that's built for all aspects of BMX, but is a whole lot cheaper than carbon!
When the weight is pretty much on par with what's considered the fork to have that's hella light for cromo!
Stiff, strong and light!
Like all Supercross products, these things look wicked!
Supercross BMX is imported in Australia by The Compound Australia have your local bike shop contact sxaustralia@supercrossbmx.com for details.
Reviewed by Simon Trewin and Shane Jenkins/bmxultra.com June 11 2010