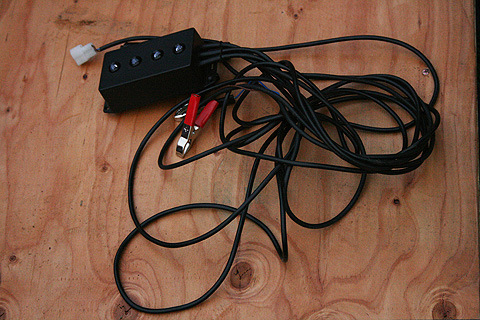 It's been said that the most important skill in BMX is the gate start, and with racing as close as it is these days, it can make the difference between winning or losing a race. So how do you develop a good start technique? Practice, practice, practice! You could rely on your local club for gate practice, but that may not always be an option or you could build (or buy) your own practice gate. Until now there have only been a few options available in Australia, BMXTronic was probably the most popular because it was very affordable, but it's no longer on the market. There's also the Smart Start, which is a lot more expensive, it's common to find these still in use at many clubs around Australia. Then there's the official UCI Pro-Gate, their gates are amazing, there's no doubt about it, but their price tag is beyond the average BMXer's budget.
Start Gate Pro is a very affordable and simple option. At just £120 the Start Gate Pro gets you all the electronics you need, it has lights and speakers built in to a single box with a single button that does it all. Where the Start Gate Pro can be used with a mechanical solenoid release mechanism it can also be used with an electro magnet or a ram. There is no doubt that the ram is the best option. Not only is it possible for the gate to drop super fast but the Start Gate Pro is able to trigger both the lifting of the gate and the dropping, leaving you to focus on your gates. Operation of the Start Gate Pro is literally child's play!
The Start Gate Pro does have a number of benefits, and is a great option for a practice gate. It conforms to UCI random start regulations,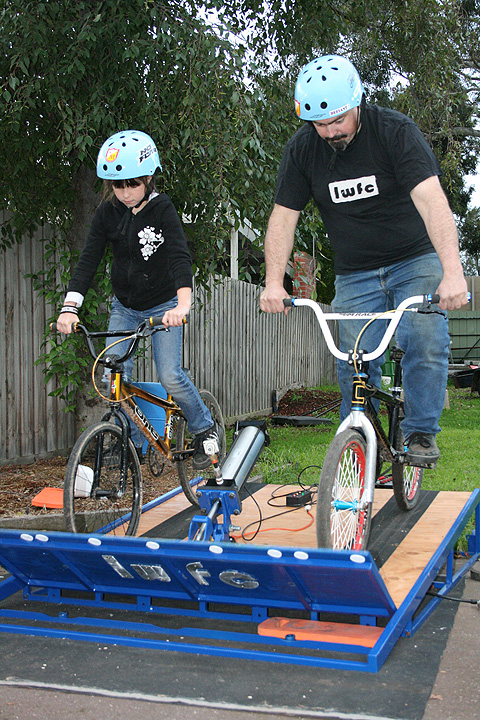 however it doesn't have the voice that says "rider's ready, watch the gate"; with that voice it would dramatically increase the price. Instead there are a sequence of tones which lead into the all familiar random drop sequence you are all used to. It took a little while to get used to the tones but it soon became second nature. We had LWFC's Travis Pope add the mechanism into his two man gate with a ram and asked him what he thought. He had the release button attached to the back of the ram so he could trigger the start sequence for himself, get set up and do gates. There was plenty of time to get ready and it made for a good system. The one thing he pointed out was it would have been nice to have an output connection for external lights or speakers. Because the lights and speaker are in the same box if you want to hear the tones you can't have the mechanism too far from the gate and if you want to see the lights you may not be able to hear the tones so well. Aside from that though the Start Gate Pro get's the thumbs up!
We did have time to put the Start Gate Pro support system through it's paces and found the people at Start Gate Pro very helpful. Each system is also packaged with a detailed manual which pretty much answers all of your questions.
While Start Gate Pro is just the electronic system, if you need the complete rig set up there are people in Australia who can build them for you, contact Start Gate Pro for details.
For a video of the Start Gate Pro in action check out startgatepro.com/Video.html
Rating
20/20:
| | |
| --- | --- |
| Value for money: | 5/5 |
| Weight: | 5/5 |
| Functionality: | 5/5 |
| Looks/Finish: | 5/5 |
Comments:
Very cheap gate pratice system
The thing weighs nothing, so freight costs are cheap and carting it around won't be a problem
Easy to use, reliable and quite durable
A tidy finished package
For more information check out www.startgatepro.com
Reviewed by Travis Pope and Shane Jenkins/bmxultra.com June 21 2010
Posted in: Reviews · Training Systems