BMX racing news April 2005
30/04 Intense BMX is proud to announce the sponsorship of Jamie Staff

Intense press release
Intense BMX is proud to announce their first factory AA Pro rider
sponsorship with Jamie Staff.
Jamie Staff, a former UCI World Champion, NBL #1 Pro, and current UCI
World Champion on the Track, will be returning to the BMX circuit in 2005
with his first appearance this weekend at the ABA US Nationals in San
Bernardino, CA. Jamie will be riding aboard an Intense XXL Sabot frame.
Jamie will also compete with Products from Intense BMX Tires, THE, and
Sinz.
"I am happy to be back on the BMX race scene and look forward to
mixing it up in the AA Pro Class. My training for the Velodrome is very
similar to BMX racing training, and after riding BMX for the past month,
I feel that I am ready to come back to BMX racing and the AA Pro Class."
Pete Dylewski, VSI's Marketing manager stated "VSI is very
prod to have such a caliber rider as Jamie work with us, as our first
factory Pro rider. With Jamie's world recognition of riding at the
Olympics and being a past BMX World and National Champion, as well as
hearing what his future goals in BMX are, we are very excited to have
him join our team and where Jamie will help take the Intense BMX brand.
"
Intense BMX is a division of VSI products. VSI Products will be out in
full force this weekend with a showing of their product line for the BMX
industry out at the ABA US Nationals this weekend.
30/04 Psykopath at Vegas race
Psykopath press release
Our Vegas trip was a sucess for us. Augusto Castro #01 was the only pro
that made four main events( elite/open ) damien lopez #09 super class
pro had a good weekend making his main events, elite masters pro Terry
Tenette had some impressive showings all weekend and was looking hella
fast, Superclass pro Sergio Salazar also had impressive showings in both
superclass and pro cruiser, new am rider #4 issac oneal kicked butt in
18 expert he almost had the win on sunday but slipped back to fouth. team
maneger #850 Carl Renowitzky represented in the Elite Masters class. Juan
Salazar also had a impressive showing in the 22 expert class by taking
a thrid place finish on saturday.
Check out Psykopath's new product line at www.Psykopath.com.
Psykopath is proudly supported by: www.cashforhouse.tv, 661 (www.sixsixone.com),
we are currently looking for more supporting sponsors for our super fast
race team.
30/04 Portland Oregon BMX Summer CAMP
Linder/Staats press release
Presented by Linder/Staats, Redman, and Avalanche training clinics.
Train with the best in the industry! Summer in Oregon! Three Top BMX Trainers
(over 75 combined years of experience) plus Pros and Top AMs! WHAT MORE
CAN YOU ASK FOR!
Redbone, Rog and Avalanche have teamed up to bring you one of the best
BMX training camps to hit the dirt in years!
Mike Redman (Redman Yamaha) has been training BMXers for years and turns
out the fastest Pros and AMs racing today. Richie Anderson (Avalanche
Factory Training Clinics) ABA Hall of Famer, two-time consecutive No.
1 Am, over 540 career national wins; he knows what it takes to win. Roger
Linder (Linder/Staats) Team Owner, Track operator, also has numerous national
#1s during his career! These guys know the ropes and will take your racer
to the next level!
BMX Training with these guys just has to be good! To be a winner you must
train with the best!
Here's the skinny?. 4 different camp dates, 5 days 4 nights all
inclusive (racer responsible for travel cost), daily clinics, 7 races,
and 3 tracks.
Head Trainers? Mike Redman, Richie Anderson and Roger Linder.
Guest Trainers? Donny Robinson, Jarret Kolich, Jason Rogers, Matt Faulk,
Sergio Pena and members of the Trainers' Teams.
Some of the skills the camp will cover? gates, rhythm, manuals, conditioning,
sportsmanship and much more?.
Come train with the fastest and best in the industry! Days of racing,
nights of fun! Camp slots are filling fast so call today and reserve your
camp date.
June 27-July 1, July 6-10, July 13-17, August 3-7.
Call Roger Linder to reserve your dates and more info (503) 550-3087
See our ad in next months BMXer, watch for flyers at the races, and BE
PREPARED TO WIN!
29/04 Supercross posters
Supercross Press release
Apple Valley, CA – Back in the BMX racing heyday, you had tons of posters to
pick and choose from of your favorite BMX superstar to put up on your
wall, well lately that selection is getting thinner and thinner. Well
this weekend Supercross is trying to fix that. This weekend April 30th
at the ABA US Nationals in San Bernadino, CA, Samantha Cools the ABA #1
Girl Pro and Todd Parry the ABA #4 Vet Pro and ABA 30+ King oF BS will
be doing an autograph session on their new posters. It is a full color
double sided poster with great race action photography courtesy of Dan
Mooney of the ABA and gOrk of Redlinebikes.com. So if you are in the area
of the ABA US nationals this weekend be sure to stop by and grab a poster
and get it signed. This will be limited to the first 300 people. Now if
are not int he area but want to get a poster of your own, we can still
get you set up by sending $6 in US funds for a poster and catalog to:
Supercross BMX 13429 Tioga Lane, Apple Valley, CA 92308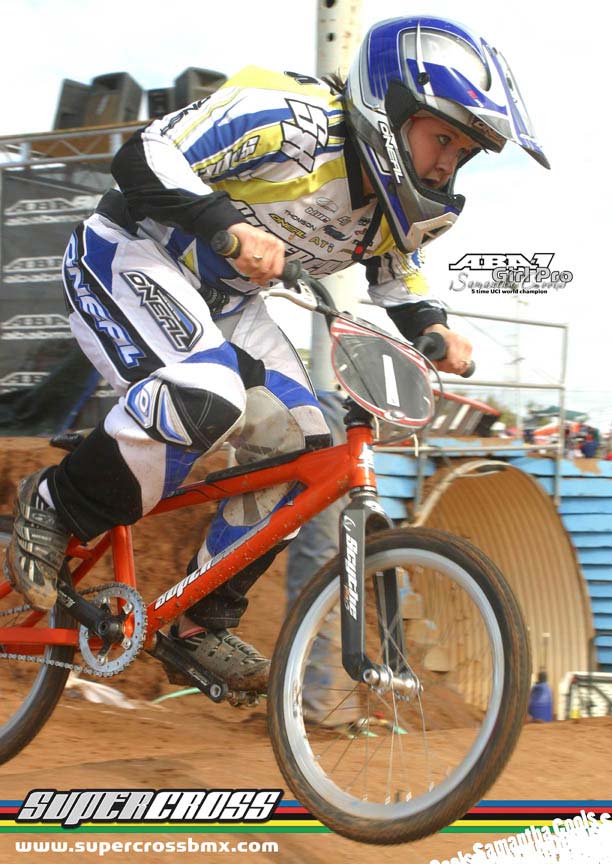 29/04 Review: Supercross SpinDrive Hubs
By bmxultra.com
We have completed our review of the Supercross SpinDrive Cassette hubs. Click here to check them out for yourself.
28/04 Interview with Kappa BMX
By bmxultra.com
Anyone who was around back in the day will see the influences
that Kappa BMX has drawn from in their custom frames. Old school Thrusters,
CW Phaze 1 "Z" frames, Profile, JMC and so on, these aren't
rebuilds they are modernised race frames, with v-brake mounts, euro bottom
bracket, updated geometry and stronger designs. If you are looking for
something a little different, stylish and classic, Kappa just might be
the place for you. Click here to find out more about Kappa BMX.
27/04 BMXPIX update
BMXPix press release
Everyone's favourite European BMX racing photos website, BMXPIX, is updated
with pictures taken from Round 1 and 2 of the European Championship for
Junior and Elite Men and Women held in Sainte Maxime, France.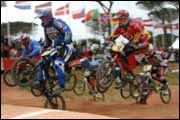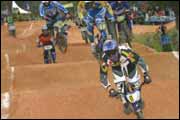 Later this week more pics will be posted.
Check out the pics on http://www.bmxpix.org
and don't forget to go back later this week for more.
27/04 New gate at the euros
By bmxultra.com
Pictured below is the gate as seen at the indoor in France, and
was being used during the European Championship rounds in France, this
past weekend.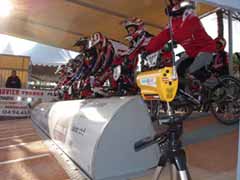 Take a close look at the gate…no more injuries like a foot getting stuck
under the gate. It's nothing new to Australia, but wouldn't it be nice
to see it become an international standard. Thanks to Chris from One Bicycles
for the photo.
26/04 Supercross Tires
Supercross press release
AppleValley, Ca – Supercross BMX is known for their frames, forks bars
an cranks, but there is now something new to add to that product mix.
Tires! Supercross pro riders had been complaining about the current selection
of tires on the market, and we set out to design a new tire that is specific
for today's riding conditions. It is a non directional, low profile tread,
high thread count, light weight sidewall tire, that feels at home on the
paved turns of today's world class tracks as well as your favorite local
trail. So we introduce to you the Supercross Blue Streak!
Current sizes 20×1.75 and 20×2.125 soon we will have 20×1.95 and 20×1.5
sizes and 24×1.75 as well. The 20×1.75 weighs 375 grams and the 20×2.125
is 460 grams. ( this is 50 grams lighter on the rear and 115 grams lighter
on the front than the Maxxis Holy Rollers according to their website
http://www.maxxis.com/products/bicycle/product_detail.asp?id=89,
and 20 grams lighter than the IRC siren on the rear and the same weight
on the front according to their website http://www.irctire.com/tires/bmx.html
) this means that they will get rolling faster out of the gate, and out
of the turns. The most crucial weight on the bike is outer rotating weight.
It is a Multi surface tread pattern that wraps the full contour of the
tread, it is a non directional with a high thread count on the sidewall
so it is light and flexable without being wimpy and wanting to fold away.
Due to it¹s low profile tread it works well in all conditions.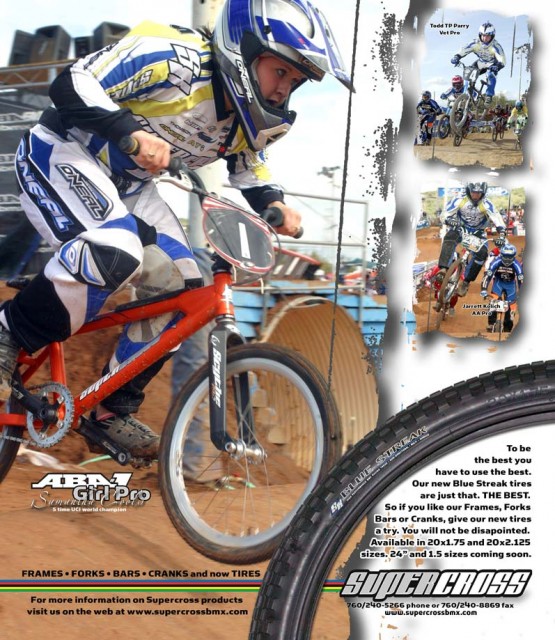 MSRP on the tires is $18.95 and should be available at your finer BMX
shops now. For more information on the Supercross Blue Streaks please
visit your local dealer or visit http://www.supercrossbmx.com
26/04 Awesome Racing In France
One Bicycles press release
Round 1 and 2 of the European Championship for Junior and Elite Men and
Women were held in Sainte Maxime, in France.
The track was looking great, located on a hillside with a view on the
Côte d'Azur and And Saint Tropez just around the corner.
After 2 rounds it's clear that this year will be very exciting.
First year Junior Men and new in the ONE Bicycles team, Roy van den Berg
from Holland made it to both mains, grabbing 8th place on saturday and
2nd on sunday.
Maris Strombergs from Latvia was looking great at the Springbreak Nationals
in the US and showed he will be one of the guys that will go for the title.
Maris was smoking the competition all day and had to settle for 2nd on
saturday after a bad gate. Revenge is sweet and Maris won on sunday and
is now leader in the Championship for Junior Men.
Roy is holding 6th place.
In Elite Women on saturday ONE Bicycles had 3 girls in the main event.
Jana Horakova from Czech Replublic was looking good all day although her
gates weren't great. She took a 2nd on saturday behind French's
Laëtitia Lecorguille.
Also new in the ONE Bicycles team is Czech girl, Aneta Hladikova. She
had to settle with a 7th place, while Slovakian Dagmara Polakova took
6th.
Sunday Jana and Dagmara crashed but Jana managed to get up fast and qulify
for the mains.
Laëtitia took 1st place and Jana went for 2nd again.
Aneta did very well got 4th.
In the Championship for Elite Women Jana is now 2nd, Aneta 5th, Dagmara
8th and Vilma Rimsaite from Lithuania, who didn't make in into the
mains on both days, is 9th.
French's 16 year old Magalie Pottier was looking good as well as
Lieke Klaus from Holland who had a very fast first straight.
Unfortunately Lieke crashed after the start in the mains.
It seemed Magalie was hiding her power in the motes. Her main was incredible.
Magalie flew to 1st place.
Complete results: http://www.bmxmag.net/classements/StMaxime/championnatdeurope.pdf
Next meeting: round 3 and 4 in Klatovy, Czech Republic on May 7 and 8.
On the other side of the World in New Zealand, ONE's Pro Hadan de
Boer (Sirius Sports) took a 2nd in the Championship there.
ONE Bicycles' BMX team is sponsored by: TROY LEE DESIGNS, BOMBSHELL, SHIMANO,
BOLLE, WLM DESIGN, BOMBA, THOMSON, FIZIK, ODI, ZITOUN, KENDA, COOLSHIRT,
NIKE 6.0, NIKE Cycling, NIKE Timing and BMXPIX
26/04 Double A Marketing Race Report: NBL Silver State Nationals Nellis, NV
BMXPros.com press release
This past weekend was round #4 of the 2005 NBL Pro Series. This may have
been the most anticipated race of the 2005 season, as the Nellis track
went out and obtained an extra $10,000 to add to the overall Pro purse
for the weekend. With big money and points towards the overall NBL Pro
title on the line, this, like all the other NBL Pro weekends, had all
of the nations top pros and media in attendance. With all the Stars and
fans in one place, it was going to be a weekend to remember. Here is how
the Double A Marketing guys finished up for the weekend.
Randy Stumpfhauser is just plain amazing. Not letting
all the hype about other riders get to him at all, Randy is a racing machine.
On Saturday, Randy had an ok day by his standards, as he won Pro Cruiser
and missed out on AA Pro. That rarely happens, but when it does, Randy
comes back on Sunday with his goals set high and his bike going fast.
This Sunday was a showcase of excellent Pro riding, as Stumpy took home
the huge win in AA pro, as well as the win in Pro Cruiser. Looks like
Randy wants both his NBL #1 titles back. Randy's sponsors include GT Bicycles,
Hyundai, ODI, Kenda Tires, Tangent, Sun Rims, Bombshell Forks, AC, Fly
Racing, Time Pedals, SRAM, Powerbar, CTI Knee Braces, Tool Shed, SDG,
Easton, S & M, Fox Riders Co Clothing, Cyto Sport/Cyto Max, and BMXpros.com
Cristian Becerine has been riding so well this season,
and he had one of his best weekend to date in Nellis, as he finished in
the top 3 in AA Pro both days. Cristian has one of the fastest first strait
away pull out of all the AA Pros and that helped him to a 2nd in AA Pro
on Saturday and a 3rd in AA on Sunday. With these 2 great results, this
helps Cristian go after his first NBL #1 Pro title. Cristian's sponsors
include Crupi, O'Neal, Answer, UGP, ODI, Sun Ringle, Shimano, Tool Shed,
Powerbar, BMXpros.com, Cyto Sport/Cyto Max, and Thomson Seat Posts.
Dale Holmes made the trip back to the USA and was ready
to show his NBL fans what DH.com is all about. On the track, Dale was
going super fast and made both the AA Pro and Pro Open mains on Sunday,
placing 6th and 8th. Off the track. Dale stunned the DH.com fans with
not one, but two brand new Free Agent Limo complete bike give away's.
Dale watched the races and watched for riders who were in need of a new
high end race bike and then gave them away to two lucky kids. The DH fans
went crazy and Dale, as always, came out a star. Dale's sponsors include
Free Agent, KHS, Kenda, Troy Lee Designs, Sun Ringle, Shimano, S &
M, Power Bar, Truvativ, DaleHolmes.com, BMXpros.com, and Cyto Sport/Cyto
Max.
Brandon Meadows looked incredibly fast on the Nellis
track and turned some heads as he made his way into mains both days. On
Saturday, Brandon was out front all day in AA and finished up 5th for
the day in the main. On Sunday, B was up there again, this time in Pro
open, with another 5th overall. Brandon is looking forward to the rest
of the season and letting his new training program help him to the top
of the podium. Brandon's sponsors include Specialized, Fly Racing, Tangent,
Thomson, Shimano, Cyto Sport/Cyto Max, Sun Ringle, Powerbar, and BMXpros.com.
Kyle Bennett had a incredibly bad crash on Saturday morning
and was unable to race at all this weekend. Kyle flew home to get checked
out, but it looks like its just some time for him to rest up some bad
bruises.
Double A Marketing proudly represents Kyle Bennett, Cristian Becerine,
Wade Bootes, Dale Holmes, Christophe Leveque, Brandon Meadows, John Parker,
and Randy Stumpfhauser. For more information on any of the riders, or
questions abut sponsorship of any of the athletes, please visit www.BMXpros.com.
23/04 Revtec now available in NZ/Aust
Revtec/Sirius press release
About Revtec Bikes
When we wanted to start building bikes we didn't want to play games, so
we collaborated with Billy Griggs who used to build my bikes back in the
GT days. Being as picky now as I was then, Billy knew he was up for another
challenge. He graciously accepted.
I expressed to Billy that we wanted to use the traditional 2 triangle
design (because it works) but yet, add stability and strength in the most
critical and abused area on a BMX frame: The Bottom Bracket area. Together,
we designed the revolutionary "pierced down tube" to provide
maximum stiffness and in return maximum performance while pedalling and
accelerating. We then added little features like CNC machined head tubes
and dropouts and the dimpled front end of the down tube for even more
increased strength (also an Industry first). We use the finest, seamless
drawn 6061 Aluminum.
"No Taiwan here"
After a year of testing and shopping around for a manufacturer, we did
consider going to Taiwan like your typical frame company. However, we
didn't want to catch SARS, and as for quality control (from 5000 miles
away) we simply cannot see that far!
So, we decided to pay the extra pretty penny and went with the best manufacturing
possible: Yess Products in Canada.
These guys are so strict when it comes to quality control; it's
not even funny. They go the extra mile with the little details such as
hand mitering each tube for a perfect fit, to facing the head tubes so
your headset runs smooth. Precision is important and finding it overseas
is hit and miss.
So there you have it, we have orchestrated the best designer in the world
(Billy Griggs) teamed up with the best manufacturer (Yess Products) making
us confident that you will ride nothing better than a Revtec.
We hope you have the same respect in your racing as we do in building
our frames. If you want to consider riding the highest quality BMX frame,
look no further than Revtec.
Greg Romero Revtec Bicycles, Inc
For sales enquiries email info@siriussports.co.nz.
22/04 Home Brew DVDs available through BMXBits.com.au
BMXBits.com.au have been a long standing supporter of BMXUltra.com
and it's team riders. Australian importers of the American Transit Race
DVDs, BMXBits were keen to offer a high quality Australian DVD as well.
If you are looking for a copy of Transit and would like to buy Home Brew
(Knox or ACT) as well, BMXBits is your one stop shop.
They have full credit card facilities, and for those of you going to Sunbury
on Sunday Dave Comport will have a few copies of the DVDs with him.
For more information about BMXBits, check out www.bmxbits.com.au.
The Home Brew DVDs will still be available through BMXUltra.com and also
from Shannon Rademaker at Bayswater Cycles.
22/04 Staats Girl Power Pro frame
Staats/Sirius press release
Why did Staats develop a "gender-specific" frame you ask?
With the advances in skill level, training, equipment & technology
taking place in the sporting world, athletes are creating a demand for
the tools that will enhance their performance & take them to the "next-level".
It is no secret that women are built differently than men. Body mechanics,
strength-to-weight ratio & centre of gravity are the primary factors
that separate the sexes. Data compiled from the research has been examined,
tested & applied to equipment creating a whole separate market for
the female athlete aiding them to perform at their highest level.
Staats has been building rider-designed frames since 1995 & decided
it was about time to build a frame for the ladies. Staats has an extensive
history with past female factory team riders who have been world &
national champions like Stacy Patton, Alise Post, Kasey Martin, Jill Kintner
& Jamie Lilly. Recently they were approached by two of the fastest
amateur girl racers in the world, Phantom On-Trac's Shelby Long
& Terra Nichols, to build a custom frame. They had a predetermined
set of spec's they were looking for so these were applied to years
of accumulative knowledge to build the '2005 Staats Girl Power Pro'.
What sets the Girl Power Pro apart from "other" frames? First
off, most female riders tend to ride "inside" the bike rather
than on "top" of the bike like male riders do. This is due
to the fact that female riders do not ride with their upper bodies as
much as male riders. A female rider uses her legs & "body-English"
to manoeuvre the bike while the body position stays more forward than
her male counterpart. Why is this you ask? Primarily because a female's
gravity-of-gravity is in her hips & a males is in his chest/shoulders.
This analysis does not hold true to all riders but is more common than
not.
Utilizing this observation, Staats applied a longer top tube & a
more laid back set tube angle. Coupled with a more forward bottom bracket
placement, this geometry will position the rider directly over the bottom
bracket & more in the "saddle" of the frame. The increased
top tube length allows for improved mobility over the front end of the
bike while maintaining a more efficient "power-position" over
the bottom bracket. With a shortened chain stays, it lends to a more responsive
transition of power when the horsepower is laid down. The compact rear
end compliments the geometry of the front triangle contributing to a balanced
frame that is responsive yet forgiving in its ride characteristic.
To finish off a well thought out design, Staats have used materials that
would augment the frame. Having access to some of the finest tubing available,
they've spec'd out a blend of True Temper Platinum OX &
Columbus tubing. The diameter of the tubing used is slightly smaller so
to trim the weight down with out impacting the strength & torsional
integrity of the frame.
The finishing feature is the compatibility for a 20x 1-3/8" wheelset.
Again, this is based on the observation that this wheel size is the most
predominant in the 13 & over girls' classes.
This is not a gimmick-frame but a well though out design with the world-class
riders input & ten years of frame building experience behind it. So
if you are a female racer looking to take your racing to the next level,
this is the equipment you need.
2005 Staats Girl Power Pro Specifications:
Top Tube 21.5"
Rider Area 21.75"
Chain Stay 14.5"
BB Height 11.0"
Head Angle 74*
Seat Angle 68*
Wheel size 20×1 3/8"
Head Tube 1 1/8"
Seat Post 26.6mm
Weight 3.75lbs
Colour "Boy-Beater-Blue"
NB: Comes with two frame decal options
For sales/dealer enquiries email info@siriussports.co.nz
22/04 Victorian Open State Championships
BMXVictoria EMG press release
The club delegates at the BMX Victoria Council meeting last Saturday
voted overwhelmingly in favour of opening the 2005 Victorian State Championships
to riders from other states. This decision was not unanimous however even
some of those who where not in favour of the principal of opening a state
titles to riders from other states voted in favour as a special matter.
One of the key considerations was the location of the event this year.
Portland is over 4 hours drive from Melbourne yet less than 1 hour from
Mt Gambier in South Australia. A survey conducted on this question also
supported the decision although, again, the opinion was not unanimous.
Both the council and the BMXV Events Management Group believe the correct
decision has been made on this occasion in the interest of growing the
sport in Victoria.
Now that this issue has been resolved it opens the way for preparations
and event planning to proceed at full speed.
Your opinion sought again.
Last year there was much comment about the cost of entering the State
Championships.
The BMX Victoria Events Management Group is committed to making the State
Championships a more affordable event for all riders/parents.
At the next round of each of the three Victorian regional series a survey
will be conducted on an option to reduce entry fees by as much as $20.00.
Please collect the simple survey form at registration, complete it and
make sure it is collected or hand it in. The forms will be returned to
us for collation and the results will be presented to the EMG when a decision
is to be made on the cost of entries.
22/04 Bootes On MTB Podium at the Sea Otter Classic in Monterey, CA April 17
TeamWBR.com press release
Laguna Seca Race Way was the host of the Sea Otter Classic in Monterey,
California this past weekend. With the Sea Otter Classic being the first
big festival race for the Mountain bike season, riders and teams get to
dial in there new products and show off their new team colors for the
year. The Sea Otter Classic is a huge bicycle festival which has all kinds
of racing from Road, Cross Country, Downhill, Slalom, Mountain Cross,
Dirt Jumping events and a lot of other activities for the spectators and
kids to participate in. The weather was fine all weekend which made for
a dry course for all. Sea Otter is also known for the Omnium event which
is the combined points of all 3 activities in your disapline. The Gravity
Omnium consisted of the Slalom, Downhill and Mountain cross events. With
the thousands of spectators and racers during the week made for a fun
weekend for all.
Mountain Cross was the main focus for Bootes this weekend as he was testing
out the new Percentage Designs Mountain Cross frame. The course had changed
slightly from last year which made for some close racing. Bootes managed
to qualify 3rd which put him in a tough bracket for the day. Bootes made
it to the final by beating out the likes of Bas De Bever, Mike King and
Steve Pete to finally meet up with Brian Lopes and 2 other Aussie boys,
Jarrod Graves and Bryn Atkinson. Lopes had the inside lane, which seen
him get to an early lead. Bootes and Graves had a great battle back and
forth which eventually seen Bootes pass Graves on the down hill section
of the Mountain Cross course. Bootes was not close enough to Lopes on
the line to take the win which seen Graves and Atkinson battle it out
for 3rd and 4th.
1st Lopes (USA), 2nd Bootes – (AUST) TeamWBR, 3rd Graves (AUST), 4th Atkinson
(AUST).
The Slalom course was not as favorable to Bootes this year as the top
section of the course was built a lot tighter than the years past. Bootes
has been a winner and a consistant finalist at this event for many years.
Bootes only managed to qualify 16 which seen him eliminated early in the
final rounds.
1st – Rennie (AUST), 2nd – Atkinson (AUST), 3rd – Bariel (FRA), 4th –
Houseman (USA) 17th – Bootes (AUST) TeamWBR
Downhill at the Sea otter has also been a great course for Bootes as he
has placed in the top 10 for the past few years. Bootes did not get to
race this event this year due to building and dialing in the new Percentage
Mountain Cross bike, as he only recieved the frame at the Sydeny International
Airport on his was to Monterey. There for Bootes was not able to better
his 3rd place in the Gravity Omnium from last year and had to settle for
28th position.
1st – Jared Graves (AUST), 2nd – Steve Peat (UK) 3rd – Fabien Barel (FRA)
4th – Mick Hannah (AUST), 5th – John Kirkcaldie (NZ) DNS – Bootes (AUST)
Australia has been producing some great results in the gravity scene for
the past few years and 2005 looks like it will be no different. Bootes
will be going back to his BMX bike this week and getting ready for the
next 2 UCI World Ranking Rounds in Australia and then heading back to
the States in June to defend his Jeep King of the Mountain Series title
that he won last year.
TeamWBR is proudly supported by: Percentage Designs, One Ring, Volkswagen
Australia, Hogs Breath Cafe, Velocity Wheels, Investco Merchant Bankers,
ATI, Hayes Brakes, Fox Shox, IRC, Cane Creek, BSC, Bell Helmets, Truvativ
chain guide, QuikShade, Nike Cycling, Shimano and www.TeamWBR.com.
21/04 Lopez wins Argentinian BMX Nationals
One Bicycles press release
These are the final results of the 3rd and 4th race of the Argentinian
National Championship, held at the La Rioja State track, April 16 and
17.
ONE's Manuel Lopez, took first place in the national weekend, for the
second time consecutively this 2005 Argentinian championship.
Saturday Results
Elite Woman
1. Maria Ruarte La Rioja -Dans Comp USA
2. Gabriela Diaz Cordoba
3. Maria Dutto Cordoba
4. Ana Heredia San Juan
Junior Men
1. Juan Romero La Rioja
2. Cristian Centurion La Rioja
3. Dario Gimenez Cordoba
4.Juan Lerose Mendoza
5. Maximiano Parisi La Rioja
6. Aguistin Galeotti Mendoza
7. Carlos Ceballos La Rioja
8. Marcos Serafin Bahia Blanca
Elite Men
1. Fabricio Maturano La Rioja
2. Rodolfo Stipanicic La Rioja
3.Manuel Lopez Lomas de Zamora-ONE Factory Team
5.Ramiro Marino Lomas de Zamora-Dans Comp USA
6.Ezequiel Carames Lomas de Zamora-Carames Team
7 Federico Polo Cordoba-Maxxis Team
8 Jose Bustos La Rioja
Sunday Results
Elite Woman
1 Ana Heredia (San Juan)
2 Gabriela Diaz ( Cordoba)
3 Maria Ruarte (La Rioja Dans Comp USA)
4 Maria Dutto ( Cordoba)
Junior Men
1 Juan Romero (La Rioja)
2 Cristian Carrion (La Rioja)
3 Marcos Serafin ( Bahia Blanca)
4 Lucas Fuentes (La Rioja)
5 Dario Gimenez (Cordoba)
6 Juan Lerose (Mendoza)
8 Agustin Galeotti (Mendoza)
Elite Men
1 Manuel Lopez(Lomas de Zamora-One World factory team )
2 Ramiro Marino (Lomas de Zamora-Dans Comp USA)
3 Federico Polo (Cordoba- Maxxis Team)
4 Luciano Sanchez( Lomas de Zamora-Carames Team)
5 Ezequiel Carames ( Lomas de Zamora.Carames Team)
6 Fabricio Maturano (La Rioja)
7 Rodolfo Stipanicic (La Rioja)
8 Jonatan Bustos (La Rioja)
MORE INFO AND COMPLETE RESULTS and PICTURES at: www.bmxargentina.com
21/04 Introducing the new Intense Tire Systems Micro Knobby BMX Race Tire
Intense/VSI press release


With
More than 5,000 knobby's per tire, the new Micro Knobby is one fast
roller. With a year of testing and perfecting in the design, the Micro
Knobby's are packed with features to make your little guys BMX bike
go as fast as possible.
Key design features include tightly spaced and ramped knobby's for
a faster rolling tire and a light weigh, but super strong 72 TPI sidewall
casing to reduce rolling weight.
Intense Tires have won World Cup and World Championships in Mountain biking
and now that technology has come to BMX racing. Our exclusive C3 BMX compound
has proven that specialty compounds are no longer just for mountain biking.
C3 has a 65 durometer rating that is just slightly softer than traditional
BMX rubber. C3 has the same slow rebound dampened feel as our other compounds
but has added qualities which maintain low rolling resistance, a critical
quality for BMX. In addition, the extra cornering and first straight-away
traction provided by C3 has allowed us to make tread patterns with lower
knob profiles that roll faster but still deliver staggering traction previously
not thought possible in performance BMX tires.
What does this all mean? You will go faster. Just wait until you feel
the difference once you put a set of Intense Tires on your BMX bike.
4 Sizes available – 20 x 1 1/8, 20 x1 3/8 & 24 X 1 1/8, 24 x 1 3/8
Please visit www.intensetires.com
for more info on our complete line of BMX and MTB Tires.
21/04 Western Australia overlooked again?
It was brought to our attention that the Western Australian's
aren't happy with the Australian Team selection methods and are quite
willing to voice their opinions. This will be a big problem for the riders
and officials as we lead into the Olympics. Both parties will have to
be careful not to upset each other or risk being dragged through the courts
as happens in other cycling disciplines.
You will find this forum message and be able to respond to it on http://sports.groups.yahoo.com/group/bmxsportswa/message/845
Western Australia constantly suffers by virtue of distance from the operational
centre of BMX. On Monday I rang the Australian Association to ask for
confirmation of the National team to compete
at the World Titles in France this year. I was told that the team had
not been selected and no announcement had been made. The following article
appeared on the 4.4.05 (Monday a week ago).
04/04 Australia Creates History "Stevenson and Fenwick dominate" By bmxpressmag.com
Who can forget the headlines after last years World Championships in Holland?
Australia is preparing for another assault on the world stage this year
and is looking forward to another successful UCI World Championship in
Paris.
In preparation for the event, the staff of BMX Australia would like to
congratulate the following riders on there selection and introduce them,
as they will be representing the green and gold at the upcoming World
Championships in Paris later in the year. Warwick Stevenson, 2 x ABA title
winner and current UCI World Champion in the Elite Male division Michael
Fenwick, 2004 UCI Junior Elite Male World Champion Luke Madill, 2005 National
Champion Elite Male Michael Robinson, 2005 National #3 Elite Male Kamakazi,
2005 National #4 Elite Male and former 2004 Champion Leigh Darrell, 2005
National Junior Elite Champion and multiple UCI World Champion in the
challenge class Krystal Cranfield, 2004 UCI #8 Junior Elite Female Nicole
Callisto, 2005 National Champion and UCI #6 Junior Female Melissa Mankowski,
2005 National #2 and former challenge class UCI
World Champion.
The team is looking forward to the challenge ahead and under the watch
full eye of world renowned/Australian High Performance coach Sean Dwight,
the competition can guarantee the team will show up with the horsepower
to get the job done.
Firstly let me congratulate all those selected it is a huge honour. Missing
from the list are at least two Western Australian riders who more than
deserve to be included. Ray Stanley of BMXA set out a selection criteria
for choosing a selection squad from which the team would be selected.
This included riding at four events, Nerang, Liverpool, Canberra and Cairns,
current UCI ranking and past world title placings. Once the squad was
chosen they would be bought together (location depended on funding) and
the team selected. Let me address each of the criteria seperately.
1. The four events riders were expected to attend: If you live in Queensland
the minimum air fare cost to these events is $614.00 and the minimum cost
if you live in Western Australia is $2269.00. That is without car hire
and accommodation. Is it fair to expect WA rider to have to be financially
disadvantaged by the selection criteria. Further there are several riders
named who did not attend either all or some of these events. WA was granted
a round of the UCI series last year and this was not used as a selection
round…why? Because riders in the east complained that it was too expensive
to attend.
Two events were in Queensland and two in New South Wales. This has to
bias firstly riders from those states and secondly riders living on the
east coast. Selection should not be based on financial means.
2. UCI rankings. Currently the riders on top of the Australian UCI rankings
are: Junior Elite Women: Nicole Callisto; Junior Elite Men:James Dixon;
Elite Women: Tanya Bailey; Elite Men: Luke Madill.
Two of these riders have been included in the team and two have not, co-incidentally
they are Western Australian riders.
3. Past world title performance. While no one can argue the performance
of those selected I have to wonder at the wisdom of choosing 5 senior
elite men when the best possible finishing place
for at least one of them will be fifth if they all make the final.
Where is the equity in sending 5 senior men, 2 junior women and only 1
senior female and 1 junior male.
Apart from all of that what is happening when I directly ask the question
of BMXA about announcement of the team and am told that no decision has
been made when an announcement has been made in a magazine a week prior?
Last year we saw Scott Taylor finish second at the National Titles and
be completely overlooked for inclusion in the team. How long will Western
Australians put up with being ignored. We need to be
questioning these decisions and if no satisfactory answers are garnered
then it needs to be taken to an independent body for arbitration. Our
National coach is thumbing his nose at Western
Australians and we need to question the conflict of interest evident when
one of the selectors has a private business that can be connected directly
to the National Team. Just how inprejudiced is
the selection process?
Any comments??
Kaye Houghton
20/04 West Coast Nats photos by Gavin D
By bmxultra.com
Gavin D (www.gavind.com.au)
was in Western Australia on the weekend for the West Coast Nationals and
naturally took a few photos.
Click here to check out the handful that he sent.
19/04 ACT Titles DVD now available

By BMXUltra.com
The Knox DVD was a successful trial for us. It was a way to see if there is
a place in the market for Australian BMX racing DVDs. Now that we have
dipped our toe in the waters it's time to experiment a little with the
formula. This time we have stuck with using all the qualifying and finals
footage, added a little intro, introduced some of the AA Pro riders and
added some music by Ordain, Zero Degrees and Falling, Tonys Juice, Ground and The Bankers.
The whole thing is a little short of an hour of racing from both days
of the ACT Titles held early March this year.
We have some more ideas for the next DVD to keep it fast paced and even
more interesting, but for now click here to check out our growing range of racing DVDs.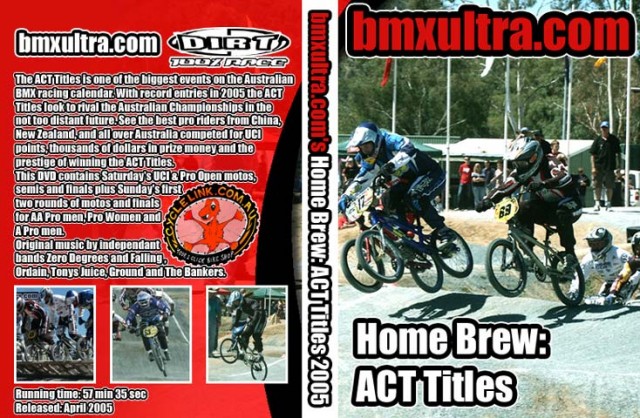 Thanks to Shannon Rademaker and Glenn Suridge for their help with the
camera work and Brett MaliC for making the bmxultra.com sign visible.
19/04 Eastfield Results
By bmxultra.com
I didn't get down to Eastfield but the bmxultra.com AA Pros Levi and Jon
Jon did a great job of making our presence felt. There's no race report
but Paul Fletcher sent this email in.
"Too bad you couldnt make the meet, what it lacked in numbers, was
counterd by some great racin' from all classes. I didn't see all the pro
heats but I'm pretty sure Jon Jon and Levi had top points goin' into the
final. Young [Daniel] Stocksy, and Charles Nelson were also in there,
and the rest, the final was awesome. Jon Jon got the snap, with Stocksy,
and I think Nelson and Levi sittin' about 4th down the first straight.
I was watchin Jon Jon, so I'm not sure what was goin' on mid pack. In
to the 2nd corner and it was Jon Jon, Nelson and Levi. Jon Jon looked
to unclip, and lost his lead, with Nelson, Stocks and Levi going for a
great move on the last corner to take the lead. It was a drag race down
the last straight. Levi looked to have it, but Jon Jon railed the last
corner and come from nowhere to take the closest of wins from Levi, and
I think Price got 3rd, not sure, because we were hoping our Shepparton
pro got it. So we weren't really payin' much attention, what a great example
to our younger riders to show that you NEVER give up on a race, well done
to all.
PS Is that the first time team bmxulltra.com gets 1st and 2nd on the podium?"
To answer your question Paul yes, it's the first time the two bmxultra.com
pros have taken out 1st and 2nd.
Pro Open Men
1st Jonathan Hoare (bmxultra.com/One)
2nd Levi Collins (bmxultra.com/Staats/No Fear)
3rd Ben Price (Sinister)
4th David Page
5th Charles Nelson
6th Nathan Evans
7th Daniel Stocks (FreeAgent)
8th GeoffreyTripovich
Bruiser Cruiser
1st Dean Coles (BMXStars.com)
2nd Colin Gruar
3rd Glenn Suridge (Sinister)
4th Greg Siinmaa (Sinister)
5th Derek Harris
Click here for full results
18/04 Vic State titles are open
By bmxultra.com
At a committee meeting on Saturday BMXVictoria took a vote on whether
the 2005 Victorian State Championships should be an open event. In a show
of hands vote almost all hands were for the decision. After the event
in November there will be a review to see if the titles will be an open
event in future years.
It was also decided that the Elite/Junior Elite classes would be replaced
with A/AA Pro classes for 2005. This should help to boost numbers in the
pro classes and make racing even more competitive.
18/04 BMXPIX update
BMXPix press release
The winter is behind us, so BMXPIX is back on the track.
We updated the website with a photoshoot of the NBL Sprinkbreak Nationals
in Orlando and Tampa, USA.
Check out the photos on http://www.bmxpix.org
Next shoot will be round 1 and 2 of the European Championship for
Junior and Elite Men and Women.
These will be held in St. Maxime, France on April 23 and 24.
So check back for those pictures soon.
15/04 Help promote BMX in Frankston
By bmxultra.com
The Frankston Mayors Picnic is one of the City of Frankston's
largest one day events which attracts thousands and thousands of people
and it's a huge opportunity to promote BMX on a grass roots/local community
level. The Frankston BMX Club need your help. This means anyone from a
sprocket rider, to a pro, to a parent willing to donate 1 hour of their
time to talk to people about BMX. Any pro riders that live close to Frankston
that are looking for a way to help the sport and add some promotions activities
to their resume should really consider this. Alternatively if you are
a reseller, wholesaler or distributor and have posters, stickers, catalogs,
or anything that will help promote BMX please contact Jane Durso on the
details below.
When and Where:
The Frankston Mayors Picnic
1st May
Botanical Gardens
Frankston, Victoria
Contact:
Jane Durso from the Frankston BMX Club on 0425794631 or dursos@optusnet.com.au
14/04 Redman available down under
Sirius Bicycles press release
Sirius Bicycles (formerly Sirius Sports) are very pleased to offer Redman
Bicycles to BMXers down under. And Team Manager, Adam Campbell is also
looking for riders from Australia & NZ to join the Sirius Bicycless/Redman
team. Today, 20 years after Mike Redman managed his first race team and
built his first BMX bike, Redman Bikes continues to race forward, introducing
the next generation of Redman Race Frames, the all-new Redman Tomahawk
available this Autumn 2005. Technique Components, Redman's line of high
quality BMX race cranks and ultra-lightweight hubs, also looks to make
a strong return to the market this season. Redman Bikes- Championship
Bicycle Motocross, Since 1985. For Australian or New Zealand sales/dealer
enquiries email info@siriussports.co.nz.
13/04 Olympics Competition
By bmxultra.com
Last year we ran a competition, in conjunction with Dirt Designs
and GT Australia, to determine who you thought would be the three most
likely male and female riders to make up the Australian Olympic BMX Team
for the 2008 Olympics in China.
Here were the results:
Female riders
1. Melissa Mankowski 93.75%
2. Emma Franklin 71.88%
3. Chloe Macpherson 53.13%
Male riders
1. Michael Fenwick 81.25%
2. Luke Madill 56.25%
3. Khalen Young 53.13%
We knew there would be a changing list from year to year as we near the
Olympics and thought it would be interesting to run this as an annual
thing.
Now we'll add another element, this is now open to all readers in all
countries.
The competition ends in one month on May 13. Only 1 entry per person.
All you have to do is send us an email to webmaster@bmxultra.com
with the subject heading "Olympics Competiion 2005". Incomplete
emails will be deleted and not counted.
The prize:
A copy of the soon to be released bmxultra.com Home Brew: ACT Titles DVD.
In your email include all the following details:
1. Answer this question:
Who are the 3 most likely male and female riders (full names) that you
think will represent your country at the 2008 Olympics?
2. Make sure we have your details:
Full name, country, valid email address, we also need your postal
address just incase you win. Your email and postal address will only be
used for this competition and not forwarded to a third party.
Your email should look something like this:
1. Mike Fenwick
2. Luke Madill
3. Michael Robinson
1. Nichole Callisto
2. Emma Franklin
3. Ziggy Callan
Shane Jenkins, Australia, webmaster@bmxultra.com, 1 Some Street, Kinglake,
Victoria.
Good luck!
12/04 bmxultra's Home Brew DVDs
By bmxultra.com
You may have heard of our first DVD Knox 'Dome, well we're about
to complete our second which is footage from the ACT Titles held last
month in Canberra. We just need to finalise some music and we are ready
to go. The DVD is nearly an hour of footage and so far includes music
by independant Australian bands Ordain and Zero Degrees and Falling. If
you know of any bands that might want to promote their music through our
racing DVDs they can email us at the address above.
For more information about the Home Brew DVDs check out our DVD page.
11/04 Team Specialized NZ take out Elite Men and Woman
Specialized NZ press release


This year the New Zealand Champs were in the South Island at Christchurch.
By Friday the rain came in and the super fast track became a slow mud
hole. Saturday was the UCI Oceania round six, which was 3 motos and 1
Final. Marc Williers(Specialized) Elite Men 1st and Sarah Walker(Specialized)
Elite Woman 1st. Overall with two more UCI Rounds to go, Marc is in 4th
and Sarah in 2nd Day 2.
Sunday was the NZ Champs and the rain was holding off and the track started
to get fast again. The final results again were Marc(Specialized) Elite
Men 1st and Sarah(Specialized) Elite Woman 1st.
Specialized Team is proudly supported by: Fox Clothing, Answer Forks,
Leppin Energy, Tangent Plates and Pads.
11/04 Bellarine results
Bellarine BMX press release
The first round of the Western Extreme series was run on Sunday
with a good turn out of riders coming mostly from Mt Gambier, Portland,
Geelong and Melbourne. The meeting was run in hot and windy conditions
but the riders we able to adapt.
There were 2 tough gates of Open Money class riders.
Money class final results
1. Ben Price
2. Luke Pretlove
3. Shane Claassen
4. David Page
5. Ashley McCutcheon
6. David Murdoch
7. Jarrod Tingate
8. Connor Hunter
The next round of the Western Extreme Series will be at Mount Gambier
on Sunday 1st May, the Portland track is till under construction, it will
be ready by 22nd May.
09/04 Martin final piece to puzzle…
Staats/Sirius Press Release
The Staats Bicycles team is pleased to welcome Cory Martin (11 Boys) to
the team for next season. Cory was NZ 1 in 2004 but was unable to defend
his title in 2005 due to a broken arm sustained a few weeks out from this
year's nationals. This was the 2nd time Cory had had a lay-off this
season due to a broken arm. He also missed the North Island Titles at
the start of the season & was reduced to being merely a spectator
in Rotorua. As a result of his disappointing year, Cory is fired up &
ready to assist his teammates with their assault on the Dalliston Team
Trophy next season, which kicks off with the North Island Titles at Papakura
(Auckland). And as Papakura is Cory's home track the smart money
would be on him having a good race. Cory will also trial for the Mighty
11's at the Pre-norths, held the weekend prior to the North Island Titles.
So you may also see him taking on the Aussies as well as the local competition
at Papakura!
09/04 Intense BMX Sabot Race Frames
Intense BMX press release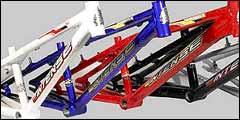 High Quality BMX race frames are a must for you to be out front of your moto
and ready to finish atop the podium. Intense BMX Frames are just that.
Designed in the USA and ridden by some of the world's fastest racers,
the quality doesn't get better than Intense BMX. Intense BMX frames
have been around for a few years and our track record speaks for itself-
2 years on the market and 2 ABA #1 Amateur titles with Team Intense/Challenge
rider Josh Oie aboard them. 7005 series alloy with double butted down
tube, cnc'd dropouts, euro BB, beautiful paint and graphics are
some of the fine features for the world's finest BMX race frames.
The Intense Sabot Pro frame model weights in at just 3 pounds 11 ounces.
For 2005 things are bigger than ever for Intense BMX, and while the frames
have been renamed Sabot, nothing about the highest quality race designed
frames has changed.
Sabot (noun)– pronounced sa bo – a lightweight sleeve, such as
a missile casing, placed around a projectile so that it can be fired from
a weapon with a high intensity at maximum speed.
Currently all the Intense BMX frame models are in stock, so It's
perfect time to get you hands on one of the fastest and lightest BMX bikes
out there – in name and on the track.
Smart teams such as Intense/Challenge, Phantom/On Trac, Dans Competition,
Factory ATI, Incycle, Reno Photo, University Cyclery, LDC Racing, Team
Cafferty's, Intense BMX, Fullerton Bikes, SBR Intense, Hite Bikes,
Extreme BMX, Extreme Bicycles, SL-Eye, Bicycle Concepts, and Sonne Racing
all ride exclusively on Intense BMX frames and you can too. Just check
out your local dealer.
The Intense Sabot BMX frame comes in 12 different frame Sizes- Pro XXL,
Pro XL, Pro, Expert XL, Expert, Junior XL, Junior, Mini XL, Mini, Pro
Cruiser, Expert Cruiser, and Junior Cruiser. Each frame comes in 5 different
colors and the $US299 suggested retail price is one of the best deals
in BMX for a high quality BMX racing frame.
For information on frame geometry, the line of the Intense Tire Systems,
or any other scoop on INTENSE BMX, please check out www.intensebmx.com
Intense BMX and Intense Tire System are proud to be associated with the
finest Bicycle dealers world wide. Intense BMX Products are a division
of VSI Products. – www.vsiproducts.com
09/04 One Bicycles Spring break news
One Bicycles press release
The Spring break races in the USA were very succesful for the One Bicycles
crew. For the European riders that flew over it was there first race since
October. Rain and snow has kept them off their bikes until April. They
used the Springbreak Nationals to prepare for their season that starts
in France at the end of April. Along with the Europeans Manuel Lopez (ARG),
Emilio Falla (EQU) and Kevin Hill (CAN) came over to join the rest of
the US team.The US team members took good care of all the guys.
Arturs Matisons will stay in the US until the final rounds of the European
Championship. He won A Pro on Saturday in Orlando and graduated to AA
Pro for Sunday.
Some of the riders had to get used to the difference between the UCI and
NBL and missed their quarters the first day in Orlando.With 20 riders
at European races you have ½ finals in stead of ¼.
All other euro Pro riders made mains during the races in Orlando and Tampa.
They'll be ready for the euro season that starts in 3 weeks. It was a
great experience and much needed preperation.
Vilma Rimsaite, who was in Italy to get ready for the season, will be
joined by Emilio Falla at the UCI center in Switzerland in May. He will
be attending most of the European Championship rounds.
Besides the great success there were also injuries – Dave Bentage,
Ezell Johnson, Arturs Matisons, Roy van de Berg and Nick Lucas all crashed
hard in Tampa but they will all be ready to rock 'n roll at the
upcoming events.
Our photo site http://www.bmxpix.org
will be updated next week with pics from both the Easter Classic and Gator
National.
ONE Bicycles' BMX team is sponsored by: TROY LEE DESIGNS, BOMBSHELL, SHIMANO,
BOLLE, WLM DESIGN, BOMBA, THOMSON, FIZIK, ODI, ZITOUN, KENDA, COOLSHIRT,
NIKE 6.0, NIKE Cycling, NIKE Timing and BMXPIX
09/04 Entry forms: Sunbury/Mount Gambier
By bmxultra.com
We have just received an entry form for the first round of the Northern
Rivers Regional championships series which will be held at Sunbury on
the 24th of April and the Australian Country Championships which will
be held at Mount Gambier in June.
All entry forms are available for download
from our race calendar.
09/04 Border BMX Club news
Border BMX Club press release
This weekend the Chaingang Mountain Bike club in Beechworth, held a 6
hour endurance ride. They asked the club riders who live in Beechworth
if they would like to put on a display & hit up on some dirt jumps
which had been made out in the bush. For a mother they looked pretty big
and a bit close to the trees, but the boys just laughed at me.
Evan Smith "Stiffi" and Adam Carey had some fun showing 200
or so mountain bike riders what can be done on a 20 inch.
Bob Spagnolo the director, filmed the boys for about an hour. Stiffi wore
a head cam. It looked unreal while he was jumping.
It will be featured in coming weeks on Gooch productions in Melbourne
on channel 31.
08/04 BMXA to Break Tradition
By BMXUltra.com
The rumours have been flying and now the official statement is
out, BMX Australia will break a 25 year tradition in 2006. Next years
Australian BMX Championships will NOT be on over the Easter weekend, but
rather on the 5th to 7th May at Wayville Showgrounds Adelaide.
Who will fill the rather large hole in Australia's BMX Calendar? Will
it effect the date of what is becomming Australia's biggest race meeting
the ACT titles which is normally run 6 weeks before the Aussies?
The biggest question is why would you move the event away from Easter?
It all seems to be based around the Australian Championships being an
indoor event. Sure if we have it outdoor it could rain, but the first
Australian Championships held indoor wasn't until 1999 at Brigadoon in
Western Australia. It often did rain at the Nationals in the years preceeding
that, but the races went on, titles were awarded and people kept going
back. In fact, if I remember correctly, Australia's biggest National Championships
were held outdoors at Ashmore, Queensland in '83 where entries neared
the 1900 mark.
The 3 reasons that BMXA use are 1. availablility of the venue, 2. cheaper
for BMXA and travel/accomodation costs 3. elite riders will be able to
compete at the UCI races in New Zealand over the Easter weekend. I don't
buy it, the elite riders haven't been considered in the past couple of
years where UCI rounds were held in Australia and New Zealand on the same
weekend. But also wouldn't one of the tracks surrounding Adelaide be available
over Easter, and wouldn't staying in the outer suburbs of Adelaide be
cheaper than staying in the city? I had a ball at the South Australian
titles in Tea Tree Gully last October, the track was a lot of fun, it
could probably do with a new surface and a tidy up but that would be cheaper
than renting dirt and an indoor venue.
I guess the proof will be in the pudding. If the venue will be cheaper
for BMXA in May, the entry fees should also be cheaper than they have
been the past couple of years, making it more affordable for everyone.
Will we see a reduction in cost? I doubt it.
07/04 Franklin joins bmxultra.com team
By bmxultra.com
Emma Franklin is one of Australia's most decorated female riders. She's the
current elite women's Victorian State Champion, a former Australian and
World champion, and finished 4th in the Junior Elite Women's class at
the UCI World Championships in Holland last year.
Emma's gone a little quiet of late, she hasn't raced a round of the Oceanic
UCI series nor did she compete at the Australian Championships, but don't
write her off just yet. Emma's been training on her new One Bicycles frame
for around a month now and is all set to get back into racing. She was
one of the favourites in our poll last year to determine the 3 most likely
women to compete for Australia at the 2008 olympics. We're sure that she'll
still be in the running as we approach selection for the team.
Emma plans return to her dominant form, that we're all used to seeing,
as well as help bmxultra.com to promote women in BMX.
Emma will be flying the bmxultra.com/One colours on the track from now
on.
"We look forward to getting her back into racing at full swing and
think she's a great fit to our team as she joins Jonathan "Jon-Jon"
Hoare (AA Pro), Shane Jenkins (A Pro) and co-sponsored rider Levi Collins
(AA Pro) on the bmxultra.com team." says Shane Jenkins, bmxultra.com's
team manager
The bmxultra.com team is sponsored by One Bicycles, Answer BMX, Supercross,
Dirt Designs, ATi, Pazzaz, Control Tech, BMXBits.com.au and Tektro.
06/04 Levi Collins hooks up with Staats/Sirius
By bmxultra.com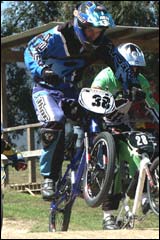 BMXUltra.com's Levi Collins has hooked up a frame deal with Staats via the Australia/New
Zealand distributor Sirius Sports. Levi is enjoying riding, racing and
reviewing the new Staats Aluminium frame even more now since Staats/Sirius
made an offer for him to keep the frame as a part of a co-sponsorship
deal. It will mean that Levi will have the opportunity to review other
products distributed in Australia/New Zealand by Sirius.
After hooking up with BMXUltra.com earlier this year Levi has picked up
a 5th place at the ACT titles in the Pro Open, 4th place in the Elite
Cruiser at the Australian Championships and seems to be improving from
race to race.
Levi's official sponsors are BMXUltra.com and Staats/Sirius, he is also
helped out by his former sponsor Sinister.
About Sirius Sports
Sirius Sports of New Zealand are the official distributors in Australia
and New Zealand for brands such as Staats, Hyper, MCS and No Fear (cycling).
Sirius Sports are also the New Zealand distributor for One Bicycles.
Sirius Sports website: www.siriussports.co.nz.
05/04 Wade Bootes Racing team looking for riders
By bmxultra.com
It's no secrect that WBR, Wade Bootes' new venture, is in full
force and the WBR factory team just might kick off a whole new generation
of rider. Bootes, along with Percentage, potentially could influence a
renewal of Australia's manufacturing industry which has been dormant for
many years.
WBR are calling for riders to apply for the WBR factory team. Successful
applicants will benefit from a Wade Bootes mentoring program and free
product "from some of the best companies in the market".
If you'd like any further information click on the image to the right
or head straight over to www.wadebootes.com.
05/04 Western Extreme Series
By Bellarine BMX Club
This Sunday the 1st round of the Western Extreme Series will be held at
the Bellarine BMX Club.
Racing will start at 11am. Registration from 9.30am.
There's a new third straight at Bellarine to test all riders.
14+ Money class $100 plus payback. Also $5.00 will be paid into an end
of series prize pool for the top 8 riders of the series to race for.
Where? The Bellarine BMX Club is situated in Coppards rd Whittington.
Melway ref.431 g12.
For phone enquiries call 5241 6185
05/04 BMXPros.com Race Report: NBL Gator National, Tampa, Florida
BMXPros.com press release
Round 3 of the NBL 2005 Pro Series race series was held in Tampa, Florida
this past weekend. With the NBL season still new in the title chase, it
is all up for grabs for any one rider to step up and take a demanding
lead in the #1 Pro chase. On the back end of 2 consecutive weeks in Florida,
some of the riders had made the trip back and forth home after Round 2
in Orlando last weekend while a few stayed in Florida to ride and have
some fun. Either way, the Double A Marketing riders had a great weekend
in Tampa and made the fans excited. Here are how the riders finished up
for the weekend:
Kyle Bennett, last seasons NBL #1 Pro has had a solid
year so far in 2005. With consistency on his side, Kyle is once again
one of the riders who is near the top of the early points lead. On Saturday,
Kyle had a strong race, over jumped the first jump just a bit but was
able to hold on for 3rd overall. On Sunday, Kyle was back and this time
was up in the front again, again taking a 3rd overall in AA Pro. One of
the best pros on the circuit lets his racing do the talking and 2005 has
been a big year for him so far. Kyle's sponsors include Free Agent, KHS,
Answer, Sun Ringle, UGP, Truvativ, Velo, S&M bars, ATI, Shimano, Profile,
Powerbar, Cyto Sport, and BMXpros.com.
Randy Stumpfhauser always does his best to take care
of his fans with impressive results and a friendly word, and once again
Randy didn't let anyone down with some great results and time for everyone.
On Saturday, Randy missed out the AA main, but came back to take a win
in Pro Cruiser. Sunday, Randy was focused on AA Pro and when the gate
dropped, he took off looking for a good result. Randy finished 2nd overall
and then went onto win Pro Cruiser once again. Randy's sponsors include
GT Bicycles, Hyundai, ODI, Kenda Tires, Fly, Tangent, Fox Rider Company
Clothing, Smith, Sun Ringle, Bombshell Forks, Profile, AC, Powerbar, CTI
Knee Braces, Tool Shed, SDG, S & M, Cyto Sport, and BMXpros.com
Brandon Meadows once again came alive on a good track.
On Saturday, Brandon was out front in AA Pro and was one of the riders
to watch throughout the day. In the semi, unfortunately Brandon had some
rider crash in front of him, keeping him out of the AA Main. On Sunday,
Brandon was back and this time it was in Pro Open, and he was in the main
and just missed the podium with a 4th. Look for some big things in the
near future from him. Brandon's sponsors include Specialized, FLY, Tangent,
Cyto Sport, Shimano, Sun Ringle, Powerbar, and BMXpros.com.
Cristian Becerine rode a lot stronger than his 5th place
in AA Pro on Saturday showed. With mutable hole shots and moto wins, Christian
seemed to be in the wrong place at the wrong time come semi time. With
a strong fan base of the South American Riders, Cristian was around friends
and had a good time and will be back better and stronger at the next national.
Cristian's sponsors include Crupi, O'Neal, Answer, UGP, ODI, Sun Ringle,
Shimano, Tool Shed, Powerbar, BMXpros.com, Cyto Sport, and Thomson Seat
Posts.
Double A Marketing proudly represents Kyle Bennett, Cristian Becerine,
Wade Bootes, Dale Holmes, Christophe Leveque, Brandon Meadows, John Parker,
and Randy Stumpfhauser. For more information on any of the riders, or
questions abut sponsorship of any of the athletes, please visit www.BMXpros.com
04/04 Backyard BMX week 2
By Shane Jenkins
Aussie BMXers are full of dreams, if you ask them you will find
at the top of their list they either want to be #1, to race in America
or to have a backyard track. I've raced in America and I have to say it's
much easier to do than building a backyard track. To get to America I
had to save hard for a year and make a few sacrifices here and there.
To build a backyard track…well that's a whole different story. I have
been able to source an endless supply of dirt which is loaded by bobcat
but shovelled off by hand into my backyard.
On Saturday my sister Michelle (ex-BMXer), her husband Rob, and my three
nephews (2 of them ex-BMXers) Brad (12), Josh (12), and Andrew (8) all
helped me. We started moving the dirt by 6X4 trailer, but got in 4 loads
(about 4 tonne) before deciding we needed a truck. The truck carried 4
tonne of dirt in one load and we managed to move 3 truck loads before
dark and all we managed to get done was one more corner.
Sunday came round, it started early for me around 7:30am. It was forecasted
to rain, and I had a truck load of dirt to move before it got wet and
heavy. We weren't going to get access to any more dirt until about 1pm,
so others weren't going to turn up until around 11am. Shannon Rademaker
was first to arrive, and straight away he got into shaping the corners
and the dirt that I dumped for the first jump on the track. Then Glenn
Suridge arrived, shortly after that Derek & Tracey Harris, Jon Jon,
and Tracy's sister Trish. We had the track shaped, some of the low hanging
branches cut down and cleaned up in no time and were all set for more
dirt. Once we got the call around 2pm we managed to get another 3 truck
loads of dirt in before dark. We have a big jump before the first corner
and some smaller jumps up the second straight. All will require more dirt,
but it's a good basis for a track now. My shoulders are killing me from
shovelling for what seems to be the whole weekend, this BMX dream seems
to be turning into a nightmare. I think I'll be saving for a dumper truck
to dump the dirt for me next time around.
There will be photos soon, I just need to get my battery charger back
and I'll be set.
Thanks to everyone who helped, especially Derek and Shannon who soldiered
on through the rain and into the dark.
04/04 Team Redline Takes Out Corporate Team Challenge
By John Vockenson
Redline team riders put in a strong performance at the Australian BMX
Championships held over the Easter weekend in Cairns North Queensland.
They took home the Corporate Team Trophy for Redline Australia along with
a swag of top three placings.
Todd Pascoe was in superb form in his first year in Junior Elite to take
2nd in his 20 inch final behind Leigh Darrell and 3rd in cruiser. He also
made the mains in both UCI rounds finishing 5th on both days.
The talented Josh Callan took out 1st in 13-14 cruiser with his equally
talented older sister Ziggy taking out 1st in 17 girls. Justin Braybon
proved a consistant performer in the very tough 14 boys class finishing
3rd and made it a fantastic one-two finish for Redline in the 13-14 cruiser
after finishing 2nd behind Josh.
Luke Pretlove blitzed the field in 17-29 cruiser and was a very close
second in 17+ men. Michael Vockenson looked strong all weekend and took
out 1st in 16 boys and placed 3rd in 15-16 cruiser. Townsville's
Ashley Pemberton pulled off a wicked move on the first berm of the 15-16
cruiser final to come from last to second place, he moved to first place
when team mate Damien Rosenthal fell in the second berm and was narrowly
beaten on the finish line to take out 2nd place.
Last years National Champion and 2003 dual National Champion, Damien Rosenthal,
was a strong contender in both 16 boys and 15-16 cruiser and was unlucky
not to finish in the top three in both class's.
Redlines junior team members, Perth's Hannah Throns and Luke Tanner
both made it to finals in the 10year age classes. Hannah was thrilled
with her third placing after being National Champion in 2004.
The 2005 Nationals also saw the return to racing of Redline's Peter
Cowper and Maggie Faux. Both Peter and Maggie have had an extended break
from racing and are aiming to be in top form for the upcoming Queensland
state titles.
Full team results:
Todd Pascoe 2nd Junior Elite 3rd. Junior Elite cruiser
Josh Callan 1st 13-14 cruiser 8th 14 boys
Ziggy Callan 1st 17 girls 2nd 18U womens cruiser
Michael Vockenson 1st 16 boys 3rd 15-16 cruiser
Luke Pretlove 1st 17-29 cruiser 2nd 17+ men
Ashley Pemberton 2nd 15-16 cruiser Semi,s 16 boys
Justin Braybon 2nd 13-14 cruiser 3rd 14 boys
Hannah Throns 3rd 10 girls
Damien Rosenthal 6th 16 boys 8th 15-16 cruiser
Luke Tanner 7th 10 boys
The Redline team would like to sincerely thank Bill DeMaid of BMX International
for all his advice and support and for his continuing enthusiasm for the
great sport of BMX.
The team would also like to thank the Cairns BMX Club who presented the
Australian BMX community with a first class venue for our National Titles.
04/04 Australia Creates History "Stevenson and Fenwick dominate"
By bmxpressmag.com
Who can forget the headlines after last years World Championships
in Holland?
Australia is preparing for another assault on the world stage this year
and is looking forward to another successful UCI World Championship in
Paris.
In preparation for the event, the staff of BMX Australia would like to
congratulate the following riders on there selection and introduce them,
as they will be representing the green and gold at the upcoming World
Championships in Paris later in the year.
Warwick Stevenson, 2 x ABA title winner and current UCI World Champion
in the Elite Male division
Michael Fenwick, 2004 UCI Junior Elite Male World Champion
Luke Madill, 2005 National Champion Elite Male
Michael Robinson, 2005 National #3 Elite Male
Kamakazi, 2005 National #4 Elite Male and former 2004 Champion
Leigh Darrell, 2005 National Junior Elite Champion and multiple UCI World
Champion in the challenge class
Krystal Cranfield, 2004 UCI #8 Junior Elite Female
Nicole Callisto, 2005 National Champion and UCI #6 Junior Female
Melissa Mankowski, 2005 National #2 and former challenge class UCI World
Champion
The team is looking forward to the challenge ahead and under the watch
full eye of world renowned/Australian High Performance coach Sean Dwight,
the competition can guarantee the team will show up with the horsepower
to get the job done come July.
01/04 Staats '04/'05 season report
Staats/Sirius press release
After 5 rounds of the Dalliston Team Trophy my (NZ) team finished just
out of 3rd place with a respectable 4th & I'm very pleased with this
result. This was our first season in the competition & at no stage
during the season did I have a full team of riders, as one or more of
my team riders suffered a broken bone of some description. Our injury
list consisted of Tim's broken arm, Robert's broken arm, Scott's broken
collar bone, & Chelsea's broken finger (sustained two weeks out from
nationals)… my riders joked that we must have been cursed!
Congratulations to the the CAT Team, racing out of the Papakura (Auckland)
club, on winning the Dalliston Team Trophy.
Next season we will once again make a run at the Dalliston & I've
added a former NZ 1 to the team to bolster our chances. More on that signing
later.
Below are the results from the NZ & Australian Titles:
Chelsea King NZ 3 11 Girls
Dirk Winter AUS 1 15 Boys / AUS 1 15-16 CR
Nikki Harper AUS 4 Junior Elite Women
Robert Blackham NZ 4 Junior Elite
Scott Hosking* NZ 1 16 Boys / NZ 1 15-16 CR
Tim Ferguson* NZ 8 Elite Men / NZ 3 Elite CR
Wayne Pottow NZ 6 15 Boys
Wyatt Clinch NZ 3 14 Boys / NZ 1 13-14 CR
*Drafted into the BMX NZ High Performance program.
Of special mention are the results of Wyatt Clinch, Scott Hosking &
Dirk Winter.
Wyatt Clinch – Wyatt's build up to the nationals had been solid &
he looked ready to topple the incumbent NZ 1 in 20″ & cruiser,
Kurt Pickard (World # 7, 13 Boys). Wyatt's first straight was in a word…
dominating! He consistently pulled everyone to the first turn all weekend
long. Where he sufferred, as did many a racer that weekend (including
yours truly) was in maintaining sufficient track speed down the second,
more difficult straight. Wyatt's cruiser race was nothing short of electrifying
& we're all very proud of his accomplishment.
Dirk Winter – Dirk is clearly in a class of his own & once you read
his race report (coming soon) you'll understand why. Dirk doubled on his
20″ & cruiser & now looks set to battle it out in the very
tough AA Pro class throughout the remainder of the aussie season. May
I remind you all that Dirk is still only 14 years old!
Scott Hosking – Like Dirk, Scott doubled & is head & shoulders
above his competition. Scott didn't drop a moto all weekend, well there
was one moto on his cruiser where it could be argued that he let his best
friend edge him out at the finish, but Scott will insist otherwise. So
dominant was Scott that he could often be seen coasting down on the final
straight whilst his nearest competition was negotiating the final turn!
Scott's future in BMX looks bright & BMX NZ have acknowledged his
abilities on the bike with a call up onto their high performance team.
Scott is the youngest member in the program & will travel with the
BMX NZ Senior Test Team to Tamworth (Australia) in June. He has also been
selected to represent NZ at the UCI BMX World Championships in Paris,
France.
Good luck to those riders travelling to Tamworth with the BMX NZ team
& to those of you heading off to the Worlds. I know you'll do Staats
proud.
Adam Campbell – Team Manager – Staats Bicycles (NZ/Australia)
01/04 Chris Jongewaard Australian XC Champion
By bmxultra.com
Chris Jongewaard is a name that rings bells for anyone who was at the
1998 UCI World BMX Championships in Melbourne. He was the young rider
from the Northern Territory who managed to sneak through the carnage round
after round until he eventually found himself in the Elite Men's final.
Chris' race that weekend has often been compared to fellow Aussie, Speed
Skater, Steven Bradbury's Gold Medal winning performance at the 2002 Winter
Olympics.
Chris stuck with BMX for a couple more years where he had started to get
amongst Australia's elite when he faded out of the sport altogether.
Turning his cycling focus to mountain biking in the last few years he's
had a lot of success on Aussie soil, last year he finished second in the
Elite class cross country, this year he did one better and took the gold.
To find out more about his gold winning performance follow this link:
http://www.cyclingnews.com/mtb.php?id=mtb/2005/mar05/ausmtbnats05/ausmtbnats052
Posted in: Archive