BMX racing news July 2005
29/07 Catch the UCI Worlds live
by bmxultra.com
It's no secret that the UCI World Championships are on this weekend in
France. There is a record attendance of over 2,500 competitors. While
not all of us could attend, we can still catch all of the action through
ISTV or Mediazone.
I am sure that ISTV will run the same deal that they do with all the ABA
and NBL nationals. Photos, live audio broadcast, recorded video interviews
and finals for you do download directly to your PC or stream for the whole
of the event. Check out www.istv.com
for subscription information.
Mark Argent brought to our attention that Mediazone is broadcasting 4
1/2 hours of the Saturday events from the UCI worlds for a $4.95 (USD)
subscription. http://www.mediazone.com/channel/bmx/jsp/index.jsp
it is an all access pass so you can watch live or download at any time
during the next seven days.
29/07 BMXPress start the BSX auction
by bmxultra.com
Warwick Wheeler from Australia's own BMXPress magazine has put a
starting bid in for the signed plate of the winning rider of the BSX in
January. His bid is at $100. That's an awesome start for the fund raising
for the Royal Children's Hospital.
Don't forget to check out BMXPress mag at your local news agency in Australia
or head over to www.bmxpressmag.com
for subscription information.
28/07 Backyard race update
by bmxultra.com
Since there are a few things going on that make an update worth while
I'll start with announcing the event name. It will be called "BSX
One On One Pro Challenge" or just BSX for short (BSX = bicycle
super cross). When we confirm naming rights, the major sponsors name will
go right in front of that. For example the BMXUltra.com BSX…
Mark your diaries: I found out this week that the Track
Attack series is on a week earlier than I thought, which means that the
BSX will now be held on Wednesday January 18th. Practice starts at 12:00pm,
qualifying (to seed riders) at 1:30pm and racing starts at 2:00pm.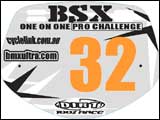 Dirt
Designs have version 1 of the special race plate
completed, it has been designed specifically for this event. From now
on the basic design will remain the same however there may be more sponsors
logos added as we get closer to the event. The numbers will be 1-32 and
given to the competitors as they qualify in a timed run.
The riders will not get to keep the plates, unless they choose to buy
them. We plan on having them signed after the event and auctioning them
off. All proceeds from the auction will be donated to the Royal
Children's Hospital.
More riders have contacted me to have their names added
to the growing list of competitors. Ben Davis and Josh Callan who are
both in France this weekend competing at the UCI World Championships.
We also hear a rumour that Gavin D is putting on a teams event during
the Track Attack series with a $10,000 prize pool, if that doesn't manage
to pull every Pro rider in Australia to Victoria, I don't know what will.
If he can pull it off we just might end up with more riders than planned.
Here's the updated list (24 riders):
AA ProsWade Bootes (Qld)Glenn Cadega (Qld)

Tony Harvey (Vic)

Levi Collins (Vic)

Ben Price (Vic)

David Page (Vic)

Jonathan Hoare (Vic)

Brock Tuckerman (Vic)

Ross Miller (SA)

Ben Davis (WA)

Blake Schofield (WA)

Simon Anderson (Vic)

A ProsShaun Craven (Vic)Shannon Rademaker (Vic)

Geoff Tripovich (Vic)

Aaron Jeffree (Vic)

Adam Carey (Vic)

Phil Brezigar (Qld)

Nathan Evans (Vic)

Scott Bradley (SA)

Nick Brookes (SA)

Paul Surrey (NSW)

Shane Jenkins (Vic)

Josh Callan (Vic)
28/07 SponsorHouse v5 is the Sponsorship Connection
SponsorHouse press release
SponsorHouse.com Launches New Version of Online Sponsorship System
(Oceanside, CA) SponsorHouse.com
pioneered its online sponsorship services in the motocross industry in
2001 and quickly became the industry leader. SponsorHouse has since evolved
offering a system to help match the talents of all types of athletes to
companies that are seeking to promote their products and services via
sponsorships.
Today, SponsorHouse is proud to announce the launch of the most powerful
and easy-to-use version of its website yet: SponsorHouse v5 (version 5).
Now virtually anyone in motocross, BMX, MTB and other sports from riders,
teams, and event promoters to retailers, manufacturers, and corporations
can utilize SponsorHouse to find or offer sponsorship for just about anything.
With more than 175,000 deals signed since 2001 and nearly 10,000 riders
and 350 companies utilizing its website, SponsorHouse.com is the largest
online sponsorship community. SponsorHouse v5 provides riders with an
effective way to get exposure to their accomplishments and a direct connection
to hundreds of potential sponsorship deals. Sponsors have tools to quickly
locate candidates and streamline the administration of managing their
sponsorships.
"SponsorHouse has been the light at the end of the tunnel providing
EVS and hundreds of other companies with a streamlined approach to athlete
sponsorship and management," says Todd Lentz, Director of Sales
and Marketing for EVS Sports. "SponsorHouse has not only simplified
the search for sponsorship, they have raised the bar and become the pinnacle
source for athletes worldwide. Over the past 3 years, EVS has saved time,
money and increased the number of sponsored athletes with the use of SponsorHouse.com."
"This newest version of the SponsorHouse system is a compilation
of all the requests for services we've gathered from the riders
and sponsors on SponsorHouse and other industries over the past couple
years," says SponsorHouse CEO Scott Tilton. "Looking ahead,
we plan to continue expanding ultimately providing a place where virtually
anyone can go to research opportunities and find or offer sponsorship."
Enhancements to SponsorHouse v5 include:
1) FREE Entry Level Account – Aren't convinced that you'll
locate a deal or find the right rider? Sign up for a FREE account and
contact a limited number of companies or riders. You aren't required
to upgrade until you get sponsored or offer a sponsorship.
2) Sponsorship Listings – New Sponsorship Listing feature effectively
matches riders with sponsors based on predefined criteria such as their
sport, discipline, age, region, and/or skill helping to create new sponsorship
opportunities for local sponsors and riders.
3) Premium Accounts – New Premium accounts provide maximum exposure,
enhanced services, functionality, and control.
4) Team Section – Teams now have the ability to setup profiles to
promote their accomplishments and search for deals.
5) More Exposure – Additional channels added for riders and sponsors
alike to increase exposure throughout the site.
6) Expanded Custom Services – Additional services to help both riders
and sponsors to maximize the value of their sponsorships.
More than 60 companies have partnered with SponsorHouse in the bike industry,
such as Intense, Sun Ringle, Profile, Felt BMX, Oneal/Azonic, Avent, No
Fear, THE Products, ATi, Turner, Vigor, Supercross BMX, Staats, Marzocchi,
MotoKing, Scott USA, and Utopia Optics.
The riders agree. Factory Avent's top star Donny Robinson explains,
"SponsorHouse takes the pressure off the rider to find sponsorship.
My online profile offers information to potential sponsors instantly so
I can focus on training and racing to deliver the results my sponsors
want. Setting up and updating my profile is easy helping to make sure
my sponsors are always impressed!"
For more information or to learn how SponsorHouse can help you, visit
www.sponsorhouse.com.
Companies interested in listing with SponsorHouse should call 888.8-RIDESH
or 760.722.3396.
About SponsorHouse
Launched in August 2001 by Scott Tilton and RJ Kraus, SponsorHouse.com
is the largest and most active online community of sponsorship listings
and opportunities. We provide an easy to use and effective online medium
that helps to connect hundreds of sponsorship deals each day. Today, there
are nearly 10,000 athletes and 350 companies using SponsorHouse to connect.
27/07 Undecided BMX gear
Undecided press release
Undecided is a new and exciting clothing / apparel company. At the inception
of any company it has a philosophy and our philosophy being the name of
the company, Undecided. Indecision plays a part in everyday life to which
everybody relates to at some time or other.
Undecided is targeted towards the extreme sports such as BMX, Motocross,
Surf and Skate.
Undecided produces quality riding gear such as jerseys, pants and gloves
as well as an awesome range of casual clothing in men's, ladies,
boys and girls styles.
Undecided is building a strong BMX team including Adam Sanderson, Adam
Curruthers, Jayden Grant, Breanna Gould-Goldsworthy, Airlee Gooden, Melissa
Mankowski (casual clothing only) and the Freedom BMX team.
Undecided is here for the sport of BMX and will be supporting BMX clubs
and riders from now and into the future.
Undecided is a 100% Australian owned company producing BMX riding gear
in Australia.
Undecided is supporting all local and Australian talent and we are committed
to giving Australia its own locally owned brand.
For more info check out www.undecided.com.au
26/07 Portland update
by Greg Siinmaa (BMXV Events Management Committee.)
Portland, the venue for the 2005 BMX Victoria State Championships, is
progressing along and well on schedule. The track was given a good try
out by riders over the weekend. After minor tweaks to a few of the lips
on jumps the track was given the thumbs up. Victorian A Pro riders Connor
Hunter, Ash McCuchen and Charles Nelson were suitably impressed with the
track and layout.
The track is 328 metres long. Short huh? Only a few metres longer than
South Eastern. But feels a lot longer than that to ride. Generally it
is quite open, with lots of cranking space out of the corners, so the
speeds will be right up there.
The Portland BMX Club will be hosting a round of the Western Extreme Series
on August 7th so get your entry in and get a feel of the 2005 State Titles
Venue.
26/07 Bike stolen from BMX Mad
by Graeme Anderson
On Wednesday July 20th a theft occurred from BMX Mad in Boronia, Victoria.
In a pre meditated attack staff where distracted while a bike was stolen
from the shop.
Please keep an eye out for the following bike and if seen please call
the police.
Bike details:
Wethepeople Thrillseeker AM
Serial # CIC24H1399
Colour Black
26/07 Ski hire discounts for BMXers
by Paul Fletcher
I just thought I would let you all know I'm working at ski shop in Mansfield
(at the bottom of Mt Buller) again this year. It's a few hours each morning
6.30 to 9 am most days. I had a word to my boss lady and she has agreed
to a 15% discount for hire gear to any BMXers that want to come skiing
or boarding. It's the very first shop as you come into Mansfield on the
left, Ski Centre, they have 2 shops, so make sure you come to the first,
ask for "Fletch" and we will look after you.
25/07 Northern Park face lift
by bmxultra.com
The Northern Park BMX Club was the host of the 1998 UCI World Cup,
it was then known as Lalor BMX Club, the name was change because the track
was no longer located in Lalor which caused some confusion.
Since hosting the 2003 Victorian State Championships not a great deal
of work has been done on the track, and it was decided the track needed
an upgrade to inspire more people to ride there regularly. The designs
have nearly been completed, and the track will have a very new feel to
it. Where it has been known as more of a power track with long straights
that you can pedal through, riders will be confronted with a lot of flowing
jumps to push the riders of the surrounding area and Victoria and to help
them develop their skills for when they travel to more technical tracks
interstate.
The work is expected to be completed early September for the open race
meeting to be held at Northern Park. The starting date is yet to be determined.
The Northern Park BMX Club holds gate practice under lights on Wednesday
nights for an hour starting between 6:00pm and 6:15 pm. Club races are
the second and fourth Saturday of each month, registration starting at
2pm, racing starting at 2:30pm.
22/07 Bellarine Spectacular
by bmxultra.com
Word from Tony Harvey is that the Bellarine Spectacular "is gonna
be huge". When we asked Tony why he's all excited about it this is
what he had to say. "I have confirmation from the top guns in Australia
like Kama[kazi], [Luke] Madill, Tiger [Robinson]… It's gonna be off
the chain…we've got promo chicks and all. Dirt designs and Gavin D are
putting in the cash for the Naughty Girls so we are calling them the Gavin
D "Dirty Girls". Oh yeah."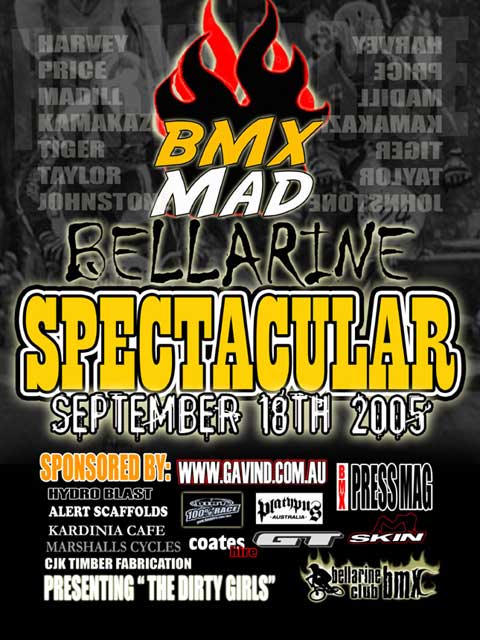 The event is on September 18th at the Bellarine BMX Track (Geelong, Victoria).
22/07 Aussie Vintage BMX gathering
by bmxultra.com
It was brought to my attention that the will be an Australian Vintage
BMX gathering at the Knox Dome this year.
Here are the details:
So here we go here in Melbourne on SATURDAY 12TH NOVEMBER 2005
VENUE: Knox bmx club rooms
TIME: 4.00pm
there is plenty of space so we can display our bikes so bring some along.
The knox bmx club is holding a two day race meeting on this weekend at
the track so food and drink will be available.
There is talk about getting some shirts, stickers and number plates made
for the occasion.
And it shall be known as –
'The 1st Annual Australian Vintage BMX Gathering' and it's a 'Gathering'
not a competition, if you can't bring your collection that's cool.
To register your interest check out VintageBMX.com.
22/07 Supercross UL Cruiser frame for sale
by Shane Jenkins
I tried to sell this frame a while ago, but then I moved house and it
was put away. I dug it up again on the weekend. It's a brand spankin'
new custom painted two tone red, heat treated, triple butted, 4130 cro-mo
current model Supercross UL cruiser frame, still in the box. I'm happy
to hang it on the wall but I've gotta sell it, I have a BMX habit to support.
They don't get any better than this classic looking high-end pure-bred
racing machine, check out the review we did on the 20 inch model. I brought it in to Australia
for myself thinking that it was longer than the SX Evo cruiser frame that
I already have, but it was the same. The frames are $US400 retail, plus
shipping, we were asking for $AUS600 but now we will sell it for $AUS450
firm + shipping.
It's a pro 24 with a 21.5 Top tube, comes with Dirt Designs padset.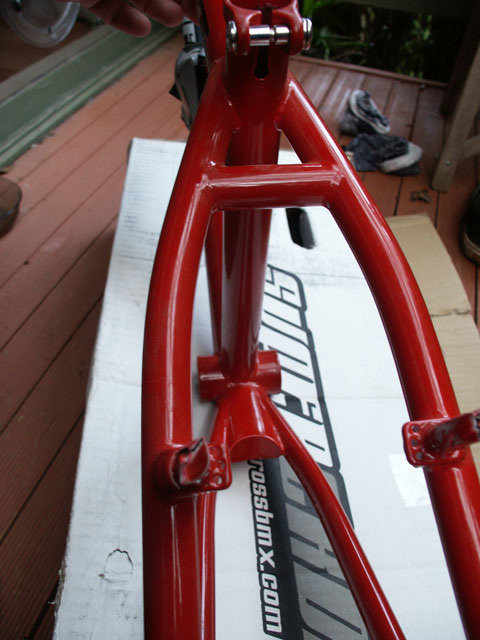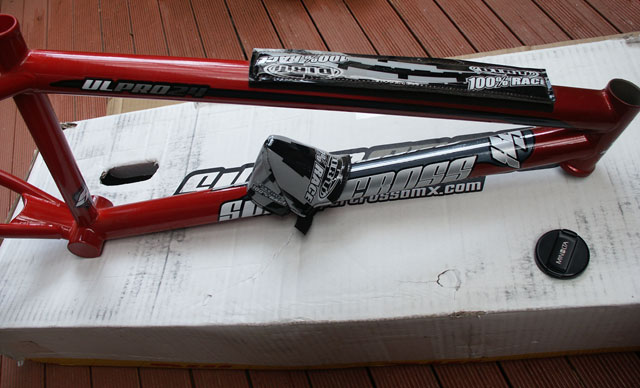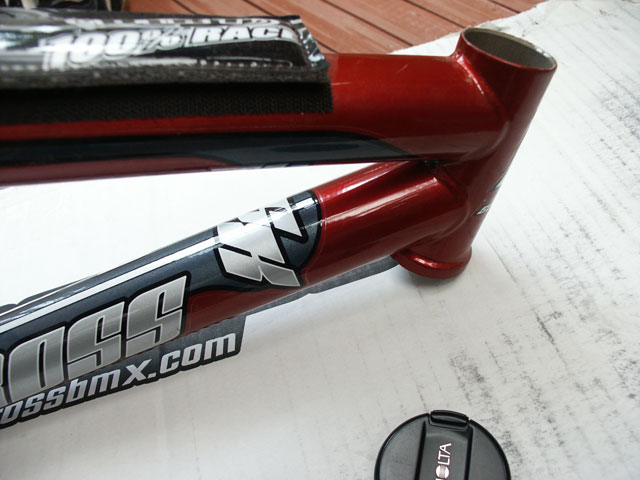 I will only sell it within Australia. Email webmaster@bmxultra.com
for further details.
21/07 Interview: Wade Bootes
by bmxultra.com
We were able to find some time with Aussie racing legend Wade
Bootes and ask him about BMX racing, TeamWBR, Percentage and living in
Australia. Click here to find out what he had to say.
21/07 Free Agent UK team & High5
Free Agent UK press release
The weekend of the Decoy National at Newton Abbott, Devon UK was one of
the hottest weekends of the year for the weather and for the racing!
The Free Agent UK team was out in force with their new High5 Sports Nutrition
sponsor backing them up with drinks that are proven in desert conditions!
They were needed!
The team event is judged by the four highest point's earners from your
team over the race day. We managed a clean sweep with 5 first place finishes
among other great positions. Maximum points for the Free Agent UK team!
Thanks to High5.
Dale Holmes – Elite men & the 16+ Pro Open. (1st Place in both)
Lewis Lacey – 15-16's Expert. (1st Place)
Geth Shooter – 30+ Masters. (1st Place)
Jamie Vince – 40+ Cruiser. (1st Place)
Tony Fleming – 30 – 39 Cruiser. (2nd Place)
Lauren Smith – Junior Female. (5th Place after falling)
Lee Taber – Elite men. (6th Place)
21/07 Free Agent Australia team news
Free Agent Australia press release
Daniel Stocks AA (VIC) and newly signed female rider Caroline Bucahannan
AA (ACT) are leaving for the UCI world championships in France this weekend
to compete for the prestigous world #1 plate the following weekend. This
will be Daniel's first world championships and currently in fine form
he will be looking for a podium finish. Caroline is no stranger to the
world championships scene, she will be looking to swap her W2 plate from
last year for a #W1 this year.
Both riders have been training very hard and performing well at the races
leading up to the worlds, everyone from Free Agent BMX wishes them both
the best of luck.
Mean while Shannon Rademaker (Team Manager) will be keeping his feet
firmly in Australia and will be recieving regular race reports. For more
information on Free Agent BMX you can contact him at cyclelink@bigpond.com.
For all you keen BMX racers out there, Free Agent has some big plans
for the 2006 season all top secret at this stage, keep and eye out as
Free Agent is coming to you!
'The Time is Now RIDE!'
www.freeagentbmx.com
FA AUS sponsored by: Free Agent, Dirt Designs, www.cyclelink.com.au.
21/07 MCS increase stocks
by Adam Campbell (Sirius Bikes)
[Editor: We often get updates from manufacturers, distributors, riders,
etc. We thought this one was worth passing on for all the MCS fans out
there. Sirius Bikes are the Aus/NZ distributor for MCS.]
I received an email from MCS informing me that another shipment of bikes
has come in & All models are now in stock. Also in this shipment they
have brought in some MCS Tracer Pro frames in red or blue. The cost of
this frame will be under $500 retail [Editor: we think this is Aussie
dollars]. Top Tube 20.5, Chain Stay 15.5, Head Angle 74.5, Seatpost Angle
72, Head Tube 1-1/8, Weight 3.7 lbs.
I also have news about the new MCS Magnum 24″ bike. The prototype
and testing has been completed. The bike looks great and will be ready
for Christmas. I will have more info on this bike in a few weeks.
For more information check out www.siriusbikes.com.
21/07 More backyard race information
by BMXUltra.com
Each time we post information about the backyard race it generates
more and more interest, and with that more questions. I have been waiting
to confirm a naming rights sponsor before I start giving out all of the
information, but hopefully this will help some off you:
The backyard race is open to all pro riders.
Enter on the day, only the first 45 riders entered will be accepted,
but we will be setting up a web page with short profiles on each of
the riders who wish to attend (A and AA Pros) so get in early.
You can qualify on the day, we need 32 riders for the elimination
rounds. There will be a timed qualifier. The top 32 riders will be ranked
1 to 32 and wear a Dirt Designs supplied number plate with their ranking
and the event sponsors, there will be some space for riders sponsors
stickers as well.
When the event is finished the Dirt Designs supplied number plates
will be autographed by the riders and auctioned off, the money raised
will be given as a donation to the Royal Children's Hospital.
Glenn Cadega suggested incorporating a state of origin, which sounds
like a good idea to us, we'll see how we can work it in. It might be
that riders compete as individuals but certain selected riders will
also compete for a state team.
The event is privately run, there is limited space, so we will be
limiting the number of spectators.Since there is the need to cover ourselves and sponsors against anyone
injuring themselves there will be a cost to spectate, we won't know
what that cost will be until we finalise things.
The event will be in Kinglake, which is an hour north of Melbourne's
CBD. About 50 minutes drive from the Park Orchards and Knox tracks.
There are a lot of MTB riding spots here including a crazy down hill
that cuts straight down a hill over a tonne of road crossings.
The track is far from done, but we have 6 months, you will be seeing
photos as the track progresses.
The racing is on a dual track, with split corners. So it's completely
non-contact, you have to stay on your side of the track from start to
finish. Also it's a flat pedal race. NO CLIPS.
Paul Surrey from www.bmxtronic.com
is going to try to bring a full two man gate rig for the event.
Here's the full list of riders who have expressed interest so far:
Wade Bootes (AA Pro – Qld)
Glenn Cadega (AA Pro – Qld)
Tony Harvey (AA Pro – Vic)
Levi Collins (AA Pro – Vic)
Ben Price (AA Pro – Vic)
David Page (AA Pro – Vic)
Jonathan Hoare (AA Pro – Vic)
Brock Tuckerman (AA Pro – Vic)
Ross Miller (AA Pro – SA)
Shaun Craven (A Pro – Vic)
Shannon Rademaker (A Pro – Vic)
Geoff Tripovich (A Pro – Vic)
Aaron Jeffree (A Pro – Vic)
Adam Carey (A Pro – Vic)
Phil Brezigar (A Pro – Qld)
Blake Schofield (A Pro – WA)
Scott Bradley (A Pro – SA)
Nick Brookes (A Pro – SA)
Paul Surrey (A Pro – NSW)
And I'll ride it too, so add Shane Jenkins (A Pro – Vic)
I don't think I have forgotten anyone.
20/07 UCI BMX NEWS
UCI Press release
UCI World Continental Ranking
The UCI World Continental Ranking has come to an end on all four
continents. Each continent has hosted 10 rounds counting for UCI ranking
points in both elite and junior classes. Each rider will bring their top
7 results/points to the UCI BMX World Championships in Paris, France where
the UCI World Ranking will be decided. Leading up to the 2008 Olympic
Games, the Nations Ranking will from now on become very important for
countries. To view the current ranking, visit;
http://www.uci.ch/uci/bmx/online/
Latin America rankingThe Latin American ranking finished off quite early, where homecoming
USA pro, Jonathan Suarez (VEN) has dominated the series with 8 wins
and the maximum points of 84. Devlin Baltazar (BRA) was the runner up
with 61 points. In the Elite Women class, the current World Champion,
Gabriella Diaz (ARG) was almost as equally dominant with 72 points,
16 points ahead of Kimmy Diquez (VEN).
North American rankingThe North American ranking has been hard, where several top riders has
been fighting for the top spot in the ranking. Robert de Wilde (NED)
has showed great consistency, not only being no. 1 ranked in North America,
but also being the UCI no. 1 in the ranking, coming into the UCI BMX
World Championships in Paris. De Wilde was followed by Mike Day (USA)
and Warwick Stevenson (AUS).The Jr. Women World Champion, Kim Hayashi (USA) have had a close battle
all season with Samantha Cools (CAN), where Hayashi came out on top
with merely 5 points.
Oceanic ranking.Luke Madill (AUS) came out on top winning four races and a total score
of 81 points. Mark Willers (NZL) grabbed second with 66 points.Tanya Bailey (AUS) grabbed the Oceanic ranking title with 59 points,
just edging out Krystal Cranfield (AUS)
European rankingThe European ranking has been a battle between Ivo Lakucs (LAT) and
Thomas Allier (FRA). Although Allier grabbed the European Championship
title, Lakucs came out on top on the European continental ranking with
only 4 points. In her first year in the Elite Women class, Laetitia
Le Courguille (FRA) has showed great maturity and consistency grabbing
the top spot with 78 points, only 2 points ahead of Aneta Hladikova
(CZE).
Each continent also has a junior ranking (although not counting for prize
money). To view all rankings, please visit; http://www.uci.ch/uci/bmx/online/
2005 UCI BMX WORLD CHAMPIONSHIPS, PARIS FRANCE
Once again the UCI have received a record number of entries for the 2005
UCI BMX World Championships in France. 2,560 entries from 37 countries
are confirming the world-wide growing interest of BMX.
The organizer, Federacion Francaise de Cyclisme FFC, and UCI is gearing
up towards the most memorable and important BMX event of the year, which
is returning the fantastic Bercy Stadium in the middle of Paris.
The practice schedule by countries has been published on the UCI website;
http://www.uci.ch/modello.asp?1stLevelID=LL&level1=0&level2=0&idnews=3369
for schedule and other useful information.
UCI BMX SUPERCROSS WORLD CUP
The first round of the 2005 UCI BMX Supercross World Cup was successfully
held in Aigle, Switzerland a few weeks ago. Over 65 riders from 19 countries
where on hand to conquer the purpose build elite track located outside
the UCI headquarters in Switzerland.
Most riders agreed that this was one of the most challenging and fun tracks
they have been raced on. In the end, it was the seasoned BMX veterans
that grabbed the podium spots. Robert de Wilde (NED) grabbed 1st place,
followed by Cristian Becerine (ARG) and Randy Stumpfhauser (USA). The
event will be showed in a 26 minute TV show in various countries shortly.
Please view the TV-listing on; http://www.uci.ch/modello.asp?1stLevelID=EE&level1=7&level2=0&idnews=3578
The next round of the UCI BMX Supercross World Cup, will be held in
San José, CA (USA) 9-10 September together with the Dew Actions
Sports Tour. For more information, please visit; http://www.uci.ch/modello.asp?1stLevelID=EE&level1=0&level2=0&idnews=3473
UCI HIGH LEVEL TRAINING
The 3-month high-level training is soon coming to an end, when the athletes
will attend the UCI BMX World Championships. There are no doubt these
3-months as developed and matured the participants, promising great potential
for the future. During their stay at the World Cycling Centre, they had
the opportunity to also attend a few races with great success. Most noticeably
has been Fabian Hernandez (COL) with a 5th place at the European BMX Championships
final, and reaching the Semi final at the UCI BMX Supercross in Aigle,
Switzerland. José Luis Diaz (COL) has showed great potential with
two times a 3rd place in the Junior Men category at the European Championships
series, including a semi final spot at the UCI BMX Supercross in Switzerland.
Furthermore, Vilma Rimsaite (LIT) grabbed the European no. 1 title in
the Women Cruiser class, and 16 year old Swiss phenomena Yvan Lapraz grabbed
the Cruiser title as well. More titles are expected when this potential
group arrives at the Bercy stadium later this month.
NATIONAL TEAMS AT THE WORLD CYCLING CENTRE
From 17th to 24th July 2005, 17 of the top French riders including Thomas
Allier (2000 World Champion and 2004 European Champion), Florent Boutte
(multiple European Champion), the Junior rider Pablo Gutierrez (2002 Juniors
World Champion) and Blandine Cottereau (silver medallist at the 2003 and
2004 European Championships) will perfect their performances in view of
the upcoming UCI BMX World Championships which will be held at Paris-Bercy
from 29th to 31st July 2005.
Also present at the World Cycling Centre, are ten of the best Australian
BMX riders, including the 2004 Elite World Champion, Warwick Stevenson,
Luke Madill, Kamikaze and the talented riders Kristal Cranfield, Melissa
Mankowski and Nicole Callisto (all three finalists at the 2004 World Championships)
will put the finishing touches to their training for Bercy.
19/07 bmxultra.com's backyard race to go ahead
by bmxultra.com
We put out the feelers to see if there would be enough interest to
run a backyard race that's "one-on-on sprint trails" style.
It will be held on Wednesday January 25, on an off day during the Track
Attack series held in Melbourne. We had a good response so far from riders
which included the likes of Wade Bootes, Glenn Codega, Tony Harvey and
more. There are still a lot of pros out there that we know read the site
who haven't expressed their interest. We expect more that 40 pro riders
will try to qualify for a position in the challenge (limited to 32).
There will be a minimum of $1000 in prize money running a $30 entry fee
per rider, if we get enough sponsorship we may be able to decrease or
maybe even drop the entry fee. The prize money breakdown will be $400,
$300, $200 and $100 for first to fourth place only.
Dirt Designs will be providing special number plates specifically for
the event, at the end of the event the plates will be signed by the riders
and auctioned off. The money raised from the sale of the number plates
will then be donated to the Royal Children's Hospital.
The track is coming along slowly during these winter months. We now have
the first two split corners done with two more and two more straights
to build. The second straight has been widened to cope with two riders
side by side. However there is still a lot to do. We are trying to chase
up sponsorship to help cover the costs of truck hire to move the unlimited
supply of dirt that we have access to so we can complete the track to
a level that will be exciting for competitors and spectators. We also
have race day expenses to cover like portable toilets and public liability
for the event. At this point the event is currently to be run completely
independantly of any BMX governing body, we will let you know if that
changes.
If you are interested in sponsoring or able to help in anyway with the
track or the event please email webmaster@bmxultra.com
to let us know.
The backyard race (actual name to be announced soon) is proudly supported
by bmxultra.com, Dirt Designs, and
Cyclelink.com.au.
19/07 More on Grip Slip
by bmxultra.com
Last week we asked people how they stopped grip slip, or throttle
grip and got some very good and informative responses. There were two
more that came through late, so thank you to everyone that responded,
I think we have the subject covered now.
Dave Smith
Try cleaning the bars and grips then use a non-acetic silicone (roof and
gutter) lightly smeared in the grip and allowed to dry. This works and
seems to be a bit more permanent than the hairspray method. I'm a plumber
and my wife is a hairdresser I've tried them both!
Brian Lacey
Take the word of Sinister Denise – Contact cleaner is the real
deal to get grips on and keep them there. Personally I don't bother with
the wire ties, but all Denise's other advice is the only way to go.
The important differences to all the wrong ways:
1. Clean the bars and the grips. 2. Use Contact Cleaner.
Contact Cleaner is the goods because it is more highly volatile than other
things, that is it evaporates (dries) more quickly and completely.
WD 40 leaves an oily residue and if you don't use the right amount it
will take a long time to dry out, maybe even not at all.
Hair spray is more fussy about how much you use (too much takes all night
to dry) and gives up too easily when it gets wet.
And don't try Brake Cleaner spray cans either – I thought it was the same
as Contact Cleaner but it didn't work like it.
18/07 Frankston results
by bmxultra.com
The regional races continue in Victoria despite heavy rainfall.
We hear that the Frankston track was effected by the rain leading up until
Sunday, leaving the track a little muddy and slippery but racing still
went on.
For:
Round 5 results
Metro plate series points
Check out our race calendar
15/07 Help an old schooler
by Angie Miller
[Editor: We don't publish every email we receive, but every once
in a while there will be one that our readers can help with, maybe you
can help with this one.]
Hello, My husband Mike Miller won the 1988 Grands in Oklahoma. He moved
from Arizona to Chicago and lost all his magazines and videos in the move
(luckly he still has some trophies). I have been wanting to surprise him
with anything I could find on him. I know he was in the July 88 issue
of BMX Action magazine as one of the 12 Arizona Hot Shoes. I've checked on
Ebay and have e-mailed a few people but have had no luck. If anyone has
anything on him that I could have or purchase ex.magazines, videos, etc.,
I would greatly appreciate it.
Thanks
If you have anything email us at webmaster@bmxultra.com
and we'll put you in touch with Angie.
14/07 BikeNZ recruits national BMX coach to Beijing
BikeNZ press release
BikeNZ announced today that Grant White has been recruited to the long-term
position of National BMX Coach.
White, an ex-international BMX rider for Australia and former New South
Wales and Australian BMX Coach, has spent the last three years running
his business offering professional BMX coaching services to a number of
world-class riders.
White's National BMX Coach position is primarily charged with leading
BikeNZ's BMX high performance programme. With BMX now being included
within the 2008 Beijing Olympics, coupled with SPARC's recent announcement
of major investment into BikeNZ's Olympic programme, it was timely
for BikeNZ to recruit a world class coach to work with talented New Zealand
riders.
"Grant will bring further strength to the BikeNZ high performance
team we're putting together for Beijing", said Rodger Thompson,
BikeNZ chief executive. "When one considers what he achieved in
terms of coaching results, BikeNZ is very pleased to secure his services
for long-term through to Beijing 2008. The high performance structure
is building for the long-term and this has always been BikeNZ's
goal as we look towards the Beijing Olympics. Grant is a strong asset
and will have a major influence on the future success of the programme".
"I am very excited to have joined the BikeNZ team, and to have been
entrusted the task of ensuring the New Zealand riders are prepared for
ultimate performance", said White. "There's some fantastic talent
within the New Zealand BMX scene, and I am so looking forward to further
developing this talent into something truly special"!
White is currently coaching two of New Zealand's top BMX riders,
Marc Willers and Haden de Boer, in his home state of New South Wales,
where he will be based until 2007. The commencement of White's position
is to be immediate.
Facts:
For the first time a national BMX Coach position is being created
and the concept has the backing of the New Zealand Academy of Sport,
SPARC's high performance network.
BikeNZ was established in July 2003 as the new national service organisation
for cycling and services 6 member organisations – Cycling NZ, Mountain
Bike NZ, BMX NZ, NZ Schools Cycling, NZ Masters Cycling, and the Cycling
Advocates Network.
14/07 First photos of Portland
by bmxultra.com
Anyone who doubted that Portland could pull off such a major project
in such a short time will be surprised to hear that we have the first
photos of the track, and it's complete! The track will be ready for the
Victorian Championships in November, actually it will be ready for the
Western Extreme Series round on August 7th. (Photos supplied by Brian
Lacey/Greg Siinmaa).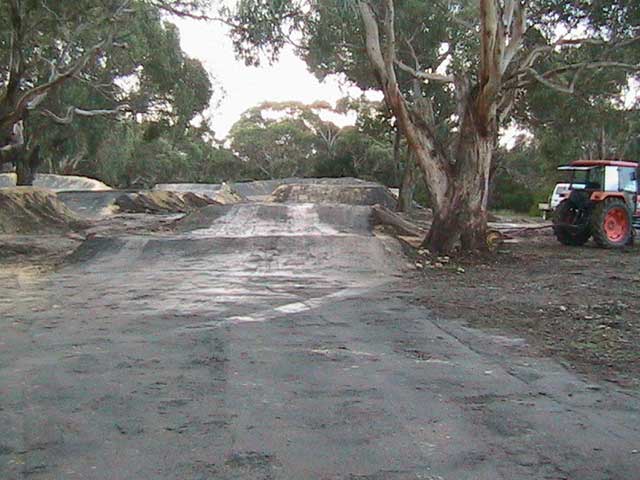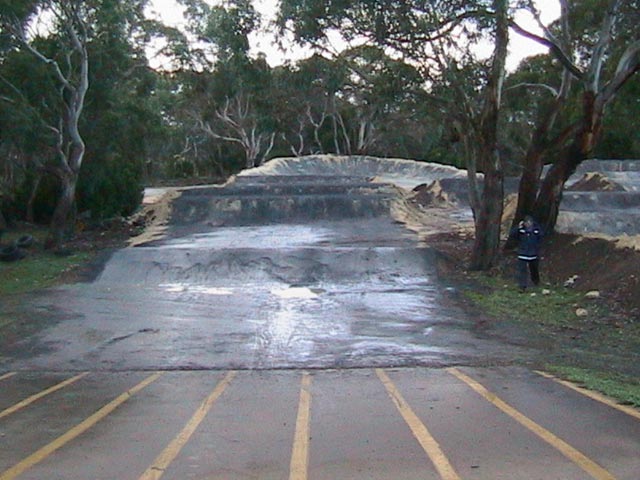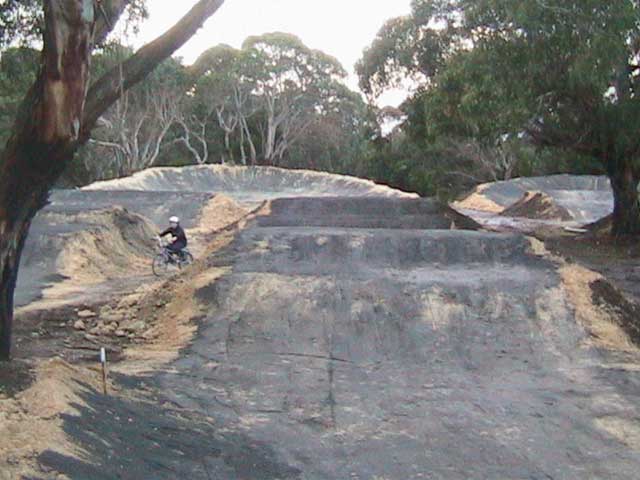 13/07 10th Australian Masters Games. Entries Close Friday 5th August.
Australian Masters Games press release
BMX is hotting up at the 10th Australian Masters Games and will be the
one to watch. With a choice of 20" or the popular 24" class
this is your chance to compete for that gold, silver or bronze medal.
Minimum age entry at 26yrs old, Mountain Bikes welcome.
With only 3 months to go until the Games begin, the important date to
remember is the 9th of October, when the COVE BMX CLUB swings into action
and hosts this years BMX spectacular.
Participants, accompanying people and volunteers will be entitled to FREE
public transport for the period of the Games on the Adelaide Metro public
transport network. Adelaide has an excellent network of trains, buses
and trams that will get you wherever you need to go.
Remember entries close on the 5th August 2005 so register now and be part
of "some SeriousSport… SeriousFun."
www.australianmastersgames.com
Phone: 08 8211 6500. Fax: 08 8211 6399
12/07 Stop grip slip
by bmxultra.com (and friends)
Last week we asked our readers and some industry people how they
stop "grip slip" or "throttle grip".
Personally after having been racing since 1981 I have found no better
way to stop the slip than to take the grip off wipe out the inside of
the grip and the handlebar, spray the inside of the grip liberally with
WD-40 or RP7 and quickly put the grip back on before it dries, you are
ready to race in just over a minute. If the grip continues to slip it's
worth considering purchasing some new ones, or you could try some of these
other methods first:
AA Pro and 2000 Australian Elite Champion Tony Harvey
(Avent, Bombshell, Skin, Dirt, S&M, Profile, Tuff Neck, THE)
To fix this problem there are a few ways, take the grip off and dry inside
and out with a towel, spray the inside lightly with "wd40" yes
wd40. not too much, just enough so you can get it back on the bars. Once
this dries you are set. This also creates a little seal for the day. You
can also put zip ties on each end of your grips to stop water getting
underneath. Hair spray is another favorite or spray glue.
I know Grant Williams used to use wire on his grips (old school pro).
He would pop down to gates at Bellarine back in the day and he would have
3 or 4 pieces of thin wire rapped around his grips.
The other option in S&M lock on grips, once they are on they ain't
movin'. Nice and thin and easy to take off and on. They are the best grips
I have ever had and the only ones I use.
bmxultra.com reader Andrew Howieson
I just purchased a pair of S&M grips and I was talking to Adam Robb
(TotalBMX) about grip throttle and he said when fitting them spray the
inside with hair spray and let them sit for 20 minutes. I found it worked
better though if you fit them later at night and then by the morning they
should be rock hard.
Cyclelink.com.au/Bayswater Cycles and A Pro Shannon Rademaker(Free Agent)
Hair spray is the key, clean out the inside of the grip and
the outside of the bars and spray the bar with hair spray, it sticks like
glue so get your grips on nice and quick. It does take a little while
to dry.
Sinister Racing support crew Denise Siinmaa
Denise has put together a step by step instruction page on how to fix
grip slip, click here to download the PDF document.
Prevention is better than the cure, if none of these methods work you
should check out grip glue (I know ATi have it) when installing your new grips, it works a treat.
12/07 Awesome Racing In Switzerland
One Bicycles press release
Round 9 and 10 of the European Championship for Junior and Elite Men and
Women were held in Echichens, Switzerland.
An incredible fast track, a wild crowd and tons if riders for 3 days of
BMX.
Arturs Matisons was back from his 5 month stay at the Lucas house in Florida
and Jana Horakova was still out due to an injury.
In Women cruiser class 19 and under, 16 year old French ONE rider Magalie
Pottier was looking good in the motos, racing against UK's Junior
Woman Shanaze Reade.
In the main Shanaze was leading but while jumping the big doubles Magalie
took over the 1st place in the 3rd turn. Shanaze had to pedal hard. Towards
the finish it was Shanaze that took the win. Nice job by Magalie though.
2nd place for her.
Elite Women was a ONE show.
Both Vilma Rimsaite and Aneta Hladikova were dominating that class.
Aneta cleared all jumps and made it look so easy.
In the main, Vilma took the while Aneta unclipped.
Aneta managed to catch up in the first turn but slid away and crashed.
Vilma kept leading until the finish and she's the new European Champion
in Cruiser women.
In Elite cruiser Arturs Matisons was fast all day but he also unclipped
in the main and missed his title although he managed to come back from
8th place to 3rd.
Saturday should be round 9 of the Junior and Elite classes, but the rain
had made the track too slippery and it was decided to race just one round
on sunday, double points.
So Sunday was gonna be interesting.
Magalie Pottier and Dutch ONE rider Lieke Klaus were going for a title
in 16 year old girls class.
Once again Magalie jumped it all and her start in the main left everyone
way behind.
Just like last year, Magalie won again her European title.
Lieke grabbed a 3rd place.
ONE's Roy van den Berg and Maris Strombergs were the ones to go
for the title in Junior Men.
Both looked awesome in qualifications.
In the main, Maris took the lead, in the 3rd turn Roy made a pass for
1st place.
Maris took over again but Roy crashed hard on the jump coming out of the
3rd turn.
Maris won and also grabbed the overall title.
Roy was taken to hospital and had surgery later that day. He's still
in hospital.
Feel free to email Roy and give him some support : rvdberg88@hotmail.com
In Elite Women, Aneta Hladikova from Czech Republic moved up in the standings
again. She took 1st after passing Dutch rider Willy Kanis who had the
lead.
Vilma Rimsaite took 4th and Dagmara Polakova crahed and took 8th.
Aneta missed the European titel by 3 points, but had a great year moving
up from 7th place after round 1 and 2.
In Elite Men Thomas Allier was the man to beat. He looked so smooth. In
the main he took the lead but crashed after the first turn with ONE's
Arturs Matisons taking over. French rider Jerome Leocadie took over and
went for 1st while also Ivo Lakucs and title contender passed Arturs.
In the main he took the lead but crashed after the first turn with ONE's
Arturs Matisons taking over. French rider Jerome Leocadie took over and
went for 1st while also Ivo Lakucs and title contender passed Arturs.
Arturs took 3rd place.Ivo missed 1 point to win the European title.
Next meeting: World Championship, Paris.
ONE Bicycles' BMX team is sponsored by: TROY LEE DESIGNS, BOMBSHELL, SHIMANO,
BOLLE, WLM DESIGN, BOMBA, THOMSON, FIZIK, ODI, ZITOUN, KENDA, COOLSHIRT,
NIKE 6.0, NIKE Cycling, NIKE Timing and BMXPIX
11/07 Review: No Fear Spectrum race gear
By bmxultra.com
Our AA Pro Levi Collins has been reviewing the No Fear Spectrum race
gear, check out the review to see what he had to say.
08/07 2006 GTs
by bmxultra.com
Thanks to Stephen Robinson of the Bicycle Authority (Australia's
GT distributor) we've just got hold of photos of the the 2006 GTs, they
have new colours, new stickers, new specs and we believe slightly different
geometry. Click on the thumbnail images below and check them out for yourself.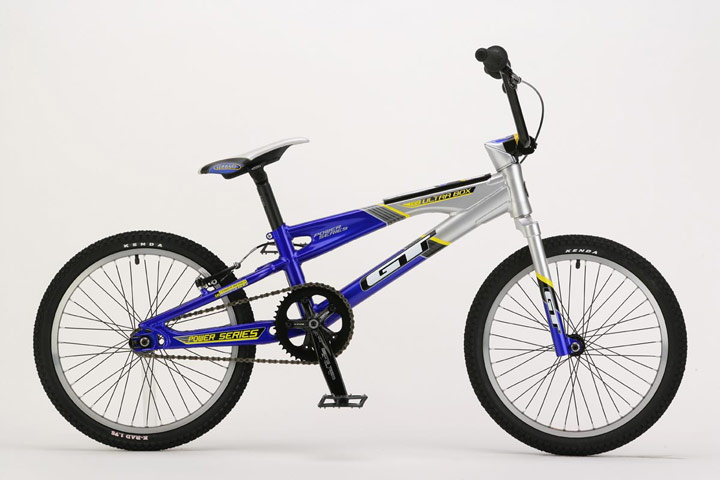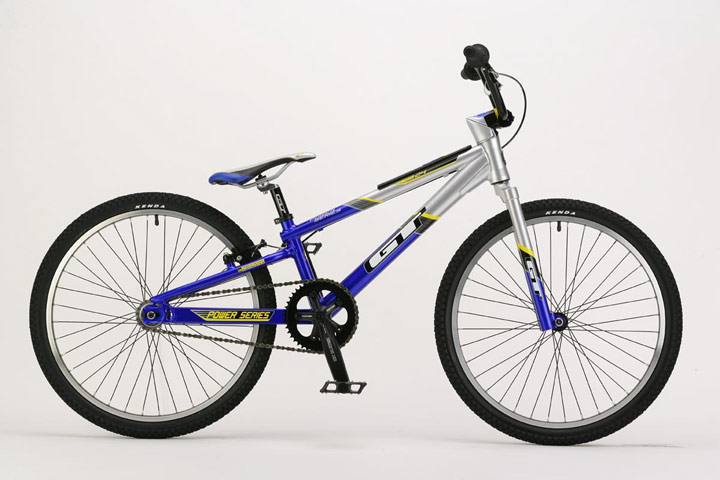 08/07 Wyndham woes
by Craig Longmuir
The following is a letter we received from the Western Region BMX Inc.
on Sunday, and a reply from the Wyndham Warriors.
We would appreciate if you could post this on your website as a reflection
of one of the many predicaments a new club faces, particularly in the
Western Region.
Click here to read the Western Region letter (pdf format).
The following is in response to the above letter from the Western Region.
–
From a pit of lies and beaurocracy was born an idea and on its path to
freedom, many evil hardships blocked the way, disguised as: "pack
it in, join another club, go somewhere else, look at the constitution".
But, this idea was different from others. Its heart had the beat of a
WARRIOR. The fight was long, but against all odds in the quest for freedom
and progression. It was victorious. We crowned this champion.
The true spirit of Bicycle Moto-X!
How dare anyone, no matter what his or her position in this sport hide
behind a pen and question our integrity. We have been to hell and back
to get to this in such a short time. Let us state here and now, we will
work with anyone for the betterment of this sport, not just in the West
but anywhere. Let this be an end to the closet politics and barriers against
progression.
We have shown July 3rd to be, we can, we will, we did.
Also our thank yous to the Northern Rivers and Sunbury Club for hosting
a round at the Warrior's Battlegound venue.
Also everyone from the canteen to the starter, who made it happen smoothly,
(Awesome job).
A special thanks to the riders (of course), everyone who worked on the
track (great job guys). Grant, Brian Bull (you weren't asked, you
just did), Diane Lacey (legend), Wyndham Council (invaluable contribution)
and Bobcat man – Glenn (Sensational).
No names in particular for the Warriors, everyone did what they could
no matter how small (you guys rock).
Long live the Spirit.
THE WARRIORS
07/07 How do you stop grip slip?
by bmxultra.com
For out international readers, it's winter here in Australia,
which can mean "grip slip" or "throttle grip". We
would like you to email webmaster@bmxultra.com
and tell us what you do to stop your grips from slipping on your handlebars.
We'll also try to talk to some industry experts to find out what they
have to say, maybe they have some tricks that you haven't heard of yet.
Keep your eyes peeled to see what we find out.
07/07 BMXVictoria: 2006 Victorian BMX Championships
BMXVictoria press release
BMX Victoria together with Knox BMX Club inc are pleased to announce
that the Knox BMX Club has been selected as the host club for the 2006
Victorian State Championships.
In making the announcement, BMXV President Barrie Vickers said The BMXV
Event Management Group had received several expressions of interest from
clubs whose venues where all worthy of hosting the State Championships.
Despite having some of the best facilities in the state the Knox track
has not hosted the championships since 1992.
Knox president Cameron Murray said the Club is very pleased with the decision
to award the Championships to Knox and the club has already commenced
planning for the event to be held in November 2006.
Murray also added "Several track improvements have been proposed
for a while, following this vote of confidence from BMXV we have scheduled
work on the track to commence in August this year, immediately after the
final round of the Metro plate"
06/07 Victorian Titles rumours
by bmxultra.com
There have been a number of rumours floating around that the Portland
BMX track will not be ready for the 2005 Victorian Open BMX Championships.
It has been a while since we have heard an official update from the EMG
so I emailed Greg Siinmaa asking what is happening, this is the response:
"This year the EMG has been very proactive working with the Portland
BMX Club to do all that is possible to complete the track and ensure that
the State Titles go ahead.The EMG wants Portland this year as an event
to be remembered for all the right reasons.
Barry Vickers, John Mc Neil and Brian Lacey have made three trips to
Portland since the start of the year to oversee and give guidance to the
track construction.The club has had the funds, equipment and manpower
to do the work but have been presented with hurdles by the engineer in
charge of the construction. The main responsibility for delays rests with
the local Shire Council. As the Shire are administering the grants the
engineer has control as it is the way of the Shire covering its bum in
aspects to do with litigation and so on.
A time line has been drawn up by the EMG which the Portland Club and
the Shire have been given milestones to meet. A letter was drafted and
sent to both the Club and the Shire highlighting how these dates must
be met as there is no leniency. This letter has had the desired effect
on the Shire with work rapidly progressing.
Portland is now progressing with getting the track ready. The final shaping
of the first and second straights was completed on the weekend and the
third and fourth straights should be finished this weekend. Some riders
of different skill and age levels are going to try the track out to see
if any refinement is needed. Depending on this the surfacing should start
with the track being ready to race on by no latter than the end of July.
We should have some photos after this weekend.
Sponsorship and Promotions Sub Committee.
Greg Siinmaa
Denise Siinmaa
Graeme Anderson"
06/07 Northern Park (Lalor) club races
Northern Park press release
The Northern Park BMX Club will be recommencing their regular
club races as of this Saturday. The club races will be on the second and
fourth Saturday of each month and will start at 2pm. The Northern Park
club services the north side of Melbourne, but everyone is welcome.
Wednesday night gate sessions are still running under lights for anyone
interested, they start at around 6pm and run for about an hour.
The track is located at Sycamore Reserve in Mill Park.
05/07 Double A Marketing race report: NBL Stars & Stripes National
Double A Marketing press release
Round 7 of the 2005 NBL Pro Series was the last stop before the NBL Grands,
was held at the famous South Park BMX track this past weekend. South Park,
Pennsylvania is known as one of the best races on the NBL circuit, with
one of the fastest and toughest tracks for the pro riders to compete on.
With a recent update to the track, the riders looked forward to racing
there and battling it out for the last of the Points before the NBL Grands.
With perfect weather and all of the top Pros in attendance, it was the
race to be this weekend. Here is how the Double A Marketing riders finished
up.
Randy Stumpfhauser has been of the most consistent Elite
Pros in the NBL this season, and has been at the top of the Pro Points
for most of the season. Going into South Park Randy sat in the #1 spot
and he wanted to try and build up his points lead over the weekend. He
did just that with a 3rd and 2nd in Elite Pro. Randy also sits atop the
Pro Cruiser chase and will go into the grands looking to win both NBL
Elite Pro Titles, something that has never been done before. Randy's sponsors
include GT Bicycles, Hyundai, ODI, Kenda Tires, Tangent, Sun Rims, Bombshell
Forks, Fly Racing, Time Pedals, SRAM, Powerbar, CTI Knee Braces, Tool
Shed, SDG, DC, Easton, S & M, Fox Riders Co Clothing, Cyto Sport/Cyto
Max, and BMXpros.com.
Cristian Becerine has been busy traveling and racing
over the past 3 weeks. Cristian started things out in Switzerland 3 weeks
ago for the UCI Supercross race, then went to NBL Evansville last weekend,
taught at the BMX mania camp all week, then ended things off with racing
at South Park. Cristian was in the Pro Elite mains both days, placing
7th and 8th. Even though this was the results he was looking for, Cristian
still rode well as sits in the top 5 overall in the NBL Pro points chase.
Cristian's sponsors include Crupi, O'Neal, Answer, UGP, ODI, Sun Ringle,
Shimano, Tool Shed, Powerbar, BMXpros.com, Cyto Sport/Cyto Max, and Thomson
Seat Posts.
Kyle Bennett has come back strong from his severe knee
injury a few weeks back, and South Park let everyone know that he is back
on form. On Saturday, Kyle was back out in front and showing the fans
his style and speed. Kyle was in both the Pro Elite main, where he placed
8th and Elite Open, where he finished 3rd. Kyle's sponsors include Free
Agent, KHS, Answer, Kenda, Sun Ringle, UGP, Truvativ, Velo, S&M bars,
ATI, Shimano, Profile, Powerbar, Cyto Sport, and BMXpros.com.
Brandon Meadows was riding well in South Park. On Saturday
Brandon was out front in the motos with some impressive power and just
missed out on the Pro Elite main due to a crash. On Sunday, Brandon was
in the Pro Elite Open main, and finished up 7th. Brandon looks for some
time off now to get ready for the World Championships in 3 weeks in Paris,
France. Brandon's sponsors include Specialized, Fly Racing, Tangent, Thomson,
Big Tool, Shimano, Cyto Sport/Cyto Max, Sun Ringle, Powerbar, and BMXpros.com.
Double A Marketing proudly represents Cristian Becerine, Kyle Bennett,
Dale Holmes, Christophe Leveque, Brandon Meadows, and Randy Stumpfhauser.
For more information on any of the riders, or on Double A Marketing visit
www.BMXpros.com
04/07 Whyndam Weekend
by Greg Siinmaa
[Editor: It's always great to hear of a new track, new clubs and
new riders…it shows growth in BMX. But it is rare to hear that a new
club can get it right the first time, it sounds like the Whyndam track
(in Werribee) will be the place to ride. We received this email last night
right after Whyndam's first race meeting. We hear that Brock Tuckerman
took the pro open win and Jon Jon Hoare finished second.]
"Just sitting at home thinking about how rare it is in BMX these
days that you go to a race meeting and only hear positives and no negatives.
Well today was one of those days at Hoppers Crossing. The Northern Rivers
Round 4 hosted by the recently formed Whyndam Warriors BMX Club Had everyone
talking only positives.Not a grumble to be heard. Considering the rain
they have had the track only had a few damp spots (far fewer than some
long established clubs) The effort that Dave Norman, Jeff Solamano, Gary
Morgan and others have put in to get something that was stagnating into
a fully functioning club and track should be commended. Well done guys.The
track suited all age groups and I for cant wait to get back there and
race again.
Greg Siinmaa"
04/07 New Victorian entry forms
by bmxultra.com
We have received a few entry forms for some upcoming Victorian races
to be held around the state:
10 Jul – Warrnambool
7 Aug – Portland
14 Aug – Knox
For more information go to the race
calendar and download the entry forms
01/07 Fenwick injured
by bmxultra.com
This just in from Brett MaliC: "Michael (Fenwick) has broken
his right leg close to the ankle. The bone pierced the skin and was operated
on last night and has had pins inserted. He was training last night at
The Cove, his front wheel washed out as he was coming around the third
berm, his right leg got caught between the frame and front wheel."
We wish Mike a speedy recovery.
01/07 Supercross G6 EVO's land in Australia
by bmxultra.com
We just got word that the new SX G6 EVO frames have just landed in
Australia. If you haven't seen one yet click the image below for a closer
look.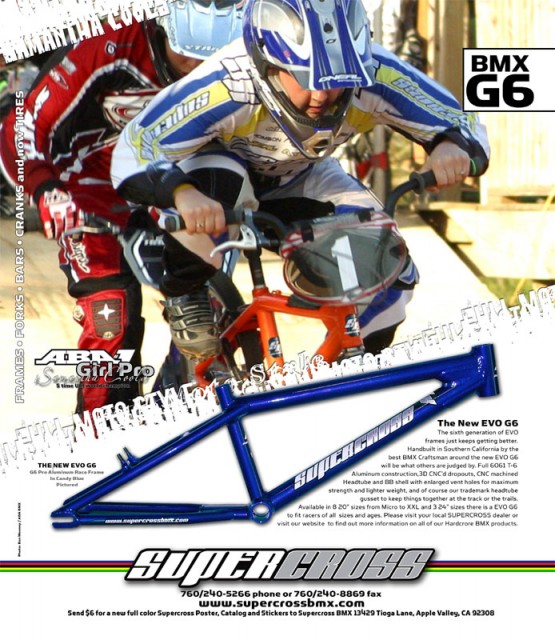 Supercross is available in Australia through Rider Essentials & Distribution, 20-218 Macquarie Rd,
Warners Bay. NSW 2282. Phone: 02 49544466 Fax: 02 49544255 email: freak@telpacific.com.au.
For more information about the Supercross products check out www.supercrossbmx.com.
Posted in: Archive