BMX racing news August 2005
30/08 Blandine Cottereau signs with ONE Bicycles
One Bicycles press release
Blandine Cottereau from France signs with ONE Bicycles.
After an impressive first year in Elite Women, the former National and
European Champion will be a welcome addition to the team for the coming
years.
ONE Bicycles' BMX team is sponsored by: TROY LEE DESIGNS, SHIMANO, BOMBSHELL,
BOLLE, WLM DESIGN, BOMBA, THOMSON, FIZIK, ODI, ZITOUN, KENDA, NIKE 6.0,
NIKE Cycling, NIKE Timing, COOL SHIRT and BMXPIX
30/08 BSX track works update

by Shane Jenkins
Sunday was a big day of work on the backyard track. We started at
8 am and didn't finish until 6 pm, we were lucky the weather gods were
kind, it was a sunny day with a cool breeze.
Shannon Rademaker was behind the wheel of the tipper this time, I had
the shovel, and throughout the day we had a few helpers. Luke Chmielewski,
former team BMXUltra.com rider, brough his brother Chris, who also used
to race. They helped build up a corner until the slopes of Kinglake called
out to them, then they went off to do some mountain biking. Another old
mate of mine who doesn't race, actually he has never seen a BMX track,
helped for most of the afternoon. Thanks Lewis.
We didn't quite get everything done to plan. We have a first jump now,
finally. It needs more shaping, and it's so big and close to the start
hill that we'll have to build the hill up so you get more speed, but we
knew we were going to do that anyway. We have only half finished the 3rd
straight rhythm, the problem is, to finish it off will mean that we couldn't
get a tipper in to finish off the rest of the track, so it will be the
last thing we do at this stage. We got the outside 3rd corner done. This
is where all the dirt went. It's our own version of berm-zilla…it's
huge and will be so fast once it is rolled in properly. We have dumped
a couple of loads of dirt around the track to tie us over until the next
time we hire the tipper. But that won't be for a while. Racing is starting
up this weekend, and in about 2 weeks, I am back to Boston for work. This
time Shannon will be coming along, we'll be hitting up the ABA Canadian
Grands on the way and then a road trip to NBL Supercross Nationals at
Woodward. So that will write us off for over a month. We should be back
in time for the Cash Dash.
Photos to come soon.
Thanks to our partners: TotalBMX.com.au, Dirt Designs, Cyclelink.com.au,
Safe and Sound, BMXTronic and bmxultra.com, without them none of this
would be possible.
29/08 Review: One CrMo frame

by bmxultra.com
I might shut it down when it comes to racing during the Aussie winter,
but that doesn't mean that I'm not on the bike, or doing stuff for the
website. Throughout winter I have continued to ride and train as weather
permitted, and most of that time was on a limited edition One Bicycles
CrMo frame.
Click here to check out
the review and what we thought of the One Bicycles CrMo frame.
29/08 Walczuk baby
by TotalBMX
There was a new member of the TotalBMX race team added last Thursday when
Kristy Walczuk, wife of everyone's favourite crazy man Craig Walczuk,
had a baby girl at 1.45am. Both mum and baby are healthy, they named her
Zali Jayne Walczuk, she weighed in at 7.4lb.
27/08 Khalen Young in car accident
by bmxultra.com
The only Australian rider on the One Bicycles world team, Khalen
Young, is known to not do anything by halves. I received an SMS message
on Friday from a friend of his saying he is in a Melbourne hospital after
taking on a truck in his car and he would have to have an operation to
put plates in his jaw. Apparently 3 either side I found out later, the
operation went well.
Last I heard from Khalen, it was a few weeks ago, he was practicing for
a record attempt at the worlds longest back flip on a BMX bike. I guess
those plans are on hold for now.
26/08 Total BSX Update
by bmxultra.com
Event Poster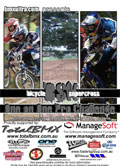 What event would be complete without a poster?
The event isn't until January but we would like to help our current partners
get all the recognition they deserve for helping us run the event and
raise money for the Royal Children's Hospital at the same time. As new
partners join us we will be updating the poster.
Click the thumbprint (right) to open up the full page poster,
print it out and:
stick it on your wall for decoration
put it on the fridge as a reminder
show your mates and build your own backyard track to run an event
take it to the races and have your favourite riders sign it, then
sell it on Ebay.
Competitors list updated (now 34 riders)
If you are a BMX pro and will be in Melbourne during the Track
Attack series and are looking for something to do to pass time on the
Wednesday email us to have your name added to the list of riders already
keen to win this unique event.
AA Pros
Wade Bootes (Qld)
Glenn Cadega (Qld)
Tony Harvey (Vic)
Levi Collins (Vic)
Ben Price (Vic)
David Page (Vic)
Jonathan Hoare (Vic)
Brock Tuckerman (Vic)
Ross Miller (SA)
Ben Davis (WA)
Blake Schofield (WA)
Simon Anderson (Vic)
Michael Vockenson (Qld)
Shaun Craven (Vic)
Brett Scruse (NSW)
Damien Rosenthal (Qld)
Daniel Stocks (Vic)
Daniel Johnstone (NSW)
A Pros
Shannon Rademaker (Vic)
Geoff Tripovich (Vic)
Aaron Jeffree (Vic)
Adam Carey (Vic)
Phil Brezigar (Qld)
Nathan Evans (Vic)
Scott Bradley (SA)
Nick Brookes (SA)
Paul Surrey (NSW)
Shane Jenkins (Vic)
Josh Callan (Vic)
Michael Chasteauneuf (Vic)
Adam Robb (Vic)
Aaron Wood (Vic)
Andrew Toth (Vic)
Shaun Kirshner (NSW)
Working bee this Sunday
If you have some time up your sleeve on Sunday and are in the
Melbourne area, we will be doing a little more track work, drop us an
email for details. The weather should be good for riding too, you could
be one of the first to ride the track.
For event sponsorship enquires please email webmaster@bmxultra.com.
Total BSX is presented by bmxultra.com,
but would not be possible without support from our partners TotalBMX,
Dirt Designs, Cyclelink.com.au,
Safe And Sound,
BMXTronic. We would
also like to thank BMXPress Magazine for covering the event.
26/08 NSW Tri Series
by Darren Westwood
Maitland Tenambit, Lake Macquarie and Terrigal will be holding the Tri
Series classic on the 10th and 11th September. That right three tracks
in two days. Maitland Saturday 4 motos then Lake Macquarie Saturday afternoon/night
4 motos then Terrigal Sunday 4 motos. Pro is a different format 3 motos
+ finals at each track.
The big draw card is $6000 pro prize pool and $500 for the biggest cruiser
class, $500 for the biggest age class and 5 x $200 Mystery class awards
$8000 in total.
See flyer on the bmxultra.com race calendar
for details. Come and ride the best track in Australia ( Lake Macquarie)
see write up in BMXpress.
26/08 Lilydale BMX Club update
by Michael Willis (Lilydale BMX Club)
Just a quick note to let you know that the sanctioned meeting
scheduled for the 25th of Sept. is the annual Lilydale Spring Cup meeting.
This year the Club is putting up $1200.00 for the 14+ men and women ($900
+ payback men $300 + payback women pay top eight). The Club is also having
a "Spring Cup Relay Challenge" for a perpetual trophy (that
the winning club get to keep for a year) which will be donated by one
of our members with the winning team riders each taking home a replica
cup. We will also be having pit bikes on the day. The flyer is being worked
on at the moment and will (should) be ready to hand out at Eastfields
meeting. [Editor: You should also find the entry form here when it's available.]
26/08 Frankston BMX Club update
Frankston BMX Club press release
Just to let you know HELLTRACK will not be on this year but we have booked
a date on the 26th Feb 2006. I have been looking for sponsors, because
we want to get the A and AA classes back. There are packages available
for as low as $100 age class. (proposal only) Prize money $1500 AAmen
$25entry with $20 payback. AA ladies $750 $20 entry – $15.00 payback.
Vet pro & Vet Cruiser – $300.00 $17.00 entry $12 payback. We are even
encouraging first time racers age class $10.oo entry.
I have written to every caravan park and hotel in the area trying get
good deals on accommodation and at a later date will post up local families
offering a bed or room for BMXers to stay for FREE.
We hosted a young girl this year from Darwin for Track Attack and I encourage
all BMX families to do the same if you have a spare seat in your car and
a fold out couch or bed (Why not) I'll be more than happy to post request
from riders in the Frankston Newsletter and on the Website for Track Attack
or HELLTRACK. If we all help one another it will cut cost and we will
see more interstate riders around the tracks.
Rumours on page 3 of the latest BMXpress magazine states that Frankston
will be flattened and then relocated later this year – This is
not true – The Frankston Council has given us stage 1 of our
grant which is to be used for New lights (confirmed Night racing Track
Attack) New start Hill cover and upgrades. Stage 2 will start next year.
25/08 The best all round tyre
by bmxultra.com
Here are the responses so far to the question "What is the best all round tyre?"
Brett Scruse (Standard Team AA Pro & Team Manager)
You're dead right. I got my hands on some Comp X tyres last year and since
trying them out for a few months I put the whole Australian Standard Pro
Team on them for one simple reason, they work on any track in any condition.
Brock Tuckerman (Elite Cycle Imports/Bendigo Cycles)
I used to run a MAXXIS maxx daddy 1.85 on the front and a comp III 1.75
on the rear, this was a good combination but because cornering has never
really been a strong point of mine. I ordered a few different combinations
through Bendigo Cycles and the best combination I found was an INTENSE
halo front tyre (2.10) which Elite Cycle Imports do, although its a 2.10
profile, its still quite skinny. The reason I find it good is because
it is very round profile as apposed to the square profile of other tyres,
so therefore when I corner it is running on the full tread of the tyre
instead of the corner of the tyre like Maxx daddys imparticular. But on
the rear I run an IRC Siren (1.75) because I found the Halo's tend to
wheel spin a lot out of the gate and the only way I could stop it was
run low pressure but then I had trouble with pinch flats. So thats why
I tried the IRC and I will contradict myself here but on the back the
slightly squarer profile meant I had more tyre on the concrete for gate
starts and was able to run more pressure (60 psi for dry tracks and 52
psi for wet) and also that allows me to run the same tyres on every track,
this combination works very well at my home track Bendigo which has a
crusha dust surface, but also at Frankston which is a granetic surface
in the wet and the dry which I found out for the last two rounds of the
Metro Plate series, one round was wet and one was dry, but I still used
the same tyres just different pressures like I said before.
Brian "Choo-Choo" Lacey
My preference is Comp III's because on any surface they're predictable
and never poor in grip.
I've tried a few others (Max Daddy's, Panaracer's, IRC Sirens) but all
seemed to a bit better on some surfaces but a lot worse on others. And
while some of these are very good in grip on the right surface, when they
do loose grip they loose suddenly with little warning. And when your reactions
are tired and slow like mine, you need all the warning you can get.
Brett MaliC
I've been swapping between 2 brands on my One bike. I can't go past the
Comp III, they are legendary and the Specialized AA Main 20 x 1.75R.
Don't know, I used both on the HARO in Adelaide last year for the indoor
track and liked the comp tyres better, but used and liked the specialized
on the outdoor track at Cairns this year.
Then again I didn't stay on my bike long enough to find out how the tyres
performed around the whole track! Tracks seem longer when you carry your
bike around them.
I'd Like to know what peoples preferences are for indoor and outdoor tracks.
24/08 ABA Canadian Grands Vs NBL Supercross Nationals
by Shane Jenkins
I have a choice of attending one of two events during September.
I could pop into the ABA's Canadian Grand Nationals in Chilliwack, completely
jet lagged, on my way to Boston for some work. Or I could hire a car and
drive 400ish miles across to Woodward, PA for the Supercross Nationals.
Normally I would go for the bigger race, but I was in Chilliwack white
water rafting 5 years ago. I do remember an awesome water park not far
from Chilliwack with something that was like a half pipe that you ride
on a tube, which was worth checking out again.
The NBL Big-A races don't seem to pull too many riders, but this is Woodward.
Could someone out there that has been to either or even both of these
events let me know what they are like I don't have much time to start
booking airfares, car hire and accommodation. Email webmaster@bmxultra.com.
24/08 Racing is hotting up in Victoria
by bmxultra.com
The cold and wet weather will be with us a little longer since September
is always the best time of the year for Victoria's snow fields. All the
off-season regional events are over and done with, which marks the start
of the peak season, well kind of. It's going to be a slow start with no
racing on this weekend and there's not a great deal up for grabs until
the Bellarine Spectacular on the Sept 18. Eastfield's Spring Classic –
Sept 4 – and BMXVictoria's SuperNats – Sept 11 – at the Northern Park
track (Lalor) will be good to blow out the cobwebs, especiall if Northern
Park are able to complete their planned track changes in time. Sept 25
has been set aside for a sanctioned event, but sadly we haven't heard
a peep about what will be happening there.
October will be a good month for racing. Just over the border the South
Australian State Championships will be held at Mount Gambier on Oct 1-2,
the event is open for all pro classes and if it is as good as last year
it will be well worth travelling to. That will be followed up with the
South Eastern Cash Dash on Oct 9, and Warrnambool on Oct 30, they always
put on a good show. Shepparton have a meeting on Oct 16, but I have no
idea what's happening there either.
Then we have November kicked off with potentially the biggest event in
Victoria this year the Knox Dome on 5-6. That's followed a week later
by Frankston on Nov 13 and the Victorian State Championships at Portland
Nov 26-27.
If you have to pick one trip to Victoria this year, I think the 'Dome
would be the one to go for…or wait for the Track Attack series Jan 14-22,
it includes 6 races in 9 days. Rumour has it there will be a $10,000 teams
event throughout the series that just might attract some international
pros to the event. And don't forget the Total BSX pro only race on Wednesday
Jan 18.
23/08 What is the best all round tyre?
by bmxultra.com
There are a number of race tyres on the market, some designed for
specific conditions while most are designed for all conditions, wet or
dry, clay or sandy surfaces.
While I have been mostly using Comp III's since they were introduced to
the market back in the early 80's, I have found other tyres to be equally
as suitable to most conditions, but not all. That was until I got my hands
on some Comp X tyres. So I run Comp X on my cruiser and Comp III's on
the rest of my bikes, rather than changing my tyres to suit different
conditions I am able to change the pressure in the tyre from 60psi – 80psi
(which is above recommended pressure).
Tyres are very much a personal preference. Email webmaster@bmxultra.com
and let us know what your preferred race tyre is and why.
23/08 BSX track work this weekend
by bmxultra.com
With no racing scheduled in Victoria this Sunday it will be a
perfect day to do some more work on the backyard track in preparation
for the BSX race in January.
At this stage weather forecast looks promissing, and with any luck some
fine warmer conditions at the end of the week might help to dry the track
out and allow for some riding, but Kinglake has been quite wet and the
track has been a little soft and slippery lately.
We have been offered help by many people, it's difficult to contact you
all individually.
We'll be starting early with a tipper to get as much dirt in the backyard
as possible before we actually start shaping things, so don't worry if
you need some time to get over Saturday nights festivities, or to travel
to the hills of Kinglake, we'll be at it for most of the day. Our agenda
includes putting in the first jump, building the third set of split corners,
finishing off the third straight rhythm section and getting anything else
done that we can.
If you are in the area and have some spare time up your sleeve on Sunday
email webmaster@bmxultra.com
for details.
22/08 Does BMX lack identity?
by bmxultra.com
BMX has been a recognised sport since the early 70's but it concerns
me that, just a couple of years away from it's introduction into the Olympics,
it doesn't have an identity of it's own. You can pick a surfer by the
clothes they wear, it's the same with skaters. It's mostly because the
brands that started in the surf and skating industries now have a much
wider appeal. I won't get into naming brands but I think you get the idea.
If you talk to anyone who knows very little about BMX and they might remember
a few of the old school brands like Mongoose, GT and Redline, but that's
about the extent of it. Tell them the name of some of the newer brands
and they simply wouldn't know what you are talking about. Drop name's
like Supercross, One Bicycles, or any of the endless list of others and
you might get a reassuring nod, but you know it's just going in one ear
and out the other.
Here's where you come in. If you are a BMXer you should be wearing BMX
brands proudly across your chest. Let the world know you are a BMXer,
don't get suckered into promoting other sports or especially other sports
brands. Your money just goes straight back into sponsoring elite skaters
or surfers or promoting events that you'll never get to because you'll
be at the track or riding trails.
BMX t-shirts, hoodies, hats, etc are all available online, at your local
bike shop or at the races. Find merchandise from your favourite brands
and help BMX grow it's own identity.
19/08 Northern Park entry form
by bmxultra.com
The Northern Park BMX club will be hosting the BMXVictoria SuperNats
on September 11. Apparently they are jumping on the "one on one"
bandwagon, which is fine by me. They will be running finals with only
two riders. You will have to read the entry form to get a better understanding
of how the event will work, personally I would have though that NBL rules
would have made more sense and would be simpler to understand, maybe next
time.
Last we heard there should be some track changes made very soon.
Check out the race calendar to download
the entry form for full details.
19/08 Metro plate results
by bmxultra.com
The final results are in for Victoria's Eastern Region Metro
Plate Series.
How did you do?
18/08 BSX Update
by bmxultra.com
For those of you who came in late, Total BSX (bicycle super cross)
is a backyard BMX event that will be held on the 18th of January at Kinglake
West, less than an hour north of Melbourne's CBD. The track will be somewhat
of a cross between Stumpy's Sprint Trails and the Double Downs track (seen
on Transit 4 DVD), lots of big jumps and tight turns with no room for
error. It has been confirmed that Australia's own BMXPress Magazine will
be covering the event.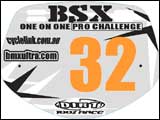 There will be a timed round to qualify for the event, we will take only the
top 32 riders, they will be ranked according to their time and given a
special BSX plate with their ranking number that Dirt Designs have put
together to use for the event.
From there it will be a one on one eliminator, the fastest rider
chooses their side of the track. The winner continues on to the next round,
the loser watches from the sidelines, until we have 2 finalists.
We will also be incorporating a state of origin challenge, we have
to work out some of the finer details, like a scoring system, etc.
Raising money for the Royal Children's Hospital
After the event is over the number plates will be auctioned off to
raise money for the Melbourne Royal Children's Hospital. Warwick Wheeler
from BMXPress Mag has already made a bid for $100 for the plate of the
rider who wins the event.
Competitors list updated (now 31 riders)
If you are a BMX pro and will be in Melbourne during the Track
Attack series and are looking for something to do to pass time on the
Wednesday email us to have your name added to the list of riders already
keen to win this unique event.
AA Pros
Wade Bootes (Qld)
Glenn Cadega (Qld)
Tony Harvey (Vic)
Levi Collins (Vic)
Ben Price (Vic)
David Page (Vic)
Jonathan Hoare (Vic)
Brock Tuckerman (Vic)
Ross Miller (SA)
Ben Davis (WA)
Blake Schofield (WA)
Simon Anderson (Vic)
Michael Vockenson (Qld)
Shaun Craven (Vic)
Brett Scruse (NSW)
Damien Rosenthal (Qld)
Daniel Stocks (Vic)
A Pros
Shannon Rademaker (Vic)
Geoff Tripovich (Vic)
Aaron Jeffree (Vic)
Adam Carey (Vic)
Phil Brezigar (Qld)
Nathan Evans (Vic)
Scott Bradley (SA)
Nick Brookes (SA)
Paul Surrey (NSW)
Shane Jenkins (Vic)
Josh Callan (Vic)
Michael Chasteauneuf (Vic)
Adam Robb (Vic)
Aaron Wood (Vic)
Insurance
For the competitors concerned about insurance, the US events that are
similar to this one are covered by their governing body, usually the NBL.
We haven't been approached by a governing body about insurance so will
be opting for our own public liability insurance.
Spectators
Spectator room is limited, we will need to take a closer look
at how many people will fit in the backyard, but we expect a limit of
around 120 spectators and 60 riders. We might have to look at a ticketing
system for spectators, since there are additional costs for spectators
such as insurance, toilet hire, etc.
For event sponsorship enquires please email webmaster@bmxultra.com.
Total BSX is presented by bmxultra.com, but would not be possible without support from our partners TotalBMX, Dirt Designs and Cyclelink.com.au.
17/08 Portland
by Greg Siinmaa
I cant help myself, but I am impelled to reply to some of the comments
and complaints about the Portland Track and the Western Extreme Series
Final Round.
The only parts of the track that were loose were the three corners with
the first corner being the main culprit. The rest of the track was rock
hard and I will dispute this with any one. As it was said in the report
most if not all Vic Metro tracks would have struggled to run after an
inch of rain let alone have a hard surface. It was much like the way Mt
Gambier stays hard after rain. The complainants make it sound as though
the whole track was as soft as porridge. No it is not like that. The corners
were the only soft places and they will be fixed.
Now the comments on how the meeting was run!
It was run by the Western Region of BMX V. Not BMX V.
PLEASE do not take this as the way Victorian meetings are run !!!!
If you have been to the Northern Rivers Region Series or the Metro Plate
Series meetings over this year and most of last year you would noticed
that the breaks between motos are not long at all, no longer than 5 minutes
and the main break has been kept to around 20 to 30 minutes with meetings
generally finishing no later than 1.30pm. I too was disappointed with
the long breaks as I had to travel over 550 kms to get home as well. The
August 7th meeting was run by the Western Region and they are not running
the BMX Victoria 2005 State Titles.
The BMXV Events management Group run the Titles meeting and this year
a huge amount has been put into the planning of the event to make it run
well and on time. When the flier comes out in the next weeks you will
see the changes that have been made to the race format, entry fees and
more. Rather than sticking our heads in the sand we went out and asked
people and have endeavoured to put things into place.
The Portland Track may not be what everyone expected but it in my opinion
is not that bad. With a few tweaks it will get better.
Portland was awarded the meeting because they presented a proposal that
if they were to get the State Titles they could gain grants to improve
their facilities and the track. With better all round facilities they
could increase their membership. It was taken on by BMXV that this would
help the sport in a country area thus Portland got the nod. We all know
that support for the sport of BMX is falling and in Victoria we have lost
a few country clubs over the years. Should have BMXV said no to Portland
in favour of an established track? That would have left Portland out in
the cold and most likely they would have folded. BMXV pr*#ks again.
I was very critical of the way the State Titles were being run in 2004
but not of the Sunbury Club and not of the track. This year I got off
my butt and hopefully myself and a few others that have risen to the challenge
to make a difference to the way the meeting is managed.
As for the track it "aint Liverpool" and it "aint Warragul"
( old school) but it aint that bad. Don't you worry riders will bitch
about the Knox track in 2006 no matter what is done to it. That's Life
!!
Please don't let the comments of a few who rode on a cold wet day at a
laid back meeting on a track that was brand new and different to what
they were used to.
I know I will be there.
16/06 Review: Evel Knievel (2005) DVD
by bmxultra.com
With thank to Warner Bros. Home Video we have been able to check out the new Evel Knievel DVD.
Click here to read the full review.
15/08 SA Titles and Pre-titles this weekend
by Mount Gambier BMX Club
The SA State Titles are set to go off in Mount Gambier on October 1st
and 2nd, which is the long weekend. Tye's Plumbing Service and Reece Plumbing
Supplies have been announced as the major sponsors. A Men, AA Men, Open
Ladies and 30+ Masters Cruiser Male and Female are open to riders from
all states. Prize Money is as follows
– 30+ Masters Cruiser Female $ 300.00
– 30+ Masters Cruiser Male $ 500.00
– Open Ladies $ 600.00
– A Men $ 600.00
– AA Men $ 1500.00
Nominations close September 10th so make sure you get your entry in on
time.
You can find an entry form on the bmxultra.com race calendar.
Also this Sunday, 21st August, the Blue Lake BMX Club will hold the 2005
Pre-State Titles Day. There is prize money of $ 300.00 (subject to gender
equity split 75/25 M/F ratio) for the 14+ Money Class. Racing starts 10.30
AM SA time. Pre-nominations are required by this Thursday, 18th August
with nomination forms available on the Blue Lake BMX website www.bluelakebmx.com
. This is the perfect opportunity to get some practice in before the State
Titles.
15/08 Wodonga this weekend
by bmxultra.com
The Border BMX Club in Wodonga will be hosting the final round of
the Northern Rivers Regional Championships this Sunday. They have been
in touch to let us know there have been a few track changes. Their focus
was to make the track more fun, so mostly the jumps have changes, and
from what we hear there will be something for everyone.
15/08 More about Portland
by bmxultra.com
Last week we received a bunch of emails about the Portland track
and asked anyone for further comment, this is what we have received so
far.
Iain Smith
Just thought I would drop you an email from part of the strong S.A contingent
that travelled to Portland for the western extreme series. I thought when
reading the BMX Vic report that maybe they were at a different track.
I have never been to Portland before but no we were at the same track,
I was actually asked on the day my thoughts on the track and as a few
other riders have already said you don't want to diss what has clearly
been a huge effort to complete the track build in time with the weather
that they have had, BUT as we said on the day the surface was fairly soft
especially the corners. I believe (and please correct me if I'm wrong
) they don't have a huge member base and perhaps tried too hard to keep
everyone happy and overcomplicated their track.
What's wrong with plain doubles and step ups, rollers and the like. I
agree that the starting gate ramp should be made steeper after changing
my clips to platforms after one gate, I help run events and race at The
Cove and we are pretty lax with our time frame for racing but a break
after every moto is just too much with that wind straight off the south
pole.
I have done many track changes at The Cove and been involved in national
track builds and I love to see people trying new ideas for surface materials
but I don't think the crushed limestone will compact hard enough with
all the rain they get.
We thought there would have been more Victorians, but you get that. We
travelled and gave it a go.
The people were gold, the canteen rocked, even the toilets were new, but
I'm really sorry the tracks got nothin'.
Please let us know if any changes are made as we have a few families that
were considering travelling. If we were a bit closer than 570 kms away
I would offer some assistance. This is only my opinion, top effort so
far, but without honest feedback we can never improve.
Tom Siinmaa
I raced at Portland last weekend and agree with most of the comments made
from the other riders.
In my opinion the track didn't flow much. There are too many small
jumps that you can't get speed off no matter how you take them.
I think that if the first straight had a set of large sized doubles where
the step up step down is. This would spread out the field a bit before
the first corner allowing for more speed into the second straight. I also
think that the jumps leading into the corners are a bit too far away from
the corners, meaning that people have more time to think of how they are
going to take the corner or if they are going to make a move on another
rider. I found that the last straight definitely didn't flow much.
I think that the first step up step down should be something smaller and
shorter so you are not struggling to get up the follow tabletop.
I was asked if I would go to the track if it wasn't changed, and
I said yes. Even though I thought the track wasn't how I would have
it, it would be the same for everyone.
Andrew Jones
Being a fairly new rider to bmx and not having the experience of some
of the other riders I thought that the first right hand corner on the
straight was fairly loose and seemed to throw a lot of the faster guys
off. Instead of entering at speed and exiting the same it was in at speed
and out walking pace. Being in the 30+ cruiser class and not having the
speed and not having so many bikes entering the corner at the same time
it didn't seem as bad, you still felt the front tyre wanting to
slip away. I personally thought with more meets before the titles that
it may pack down a lot more, I couldn't really find an easy way
to take the rhythms on the second straight but that was more of a skill
problem than a track problem. The only other part was the last straight
which had a large table top I saw a lot of the mid size kids nearly stop
and just make it up this jump, if this was smaller it may make the run
to the line a little more spectator and rider friendly allowing you to
jump this and then the next double after that. I also agree with Nick
about the time between races the 10min break turned into a 20min then
the races were pumped through, myself and 2 other riders missed 1 race
as we couldn't here the races being called, I wouldn't think
that many riders enjoy or need large breaks between races. There may be
some behind the scenes organization between races that needs to be done
that takes the time I'm not sure.
Brian Lacey
I fear that the positive feedback from us at BMXV may have mislead people
into thinking we believe that everything is ready for the State Titles.
Not so. We know, and Portland club know that there is a lot to do yet.
All of the positiveness needs to be taken relatively: Relative to where
the track re-build was a month ago, or even two weeks ago, and relative
to where other club's tracks have been 3 months prior to a major event.
For the record, between BMXV and Portland club there is a two page list
of things to be done before the Interclub. The items on this list which
relate to the track are:
-Build up the exit side of the first turn to allow a better race line.
-Compact the top half of all corners.
-Smooth the bottom half of all corners.
-Compact the up side of the finish straight table top.
-Raise the rear of the start hill. (a "ramp" is to be added
to the hill behind the gate to sit the bikes steeper against the gate).
-Fit grip sheet to the start gate.
I would also like to comment on the surface material, which Nick Brooks
questions: The track is covered in what looks like cracker dust as used
on many tracks, but this stuff is proper road/path making material with
lots of "fines" in it. What that means is that when it is watered
then rolled or wackered it sets firmly and doesn't stay sandy like cracker
dust. So with more (a lot more) watering and rolling and wackering the
corners and the front of a few jumps will be as good as the rest of the
track (the bits Nick didn't fall onto and inspect at close range).
If anyone wants to make constructive comment on the track they should
contact me on 0413 706 786 or email laceyfamily@ozemail.com.au
It is not too late to carry out more fine tuning on the jumps, or perhaps
even more than just fine tuning, if a well thought-out case is raised.
But be quick.
13/08 World Titles on SBS tomorrow
by bmxultra.com
Going through the Melbourne TV guide for Sunday I located something interesting
for Australian BMX racers. The recent UCI world titles will be aired on
SBS at 11 am tomorrow Sunday August 14.
Here's the extract from the SBS website (www.sbs.com.au):
11:00 am SPORT – CYCLING UCI BMX WORLD CHAMPIONSHIPS
The UCI BMX World Championships, from France.
SMS Alert Code: 8768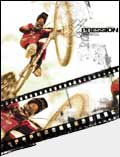 12/08 Preview Gavin D 2006 Calendar
by bmxultra.com
Gavin D has sent us the first glimpses of Gavin D's BMX Calendar. Gavin
said that "We are at print at the moment and people should get onto
their clubs and get their orders in asap." RRP is $24.95 – but is
available through your clubs for $20 if orders are taken before the end
of August.
For more information click the image to the right or check out www.gavind.com.au.
12/08 There's something about Portland
by bmxultra.com
The Portland BMX Club will be hosting the first ever open Victorian
State BMX Championship in the last weekend in November. The event will
be open for all classes.
There have been a number of major changes to how the title event will
be run this year. The most significant change are the reduced entry fee
for the age classes and the pro classes will be A and AA, with I believe
a total prize pool of $3000 (don't quote me on that). Most of these changes
are the result of discussions that started right here on BMXUltra.com.
The Portland club have been putting in a lot of hard work to get their
track finished in time. While BMXVictoria are giving the track the stamp
of approval after their first race meeting on Sunday there are some showing
so much concern and disappointment that they are talking about not competing
at the state titles despite their close proximity to the track.
Since there is still some time for change I would like to invite people
who have ridden the track to comment on what they think about it. It's
not helpful if you sit on the sidelines. If you think it's perfect then
say so. If you think it needs work then point out what areas you think
need work.
Ultimately the idea is to help the sport grow in all areas and to help
Portland to run the most successful event they can. The only way we can
help the sport develop is if you make an effort to help, even if it is
as simple as sending an email.
Here are some emails we have received through the week:
Nick Brooks (A Pro)
I found the race report from Portland interesting, in fact interesting
probably isn't the right way to describe it lets just say don't believe
the hype. Luke Pretlove's quote was interesting, when talking with me
and Scott he didn't give it such a glowing report, this is a bit of a
problem as the club isn't going to improve the track if it thinks it has
it perfect. I don't expect people to trash can the track but an honest
evaluation will at least point them in the right direction.I thought some
of the obstacles were a bit wacky such as the step up step down on the
first straight, I won't go into detail about track/jump design other than
I wasn't that happy with it. There weren't specific soft patches but the
whole track was pretty soft and slow on the weekend, it was ok considering
the rain but the corners did seem to have a considerable amount gravel/crusher
dust and I'm not sure if it will pack hard even in the dry, time will
tell. I feel qualified to talk about the corners as I inspected them closely
in half my races I ended up laying at the bottom of them, you appreciate
the softness when things go bad. The word is that the large Adelaide contingent
left less than impressed. The track could be quite good but it needs considerable
fine tuning.
PS. They had a bloody break between each moto so we could stand around
and scratch our asses in the freezing cold wind, I guess they had pies
to sell.
Scott Bradley (A Pro)
Just thought I'd drop you a quick note regarding the BMX Victoria press
release about the Portland track. I don't like being negative but reading
stuff like that it is no wonder the sport is struggling. I especially
liked the part that said "All riders were impressed with the track
and layout". That's a big statement considering they didn't ask me
or anyone else I've spoken to that was there. Pretlove's quote is also
interesting considering his comments weren't as positive when he was talking
to Nick, Rudie and I. I believe Nick has already sent you an E-mail and
no doubt Rudie will let you know his thoughts.
(No name given)
Well we too ventured down to Portland and were very surprised by the condition
of the track after the rain the night before. Track layout was good also
and caters for all riders (even for us slow ones with no sharp bumps).
The only problem we had was with the gate. The angle is not steep enough
and checkerplate was very slippery to put your front wheel on. People
suggested holding your brake on, putting your wheel on the welded crack
etc etc but it wasn't much fun to say the least, made worst by the wet
slippering, muddy conditions surrounding the track and caked on your tyres.
There was a complaint to officials and it was asked that at least a bit
of sandpaper be stuck on the gate by the next interclub. Hopefully that
will happen. Other than that the only other complaint I'd have was starting
the meet at 11 (instead of say 9) so that you could get back to Melbourne
early as most people had driven up the night before and ending it at 12
instead of dragging it out to 3.
If you have something to say about the Portland track please send it
to webmaster@bmxultra.com,
if you are able to offer the club assistance we will try to locate contact
details.
11/08 Northern Park club race this Saturday
Northern Park BMX Club press release
We announced last week that the next club race was on Saturday, sorry
to those who turned up but I made a mistake. The Northern Park club races
are on the 2nd and 4th Saturday of each month.
The Northen Park BMX Club will hold a club race on Saturday August 13,
registration starts at 2 pm and racing starts at 2:30 pm (weather permitting).
The track is located at Sycamore Reserve, Mill Park, approximately 10kms
north of the Melbourne CBD.
For further information regarding the Northern Park BMX Club call Rob
on 03 9436 0764. New members welcome.
11/08 Staats Aus/NZ news: Dirk's worlds report
by Dirk Winter (Sirius/Staats)
It has taken a while but I have finally returned home and settled back
into the routine from my very recent adventure to Paris.
We arrived in Paris one week prior to racing so we could get adjusted
to the time difference and new surroundings. We stayed at the Murcure
Hotel, which conveniently was situated right next door to the Paris-Bercy
Sporting Arena where the World Championships were to be held.
My first ride and look at the track was the Wednesday before racing. Many
people agreed that the track was not really up to World Championships
standards, but everyone had to ride the same track so we had to deal with
it!
Friday was the first day of racing for the Cruiser classes (24 inch bikes).
It didn't take much getting used to the bike or the track and I was focused
on the competitive racing, especially as I was a younger rider in the
15-16 Boys Cruiser class. I had three motos and I raced very well by scoring
all firsts, which put me at the top leading into the 1/8 finals (in the
1/8 you must finish 4th or better to qualify to the next round).
Just as I had raced in my motos, I raced in the 1/8 leading the pack
right to the finish. I did the same in the 1/4 finals. In the semi final
I had a bit of competition with Masahiro Sampei on the inside and he led
me from the start all the way to the third straight until I passed right
by him for the win.
In the big final I was feeling ready up on the hill. Unluckily I missed
the start and then had to make up for it after getting to the turn in
6th. Around the track we went and down the second straight I passed a
rider for 5th then down the third straight I passed another rider but
would have to settle with a fourth placed finish.
Sunday I was racing on my 20" bike. I raced through the three motos
riding really well & I was just settling for seconds and thirds as
the more points I obtained the more chance I had of getting an inside
lane which was a big advantage on this track. Into the 1/8 and I started
to turn it on by really smokin' the other riders with the way I was performing,
I was riding really well! Made it through the 1/4 and semis just the same
as the other races, everything I was doing was tops, getting great starts,
jumps and pedals. I was really pumped up for this final & I knew I
was going to do really well.
The gate dropped and I was left sitting there! I missed the start by
heaps & gave the other riders the chance to box me in… and they
took it! They shut me down good and proper leaving me at the back in the
first turn, so I scooped out wide and rode my fastest down the second
straight passing two riders for 6th. Down the third straight I hooked
up some more speed passing another rider for 5th. Into the last turn and
I went really low and my back wheel just scooped out from under me leaving
me lying on the ground.
I ended up with a 7th but no damage was done. I was a bit disappointed
with my results as I know I could of done better but I know there is room
for improvement, so my aim is to be bigger, faster, stronger for next
year!
10/08 BSX: TotalBMX sign as Gold partner
by bmxultra.com
I am pleased to announce that TotalBMX will be joining bmxultra.com
as a gold partner to bring you the 2006 TotalBMX BSX One on One Pro Challenge
in January 2006. If you thought that the official title "TotalBMX
BSX One on One Pro Challenge" is a mouthful so did we, we'll be refering
to it as the "Total BSX" for short. More information as it comes
to hand.
TotalBMX join our silver partners Dirt Designs and Cyclelink.com.au.
Without our partners the BSX event wouldn't be possible.
10/08 Help us test our new banners
by bmxultra.com
You may have noticed some new Nike, or more specifically NKE6.0, banners
around the site. That's because Nike have a new action sports range that
includes a shoe that is specifically designed for BMX. We have had a little
trouble with the banners. If the banner to the right appears as a broken
link can you please email webmaster@bmxultra.com.
Take a look through the site, it's pretty funky and their shoes look quite
impressive.
10/08 Masters games entry cut off extended
The Cove BMX Club press release
2005 10th Australian Masters Games, ADELAIDE
The 2005 10th Australian Masters Games entries have been extended until
Friday the 2nd September due to the overwhelming number of entries received
over the last week.
BMX has the largest field of all the cycling disciplines and is set
to be one of the "MUST DO" Masters meetings of the year.
So, hurry up and dust off that 20′, cruiser or Mountain Bike and enter
today for your chance to score a gold, silver or bronze medal. With only
3 months to go until the Games begin, the important date to remember is
the 9th of October, when the COVE BMX CLUB swings into action and hosts
this years BMX spectacular.
Remember entries close on the 2nd SEPTEMBER 2005 so register now and
be part of "some SeriousSport… SeriousFun."
Phone: 08 8211 6500 Fax: 08 8211 6399
Why not enter Downhill or XC Mountain Biking as well? log onto the masters
official website at: www.AustralianMastersGames.com
09/08 Portland track gets seal of approval
BMX VICTORIA Events Management group press release
PORTLAND ALIVE IN 2005
The recently reconstructed track at Portland had its first test on Sunday
August 7th with the running of the final round of the Western Extreme
series.
The entry numbers where boosted by about 25% with many Melbourne based
riders taking the chance to try out the venue for this years Victorian
State Championships.
Even with nearly an inch of rain overnight the track was firm and dry
and passed the test with flying colours. Amazing for a new track to have
no soft spots. Over 100 riders gave the track a thorough try out over
three moto's and the finals. BMX Vic President Barrie Vickers highlighted
that with the rain Portland had overnight a lot of tracks would not have
run a meeting.
Well known local and International AA Pro rider Luke Pretlove, was asked
for his opinion of the track. He said ".It's a track that's got something
for everyone. It's better than a number of tracks I've just ridden on
in the States." All riders were impressed with the track and the
layout. All classes enjoyed good close racing throughout the day.
Most of the new facilities are finished including a new toilet block
complete with hot and cold running water. The track is set in an area
adjacent to a football ground and has ample area for spectators, tents
and car parking. Now the track is up and operating the Portland club will
be getting the surrounds in pristine condition and ready to host a State
Titles to be remembered. The Portland club have put in a massive effort
to get it all done in time for the event and deserve a pat on the back.
Everything is looking good for the Inter club in October and the State
Championships at the end of November.
There is still accomodation available in Portland for the interclub weekend
and the State Titles weekend and it is cheap with cabins around $55 and
motel rooms around $80. There are plenty of places to eat from hotels,
cafe's and take aways and most are open for breakfast, lunch and dinner.
Supermarkets are open 7 days. There is no McDonalds but there is KFC,
Subway, Noodle bar and fish and chips. There is an extensive shopping
precinct.
With a significant reduction being made in the entry fee' Chalenge class
entries are down from $55 last year to $38.50 this year and cruiser class
down from $38.50 to $21 and a Pro pool of over $3,000.
Entry forms and fliers will be available very soon.
Vic Titles PORTLAND ALIVE 2005 book in now and be there.
09/08 Knox Club Thursday Night gates
by Graeme Anderson
With the final round of the Metro Plate at Knox this Sunday the Thursday
night gates sessions recommence this week.
The gates to the track area will open at 6:00 pm with last gate at 7:30.
Entries for Sunday can be handed in while you are there.
The canteen will also be open with hot food available.
Thursday night gates will continue through until the last week of November.
All welcome.
09/08 Eastfield Spring Classic entry form
by bmxultra.com
When the entry form for the Eastfield Spring Classic comes out each
year it marks the start of the peak season of BMX in Victoria. Although
there is only $500+ Payback for Pro Open (14 & Over) male and female
classes many riders will use the event to dust off the winter cob webs
and prepare for a busy racing ahead.
Check out the racing calendar to download the entry form.
09/08 Victorian SuperNats at Northern Park
BMXVictoria press release
Orange Blossom Rules at Supernationals
As previously announced the annual Interclub Challenge has been re scheduled
to Saturday October 29th. This move created a vacancy in the calendar
on September 11th 2005. To fill this gap another Supernational meeting
has been added to the calendar, this event will be conducted at Northern
Park BMX Club in Mill Park.
The Northern Park club has been busy planning several improvements to
the track for this meeting including a new start gate some track changes
and resurfacing.
In line with the policy of BMX Victoria, entry fees have been kept low
($8.50 for Sprockets and $11.00 for age classes) to make our sport more
affordable.
In another innovation the Orange Blossom transfer rules will be used
in this event. If you haven't heard of Orange Blossom before the
short explanation is more riders will get a chance to ride in a semi final
and the finals will be a 2 rider shoot out. That is all you really need
to know however if you want more information the full Orange Blossom rules
are included on the new BMXV web site www.bmx.org.au.
The whole event is centred on a fun family day atmosphere.
Entry forms will be available shortly from the BMXV web site or right
here at bmxultra.com
08/08 BSX Update
by bmxultra.com
Competitors list updated (now 26 riders)
AA Pros
Wade Bootes (Qld)
Glenn Cadega (Qld)
Tony Harvey (Vic)
Levi Collins (Vic)
Ben Price (Vic)
David Page (Vic)
Jonathan Hoare (Vic)
Brock Tuckerman (Vic)
Ross Miller (SA)
Ben Davis (WA)
Blake Schofield (WA)
Simon Anderson (Vic)
Michael Vockenson (Qld)
Shaun Craven (Vic)
A Pros
Shannon Rademaker (Vic)
Geoff Tripovich (Vic)
Aaron Jeffree (Vic)
Adam Carey (Vic)
Phil Brezigar (Qld)
Nathan Evans (Vic)
Scott Bradley (SA)
Nick Brookes (SA)
Paul Surrey (NSW)
Shane Jenkins (Vic)
Josh Callan (Vic)
Michael Chasteauneuf (Vic)
Adam Robb (Vic)
We are going to start putting together a webpage with full details of
the BSX event over the coming weeks, any of the riders above or any new
riders who wish to be added can provide details for a profile.
Here's the information we need:
Photo: You can send a mug shot and/or racing photo if you like.
Date of Birth:
Nickname:
Height/Weight:
Year started racing:
Year started racing pro:
Sponsors:
The track
It has been a while since I have released photos of the backyard track,
3 months in fact. That was just after I hired a small tip truck and brought
the last lot of dirt in. You might remember this photo if you have visited
bmxultra.com since May.


Since then I have been spending all my spare time on the weekends with
my trusty walkman, shovel, pick and I also decided it was time to buy
a wheelbarrow as well to make things much easier.
What's changed? Generally all existing jumps and corners have been widened
to handle two riders.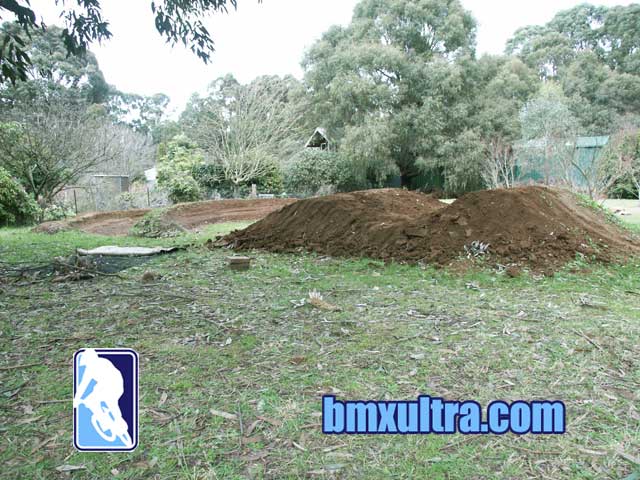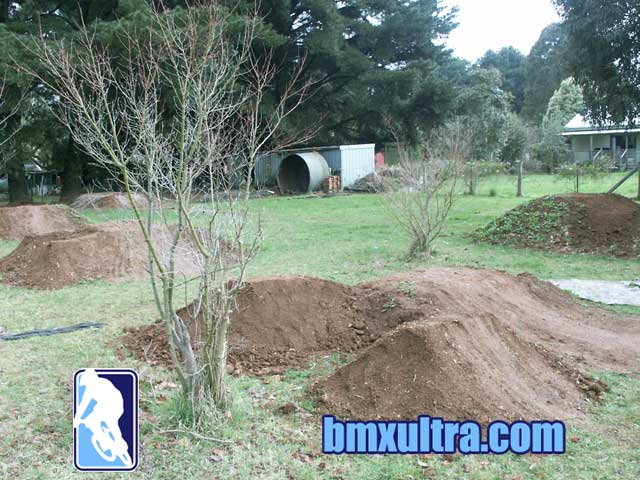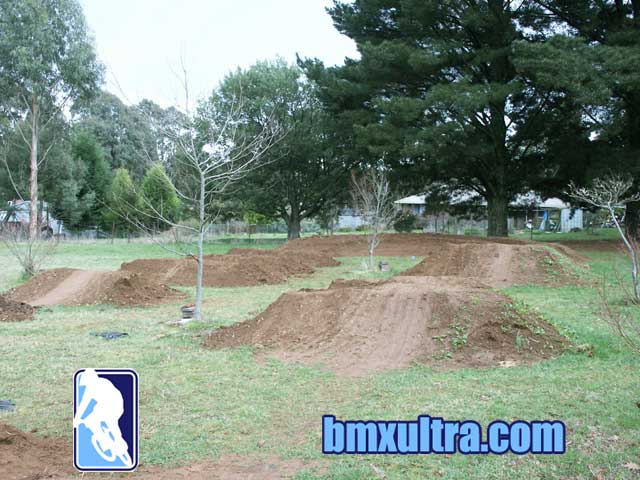 What's currently the first jump (above left photo) has been dug out, it's
also been made slightly bigger and widened. Oh and don't worry there will
be another large jump before that soon.
The first two corners (both inside and out) have been reshaped and are
basically done, but will need more dirt to build them up to a height of
about 3 feet tall, they are currently around 2 feet tall, give or take
a few inches.
The jumps down the second straight (above center photo) have been widened.
There's actually two different sets of jumps depending on which corner
you come out of. You get more speed out of the outside corner so there's
a bigger dirt jump, while on the inside it's a roller.
The third straight (above right photo – left side) has been completely
changed and is now a 4 pack. I haven't ridden the last straight yet, I
was exhausted by the time I had finished shaping it yesterday, so it may
require some tweaking.
There are only a couple of barrow loads of spare dirt left now, so I'll
be organising more dirt as soon as I get some more money together to hire
the equipment to move it. I'm hoping to use a bobcat to finish off the
track. It's a lot of fun shovelling, but damn it's hard work.
The idea now is to make everything about 50% bigger than it already is,
and complete the last 2 corners and straights. The starting hill will
be around 1.5 meters tall with a dirt ramp, there won't be much chance
to pedal so this track will have a lot of flow.
For event sponsorship enquires please email webmaster@bmxultra.com.
The 2006 BSX is presented by bmxultra.com, but would not be possible
without support from our partners Dirt
Designs and Cyclelink.com.au.
05/08 Throttle Grip
by Bruce B. Mayer Owner / President ATI (www.rideati.com)
[Ultra: Last month we asked people how they stopped "throttle grip".
ATi are a manufacturer of BMX race grips, as well as pads and plates,
etc out of America. ATi's president Bruce Mayer took time out of his busy
schedule to give an unbiased analysis of cause and possible solutions.
This is what he had to say about it.] We have found that most of the problems with throttle grips stems from
various causes. The number one cause is that the handlebars are not cleaned
well before new grips are put on, and whatever is used to install the
new grips is going to break down the residue and the grip will not stick
properly. Second, although spray paint, hairspray, compressed air, alcohol,
and even WD 40 seem to work, they are not the recommended methods.
ATi has attended many races and installed thousands of pairs of grips,
over the years, from small children's grips, up to, and including, many,
many Pro rider's grips. We have used several methods, but our most successful
is using the Shimano Citrus based degreaser which has a slight chemical
reaction with the grip material, which allows the grip to slip on fairly
easily, immediately fuses the grip to the handlebar, then dries without
any slippery residue. Any citrus based degreaser should work providing
it doesn't leave a film or slippery residue behind.
WD 40 is the next best alternative. Using compressed air will enlarge
the grip too much, and although it will fit to the bar, its longevity
is reduced because the elasticity of the grip has been compromised. This
will also happen when a grip has been removed and is being reinstalled
a second time. Most grip manufacturers do not recommend installing grips
a second time.
Other problems that may cause throttle grip are bars that are painted
with a rough finish and are not smooth which allows air to get between
the bar and the grip. Also, bars that have bends in the grip area will
allow for a slight air gap which will eventually cause the grip to start
slipping. There are also some inexpensive grips on the market which are
made from an inferior rubber which is more like tire rubber, that will
break down quicker and allow the grip to slip sooner than grips made with
better material.
It is also a good idea to install grips in a cooler temperature rather
than in the blazing heat so the grips are at their smallest size when
installed and adhere better to the bars.
If necessary, in wet weather or extreme heat, ATi does have a grip glue
that will secure the grip even more to the bar. Most people, that use
the grip glue, do not allow the 24 hours for the glue to set up completely
before they ride and this will cause the glue not to be as effective as
it can be. About 98 percent of the time grip glue is not required, but
for some it may be a preference.
Throttle grip article: Part 1 | Part 2
05/08 BMX Xtreme store opens in NSW
BMX Xtreme press release
BMX Xtreme is a new BMX specialty store that has just started trading
within the Newcastle/Lake Macquarie area. It's a retail outlet with a
new e-commerce website which has been in the planning now for the past
12 months (these things don't happen overnight). A BMX specific
store focusing on all aspects of the bmx scene, supplying all the lastest
'n greatest BMX goodies.
The website address is www.bmxxtreme.com.au
check it out and let me know what you think.
04/08 Western Extreme Series ends this weekend
by David Price
The final round of the Series will be held this weekend 7th August
at the Portland track which has been remodified for the Victorian State
Titles in November.
This will give riders a chance to test out the new track before the States.
Racing starts at 11am.
04/08 Northern Park club race Saturday
Northern Park press release
The Northen Park BMX Club will hold a club race on Saturday registration
starts at 2 pm and racing starts at 2:30 pm (weather permitting). The
track is located at Sycamore Reserve, Mill Park, approximately 10kms north
of the Melbourne CBD.
In other Northern Park news, the club has met with council and equipment
operators and everything is looking good for the new gate, surface and
track changes to be complete by the Open race meeting on Sunday September
11. Entry forms should be available soon.
For further information regarding the Northern Park BMX Club call Rob
on 03 9436 0764. New members welcome.
04/08 Home Brew: Aussies on the way
by bmxultra.com
It's been a few months now since the release of the highly successful
Home Brew: ACT Titles DVD, we received a lot of feedback and have taken
it all into account. The Home Brew: Aussies (working title) DVD will include
footage from the 2005 Australian BMX Championships in Cairns earlier this
year, it will be a little different with more than just pro racing, however
it will still have a pro rider focus. We will make sure we keep it punchy
with faster music and more highlights style action. It's already well
on the way and on target for an early September release. Home Brew: Aussies
is made possible by www.undecided.com.au,
Dirt Designs, Cyclelink.com.au, camera jockeys Nerelle, Shannon Rademaker
and Brett MaliC.
03/08 Sneak Preview: One Bicycles 2006 race frame
by bmxultra.com
One Bicycles had their 2006 frame on display at the UCI world BMX
championships in France and we managed to get hold of some photos for
all to see. The biggest difference from the current model is the drop
outs and the finish. Apparently the raw look went down well at the worlds
so it will be available in raw, there are additional colours yet to be
revealed.


For more information check out www.onebicycles.com
02/08 BMX TTO – BMX to the next level
BMXTTO press release
In 2006 BMX worldwide will be taken to the next level.
There is one level left – professionalism.
At the 2005 Worlds in Paris a new organisation was founded.
BMXTTO – BMX Trade Team Organisation.
This organisation will allow Trade Teams to become officially recognized
by the UCI.
All teams with a professional structure (mechanic, teammanager, team tent)
with at least 1 Junior and 2 Elite riders (male or female) can become
a member of BMXTTO.
The positive thing about this is that we will be able to talk with the
UCI and organisation of high level international events. One of the ideas
is to have an area with technical assistance/support next to the parc
fermé (staging area) available for all riders of the trade teams
(members of BMXTTO).
We are looking for:
visibility of trade teams
progress of the sport
future of BMX
more sponsors in the sport
more media (TV)
It is important to know this is all for the progress of the sport.
The idea has started when Christian van de Groenendaal (ONE Bicycles)
and Tiziano Cristofaletti (Ciclomania Racing) developed a concept at the
European Championships in Switzerland.
This set up is already well known in mountainbiking. Right now Christian
and Tiziano will keep teams updated on what is going on and all ideas
from other teams are very welcome.
So all current teams can send an email to info@onebicycles.com
or info@ciclomaniaracing.com
for more information.
02/08 Double A Marketing Race Report: UCI BMX World Championships Paris, France
Double A Marketing press release
The UCI BMX World Championships are always one of the most anticipated
races of the year. This year, it met up with some deep tradition as they
were held in Bercy, France. Bercy, has had a long tradition for great
BMX events. From 1984 to 1990 there was an event called the Bicross International
de Paris that would have riders from around the world compete to sold
out crowds of 16,500 plus. This event alone made many American Pro riders
world famous. The 2005 UCI BMX World Championships being held inside the
Bercy arena would uphold that great tradition and make this year Championships
one of the best Worlds ever. With more than 2600 entries, it was also
the biggest Worlds ever. Here is how the Double A Marketing riders finished
up-
Randy Stumpfhauser was looking to win his 4th UCI World
Cruiser title in a row, and some say he is the king of the Cruiser. But,
Randy didn't have an easy race here is France, as he had some of the toughest
riders in his motos. Randy seemed to go faster as the 1/8, 1/4, and 1/2
came around. The main event was crazy, as Paul Lange holeshotted, was
winning up to the last turn and a french rider came underneath him, giving
Randy the space to pass them both. Randy took home the win and his 4th
UCI Cruiser World Championship. Unfortunately in Elite men's, things didn't
go the same, as Randy missed out of transferring from the semi finial.
As it happens a lot at the worlds, the semis are usually a bit lopsided
and a lot of potential winners are in the same semi. Randy's Semi was
that way, with Robert De Wilde, Mike Day, Cristian, Donny Robinson, Florent
Boutte, Bubba Harris, and Michael Robinson. Randy was in 5th for most
of the lap, just behind Bubba but was unable to make a pass and his night
was over. Still, it was a great weekend for Stumpy, retaining his World
Title and looking to add both the NBL Elite and Cruiser title to his resume
in a few weeks at the NBL Grands. Randy's sponsors include GT Bicycles,
Hyundai, ODI, Kenda Tires, Tangent, Sun Rims, Bombshell Forks, AC, Time
Pedals, Fly Racing, Thomson, Powerbar, CTI Knee Braces, Tool Shed, SDG,
S & M, Fox Riders Co Clothing, Cyto Sport/Cyto Max, and BMXpros.com
Dale Holmes has been in Europe for most of the summer,
racing BMX and training for the Worlds. It was evident he has done a good
job with his training, as he was flying all day on Friday, winning every
race he was in up to the main event. Many had talked about the possibility
of a great showdown between Randy and Dale, as they have a long history
of battling it out at the Worlds. Unfortunately for Dale he crashed in
the first turn in the main event and broke two of his fingers, not only
ending his shot at the Cruiser Worlds Title, and keeping him out from
racing the Pro Elite race on Saturday night. Dale's sponsors include Free
Agent, KHS, Kenda, THE, Troy Lee Designs, Sun Ringle, Shimano, S &
M, Power Bar, Truvativ, DaleHolmes.com, BMXpros.com, and Cyto Sport/Cyto
Max.
Cristian Becerine has been a consistent main maker in
the Elite men's finial at the last few World Championships, and the way
he was riding here in France, he was a pick for a podium spot in the main
event by many. Unfortunately in the semi, Cristian misjudged the gate
and hit it, flipping him over the bars and taking away any shot of making
the main event. Cristian looks to redeem himself in 2 weeks in Columbia
at a special invitational event and then 2 weeks later at the NBL grands,
where he has a slim, but still a mathematical shot at getting the #1 Pro
plate. Cristian's sponsors include Crupi, O'Neal, Answer, UGP, ODI, Sun
Ringle, Marwi, Shimano, Tool Shed, Powerbar, BMXpros.com, Cyto Sport/Cyto
Max, and Thomson Seat Posts.
Brandon Meadows is another rider who rises to the occasion
at the World Championships making the main event. Brandon was having some
trouble with the gate as well, as many riders did. The gate seemed to
be dropping a bit inconsistent but Brandon was able to move on past that
and make his way out of the motos, the 1/16 and onto the 1/8 finial. Unfortunately
for him, his night would end there as he unclipped in the first strait
away and went from 2nd to 7th in a spilt moment. This ended Brandon's
chance to make the main, but he did give the fans some enjoyment, as he
styled for them as he finished up the moto. Brandon's sponsors include
Specialized, Fly Racing, Tangent, Cyto Sport/Cyto Max, Shimano, Sun Ringle,
Powerbar, and BMXpros.com.
Double A Marketing proudly represents Kyle Bennett, Cristian Becerine,
Wade Bootes, Dale Holmes, Christophe Leveque, Brandon Meadows, and Randy
Stumpfhauser. For more information on any of the riders, or questions
abut sponsorship of any of the athletes, please visit www.BMXpros.com
01/08 UCI World BMX Championships results
by bmxultra.com
Are you looking for the full results from the UCI World BMX Championships
in France?
Try this link at the UCI.ch website: http://www.uci.ch/modello2.asp?1stlevelid=C&level1=5&level2=0&idnews=3633
ISTV have a clip of Bubba Harris winning the Elite Mens final. Aussie
Jamie Gray just nearly stole the show, he got the snap and had Bubba on
the inside with a wheel in front only to crash at the doubles at the end
of the first straight, where it looked like he was trying to stay too
low.
Check it out at www.istv.com.
01/08 Evel Knievel DVD
by bmxultra.com
For all the Evel Knievel fans out there in the BMX community, if
you haven't heard by now there is a new movie about Evel Knievel which
stars George Eads (CSI), Jaime Pressly, Beau Bridges, and Lance Henrikson.
Click the thumbnail images below for a closer look at the DVD cover or
check out the official website at www.evelknieveldvd.com.
The DVD will be available across North America August 2.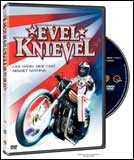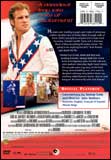 Posted in: Archive