BMX racing news September 2005
29/09 2005 Cash Dash
by Derek Harris, President South Eastern BMX Club.
"Ca$h Da$h is all GO for 2005!!! On Saturday October the 8th, the day before racing, there will be a coaching clinic with Trevor Stamford who will be helped by various AA pros. All starting at 10:00 am for the under 12's and from 11:30 am for the 12 and over. I'll wheel out the BBQ for people bringing
their own food, and I might have a few snags for sale!
Then it's GATES GATES GATES! Until 2:00 pm. It's going to be a great day, and a chance for those
from other states to get in some quality practice!"
29/09 Knox/Eastfield Friday night series
by Greg Siinmaa
Knox and Eastfield Friday night summer clubby series is on again starting this Friday night Sept 30th
It's back.
The highly successful Friday night Series hosted on alternative Friday nights by the Knox and Eastfield BMX Clubs.
This Friday at Eastfield (Sept 30th) $10 (thats ten bucks' cheaper than a litre of ULP these days) entry all classes are payback less $1for first aid.
So the more riders you get for your class you get more prize money. More money YEAH!!!!
All you guys who want some good practice leading into the state titles this is it racing nearly every Friday night leading up to the Victorian State Titles in November.
Sign in by 7.00 pm with racing starting not long after.
Next round at Knox Friday the 7th.
28/09 Gavin D's Factory Teams Challenge 2006
by bmxultra.com
The 2006 Track Attack series is going to be completly nuts in 2006. In mid January there will be 6 race meetings around Melbourne (Australia) in just 9 days, which has been the format for the past few years. So what's changed you ask?
Freelance BMX photographer, Gavin D, has been pushing a Factory Teams Challenge, that is rumoured to be worth over $10,000 in prize money. Exactly how it will work and the money will be divided up is still a mystery to me.
In addition to that Gavin has told me that he has secured TV coverage through Fox's Fuel channel. The only thing is he needs two people to host the show for the week, conducting interviews, etc. If you think you are up for the job email Gavin D at mrg@gavind.com.au for more information, be sure to put the words "TV HOST" in the subject heading.
Pro riders, don't forget we will be running the TotalBSX race (a one on one pro/platforms only race) on the Wednesday as well.
It sounds very much like Melbourne will be the place to be in January.
27/09 Double Downs Boulder City results
by bmxultra.com
I received an SMS message from Shannon, the Double Downs race at Boulder City had just finished. Shannon was knocked out of the first round by Mike Day. John Purse took out the overall win. Bubba Harris and Warwick Stevenson were amongst the 10 pros racing. He said that the track was awesome, and you can be assured that Shannon will use some of the things he learned for the BSX race in January, including how the track was built.
27/09 Road trip from hell part 3
by Shane Jenkins
Sunday
An 8am start for racing meant a 6:30am alarm. I am really looking forward to going home and getting some real sleep. Anyway it's a new day, Shannon was fighting out for 4th place on the exit to the first corner in his first moto but came off second best and slipped back to 5th, he managed a 4th in his second moto, but in a 2 moto transfer system it wouldn't be enough. I got a 2nd and a 3rd in my motos even though was a little worried that I would make it through since racing the day before was very physical and there were only 4 in the gate. I got a better start in the final and slotted into 4th right behind Jesse Guilbault (Supercross) again, only this time I was a little faster through the last straight and just managed to pull past him before the line. Racing was over by 10:30am, so we checked out the vendors and took a look around Woodward before heading back to Boston. But just as we were leaving Woodward we spotted some amish people doing the horse and cart thing, which was a novelty for a couple of Aussies. With Shannon driving it took only 6 hours to cover 700kms, at times doing about 25miles an hour over the speed limit. We got back just in time for Boston's 375 year anniversary fireworks.
Monday
Shannon headed to LA, he was going to try to catch a flight to Vegas for Interbike and the double downs race at Boulder City.
27/09 Czech Republic national championships
by Rene Zivny (www.bikros.cz)
On Michael Prokop´s home track in Prague/Bohnice was held last weekend the final (8th) round of Czech BMX national championships. Michael prepared very hard track for this race with new pro section. It was very attractive for spectators.
Lukas Tamme (Elite Men) took first place in the final round, but in overall ranking Elite Men ended Michal Pribyl in first place.
Results 8th round:
Elite men:
1. Tamme Lukas – AUTHOR team
2. Krebs Milan – Slovakia/Twister team
3. Pribyl Michal – Haro/Katmar Team
Elite Cruiser:
1. Tulach Petr – PS KOVO Team
2. Holub Jiri – Olympus team|
3. Brada Adam – PS KOVO Team
Junior Men:
1. Mechura Lukas – Olympus Team
2. Slavik Tomas – GT Team
3. Koutny Jakub – 04 Team
Junior/Elite Women:
1. Hladikova Aneta – ONE Team
2. Labounkova Romana – PS Team
3. Koutna Lenka – 04 Team
Final results of Czech bmx championship 2005:
Elite Men:
1. Pribyl Michal – Haro/Katmar Team
2. Kvacek Radim – GT Team
3. Simecek Robin – Favorit Brno
4. Novak Jan – TBB BIKE Brno
5. Mencik Tomas – 04 Team
Elite Cruiser:
1. Holub Jiri – Olympus Team
2. Tulach Petr – PS Kovo Team
3. Brada Adam – PS Kovo Team
4. Zikmund Martin – Slovan Bohnice
5. Rene Zivny – AUTHOR Team
Junior Men:
1. Mechura Lukas – Olympus Team
2. Slavik Tomas – GT Team
3. Hrabe Ondrej – Sumperk
4. Bokuvka Marek – Unicov
5. Kral Ludek – Kovo Team Prague
Junior/Elite Women:
1. Hladikova Aneta – ONE Team
2. Labounkova Romana – PS Team
3. Koutna Lenka – 04 Team
4. Horakova Jana – 04 Team
5. Achsova Katarina – Slovakia/Raca
26/09 Road trip from hell part 2
by Shane Jenkins
Sunday (continued)
There were a few observations I left out of part 1 (Sunday), so I will continue on from there.
It seems that the trends in Australia are very different to Canada. We still haven't had Fly break into the Aussie market just yet, but Answer and Fly race gear were very popular, and while Troy Lee helmets are very trendy in Australia, it seems that the Answer ACF (Carbon) helmets are leading the way in Canada. The most popular frame would have been Supercross, everywhere you looked it was Supercross frames, and even the forks, UFO frames were also quite popular. It seems that cromo forks, especially Supercross, are on most bikes these days. Answer Skythe and the new Bombshell F1s (I think they are called) are still quite popular but not to the same level as the cromos.
I also need to thank a few people for their help over the weekend. Firstly the guys at BMX EH Canada for giving me open access to their tools to change my gearing, it's not everyone that would do that. Thanks also to "Ozzie" (sorry I forgot your name), he was an ex-pat Aussie from Brisbane who patched up Shannon after his crash on Saturday and was our one man cheer squad for the rest of the weekend. Also the ABA for all their help and for running such a fun race meeting and especially for giving us open access to the track to take photos and video (still coming, I haven't had time to go through them yet) also riders like Warren Brown and Jody Turner and everyone else we met. Getting the rental car back and catching our plane proved to be fun, Shannon managed to just make his plane in time. Mine didn't leave for another 3 hours.
Monday
I arrived in Toronto early, I guess it was 6am, to catch a connecting flight to Boston, but because customs was so busy I missed my flight and instead of getting to work first thing on Monday I didn't arrive until 5pm.
Tuesday-Thursday
Shannon got to do some sight seeing while I was at work. I gave him directions to the Boston dirt jumps which he managed to find ok. I think he went there every day, I went with him after work on Wednesday. Thursday night we went to see the Blue Man Group and I was dragged up on stage to be a part of the show which was pretty cool. It gave me some cred after the show, some of the female punters came up to me later to ask questions.
Friday
Shannon packed the car ready to head for Woodward, meanwhile I was working. He also checked out a tattoo convention that was in Boston and got himself his first tatt (right shoulder) that says "ride", he's already talking about getting more work done. At about 5:30pm we were heading to Woodward with a little diversion via a Vans factory outlet, we got caught up in some seriously heavy traffic so by the time we finished with the Vans shop, we didn't get on the road until about 8pm.
Saturday
At about 3:30 am we arrived at Woodward camp, no one was about. We went straight to the lodge where I thought we were staying in room 7. The funny thing is there was no room 7 so we tried to look through the booking folder and tried to call a couple of people but no one would answer their phone, not surprising given the time and there was poor mobile phone reception. Nearly an hour later we decided to just sleep in the car. At 7 am we woke up with a full view of the wonder that is Woodward, every BMXers dream location, anyway we found out that there's a Woodward Inn in the town of Woodward that we had booked. We grabbed some breakfast, registered for the weekend and hit the track. I think I got 3 laps in before racing would start. I had bumped into the Boston crew that I met back in May, and met up with Jason Bergstrom and Kyle Olson from Tennesse who were using the floor in our room. The Woodward race track is nice, a little rough and tight in corners, but over all quite fun. I got a second in my first moto and a fourth in the second, I paid for the slow start I got, but made the main. I was slow on the gate again come final time but made up a few places in the first corner and pulled into fourth, a guy came across on me but bounced off and hit the deck. In the third straight another guy jumped past me but was a little out of control and crashed. I finished in fourth right behind Jesse Guilbault (Supercross), not too bad with only 2.5 hours sleep. Shannon didn't do so well finishing up with two seventh places. With two full gates of pro open he didn't qualify through. Racing was over real quick, I think it was about 2.5 hours, so we had an early dinner at State College, admired the view for a while, then headed back to the Woodward Inn…Shannon slept right through until the morning while Jason, Kyle and myself sat out the front watching Aussie racing DVDs on the laptop, then called it a night.
Still more to come. Shannon is trying to hit up the Boulder City double downs race tomorrow. He was planning on spending the week in LA and doesn't have any Vegas accomodation or flights booked, but knowing Shannon he'll do what he can to make it there.
26/09 Sirius riders in fine form…
Sirius Bicycles Press Release
Sirius Bicycles' team riders performed very well in the Senior & Mighty 11's test team trials this past weekend at Papakura (Auckland). Rhys Telford (Hyper), Callum Gifford (MCS), & Jason Kelly (Intense) all made the senior test team, & Cory Martin (Staats) will captain the Mighty 11's team also.
Twice a year the Kiwi Senior & Mighty 11's test teams, comprised of four riders per each team, square off against the Aussie's. Australia won the first round in Tamworth (Australia) earlier this year & our boys will be out to extract some revenge on home soil next month when the teams meet at the North Island Titles at Labour Weekend (Oct 22 & 23) in Papakura.
The North Island Titles is also the first UCI Continental ranking round of the new season for the Oceanic region & so there'll be plenty of fast riders in town all chasing those crucial UCI points. Rumour has it the Chinese will also be sending a team to NZ for this one, so the racing should be white-hot!
26/09 GABRIELA DIAZ signs with ONE
One Bicycles press release
The 2004 Elite Women World Champion Gabriela Diaz from Argentina signs with ONE Bicycles for the coming years towards the 2008 Olympics.
Gabriela took the World title this year in Paris in 19+ Women Cruiser class.
Gabriela will be racing the South American championships and will be in the US for several races in 2006.
ONE Bicycles and their sponsors are proud to have Gabriela on board.
ONE Bicycles' BMX team is sponsored by: TROY LEE DESIGNS, SHIMANO, BOMBSHELL, BOLLE, WLM DESIGN, BOMBA, THOMSON, FIZIK, ODI, ZITOUN, KENDA, NIKE 6.0, NIKE Cycling, NIKE Timing, COOL SHIRT and BMXPIX
22/09 Road trip from hell part 1
by Shane Jenkins
I should never have written that this was going to be the "road trip from hell" in the first place. After all it's just flying from Melbourne to LA then on to Vancouver to race the ABA Canadian Grands. After that on to Boston to work for a week, then on the Friday night drive to Woodward PA to race the NBL Supercross nationals only to turn around and drive all the way back to Boston for more work and back home again. Calling it the "road trip from hell" has only proven to be bad luck right from the start.
Here's how it's gone down so far.
Wednesday
I head to the airport from Kinglake, normally a 50 minute drive when you get a good run. I usually plan to be at the airport about 3 hours before an international flight, we'll just call it paranoia. So I am about 5 minutes from the airport when I realise that I don't have my wallet, so no credit cards or drivers licence, and no cash that my work were nice enough to supply me for work related expenses. There was only one option, to turn around and go back to get it. I had to also book a taxi that would get me back in time. We'll to cut a long story short I got my wallet and made it to the airport 50 minutes before my plane was due to leave. I had hooked up with Shannon Rademaker (FreeAgent Australia) briefly, we were travelling together but using seperate airlines. The flight itself to LAX was far less eventful. When I landed in Vancouver however I had found that the box with my bike in it had gone for a walk somewhere along the line, it was suspected that it might have made the next flight, so I organised the airline to deliver it to my room when it arrives, I also sent an SMS to Shannon to let him know what was going on, he was about 3 hours behind me. It was sheer luck that he just so happened to be on the flight that my bike was on. It was a bit of a concern that he managed to walk out with it no questions asked, but I was just happy it was there.
After we dumped out gear at the motel we walked into Vancouver and grabbed some dinner, then tried to catch up on some sleep.
Thursday
Shannon found out what it was really like to be jet lagged, but we were on a mission to see as much of Vancouver as we could, and couldn't let that slow us down. We went to the main tourist locations like Gas town, downtown, grouse mountain, GM place (NHL Hockey arena), and did some shopping as well. Once that was out of the way it was off to Chilliwack where the ABA Canadian Grands were to be held. The place that I had booked was a dump but it had beds so it did the job
Friday
Day 1 of racing, we had no idea of the schedule so he headed to the track anyway at about 11 am. They were putting the final touches on the track as we got there. It was a nice looking track, a small and narrow start hill that I first thought would only fit 6 riders, there was no room for mistake if you had lane 1 or 8.
We found the room where the ABA guys were setting up the administration side of things. They were very helpful, telling us the run down for the event, providing us with membership forms, etc.
We went back after 1pm to sign up to find out the guy I was talking to earlier was Bill Curtain, the dude that started the vintagebmx.com phenomenom. Shannon had convinced me to race the Friday race, since he was planning to I thought it made sense. We were both struggling with the ABA gate at the start since it's very different to the NBL style gate that we use back home. When the sheets were posted there was no pro class so Shannon would have to man the video camera and watch how riders would take the track. I had 7 riders in the 28&over expert class, in my first moto I got an average gate but managed to get some pull down the first straight and take the win to transfer to the main, it helped that half way around the track the one guy that was in front of me got a little loose. In the main, I got a good gate and won it from the start to finish. We hooked up with some of the Canadian guys after racing for some food.
Saturday
Shannon would get his first taste of racing in North America, it was an eye opener for him because the racing style is a little different. Back home contact is discouraged, totally the opposite to the ABA, a good bump could make you a hero. That's when you find out how many people are really watching, they really show their appreciation for a good corner move or bump, or even just styling it up, or crashing. It's an atmosphere that I am not used to in Australia where people generally keep to themselves, do their racing and sit away from the track until their next race.
I must admit I wasn't sure what to expect from the Canadian riders, but was impressed with their skills and leg speed, I guess it helps that a large number of Americans attend their national events. Shannon was loving the ABA rules, which are more relaxed than back home. He decided to race without gloves, which was more for the novelty value than anything else. Anyway he crashed in the second moto and took a chunk out of his little finger which wouldn't have happened if he'd worn gloves. He'd pulled a fifth in the first race, a seventh when he crashed, and a third in the final round, no chance of making the main when there were two racks of pro, but it looked promissing for Sunday if he could keep it together and get a better gate. For me the class had changed somewhat. There were only 4 of us, that's not to say it was going to be easy. I got an ok start in my first race but an American rider had the inside run to the first corner, I couldn't reel him in so I had to settle for second, I transfered in the next round. My main was a bit of fun, I got a slower gate than I had hoped so I thought I would get into the spirit of things and see how much ground I could make up in the first turn. Actually I managed to get my nose in front and gave the American rider a "little bump", I probably should have given him a big one, but I don't have it in me to hurt anyone, it should be fun right? Anyway when I bumped him I lost momentum and he got back in front by the next corner, then went on to win.
We had heard that System of a Down and the Mars Volta were in Vancouver, and we were planning to go but the early start on Sunday would prove to be too much. We watched a Junior A game of hockey instead, the Chilliwack Cheifs gave the Langley Hornets a hiding on the score board (winning 5 to 2) and in the fights that broke out throughout the game, there were at least a hand full of players ejected from the game.
Sunday
We were up early to pack everything, after racing we would have to head straight to Vancouver for Shannon to catch his flight to Boston, so we had to be all set to checkout. We were down the track early enough to get some breakfast down and get set for racing. My class had changed again, this time there were 5 riders, the moto count was down a little on Saturday. It was explained to me that some of the US guys race the Saturday for the ABA points, but Sunday only meant anything to those following the Canadian national series. Anyway I got first and qualified in the first race. Then took the win in the main. Shannon had a better day, he was struggling on the gate still, but he was racing a smarter race, being careful to stay upright. With two fifths, it looked like he was still a chance even though it was a slim chance. He got a third and finished up qualifying for one of the last spots in the main, he was on equal points with two other guys. It was the Grands, he would have to race 3 finals. Shannon ended up with a 6th in the first main, and while sitting comfortably in 6th in the second he crashed just before the last corner, he crossed the line in 8th. In the final round his points weren't great, he went for it anyway and finished 6th which game him the overall 7th place.
That's all for now, more to come soon.
22/09 Bellarine Spectacular
Bellarine BMX Club press release
On the weekend we headed to sunny Geelong for the Bellarine Spectacular. The weather was awesome and this track is setting the standard for BMX racing in Australia.
Plenty of big guns turned up for this event, former world champion Michael Fenwick, Tony "HRV" Harvey and Daniel "DK" Johnston. The scene was set for a great final, the gate dropped HRV and Fenwick both pop to the lead. Fenwick takes the lead out of the first turn with HRV on his hip. Turn 2, Johnston slide up on the inside of HRV and takes over second spot. The third straight is straight up trails, nothing but transition. But no one was catching Fenwick as he takes the win, DK second and HRV in third..
It was a great day for racing, the halftime show girls were awesome and racing was fast and furious.
Thanks to all the sponsors who chipped in to help make this race so Spectacular..
21/09 ultra's back online
by Shane Jenkins
It's frustrating not to update the website for a whole week, but it's also nice to get a break. We hit up the ABA Canadian Grands on the weekend in Chilliwack. Shannon "Rudy" Rademaker managed to pull a 7th in A Pro on Sunday. I raced 28 & Over expert and got a 1st on Friday, 2nd on Saturday, and 1st on Sunday. The ABA put on an awesome show, it was a fun (indoor) track that reminded me a lot of the new Northern Park track back home, racing was very relaxed and over and done real quick each day. The mixture of Canadian and Americans in attendance were very friendly and helpful.
On the way to work in Boston I got stuck for a day at the Toronto airport (got caught in customs and missed my connecting flight) and wrote a diary for the trip so far, when I get a chance to edit it I'll post it on the site. Hopefully that will happen tomorrow and I'll have some photos too.
If anyone could tell me where I can find the results for the Bellarine Spectacular that would be awesome.
Below are the press releases that I was sent while I was away.
21/09 World No 6 added to Staats team
Sirius Bicycles Press Release
Kiwi (New Zealand) No 1 Marc Willers has been added to the Sirius Bicycles team & will be on a Staats for the 2006 season. Marc has had some impressive results recently & his star is certainly on the rise. At the UCI World Championships in Paris, Marc surprised a lot of people with a solid performance & by making the Elite Men's final where he placed 6th. And a few weeks ago he made another final at the NBL Grands in the USA where he picked up another 6th placing in the Pro Open class. Marc joins an already impressive line-up of Staats riders that includes Melissa Mankowski, Scott Hosking, & Dirk Winter.
The first shipment of 2006 Staats alloy frames are in-store now at Blackman Bicycles (NSW) & Peddler Bicycle Centre (QLD). For a list of dealers near you go to www.siriusbikes.com.
21/09 Profile Racing and J&R Bicycles create combo race team for 2006
J&R Bicycles and Profile Racing press release
J&R Bicycles and Profile Racing have merged their BMX Race teams to form a new Race team, J&R/Profile Racing. The two companies' names have become synonymous with BMX racing and they will cooperate in the upcoming 2006 race season in sponsoring and co-sponsoring racers on all levels.
Profile Racing has long sponsored a factory team and J&R has sponsored individual racers. Recently J&R stepped up their Race commitment and developed a full race team program. That got the attention of Profile Racing owner, Jim Alley. Jim and Kirk Morrison of J&R Bicycles then got together and developed the J&R/Profile Racing Race Team.
"This combination was a natural," Alley said. "With the headquarters for Profile Racing and J&R Bicycles both in Saint Petersburg the combining of our two teams into one is best of all worlds. We'll be able to draw from the strengths of both our companies; Profile Racing's BMX components manufacturing for the bicycles and J&R's team infrastructure, management and committed race attendance." When asked what their race schedule for 2006 will look like Morrison replied that most major ABA and NBL races would be attended. He added that the new team would remain committed to bringing customers to Profile Racing and J&R Bicycles by promoting sportsmanship, prestige, and a positive appearance. The team's objective will remain to endorse all sponsors to the best of each rider's abilities and maintain a positive atmosphere for the industry.
J&R Bicycles currently operates two 30-foot trailers with 1600 square feet of display area. The trailers travel the US providing products and services to ABA and NBL riders. J&R also operates a local vending trailer with 800 square feet of display area providing the same products and services to two local tracks in St. Petersburg and Sarasota, Florida. The company will vend over 40 national and state events as well as over 70 local events during the 2005-2006 season. J&R has also integrated an online retail store and toll free number to reach customers outside of their Florida base. They continue to reach new customers everyday throughout the world and add to their extensive product offerings. The site not only provides easy access to thousands of BMX products to racers, freestylers, dirt jumpers, and street riders, but it also provides information on the sport of BMX. Profile Racing is the single most capable, largest, and most sophisticated manufacturer of high-end bicycle components and BMX frames in the industry in the United States, boasting over 35 years of experience. They have recently re-located to their new 20,000 square-foot factory in St. Petersburg where orders are shipped all over the world. Utilizing the world's most accurate state-of-the-art equipment, while setting the standards for quality control, Profile Racing continually supplies their customers with the closest tolerance, precision machined accessories in the market today. Profile Racing strives to create an ideal blend of form and function in new products that are truly the "best"; light years ahead of any competition. Profile Racing's attention to detail, flawless surface finishes, superior quality aerospace materials, safety, and reliability in all our products is the reason they continue to be #1 and the choice of all the Pros!
21/09 ECI Grabs KUWAHARA
Elite Cycle Imports Press release
ECI Australia is proud to announce the inclusion of KUWAHARA to their range of BMX products.
These BMX Race Bikes will be available at the end of November:
MINI ($499 RR)Alloy 6061 Frame 17.25″TTSun ICI-1 Rims, Sealed Cassette Hubs, Alloy Cranks, IRC Siren Tyres
JUNIOR ($519 RR)Alloy 6061 Frame 18.25″ TTSun CR-18 Rims, Sealed Cassette Hubs, Alloy Cranks, IRC Siren Tyres
EXPERT ($569 RR)Alloy 6061 Frame 19″TTSun CR-18 Rims, Sealed Cassette Hubs, Alloy Cranks, IRC Siren Tyres
PRO ($699 RR)Alloy 6061 Frame 20.5″TTSun Rhyno Lite Rims, Sealed Cassette Hubs, Truvativ Cranks, IRC Siren
Tyres
TEAM ($859 RR)Alloy 6061 Frame 21″TTSun Rhyno XL Rims, Sealed Cassette Hubs, Truvativ Cranks, IRC Siren
Tyres
PRO 24″ ($759 RR)Alloy 6061 Frame 21.5″TTSun Rhyno Lite Rims, Sealed Cassette Hubs, Truvativ Cranks, IRC Siren
Tyres
21/09 Miss M now also Miss Staats
Sirius Bicycles Press Release

Miss M now also Miss Staats… 6x world champion Melissa Mankowski has been added to the prestigious Sirius/Staats team for 2006. Melissa is a welcome addition to the star-studded team & naturally assumes the role of the team's top female rider. Team Manager Adam Campbell is ecstatic at having Melissa join the team, as she is clearly not only one of the best riders in all of Australasia, but also the world. Melissa will be on her '06 model Staats Pro XL bike for the first time at the upcoming UCI Oceanic ranking round in Auckland, New Zealand (Oct 22 & 23). Be sure to check back then to see how Melissa got on. Melissa would also like to acknowledge the support of Jason Halverson at Staats Bicycles. Melissa's sponsors include; Sirius Bicycles, Sun Rims, & Marwi Titanium Spokes.
21/09 Czech Republic nationals results
by Rene Zivny – www.bikros.cz
Pardubice – Czech Republic – 3 race during one weekend
results:
7th round of Czech national champioship:
Elite Men:
1. Pribyl Michal (Haro/Katmar Praha),
2. Kvacek Radim (GT Team Brno),
3. Mencik Tomá (04 Team Brno)
Elite Cruiser:
1. Brada Adam,
2. Tulach Petr (oba Kovo Praha),
3. Zivny Rene (AUTHOR Team)
Junior Men:
1. Mechura Lukas (Olympus Team),
2. Slavik Tomas (GT Team Brno),
3. Bokuvka Marek (Unicov)
Girls:
1. Hladikova Aneta (One Team/Zabori nad Labem),
2. Labounkova Romana (PS Team),
3. Koutna Lenka (04 Team)
NIGHT BMX RACE:
Junior/Elite Men:
1. Mechura Lukás (Olympus team),
2. Kral Ludek (Kovo Praha),
3. Tumpach Stepan (BMX Riders/Pardubice)
Elite Cruiser:
1. Zivny Rene (AUTHOR Team) ,
2. Pytlik Jakub (Cyklo Bartonicek Plzen),
3. Berák Martin (Skanska Pardubice)
Grand Prix SKANSKA
Elite Men:
1. Mechura Lukás (Olympus Team),
2. Kral Ludek (Kovo Praha),
3. Tumpach Stepan (BMX RIDERS/Pardubice)
Elite Cruiser:
1. Zivny René (AUTHOR Team),
2. Berak Martin (Skanska Pardubice),
3. Dvorak Karel (Repy)
Junior Men:
1. Tejchman Premysl (04 Team Brno),
2. Zahorcak Peter (Slovensko),
3. Toman Jakub (Vyskov)
13/09 bmxultra road trip from hell starts tomorrow
by Shane Jenkins
Tomorrow I'm heading to Vancouver Canada where I will meet up with Shannon Rademaker (FreeAgent/Cyclelink.com.au). We are bound for Chilliwack for the Canadian ABA Grands. After that a week in Boston, then drive 8 hours to Woodward for the weekend, they will be hosting the NBL Supercross Nationals. I head back to Boston, and Shannon heads to LA for some R&R and Vegas to hit up Interbike. We will both be back in Australia in time for the South Eastern Cash Dash.
I will see how things go as far as updates. But we will be back into the daily updates next week for sure.
13/09 SA Titles entries close today!
by Brett MaliC

ABD's South Australian State Titles have been extended until 5pm Tuesday the 13th Sept (THAT'S TODAY!). OPEN class's only.
Why???? because we have increased all our prize pools and its the last chance AA's will get to race the MASTER BLASTER before he heads off to the UNITED STATES
$2,000 AA MALE
$800 A MALE
$600 OPEN LADIES
$800 MONSTER MASTERS
A Men, AA Men, Open Ladies and 30+ Monster Masters Cruiser Male and Female are open to riders from all states. Challenge classes are now closed.
ABD (Avanti BMX Development) and JT CYCLES have been added to the major sponsors list with Tye's Plumbing Service and Reece Plumbing Supplies for the 2005 SA STATE TITLES held at Mount Gambier on 1st and 2nd OCTOBER.
The Titles will also see the new range of ABD bikes showcased. Michael Fenwick will be back defending his ABD PRO class, after this horrific crash. Added to this excitement will also be the revealing "Master Blasters" new ride.
So, that's 2 reasons why all PRO's have to make this a must do roady. The $2000 and the "have a last go at the Master Blaster".
Fax entries to c/o Brett Malic on (08) 83039393.
13/09 NBL Grand National and ABA Black Jack National
Double A Marketing press release
The end of summer traditional marks the end of the NBL Season. The 2005 NBL Pro series was an exciting one, as 3 riders emerged to be atop the class. Randy Stumpfhauser, Mike Day, and Robert Dewilde had the most consistent seasons of all the Pro riders and would go into the Grands just about tied, leaving it all down to the main event to decide the new #1 Pro. Last Years #1 NBL Pro, Kyle Bennett, had a tough season, getting injured and trying to ride through a knee injury but eventually had surgery to repair the damage. Warwick Stevenson as well had to fight through injury this season and he came alive during the end of the season throwing him near the top of the Pro Ranks, and Cristian Becerine also had a mathematical chance at winning the NBL Title after a season of great results. The Grands are always a pressure cooker for the riders in title contention and it also seems to showcase other riders skill and determination to win for the day and prove they are the best AA Pro. Either way, this years NBL Grands went down in history as one of the most exciting races in history, crowning new pro champions. The ABA also held its traditional Black Jack Nationals in Reno, NV, drawing a good sized Pro class, and marking the return of Kyle Bennett from Injury. Here is how the Double A Marketing riders in attendance finished up.
Randy Stumpfhauser has been very consistent in the NBL series on 2004, so much so that he lead the Pro Series points in both the Men's Elite and Elite Cruiser Class. Randy looked fast on the Louisville track in Practice and was ready for the weekend of race action. Moto one for Randy on Saturday turned out to the a bigger challenge than usual, as while in 2nd place, Randy collided with the first place rider in the air going into the 2nd turn causing Randy to go down and finish up in 8th for the moto. Randy was too concerned and it showed in his riding as he went out and won the next two Elite Pro Motos. As the semi lined up and the gate dropped, it again seemed like business as usual, as Randy was out front going into the 1st turn. This is where the race started to come apart at the seems for him, as he slightly cased the jump just before the turn, causing him to loose a bit of speed and a position. Then Randy seemed to get locked alongside the 2nd place rider down the 2nd strait and would cause him to loose another spot and go into 4th. Randy looked to be OK as he tucked into 4th and into the final qualifying spot, but down the last strait, he once again got pinched off by the third place rider, had no where to go, and lost speed and the last qualifying spot for the main event. Randy was dejected, but kept his head up and got ready for the Elite Cruiser race. It was winner take the title, as Randy and Donny Robinson were tied for the Cruiser Title. Donny grabbed the lead as the gate fell and Randy tried to catch up, but was unable and finished 3rd in the main event. Randy finished up National #3 in Elite Men and #2 in Elite Cruiser for the year. Randy's sponsors include GT Bicycles, Hyundai, ODI, Kenda Tires, Tangent, Sun Rims, Bombshell Forks, Fly Racing, Time Pedals, SRAM, Powerbar, CTI Knee Braces, Tool Shed, SDG, DC Shoes, Easton, S & M, Fox Riders Company Clothing, Cyto Sport/Cyto Max, and BMXpros.com.
Cristian Becerine is another rider who had a very consistent year in the NBL this season, being consistently in the top 5 of the Pro Overall Ranks. Cristian breezed through the motos and qualifiers for Both the Elite Men's Class and open main events. As the semis finished up, it was now possible for Cristian to have a chance to win the NBL #1 Pro title. As slim as it seemed, Cristian would need to win the Elite main event and Mike Day would need to finish up 8th for the day. This was a tough scenario to happen, but stranger things have gone down at the Grand Nationals. Cristian looked to have a strong start as the gate dropped in the main, but no one was going to beat Warwick Stevenson to the first turn or to the finish, as he rode a flawless lap for the win. Cristian finished up 5th for the day and #4 for the season. In the elite open main event, things went a bit sour for Cristian and he finished up 7th, but capped off a great 2005 NBL Pro season with the 2 Grands Main event appearances. Cristian's sponsors include Crupi, O'Neal, UGP, ODI, Sun Ringle, Shimano, Tool Shed, Powerbar, BMXpros.com, Cyto Sport/Cyto Max, and Thomson Seat Posts. 7th open
Kyle Bennett was the lone Double A Marketing rider to attend Reno. This was Kyle's first race after enduring knee surgery just a little over a month ago, and coming back to the Pro ranks is always difficult to return to after an injury. We at least it should be, as it didn't seem to effect Kyle that much. On both Saturday and Sunday, Kyle was up for the win in the AA Class. Kyle just missed out on the win on Saturday, placing 2nd overall. Sunday was all Kyle as he took the overall win and took home a huge boost of confidence with his return to the AA Pro Class. Kyle's sponsors include Free Agent, KHS, Answer, Kenda, Sun Ringle, UGP, Truvativ, Velo, S & M bars, ATI, Shimano, Profile, Powerbar, Cyto Sport, and BMXpros.com.
Congratulations to Mike Day , the new NBL #1 Elite Men's Pro and Donny Robinson, the new NBL #1 Elite Men's Pro Cruiser rider.
Double A Marketing proudly represents Cristian Becerine, Kyle Bennett, Dale Holmes, Christophe Leveque, Brandon Meadows, and Randy Stumpfhauser. For more information on any of the riders, or on Double A Marketing, visit www.BMXpros.com
12/09 Super Nats: Northern Park report
by Shane Jenkins
It's been a while since I have really been excited about a race meeting or even just riding Victoria lately. After spending many hours redesigning the Northern Park track (formerly Lalor Park that held the 1998 UCI World Cup) on paper some time ago it looked like the changes wouldn't happen. There is a lot of red tape when dealing with a local council to make the works happen. The club finally got the go ahead less than two weeks before the event thanks to Rob, the club president pushing the issue and ensuring that the club has a track that they can be proud of, something that it a lot of fun, can be a challenge to riders of all level and most of all be a safe place to ride.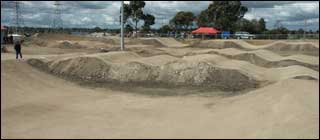 I was at a wedding while some of the hard working club members were putting the final touches on the track the day before the event, most of all rolling it to ensure it would be packed in hard enough to race.
After a late night I rolled out of bed with about 4 hours sleep thinking that I would need at least 1 1/2 hours to get used to the track enough so that I could race it. I managed to turn off the alarm and go back to sleep and by the time I got to the track I had enough time to get about 5 laps in.
The transformation made to the track can be best summed up by an email I received last night:
"Hey Shane, Just thought I would send you an email on how good I thought the Northern Park BMX track was. I had gone down not expecting to see a great deal but when I got there I was shocked to see how complicated and good things were, with a lot of riders seeing it as "too hard"."
"I thought it is just what Victoria needs and I can't wait to see every track in Victoria like it. It had some big jumps, flow jumps and some fairly complicated rhythm, which I found probably the most fun. You can see where the Northern Park BMX club is heading and I will be definately coming down just to ride the track. OUT OF 10 I WOULD GIVE IT A BIG FAT 8, Congrats for having such a well organised track and such a fun meeting.
Later Adam Carey"
I must emphasis that I didn't do the work, all I did was work with Glenn Suridge to redesign it, then dropped in a few times to tweek things. It's the club that should be congratulated.
Despite the new track the numbers were down for all the amateur classes, there were still two full gates of pro.
It was no surprise that Levi Collins, David Page and Shaun Craven, the AA Pros in the field dominated in the motos. Adam Carey lead the charge of the A Pros which included Aaron Jeffree, Adam Robb, Matt Vickers, myself, and some newer names like Chase Collins (Levi's younger brother), Andrew McNeill, Benn Ross and others.
I must admit I was doing ok, but running out of legs in the first moto, but then I snapped a seat post bolt between races. TotalBMX had their pro shop set up but didn't have a van big enough to bring the whole shop along. I had to pull the One CrMo bike (that I reviewed recently) out of the tent and race that for the rest of the day. It was the first time I would race the bike ever, and I have to say I didnt notice the weight difference on the gate or even when I got the thing moving on the track. I managed to do enough to make the 1/4 finals.
We were running under "Orange Blossom rules" since there were 13 riders to start with the 1/4 final had 5 riders in each, the top 3 would go into the next round, the riders who finished 4th and 5th would go in the conso final to determine who will place 3rd to 10th. But not until Matt Vickers and Andrew McNeill had a run off first. McNeill took that win. But was knocked out in the next round.
It was in the semis where things really got down to business, the first rider from each would go into a one on one final. Collins nearly gave the top spot away in his semi when he went wide on the first corner and allowed Craven to get underneath. Collins had to wait until the last corner to make a move and he did Craven wasn't going to give up easily though he made Collins work right to the line.
Page had an easy run once Carey lost it on canteen corner and took Ross down with him.
In the main Collins and Page were side by side, but again Collins went wide on the first corner giving Page the advantage. Patiently, Collins waited until the last turn and out cornered Page to take the win. The conso final was a lot of fun, the first 6 out of the 8 riders would get some money. I had no intention to miss out and managed to get a good snap, Craven had got past by the first jump, Jeffree got me by the second and Ross had got me by half way at canteen corner. I think it was the rhythm section that helped me hold on to fourth. Craven took the win, then fellow Intense/TotalBMX team rider Jeffree, Ross, myself (Jenkins), McNeill and Robb.
The future is looking bright for the Northen Park BMX Track, it was described as "The best track in Victoria" by a number of people.
Over all pro results
1. Levi Collins – bmxultra.com
2. David Page – Pr1ck
3. Shaun Craven – Intense/TotalBMX
4. Aaron Jeffree – Intense/TotalBMX
5. Benn Ross
6. Shane Jenkins – bmxultra.com
7. Andrew McNeill
8. Adam Robb – Redline/TotalBMX
Click here for full results.
09/09 Total BSX Update
by bmxultra.com
The track is coming along slowly, we are looking at a way to speed up proceedings so we can get full use of the track during the warmer part of the year, and get a test race done during November/December time. Since there is so much coming up in the next few weeks it will be some time before we can get working on it again. The next planned working bee is Saturday, October 15.
Competitors list updated (now 37 riders)
Khalen Young has joined the growing list of names.
If you are a BMX pro and will be in Melbourne during the Track Attack series and are looking for something to do to pass time on the Wednesday email us to have your name added to the list of riders already keen to win this unique event.
AA ProsWade Bootes (Qld)Glenn Cadega (Qld)

Tony Harvey (Vic)

Levi Collins (Vic)

Ben Price (Vic)

David Page (Vic)

Jonathan Hoare (Vic)

Brock Tuckerman (Vic)

Ross Miller (SA)

Ben Davis (WA)

Blake Schofield (WA)

Simon Anderson (Vic)

Michael Vockenson (Qld)

Shaun Craven (Vic)

Brett Scruse (NSW)

Damien Rosenthal (Qld)

Daniel Stocks (Vic)

Daniel Johnstone (NSW)

Khalen Young (Vic)

Kiel Dellow (NSW)

A ProsShannon Rademaker (Vic)Geoff Tripovich (Vic)

Aaron Jeffree (Vic)

Adam Carey (Vic)

Phil Brezigar (Qld)

Nathan Evans (Vic)

Scott Bradley (SA)

Nick Brookes (SA)

Paul Surrey (NSW)

Shane Jenkins (Vic)

Josh Callan (Vic)

Michael Chasteauneuf (Vic)

Adam Robb (Vic)

Aaron Wood (Vic)

Andrew Toth (Vic)

Shaun Kirshner (NSW)

Nathan May (Vic)
BSX for chicks?
There have been enquiries about chicks racing at the BSX event. If we can get 8 girls willing to give it a bash we can consider running them on the day as well. Victorian Caroline Sabotka has already asked to put her name down.
Raising money for the Melbourne Royal Children's Hospital
There is a minimum prize pool of $1000 for the men at this event, providing we have a minimum of 32 participants on the day. The prize pool is entirely funded by the riders entry fees. However this event is to raise money for the Melbourne Royal Children's Hospital, there will bean entry cost to watch the event and a special auction of the signed race plates once the dust has settled.
Thanks to our partners: TotalBMX.com.au, Dirt Designs, Cyclelink.com.au, Safe and Sound, BMXTronic and bmxultra.com, without them none of this would be possible.
09/09 Khalen Young on the mend
by bmxultra.com
I spoke with Khalen Young on the phone, he sounds like he's recovering well from the car accident. I finally got the full story from the accident. Khalen doesn't have a licence. His apprentice was driving him to a job when a truck pulled out. Khalen took the brunt of the impact and the driver was unscathed.
We spoke about his racing and Khalen is keen to get back into it since taking a win in Western Australia a few weeks back. You can expect to see him back on his One on the tracks around the start of October, although he sounded very keen to race the Bellarine Spectacular next weekend.
09/09 Lilydale Spring Cup
by Michael Willis Lilydale BMX Club
This year we are trying out a Club Relay Challenge where clubs can race 4 riders to a team in a Relay. Much the same as the one usually held at the interclub meeting each year. The winning Club gets to take home the (perpetual) Trophy – hence Spring Cup – and each rider from the winning team will get a miniature replica to keep.
Also Lilydale is planning to make some changes to it's track – more importantly "carnage corner" at the end of the 3rd straight as we are still in the planning stages nothing will be done until after our next open meet. The club would welcome any constructive, repeat constructive, ideas from riders as we would love to get things right, not that we will ever keep everyone happy. We would hope that all changes will be finalized and complete before Track Attack next year.
As Lilydale is a VERY small club (membership wise) I would also like to put out a plea for help in running our event on the 25th Sept.
All the usual suspects are required and if anyone can offer some help on the day it would be greatly appreciated, I can be contacted on (03) 9733 4347
Entry form available from the BMXUltra.com race calendar
08/09 Magalie Pottier signs with ONE Bicycles
ONE Bicycles press release

Magalie Pottier from France signs with ONE Bicycles again.
The former World Champion and current European Champion in 16 yo girls will be racing Junior Women in 2006.
ONE Bicycles' BMX team is sponsored by: TROY LEE DESIGNS, SHIMANO, BOMBSHELL, BOLLE, WLM DESIGN, BOMBA, THOMSON, FIZIK, ODI, ZITOUN, KENDA, NIKE 6.0, NIKE Cycling, NIKE Timing, COOL SHIRT and BMXPIX
08/09 Brother & Sister join Sirius Team
Sirius Bicycles press release
Two of Queensland's finest young racers, Steven & Madison Janssen have signed to ride for Sirius Bicycles' Redman & Staats teams respectively.
Madison, racing up an age group, placed 3rd in 12 Girls, & 1st in Cruiser at this year's Australian Titles. Maddy will be on her 2006 model Staats Expert XL bike shortly after the QLD State Titles.
Steven (15) is one of a crop of "Aussie Young Guns". He joins Sirius team mate Dirk Winter (Staats) in the AA Pro ranks & the two of them will once again have some real ding-dong battles, as they have done over the years in age group racing.
Steven's weapon of choice is the new Redman Tomahawk Pro XL. These frames are hand made in the USA & are only just now available for the very first time.
Sirius Bicycles would like to wish both of it's new recruits the best of luck at the States next weekend & be sure to keep an eye out for the pair of them at a race track near you.
For further information on Staats Bicycles and/or Redman Bicycles, go to www.siriusbikes.com.
08/09 Staats' Mike Day wins the NBL AA Pro #1 Title
Staats press release
Staats Bicycles' Mike Day wins the NBL AA Pro National Title. Mike entered the weekend sitting in a close second to Randy Stumphauser and only a few points ahead another Staats AA Pro, Robert deWilde, the points where so close that the Champion would be whoever finished better in the final main event. All three riders qualified to the semi finial rounds but Randy was not able to transfer out of the first semi. Mike and Robert where left to race together in the second final. Mike did not get a great start and had to fight back to transfer in the top four positions. Unfortunately for Robert, Mike had to pass Robert to transfer and Bob lost his chance to race Mike in the main for the title.
With both Randy and Robert out of the final only Warwick Stevenson had a chance to take the title from Mike. If Warwick won Mike had to finish forth place or better to win the title. Warwick did the best he could and won the main event but Mike held on to finish in the top four, winning his first National Championship.
Mike turned pro in 2002 and did not get his first AA Pro win until this year. Once Mike knew he could beat the best riders in the World Mike raced consistently finishing on the podium at almost every race and winning more NBL pro main events than any other rider this year. Mike also finished 2nd at the UCI World Championship in Paris, France and was the ABA World time trail Champion.
07/09 The bike shows are coming
by bmxultra.com
It's the time of the year that the bicycle industry are busy finishing off new products and building displays for bike shows like Interbike and the 2005 Bicycling Australia Show.
Interbike is considered the biggest bicycle expo in North America, drawing much of the bicycle industry from across North America and around the world.
Interbike International Bicycle Expo
When:September 28-30, 2005
Where:Sands Convention Center, Las Vegas, NV
Website: http://www.interbike.com/ib/index.jsp
The Bicycling Australia Show alternates between Sydney and Melbourne each year but doesn't manage to pull all of Australia's industry, many distrubtors hit the road with their own presentations before the bike show.
2005 Bicycling Australia Show
When: Saturday 22 & Sunday 23 October, 2005
Opening Times: 10am – 5pm
Where: The Dome, Sydney Olympic Park, NSW
Cost: $15 adults / $10 concession (children under 10 free)
Website: http://www.bicyclingaustralia.com/bwWebsite/followon.asp?PageID=4
If you can't make it, you will find most of the websites and magazines will be covering the events.
06/09 Free Agent/High5 team news
FreeAgent UK press release
The Free Agent UK team did us proud again at Bournemouth national and won the team even yet again!
Out of the 4 places that count towards the team event we managed three 1st places and a 2nd place.
Thanks to High5 Sports Nutrition, Profile & Raleigh for their support.
The total team final placing tally –
Lewis Lacey 1st
Jamie Vince 1st
Geth Shooter 1st
Tony Fleming 2nd
Lauren Smith 2nd
Vanessa Real 2nd
Lee Taber 5th
The team standings are here – http://www.britishcycling.org.uk/standings/2005/bmx_trade_team_ranking.htm
There is only one more national to go in the series. Free Agent is in a great position to grab the team title in its first season.
Dale Holmes will hopefully be fit enough to race the last national of the season this coming weekend in Bristol.
05/09 Victorian Super Nats this weekend
by Shane Jenkins
I must say that I am very excited about the Super Nats at the Northern Park (AKA Lalor) track this weekend. Ok, so it won't be a huge race meeting, and there's a racing format that no one can understand, but the track should be awesome.
A couple of years ago Tony Harvey tried to reshape the track to prepare it for the 2003 Victorian Championships, we are talking about the same track that hosted the 1998 UCI World Cup. What Tony did was awesome, it was the most technical track in Victoria at the time, but the people just weren't ready for it and a bunch of people offered to "fix" it (most of them had never touched a bike), even before it had even had time to settle, which was supposed to make it "ridable", but it was just plain boring once they "simplified" it. You know what they say about too many chiefs and not enough indians.
Anyway I joined the Northern Park BMX Club because they needed a hand and in no time found myself teamed up with Glenn Suridge to redesign the track once more. After banging heads together for a while throwing ideas around we came up with some tweaks for the first and second straights (which make it look totally different) and we started with a new canvas for the final two straights. The difference this time around is that no one will be asked their opinion on things, once the track is done it's final.
The results will be a track that is both fun and challenging, that isn't "just built for pros" but with everyone considered. It will be fast, but if you make a mistake you might struggle to get back into the field. It isn't like any other track in Victoria right now. It's not as big as Bellarine, but it sure isn't a drag strip that the interstate riders often compain about. We'll try to get some photos mid week.
Entry forms for the Super Nats are available from the bmxultra.com race calendar.
02/09 Bellarine Spectacular
by bmxultra.com
Wow, the Bellarine BMX Club have made a real effort to put on a Spectacular meeting this year. It's one of the events that really stands out for the peak season of racing in Victoria. $2000 for AA Pro, $800 for A Pro and $660 for Pro women and there's a $300 pool for the 30 and Over cruiser class. I wish I could make it. I have an excuse, I won't be around, all Victorian pro riders should support this one since the club is giving you a lot of love. We hear there will be a bunch of South Australian's over for this one checking out the competition for the SA and Vic titles.
Check out our race calendar for the entry form or get yourself a copy at Eastfield this Sunday.

2005 Bellarine spectacular T-shirts are now available, $15 per shirt. Click the image to the right to see the back, it also has a Dirt Designs logo on the front.
PRE ORDER now to be sure you get one, all sizes are available and selling fast!!!
email bellarine bmx club on claassen@aapt.net.au
ORDER NOW!!!
02/09 Cash Dash entry form
by bmxultra.com
There have been rumours that the Cash Dash won't be on this year hopefully the entry form will clear things up. $1,250 + Pay back for the total prize pool. It will be held on the 9th of October at the South Eastern BMX Track.
Check out the race calendar to download the entry form with all the details.
01/09 TotalBMX 2006 stock arriving soon
by Adam Robb (TotalBMX)
That's right, all 2006 Redline race and street will be here REALLY SOON. I went to BMX International to check them out myself. The bikes this year look awesome, especially the bike that the UCI World Champ, Bubba Harris, uses himself, the Flight Pro XL. Also the Flight Expert this year can be used with 1 3/8 or 1.5 wheels, that's right, either set of wheels, the rear brake mounts are adjustable to suit which ever wheel you want to use.
We will also have the 2006 We The People bikes in store in 3-4 weeks, WTP have cut the range down this year, the new bikes look great.
We will have a full range of all the RL and WTP bikes in store in 3-4 weeks, so keep an eye on www.totalbmx.com.au to find out exactly when they will be in.
01/09 UCI BMX Supercross World Cup at the Dew Action Sports Tour in San José, USA
UCI BMX Press release
The UCI BMX Supercross World Cup is getting ready for the final round, which will be held at the Toyota Challenge stop in San José CA (USA), 8-9 September 2005.
The top BMX racers in the world will be entering the lime light of action sports, being featured as a specialty comp together with BMX Freestyle, Skateboarding and Freestyle Motocross in an action packed event at the HP Pavilion in San José. The event will consist of multi-sport and entertainment festivals covering over one million square feet in both indoor and outdoor venues. The event will also feature live cutting edge music from Puddle Of Mudd and Chevelle. Check out the latest buzz from San José on; http://www.dewactionsportstour.com/event/eventTOY/Show.2005-03-10.0818
The Dew Action Sports Tour, owned by NBC Sports and Clear Channel Entertainment-Motor Sports, boasts five major multi-sport events, the biggest competitive purse in action sports and the largest network and cable television broadcasting commitment for action sports events. The event will be broadcasted live on NBC and on USA network. To view the TV schedule please visit; http://www.dewactionsportstour.com/tour/schedule/Article.2005-04-13.2350
The UCI BMX Supercross World Cup is BMX racing in a new exciting and spectacular format, tailor-made for the very best BMX athletes in the world. The head-to-head racing pits 8 top riders against each other on a track featuring speed and jumps bigger than ever seen before.
The UCI Supercross World Cup is held over 2 days in San José, with practice and time trials qualification being held on Thursday September 8, followed by 1/8-finals, ¼-finals, Semifinals and Finals on Friday September 9. To view the race parameters and event schedule, please visit; http://www.uci.ch/modello.asp?1stLevelID=EE&level1=0&level2=0&idnews=3473
The previous round of the UCI BMX Supercross World Cup was held in Aigle, Switzerland back in June, where Robert De Wilde/Staats (Netherlands) grabbed the 1st place podium spot in front of Cristian Becerine/Crupi (Argentina) and Randy Stumpfhauser/GT-Hyundai (USA).
The flyin' Dutchman, De Wilde surely seems to enjoy these super-technical BMX tracks, since he also won the 2003 UCI BMX Supercross, and must be considered the favourite coming into the San José race. Although he will have stiff competition from Randy Stumpfhauser GT-Hyundai, the newly crowned 2005 UCI BMX World Champion – Bubba Harris/Redline (USA), Mike Day/Staats (USA) and 75 other hungry Pro riders gunning for the BMX SX title at the prestigious Toyota Challenge Dew Action Sports Tour.
01/09 Redline Aus at the Worlds
by Damien Callan
We arrived in Paris on Saturday, a week before the titles were due to begin, and just in time to watch the final stage of the Tour de France. It was very a long wait, but well worth it. Our hotel was only a few minutes walk from the indoor stadium. The atmosphere at the titles was electric and the setting was great, however it was questionable as to how good the track was, particularly the gate. It dropped really early, on about the 2nd beep. I don't think I have ever been to any race meeting where so many pros went over the gate. There were over 2800 riders which meant the format of the racing had to change. Friday afternoon still hosted challenge cruisers with the pros racing cruiser on the Friday night. Saturday was reserved for 12 and under 20inch riders and the pros raced their 20inch bikes on Saturday night. Sunday saw the final day events with the 13 to 17+ challenge 20inch racing.
Redline's Bubba Harris, riding the new 2006 bike, looked really strong all weekend. He seemed to struggle with the timing of the gate in the early races (as did many riders) however it all came together for the final. Bubba got a great gate, he and Jamie Gray looked to be the main contenders down the first straight. Unfortunately Jamie hit the 1st doubles and crashed. Bubba powered around the first corner and was too strong, powering away to win by 6 bike lengths. Second was Mike Day followed by Robert de Wilde of the Netherlands. Last years Junior Elite champion Kimberly Hayashi easily made it to the final. She had a good gate but unfortunately she collided with the Dutch rider over the first obstacle which was a triple, she crashed finishing 8th. It was great to see Olds Renee Junga ride a fantastic race finishing up 2nd.
The Australian Redline riders also produced some fantastic results. Todd Pascoe was the only Australian Junior Elite rider to make the final of the cruiser, he finished 4th. He was also the highest ranked Aussie rider only just missing out on the 20inch final, he finished 5th in his semi. Damien Rosenthal also looked strong all weekend. He was running 3rd in his 20inch final when the Swiss rider (who was running 2nd) crashes on the 2nd corner leaving Damien nowhere to go, he finished 6th. Josh Callan raced well all weekend. He had a tough draw receiving all outside lanes ( lane 7 and 8 from his 8th to his final race) he still ended up placing 3rd. His sister Ziggy drew 4 world plate holders in her heat, she still made both semi finals only to clip out in the cruiser and miss her gate in the 20inch semi. Ashley Pembertone rode really well making the cruiser semi. In his 20inch he look really good, until a Latvian rider hit him over the first straight doubles in his 8th final.
Next year the world titles are in Brazil, they were to be run in Rio de Janeiro however, they have been moved back to Sao Paulo where they were held in 2002. All the Australian riders rode fantastically in France. I'm sure the same will be the case in Brazil.
01/09 Shepparton Pro-Am entry form
by bmxultra.com
The Shepparton BMX Club will be hosting a santioned event on October 16th. Over the yearsthe Shepparton BMX club has pumped out many Australian Champions, including Leigh Egan and Brenton Cooper, so you can bet that the competition will be tough, especially from the locals.
The Shepparton BMX club is about a 2 hour drive north of Melbourne.
Entry form available on the bmxultra.com racing calendar.
01/09 Anyone seen Bellarine entry forms?
by bmxultra.com
The Bellarine Spectacular is promissing to be a big race meeting and it's rapidly approaching. People are asking us for an entry form. If you have a copy that you could email us please send it to webmaster@bmxultra.com
01/09 Where is the love?
by bmxultra.com
Sorry that there was no update yesterday the strong winds in the area took out a tree that wiped out our power for about 14 hours. In the whole scheme of things we came off lightly. Our thoughts go out to the communities, across the other side of the globe, that were devistated by the Hurricane which caused so much carnage in the New Orleans area.
Posted in: Archive