BMX racing news October 2005
31/11 Warrnambool Classic report
by bmxultra.com
The Warrnambool classic is one of the few "must do" races on our calendar each year. At about a 3 hour drive west of Melbourne, it's always good to take the weekend to get away. Warrnambool is a great spot on the beach with plenty to do. The racing is always fun and the track is very challenging under race conditions.
There were only 8 AA Pro riders, just enough to fill the gate, so to put on a good show it was decided that the format would be 3 finals. The favourites would have been either Tony Harvey or local pro Luke Pretlove, but there were a lot of other riders in the mix who could benefit from a small mistake here or there. Chales Nelson is another A pro that has decided to make the move to AA Pro early, and it looked like he was up for the task. A Pro pulled 3 gates of riders, not enough for a semi, but a big enough field to make it a hard task to make the main. The field included a few riders from South Australia like Scott Bradley and Nick Brooks, Ashley McCutcheon – the local young gun who seems to be taking out a lot of A Pro races lately, some younger guys who have been making a big impression lately like Shane Claassen and Connor Hunter and of course the vet pro guys Damien Walczuk, Craig Walczuk, Brian Kelly and Shane Jenkins. By the time the AA's had their second final it looked like Tony Harvey had it all wrapped up with 2 wins. Jonathan Hoare and Luke Pretlove had both been giving Tony a run but just didn't have the legs. In the third and final race Jon managed to get in front of Tony with Pretlove also in striking distance. Exiting the second last corner Jon's front wheel washed out while he was leading, both Harvey and Pretlove ploughed into him allowing the rest of the field to make up some points. Simon Anderson took the moto win but Craven took is first AA Pro win overall, beating Harvey out only by count back.
In A Pro points were tight, as predicted, there was a 4 man run off for 2 places in the main. It was Brian Kelly and Tom Siinmaa that beat out Geoff Tripovich and Scott Bradley, making it Brian Kelly's first A pro main since returning to the class after some years. An interesting piece of trivia was that the A Pro main was made up of 4 riders on clips and 4 riders on platform pedals, are platforms making a come back? When the gate dropped in the main the start was fairly even, Claassen and Jenkins clashed handlebars, McCutcheon and Brooks started to pull ahead with the field close behind. Coming out of the first corner it was McCutcheon, Claassen, Brooks, then Jenkins trying to fight off Ross and the rest of the field. In the last corner the younger legs were too much for Jenkins who slipped from the 4 spot into 7, narrowly beating out Kelly. McCutcheon now has enough money for a new hair stylist and is getting closer to reaching the $1500 to send him into the AA Pro class.
It was a great day of racing and we'll be back next year for sure.
Results
AA Pro
1. Shaun Craven (Intense/TotalBMX)
2. Tony Harvey (Avent/Bombshell)
3. Simon Anderson (GT Australia)
4. Luke Pretlove (Redline/TotalBMX)
5. Daniel Stocks (FreeAgent)
6. Charles Nelson (Hyper/Sirius)
7. Jonathan Hoare (Revtec/Sirius)
8. David Page (Pr1ck)
A Pro
1. Ashley McCutcheon
2. Shane Claassen
3. Nick Brooks
4. Benn Ross
5. Connor Hunter
6. Tom Siinmaa
7. Shane Jenkins (bmxultra.com)
8. Brian Kelly
28/10 UCI Oceana Series Round 1: New Zealand Results
by bmxultra.com
The first round of the UCI Oceana ranking series was held in New Zealand with Australia dominating. We hear that some of the Aussie Senior Elite class riders including Luke Madill, Mike Fenwick, Jamie Gray and Tiger Robinson missed their third moto and according to the UCI rules could no longer compete in the event.
Results:
27/10 WBR Athlete Development
WadeBootes.com press release
Coaching Accreditation Course
You can now become a BMX coach by having WBR Athlete Development present the official BMXA accreditation coaching courses, which is registered with the Australian Coaching Council. This is perfect for members of Clubs, Regions, States and the National body to be trained as a qualified BMX coach by a World Class Athlete and Level 3 Coach. After completion of all required tasks, you will then become a fully Accredited BMX Coach with the ACC.
There are three course levels available: Level 1, Level 2 and Level 3. Level Two BMX Coaching Accreditation Course cover's aspects such as roles and responsibilities of BMX coaches, sports nutrition, sports psychology, planning for BMX coaching activities, physical conditioning, junior BMX rider, basic skills of BMX, teaching basic BMX skills, group management, coaching communications and setting up the BMX bicycle for competition. This will give you all the qualifications you need to coach on your own. Course duration: 13 hours 30 min. Day 1: 9am – 5pm. Day 2: 8am – 4pm
For further information on becoming an Accredited BMX coach feel free to contact Wade.
Weekend Training Camps
Weekend training camps are now available for 4 riders at a time to stay and train in Broadbeach, Australia with Wade. You will have access to the gym, 3 BMX tracks, gate starts, sprinting drills and riding techniques, trails, 2 skate parks, swimming pool, beach and all the training tips that Wade will provide in the 2 nights and 2 days that you will be here. Arrive into Broadbeach Friday night, all meals, accommodation and transportation will be covered in the cost and then departing Sunday late afternoon. Cost will be $300 per person. If you are interested or have 4 riders from your club or friends you want to have a fun weekend of training, contact Wade for more information.
Club Training
On and off bike structured training; circuit training, sprints, agility drills, gates, jumping, nutrition guidance and mental preparation. Finally offer your members a workout session for training and conditioning rather than just gate starts at practice nights. See your members excel with some specific training techniques which can all be performed at your local Track.
MAX 12 riders per group, all ages, beginner and advanced groups structured training programs once a week per month; sign up NOW $60 per rider.
Private 1 on 1 Training
On and off bike specific training; Wade's home gym, sprints, plyometrics, track and skill work for all ages. Book your private session NOW $40 per hour.
For more information on Athlete Development see www.TeamWBR.com
Advanced, monthly training programs, smaller groups, ½ day and 2 day camps, family and multiple booking discounts also available.
Email for pricing and availability.
All Training Sessions and Clinics are run by Bootes PTY LTD.
Qualifications: Level 3 Coaching, Presenters Certificate, Senior First Aid, Blue Card and 12 years of Professional Racing and Coaching Experience and Fully Insured.
To schedule your session or for more information on Programs and Private Training Sessions on and off the track contact bootes@bigpond.net.au.
27/10 A/AA Pro rule changes – responses

by Shane Jenkins
What will happen as a result of a discussion on bmxltra.com? Well I won't be presenting the forum to BMXAustralia and ask them to consider people's opinions, but it's a known fact that the website is widely read in Australia. The thing is we need to get people talking about this, making a change first then letting people have their say will just drive people away, and we all know that we don't need that in BMX in Australia right now.
I never will understand why BMX Australia chooses to make such significant changes to the sport to move closer to a UCI style event. I understand the need to prepare our elite for world championships and Olympic glory but let's get serious here, even the NBL have made a move towards UCI but maintained the A/AA Pro style of racing. They basically renamed the classes to Elite and Superclass, there's no Senior/Junior elite division. And heck any of our riders, or any of the worlds riders, that have half a chance at a World Title or Olympic gold medal will race the bigger races in the US anyway.
When A Pro is the most subscribed class in the sport at Australia's largest meetings, I would be considering how I could harness that. I would be asking how could I make the other classes as competitive and as large. I wouldn't consider shutting it down.
At 35 I choose to race at events which provide an A Pro class, I will even enter the A Pro class at the Victorian State Championships this year over my age class. Why? Because after 24 years of racing a piece of plastic that's shinny and collects dust means nothing to me, regardless of what's printed on it. I have won literally thousands of trophies over the years, but kept probably less than 20. To compete in a class where I can cruise into a final isn't enough of a challenge. I need more. I would rather have a crack at a more competitive class and risk not making the main at all if it means that I will improve as a rider and help those around me improve. I raced at 7 Nationals in Canada and the US in the 30-34 expert class this year and finished no worse than 4th, if I had been racing in my age class in Australia I wouldn't have done so well, I am sure it would work the same if I was 16 years old and had the same opportunities. To take away A Pro you will be taking away the breeding ground for some potential champions. When the fastest guys from the age classes are bunched in to A Pro they will try to out do each other and all improve, when they are in their own age class, they only need to go a little faster than the rest of the field to stand out.
I must admit that it does concern me that riders that there aren't more responses from riders that are directly effected by the rule change emailing and having their say.
by Wayne Austin – NSW
As Club Delegate for Southern Region in NSW, what was mentioned at a recent committee meeting was that from 2006, a Club will be able to decide from running an 14+Pro class, or alternatively Junior Elite and Elite. Why?, because we were informed that BMXA had decided that seeing BMX racing was now soon to become an Olympic Sport and will be run under UCI Rules, BMXA had better run UCI Rules from 2006.
As you said, this will push riders back in their age groups and that is exactly what I was informed that BMXA want, young 14, 15, & 16 yr old riders riding their age, so the High Performance Coach can keep an eye on these up and coming young talents, I suppose to develop them into Olympians. Well what's the difference, they'll still be on the track, whether they be in A Pro or Age divisions. But what will happen is the fair dinkum whiz kids that used (and currently) ride A Men, will now be set back to Age. The mediocre kids riding in Age will drop off because they just can't compete with these whiz kids and they'll say " what's the use, I can't keep up with them, so I'll find something else to do".
by Nathan Evans – Victorian A Pro
In my opinion, the new concept for A/AA pro rules is a bit 50/50. The idea of combining the two classes seems a bit dumb, because like you said, it gives the younger up and comers a chance to shine in the spot light for a bit and really get noticed, so obviously joining the two classes is going to take that away.
In Victoria we already have healthy, good quality pro racing for most of races and when Track Attack comes around it's great to see which A-pro's have improved the most and make the step up to AA. I think we should leave it the way it is, there is nothing wrong so why fix it!!!
But the idea of having 6 man semi finals if there are 17 riders to a class could work out, it would make racing more intense for the riders and getting to that final would feel that little bit sweeter, and how good would it be having semi finals at a regional events like metro plate/northern rivers, it would make for some good racing.
Anyway, riders opinions don't to seem to count for much in this sport so let's hope they do their research and actually ask for some riders opinions before they decide to make the change.
by Paul Pretlove – Victoria
I did put up a proposal for A/AA changes. My ideas were for discussion amongst BMXA so as to generate some rule changes.
My suggestion was to make A and AA the Pro classes to be run at all sanctioned meetings (the regions could still run 14+ at their Open series meetings). A rider that earns $1,000 in A pro between Jan – Dec must race AA the following year. If that rider fails to earn $1,000 in AA Pro the following year, they can then elect to go back to A Pro the year after and start again. A rider can also nominate to remain AA Pro all the time.
This would mean that a rider that struggles to make finals in A Pro would then remain in A pro as they should (The current arrangements would mean that the struggling A Pro has to go to AA when they reach $1,500 even if it takes 3 years).
This was the basics of what I proposed for discussion, obviously they have come up with a better solution and a lot more things may have needed to be considered. Maybe because I am not a rider there are a few things that I may have overlooked. Let's not knock the new proposal and give it a chance, it may work.
by Steve Hunter – Victoria
First I'd like to thank you for your kind words a couple of weeks ago about our South Eastern club's CA$H DA$H. As you said, we had everything against us; the track was so wet the day before that you could not walk on it let alone ride it. Our member numbers were down because of various factors including the Masters Games in Adelaide, plus the general difficulty of raising sponsorship for BMX sanctioned meetings which all clubs would be familiar with.
Despite all this the meeting was a success, due in no small part to the help we received from the members of all our fellow BMX Clubs, and the support of the smaller sponsors whose real benefit is not the money they were going to make back, but their love of the sport. Thank you all.
Given this it's significant that the best subscribed class, and the best racing all day was in the A class, which BMXA has announced it is killing off as of the 1st January 2006.
Next year we will have to run 14+ Open (yawn!!!) or Elite/Junior Elite. Trouble is (and here I have to admit, not a conflict of, but a personal interest in, because my son Connor is one of the riders to be affected by the new rules when he turns 19 next year).What happens to the riders who are older than 18 (and therefore can't ride Junior Elite) but are not AA riders?
There's a whole heap of them and they have the choice between riding in Elite, (and therefore subsidizing the real Elite riders), or they can ride Age class, which they are frankly too good for.
Should you complain to BMXA? Don't waste your breath; if you're not in the high performance squad they are not interested. The word back from the BMXA Officiating Conference (this came from one of the Victorian delegates) was that BMXA are "unashamedly elitist" ie they really only care about the Olympic riders. In the end this means four riders, and stuff the rest of them.
The sooner the Olympics drop BMX again the better this sport will be.
by Brian Lacey – Victoria
The info your correspondents are providing is correct (as near as I can tell) but incomplete: There will be an option for race organisers to run Elite/Junior Elite classes instead of (or as well as) 14+ thingy. This is the main motivation for the change, so they tell me: To run classes closer to the world situation (ie UCI rules) to improve the level of competition.
Personally, I'm a long way from convinced that this will improve the level of competition: Elite/Junior Elite are AGE based classes which therefore put the additional limitation of age on who can enter: whereas A/AA are fundamentally ability based. Therefore in A/AA there is the opportunity to build decent sized classes (and therefore good competition) from ALL the available riders regardless of age.
I'm worried about the not-quite-AA grade riders who are over 19 who won't rider Elite – race meeting organisers will need to give them more than a 19+ trophy class to keep them interested.
And the 15 & 16 year olds who are well good enough to have ridden A but can't ride Junior Elite – they need a class with more interest than age trophy classes.
Anyway, we're told that there is more freedom in the new rules to do things like running 14+ as well as the other classes , so the challenge is for race organisers to accommodate everyone.
Look for the GT Track Attack series flyer very soon – we're grappling with these issues right now and reckon we will have a good race class for everyone.
I must also say that the making of rule changes such as this in October, making them apply from January, and then relying on the Conference Delegates to spread the word and not publishing the changes for all to see and understand in a complete fashion is a high-handed attitude which sucks harder than a Barry Bros drain cleaner.
The above opinions are those of the individual, not any organisation in which the individual may be an office bearer.
by John
You are dead right with things going in circles . I have been in bmx for a long long time, Harry Leary, Eddie Fiola, Bob Haro, Stu Thompson and more so yes I have been around for a while and yet BMXA come up with changes and they never seem to ask the parents, riders or anyone else. The changes happen and then we just start again. I don't have all the answers but would love the chance to have open forums and ask the riders what they want.
Ok, that's it for responses so far.
If you would like to express your opinion email us and don't forget to use your full name. You can also email if you don't want your opinion published, but let us know at the top of the email if you don't want it published.
27/10 J & C race report
J & C press release
J & C Racing Groups Fort Wayne, Indiana, USA.
What can I say other than BRRRRRRR…… 48 degrees F. It was
easy to stay warm with how hot the J & C riders were on this chilly
weekend. We are very proud of everyone. The Newly formed factory team
– J & C Cycletherapy took 2nd both days! Going perfect, Korey Terry
rocked the 18-21X class 3 times over the weekend, he's now just
6 points from being capped and the Grands were only a month ago! Scott
Glannan picked up a couple of sixes, Chet LaFave had some trouble at Saturday's
race, came back Saturday night for a perfect, then went home Sunday with
a rung bell and sore shoulder! Rusty North knocked off a couple of 4s
and a 5 in the 14 expert class too. The most exciting races of the weekend
were between J & C! 's Rusty North and Olish Farms Racing's
Max Egdorf. They are matched-up so well that the national points for their
cruiser class came down to less than 10 points difference and it was obvious
why. Frances Maycroft finished the nationals with straight 2s and the
regional with a win! Chaz Green had 2 perfects and a 3rd place, that's
awesome for an always stacked 12 expert class. The 12 Cruiser class was
dominated by Grant Masters. Rachelle "The Rocket" McIntosh
had a whole buncha 2s, we always know that we can count on her to be a
top main finisher. Rollin' on the big wheels, Dennis "Yogi"
Ybarra needs some more competition his own age. "Youngster"
The Just For Fun team rider Hershel Brown showed Yogi the way around the
track most every time in the mixed 45 and up cruiser class. 52 year! old
Yogi's new SX EVO is a perfect display of sponsor parts: Supercross
frame, S & M stem and bars, Answer forks, Sun Ringle' rims,
Profile cranks, Hobo Products boxer shorts and his van even has Takata
seatbelts! Denny Terry had a good time in Indiana, he got to chase Kelly,
Moreland and Zizzo all weekend. Wow small race, big competition! The Elite
women were off to a good start this season. J & C Cycletherapy's Ashleigh
Ybarra turned in a bunch of 2s and 3s and 24-7's Samantha Allen
raced to a perfect on Sunday and 1-1-1-2 on Saturday. A special thanks
to all our wonderful sponsors and please feel free to stop by one or more
of their websites. Hot Shoppe Jerseys, Answer Products, Fly Racing, Supercross
BMX, profile Racing, Sun Ringle', S & M Bikes, Cycletherapy Bike Shop, Demon claws
plate fasteners, 24 seven bmx, Delta Contracting, Takata Total Safety Systems, Gen-X
Productions DJ Service and Hobo Products.
See you in Morristown, Tn., John Glannan T.M. J & C Cycletherapy
26/10 Total BSX Update
by bmxultra.com
Some of Australia's finest female riders Renee Junga, Crystal
Cranfield and Nicole Calisto have signed up for the female class at the
Total BSX. 2 times Australian Champion Brian "Jock" Kelly has
signed up to take on the young guns in the huge mens field.
One Bicycles joins our growing list of partners to help us raise money
for the Melbourne Royal Children's Hospital.
For all the latest check out www.bmxultra.com/bsx.
26/10 UCI World Ranking Series Round 1: Auckland, New Zealand – Oct 22nd
TeamWBR.com press release
Papakura BMX Club was the host of Round 1 of the UCI Oceania World Ranking
Series and the Australian Verse New Zealand Test Series in conjunction
with the North Island Championships this past weekend in Auckland, New
Zealand. With over 70 riders from Australia flying over to support the
Senior Mens and Mighty Eleven Test Challenge, it was going to be a full
weekend of competition between the 2 counties. The weather was cold and
wet as it had been raining for a few days, but it did ease up during race
day. The track was slow during the first half of the day but the track
did dry up and made for some fast and exciting racing. Here is how the
TeamWBR riders finished during the weekend.
Wade Bootes started the Elite Mens Series off the same
way he finished the last season by winning his moto's and semi final.
In the main event things did not go as planned. Bootes got the pop but
lost it by the first jump which made him set up for a high low in the
first corner. With riders going all over the place Bootes' front wheel
was taken out and fell down the second straight. The following corner
Kamakazi went for a move and another 4 riders went down. Stevenson then
had an easy run home to take the deserved win. With the crashed riders
scrambling to get up Bootes was able to get back up and pass 2 riders.
Jolliffe and Willers where the only other 2 riders left standing and finished
2nd and 3rd.
Elite Men Results
1st Stevenson (TeamAust) 2nd Jolliffe (Aust) 3rd Willers (NZ) 4th De Wilde
(Ned) 5th Harvey (Aust) 6th Bootes (TeamWBR-Aust) 7th Wilcox (NZ) 8th
Kamakasi (Aust)
Alex Cossell made his racing debut in TeamWBR colors
this weekend racing in the Junior Elite World Ranking Series. After a
great start in the motos and transferring to the semi, Alex was looking
good for the overall win. In the Semi Alex was out front and taking control
until the second last corner where a New Zealand rider came underneath
and took him out. Alex was very disappointed as he was looking for an
easy podium finish in the main event. Junior Elite is stepping things
up these days and it looks like all riders will have to be on the toes
at all World Ranking events. Alex will be back and ready for the next
World Ranking Round on the Gold Coast in Australia Jan 1st 2006.
Australia New Zealand Test Challenge had the crowd on their feet all
day due to the race tactics of racing as a team and not as an individual.
TeamWBR was represented by Senior test member Paul Mclaughlin
and Corey Frieswyk in the Mighty 11's. Australia dominated
the Senior test by winning all rounds between them. Team Australia rode
outstanding and worked together as a team to secure the Senior Trans Tasman
cup for Australia. The Mighty elevens challenge was a lot closer on points
which made for some exciting racing. The Australian team just missed out
on taking out the overall win for the Trans Tasman cup. The test series
will go head to head again in June next year at the last round of the
2006 UCI World Ranking series in Tamworth.
TeamWBR is proudly supported by: Percentage Designs,
One Ring, Volkswagen Australia, Hogs Breath Cafe, Velocity Wheels, Investco
Merchant Bankers, JBL Audio, ATI, Hayes Brakes, Fox Shox, IRC, Cane Creek,
BSC, QuikShade, Bell Helmets, Truvativ chain guide, Funn, Nike Cycling,
Shimano, Sockguy, Toolsheds and www.TeamWBR.com.
26/10 Thunderdome entries close this weekend
Knox BMX Club press release
Victoria's biggest event this year THUNDERDOME is less than two weeks
away. It is on Saturday night the 5th and Sunday the 6th of November.
5 motos plus finals. $2500 Pro prize pool up for grabs.
Plus voucher classes and Vet 20 inch and Vet cruiser.
Entries officialy close Monday the 31st October (enter by Monday and you
and your sponsor can be entered in the program). But entries will be accepted
right up to the event.
Check out the flyer for all the information. The Flyer is on all good
web sites such as www.bmxultra.com, www.bmxstars.com www.bmx.org.au and
of course the Knox web page http://knoxbmxa.com.au and if you can't get
it there ring Greg Siinmaa on (03) 5127 5744 after hours
26/10 BMXTTO is now official
BMXTTO press release
BMXTTO is officialy registered and members are accepted now.
To become an offical Trade Team member you need to:
– have 2 Elite riders and 1 Junior rider (male or female), who are not
a member of a National team, and participate in the events on the UCI
calendar (the rider must participate in these competitions with it's team
and the official jersey of the team) ;
or
– be technical professional support for the athletes and/or the teams
that participate in the events of the UCI calendar;
or
-be an organizer of high level events or a promoter of events.
A one year membership is 100 euro (one hundred euro). This first year
it will be valid until December 31 of 2006.
This will be extended automatically with one year after this date, unless
you state different before October 31, 2006.
Please use the following information to wire the amount (100 EURO) into
the account of BMXTTO.
BMXTTO
PO Box 2102
5260 CC VUGHT
the Netherlands
Rabobank
Marktveld 28
5261 EB Vught
Netherlands
ACC.NR. 1145.98088
IBAN: NL43 RABO 0114 5980 88
BIC: RABONL2U
You will receive an email with all BMXTTO information upon receipt of
your payment.
25/10 Victorian State Titles Portland
BMXVictoria press release
There is less than a week to get your entry in for PORTLAND 2005 Victorian
State Titles. Entries close last mail this Monday the 31st October.
The Titles are on the weekend of November 26th and 27th.
The event is open to all ages from around this great land.
It will be the last chance in Australia to race the A and AA format any
of you. ($4.000 approx Pro Prize Pool)
As you should remember the entry fee has been reduced by heaps so that
should help wih fuel costs.
The track is in great shape and ready for this weekends Vic Interclub.
If you don't already have an entry form they can be down loaded from the
BMX Victoria web site www.bmx.org.au
or call Greg Siinmaa on (03)51275744 ah
24/10 Aussie Titles DVD out now
by BMXUltra.com
We have been working on the Aussie Titles DVD now for so long, in
between other projects, that it seemed like it would never be finished,
but it's finally done.
With thanks from Undecided, Dirt Designs, Cyclelink.com.au, BMXUltra.com
and our camera crew (MaliC, Shannon and Narelle) this is our best DVD
yet.
Here's the run down:
The 2005 Australian BMX Championships were held in the tropical heat of
Cairns over the Easter weekend. Once again Luke Madill and Kamakazi, who
have dominated the Elite Mens Class of late, would take to battle it out
for the Aussie crown. In 2005 they were joined by a world class field
that included the likes of Tony Harvey, John Johnson, Scott Taylor, Travis
Turesson, Tiger Robinson, Mike Fenwick (the 2004 Junior Elite World Champion),
and Wade Bootes (the most successful Australian BMXer to date).
The talent in the combined Womens Elite Class was mind blowing, including
names such as Bailey, Mankowski, Callisto & Junga.
This DVD contains:
Elite
class 20inch motos and finals.
Cruiser finals:
Jnr elite, Snr elite, 15-16, 17-29, 40-44 and Under 18 Ladies
20 inch finals:
Male: 14, 17, 17&over, 19-29, 30-34, 35-39, and 40-44
Female: 17 girls and 19&over ladies
Original music by Aussie bands:
Ground, Standing Tall, Subnormal, & Beaten By William.
Running time 46 minutes and 45 seconds.
The Aussie Titles DVD will sell for $20 + postage. Click
here to check out our other DVD's.
Email webmaster@bmxultra.com
for purchasing details.
21/10 New Australian A and AA Pro rules (part 2)
by Shane Jenkins
Thanks to Matt Butterworth we have been able to clarify the proposed rule
change, this is how it was presented to me. (I believe this is just a
proposal at this point, so you can still make a difference.):
Rulings made at the National Officiating Conference last week make
way for a 14+ Pro Open class to take he place of the old A/AA classes.
This class will pay down to 16th and not just the top 8. The ruling signifies
the end of Log Books for all riders and the limits placed on it.
Also there will be new semi final rulings. 17 riders to constitute
a semi final. This will be 2 x 6 man semis with the top 4 through. This
ruling will go all the way down the line to 1/8 th finals.
Payout will be down to the top 16 on the day just like the Pro Open
series you guys ran so successfully last year.
The semi rules are a bit more complicated though
17-19 Riders = 2 x 6 man semis
20-32 Riders = 2 x 8 man semis
35-39 Riders = 4 x 6 Rider Quarters and 2 x 8 Rider semis
40-64 Riders = 4 x 8 Rider Quarters and 2 x 8 Rider Semis etc.
14 Yr old Johnny still has as much chance as ever, maybe even more
now.
There will be still 16 riders running in finals for cash. That maybe gives
a few up and comers a slightly better chance here in WA as we haven't
always had 8 riders in the AA Class, opening the way for more of the previous
A class riders to make the 16
The prize pool will remain the same.
Only now it doesn't have to be split between the 2 classes.
If there wasn't a full gate of AA or A in the past the prize
money for the unfulfilled places would revert back to the organising club

It seems that the changes are made to streamline administration and to
improve rider count. It's funny to think that if you drop the need for
a log book, we don't need to track how much money people have won. And
if you add the A Pros to the AA Pro field that will increase the number
of riders in the main event. This couldn't be further from the truth,
people would fall back to age class rather than have to race a field of
AA Pros and as I said yesterday there will be no younger riders progressing
at the rates that they do today.
I would have thought that publishing each A Pro riders winnings on the
BMXA website and reducing the A Pro threshold from $1500 to something
more realistic, like $750 for example, would have been the answer, but
that's just me, I'm not the decision maker around here, just some sucker
that's still in the sport after way too many years.
It's funny how things happen in BMX in Australia. The rule changes just
go around and around in circles, no one is around long enough to say,
"wait, we've tried that but just came back to what we are already
doing". Well I have had my rant, and I'm willing to bet that we will
come back to A and AA Pro racing in the near future, because if it didn't
work the NBL and the ABA wouldn't both use that system after all these
years.
I've said enough, it's time for you the readers to have a say. If you
would like to voice your opinion send an email to webmaster@bmxultra.com.
It would be great to hear from the riders, but everyone is welcome to
have their say. If you feel very strongly about this be sure to send a
letter or an email to BMXAustralia.
20/10 New Australian A and AA Pro rules
by Shane Jenkins
I have heard rumours that there will be a rule change for the Pro
classes. The A and AA Pro levels would be merged, leaving the class as
Pro Open.
I must say it concerned me a little because it would make it impossible
for a young talented rider to progress through the ranks to the AA Pro
class. A Pro class allows riders to develop their skills and confidence
as they accumulate money and progress to the level of Australia's elite
amongst the likes of Luke Madill, Kamakazi, Wade Bootes, and so on.
I have been racing BMX since 1981, and in the pro ranks since 1986. I
have seen a lot of changes throughout the years, but one thing that has
worked is the two levels of Pro racing. It doesn't matter if it's called
A and AA or something else. A prime example would be the ACT titles held
earlier this year. One day of A and AA pro racing and one day of UCI's
Elite classes. It was the A and AA classes that pulled the most entries
and the closest racing. I think it's important for BMX Australia to realise
we are not all racing BMX to become an olympic hopeful, some of us still
race because we love it. We can't just cater for the best of our riders
or there will be no future stars, I am assuming that BMX racing will be
in the Olympics long after 2008. Do you really think that a young Michael
Fenwick could have jumped straight into AA Pro at his first pro race and
expect to make the final? Would he be where he is today, with a UCI world
championship under his belt already, if he wasn't given the chance to
develop into the rider that he has become?
I checked the UCI rule book with Australian Procedures (updated October
2005) which says:
"AA Open and A Open classes may be implemented by Member States
as an alternative to Elite and Junior Elite classes and be open to all
riders. The A Opens can only be conducted in conjunction with a AA Open
class.
Each State is responsible for setting the classification conditions for
these classes and maintaining an up-to-date register of AA and A Open
riders."
I hope that A and AA Pro classes are kept as they are for the future of
Australian BMX.
19/10 New BSX Page
by BMXUltra.com
The Total BSX race is starting to take on a life of it's own. It
was always my intention, and since things are quiet at the moment, I have
managed to put together a new page for the Total BSX event.
It should have all the information that you need to understand what's
going on. And it means that I won't have to repeat information throughout
the news pages on ultra.
I personally spent about a day and a half in the backyard on the weekend,
with the help of Shannon Rademaker for a couple of hours, and widened
a few things, photos to come soon.
Check it out at www.bmxultra.com/bsx.
19/10 Eastfield/Knox summer series
by Greg Siinmaa
Because Cash Dash was moved from late October to early October this weekend
has no major racing in Victoria. If people are after some racing two meetings
I know of are A night Clubby at Knox Friday Night. It is a round of the
Eastfield / Knox summer night series.
$6.00 entry with $5.00 pay back in each class. The more riders in each
class the more prize money.
Sign in by 7.00pm
Racing around 7.30 (3 motos and finals) 4 races all up.
Usually good racing in all classes.
If you can't make it Friday night Knox has a clubby on Saturday afternoon.
1.30 pm sign in
Racing 2.00 pm
4 motos including finals if required
$6.00 entry
I dont know if there are any other clubbys or such on but I think if people
are looking for a chance to race here are a couple.
Also I see on the caledar that there is also two free weekends between
Thunderdome and the State Titles at Portland. Maybe there cuold be a club
that could run some thing on these weekends? Or maybe riders will be happy
just to have the weekends off? I don't know myself.
There are two night clubbys. Friday night the 11th Nov at Eastfield and
Friday night 18th Nov at Knox but nothing I know of on the Saturdays or
Sundays.
Does anyone have any suggestions?
18/10 Photos: Cash Dash
by bmxultra.com
Not a lot of news over night so here's some more photos for you,
this time from the Cash Dash in Victoria Australia.
Click here to check out the Cash Dash photos.
17/10 Photos: Woodward NBL Supercross Nationals
by bmxultra.com
Ok, it's time for more photos, This time from the NBL Supercross
Nationals at Woodward, we do have still more photos, so as we sort through
them all we'll be adding them.
Click here to check out the photos from Woodward.
17/10 ABA Quaker State Nationals York, PA
Double A Marketing press release
The ABA season should be winding down with just 2 races left before the
Grand Nationals, but the action is heating up in the AA Pro Class. Bubba
Harris has lead the AA Pro title chase all season long and has an incredible
season, with the maximum # of wins you can score in the AA Pro class already
secured a few months ago. Kyle Bennett, last years NBL #1 Pro season,
had a crash early on in the season caused him a major knee injury that
needed surgery to repair. Since Kyle's comeback from that injury, a fire
has been lit and at each race in the past 3 months, he has placed either
1st or 2nd each day. Kyle, who now sits in 2nd overall in the AA chase,
can only move up with 1st place finishes. This weekend turned out huge
for him and just moved up 80 points closer to the title. Here is how Kyle
and Brandon Meadows finished up this weekend in York, PA.
Kyle Bennett was simply the man of the weekend in York.
Kyle's goal was to be consistent and take home 1 win over the weekend.
He met the goal on Saturday afternoon after wining the AA Pro class. On
Sunday, Kyle once again was the most dominate rider and even looked faster
and once again took the decisive win in AA. These two wins are huge for
Kyle as now each race he wins, just helps him for the overall title and
he sits just 200 points out of the top spot. With the ABA Grands counting
for double points, means that he now has a lot easier of a shot at the
title. With the last stop at the Fall Nationals still left, Kyle looks
to creep up even more before the grands. Kyle's sponsors include Free
Agent, KHS, Answer, Kenda, Sun Ringle, UGP, Truvativ, Velo, S & M
bars, ATI, Shimano, Profile, Powerbar, Cyto Sport, and BMXpros.com.
Brandon Meadows has also come back from injury just over
a month ago, but shook it off at the UCI Supercross race. Headed out to
York, Brandon was looking to be in the main event both days and get some
good scores in before the ABA Falls and the Grands. He did just that with
making AA both days, placing 5th overall each day. Brandon sits in the
top 7 of the ABA title chase and looks to move up even further. Brandon's
sponsors include Specialized, Fly Racing, Tangent, Thomson, Shimano, Cyto
Sport/Cyto Max, Sun Ringle, Powerbar, and BMXpros.com.
Double A Marketing proudly represents Cristian Becerine, Kyle Bennett,
Dale Holmes, Christophe Leveque, Brandon Meadows, and Randy Stumpfhauser.
For more information on any of the riders, or on Double A Marketing visit
www.BMXpros.com
17/10 Aussie High Performance Squad Named
Cycling Australia press release
Cycling Australia and BMX Australia are pleased to announce the eleven
cyclists selected as members of the inaugural BMX High Performance Program
(BMX HPP).
"The partnership between Cycling Australia and BMX Australia means
elite level BMX has now come under the current high performance programs
section within Cycling Australia," said Graham Fredericks, CEO of
Cycling Australia. "This means it will benefit from the management,
direction and administration support already established for our highly
successful road, track, mountain bike and disability programs."
The BMX HPP caters for athletes in the elite and junior elite categories
and predominantly for the '20 inch' class.
"This is an Australian Sports Commission funded program with the
primary aim of providing the best possible training and competition opportunities
for athletes to help them deliver medal winning performances at the Olympic
Games in 2008 and 2012," said Mr Fredericks. "In other years
the athletes will focus on World Championships competition.
Newly appointed National BMX Coach, Sean Dwight, will be responsible
for the planning, day to day management and implementation of the BMX
HPP.
The BMX HPP National Squad includes 2004 World Champion, Warwick Stevenson,
2004 Junior World Champion, Michael Fenwick, 2005 World Championship silver
medallist, Renee Junga, 2005 Junior World Champion, Nicole Callisto and
junior bronze medallist, Melissa Mankowski.
The eleven cyclists selected for the National Squad are:
Elite Men
Michael Fenwick (Happy Valley, SA – 16.05.1986)
Jamie Grey (Eagleby, QLD – 24.08.1981)
Luke Madill (Cranebrook, NSW – 28.05.1980)
Michael Robinson (Greenbank, QLD – 09.12.1982)
Warwick Stevenson (Minto, NSW – 13.05.1980)
Elite Women
Nicole Callisto (Beechboro, WA – 12.11.1987)
Krystal Cranfield (Gladstone, QLD – 01.06.1986)
Renee Junga (Capalaba, QLD – 18.07.1986)
Junior Elite Men
James Dixon (Safety Bay, WA – 15.01.1988)
Todd Pascoe (Kelso, QLD – 06.04.1988)
Junior Elite Women
Melissa Mankowski (Moranbah, QLD – 25.08.1988)
15/10 UCI SX on SBS TV in Aus
by bmxultra.com
South Australia's Paul Tomkinson picked up that SBS TV will be running
the 2005 UCI SX round from San Jose tomorrow (Sunday 15th October) at
2 pm, and he wanted us to let everyone know.
Here are the details from the SBS website (www.sbs.com.au)
October 15, 2pm. running for 30 minutes.
SPORT – 2005 UCI BMX SUPERCROSS WORLD CUP
UCI BMX Supercross World Cup 2005. From San Jose, US.
14/10 Cash Dash report
by bmxultra.com
The 2005 Cash Dash had a few things running against it. A number
of older Victorian and South Australian riders were either racing at the
Masters Games or sitting in front of their TVs watching Bathurst. Some
heavy rain in the lead up to the event put a hold on practice and a short
delay in the proceedings, but the club made the right choice allowing
the track to dry rather than letting it get too chewed up.
The Cash Dash managed to draw one of the biggest A Pro class fields we
have seen in a while with 30 riders. 6 of those, Craig Walczuk, Brian
Kelly, Gary Morgan, Jamie Bullows, Shane Jenkins and Danny Galea being
Vet Pros, but without a class of their own they decided to give A Pro
a shot. It was good to see Galea back on his bike after a long recovery
from an injury in the MTB demo race at the 2004 nationals.
The hotshots in the A Pro class that we had been hearing of a bit lately
were Nathan Evans, Shane Claassen, Ashley McCutcheon, Michael Chasteauneuf
and Aaron Jeffree.
In the AA Pro class there were only 7 riders entered, Shannon Rademaker
decided it was time to move up, even though he had about $1000 still to
go, filling the class out to 8 riders. But then some of the younger AA's
decided that they weren't up 4 flat out races to decide a winner and had
another rider signed, making it 9 riders and ensuring a final.
In the pro womens class, only 3 riders, so the winner would be determined
by points. Rachel Sheridan took the overall win with the evergreen Caroline
Sabotka in close second and newcomer Emily Wood took the third at her
first pro race.
The A Pro semis were tough, any combination of the 16 riders would be
worthy of a finals birth. When the gate dropped in the A Pro main, so
did Galea, the only Vet Pro to make the main. It looked like he just went
too early and his day was over. Out in front though were Evans, Claassen
and Chasteauneuf. The rest of the field were close behind. As they came
through the tight second and third corners Claassen looked to have the
race wrapped up with Evans in tow. Jeffree had hit the deck while battling
it out mid-field, we heard later that he'd broken his elbow. Claassen
looked like he'd run out of gas and Evans still had plenty in his tank
as he took the lead and pulled away halfway up the last straight. It was
the same for Chasteauneuf, he had third sewn up until the last straight
when the ever improving Connor Hunter and McCutcheon pulled up along side
him. The drag race to the finish saw Hunter take the third McCutcheon
in the four spot, Chasteauneuf in fifth and Toth in six with Galea and
Jeffree picking themselves up off the deck.
In the AA Pro main, Harvey and Hoare jumped to the early lead, it actually
looked like Hoare had the edge but then Harvey hit nitro and pulled away
in the first corner. I couldn't clearly see what happened in the last
corner but it appeared that Craven took Hoare over the top nudging himself
into the second place with Pretlove in third. Stocks was in fourth and
Levi Collins, in fifth, was struggling to hold off a fast finishing Robert
Slatter. Shannon Rademaker had to settle for seventh in his first outing
as a AA Pro.
It was a great meeting and very well run.Good job officials, we look forward
to the 2006 Cash Dash.
13/10 Cash Dash results
by bmxultra.com
Click here to see the full results from the 2005 Cash Dash, once one of Australia's
premier events, still a must do race for many Victorians.
13/10 Czech BMX Cup results
by Rene Zivny (www.bikros.cz)
This weekend, on Saturday 8. October the final round of the Czech BMX
Cup was held in Bilina.
Results:
Bilina:
Elite Men:
1. Zivny Rene – AUTHOR Team
2. Pastrnak Ondrej – Prague/Repy
3. Bouzek Martin – Revnice
Elite Cruiser:
1. Tulach Petr – PS KOVO Team
2. Pytlik Jakub – Cyklo Bartonicek Plzen
3. Dvorak Karel – Prague/Repy
Overall results 2005
Elite Men:
1. Dvorak Karel – Prague/Repy
2. Bouzek Martin – Revnice
3. Kral Ludek – Kovo Prague
4. Holub Jiri – Olympus Team
5. Mechura Lukas – Olympus team
Elite Cruiser:
1. Tulach Petr – PS Kovo Team
2. Dvorak Karel – Prague/Repy
3. Pytlik Jakub – Cyklo Bartonicek Plzen
13/10 Border BMX Club requires promotion stuff
by Barb Carey (Border BMX Club)
On the 20th of November the Border BMX club (Wodonga, Vic. AUS) are participating
in the
Commonwealth Games – Come and Try Activities which the City of Wodonga
are putting on.
Our activity is a club display, which we are hoping for perhaps TV &
video display of BMX racing and hand out information flyers about our
club.
We are in need of some bmx stickers to hand out to the passing public.
If anyone could supply us with stickers the club would be most grateful.
Please see us either at Shepparton, or Knox next meetings.
13/10 Masters BMX has been run and won
Australian Masters Games press release
After heavy rains on Friday and Saturday the track looked a mess and some
sections were underwater. An army of Cove members performed a magical
transformation on the track and surrounds to prepare for Sunday's
event. More rain overnight on Saturday night had everyone very nervous
about the track conditions but Sunday the 9th proved to be a fine and
sunny day.
Whilst the individual number of rider entries was lower than expected
most riders took part in 2 classes and several riders rode in 3 classes.
The track looked magnificent and The Cove welcomed a number of riders
from Victoria and a good turnout of mountain bike riders.
The weather held out and the Rollin' Oldies proceeded to enthusiastically
carve up The Cove track.
A great time was had by all at the awards ceremony and many stories were
told over some well deserved refreshments.
A club member filmed the whole event and this was replayed and many more
stories were told !!
2005 BMX MASTERS GAMES RESULTS
Held on SUN 9th October 2005.
20"BMX
(25-29yr) 1.Iain Smith.
(30-34yr) 1.Simon Anderson, 2.Dean Coles, 3.Raymond Ross, 4.Stephen Robinson.
(35-39yr) 1.Brett Malic, 2.Conrad Russo.
(40-44yr) 1.Stephen Davies, 2.Mick Collier, 3.Mick Hillyard.
(45-49yr) 1.Greg Siinmaa, 2.Brian Lacey, 3.Graeme Anderson, 4.Jeff Solomano.
(50+yr) 1.Larry Rowe.
24"BMX
(25-29yr) 1.Iain Smith.
(30-34yr) 1.Peter Trenwith, 2.Simon Anderson, 3.Raymond Ross, 4.Dean Coles,
5.Darren Wright, 6.Stephen Robinson.
(35-39yr) 1.Andy Rowe, 2.Paul Johnston, 3.Trevor Smith, 4.Conrad Russo,
5. Billy Turriff
(40-44yr) 1.Stephen Davies, 2.Mick Collier, 3.Mick Hillyard
(45-49yr) 1. Kym Williams, 2.Greg Siinmaa, 3.Trevor Dunsworth, 4.Brian
Lacey, 5.Jeff Solomano, 6.Graeme Anderson.
(50+yr) Rod Burchell, 2.Larry Rowe, 3.Mervy Thomas, 4.Greg Atkins.
Mountain Bike
(30-34yr) 1.Simon Anderson, 2.Todd Folland, 3.Jason Morrison, 4.Stephen
Robinson.
(35-39yr) 1.Trevor Smith.
(40-44yr) 1.Stephen Davies.
(45-49yr) 1.Jeff Solomano.
Ladies 20"
(45-49yr) 1.Catherine Meredith
Ladies 24"
(30-34yr) 1.Tanya Dunn-Brown
(35-39yr) 1.Karen Wishart
(45-49) 1.Catherine Meredith
Best competitor voted by riders: Greg Atkins.
Encouragement award: Stephen Robinson.
Worst Helmet: Darren Wright
Best save without crashing: Trevor Smith.
Oldest bike: Mervy Thomas
Oldest race pants: Greg Atkins.
Loosest riders: 1.Billy Turriff, 2.Brett Malic.
Worst jump: Darren Wright.
Slowest Lap: Greg Atkins.
Fastest Lap: Peter Trenwith
Most aggressive rider: Darren Wright
11/10 TotalBSX Update: Gray signs up
by bmxultra.com
Competitors list updated (now 41 male & 3 female riders)
UCI World Championships elite class finalist Jamie Gray has
been in touch and put his name down for the TotalBSX race taking the rider
count to 40, it looks like Queensland are going to have a strong state
of origin team.
If you are a BMX pro and will be in Melbourne during the Track Attack
series and are looking for something to do to pass time on the Wednesday
email us to have your name added to the list of riders already keen to
win this unique event.
If we can get a minimum of 4 female riders (prefer 8) we will run a female
class too. $30 entry fee and prize money is 100% pay back (break down
of prize money for the top 4 is 40%, 30%, 20%, 10%).
AA Pros
Wade Bootes (Qld)
Glenn Cadega (Qld)
Tony Harvey (Vic)
Levi Collins (Vic)
Ben Price (Vic)
David Page (Vic)
Jonathan Hoare (Vic)
Brock Tuckerman (Vic)
Ross Miller (SA)
Ben Davis (WA)
Blake Schofield (WA)
Simon Anderson (Vic)
Michael Vockenson (Qld)
Shaun Craven (Vic)
Brett Scruse (NSW)
Damien Rosenthal (Qld)
Daniel Stocks (Vic)
Daniel Johnstone (NSW)
Khalen Young (Vic)
Kiel Dellow (NSW)
Jamie Gray (Qld)
Shannon Rademaker (Vic)
A Pros
Geoff Tripovich (Vic)
Aaron Jeffree (Vic)
Adam Carey (Vic)
Phil Brezigar (Qld)
Nathan Evans (Vic)
Scott Bradley (SA)
Nick Brookes (SA)
Paul Surrey (NSW)
Shane Jenkins (Vic)
Josh Callan (Vic)
Michael Chasteauneuf (Vic)
Adam Robb (Vic)
Aaron Wood (Vic)
Andrew Toth (Vic)
Shaun Kirshner (NSW)
Nathan May (Vic)
Josh Phillips (Qld)
Chris Fleming (Qld)
Alex Cossell (Qld)
Pro Women
Caroline Sabotka (Vic)
Ziggy Callan (Vic)
Melissa Mankowski (Qld)
Working bee scaled down
Sick of the self-drive small tippers, we have been trying to
organise some heavy equipment this weekend, but couldn't pull it off in
time. A bigger truck should get all the dirt we need in just one day and
allow us to finish off the track much faster. So the two day working bee
will now be on the weekend of 12-13 November. We will be out on the track
working this Saturday, but it will be mostly shovel and pick work, and
I think a fair bit of riding too. Please email if you are able to help
out.
Raising money for the Melbourne Royal Children's Hospital
There is a minimum prize pool of $1000 for the men at this event,
providing we have a minimum of 32 participants on the day. The prize pool
is entirely funded by the riders entry fees. However this event is to
raise money for the Melbourne Royal Children's Hospital, there will be
an entry cost to watch the event and a special auction of the signed race
plates once the dust has settled.
Thanks to our partners: TotalBMX.com.au, Dirt Designs, Cyclelink.com.au,
Safe and Sound, BMXTronic.com and BMXUltra.com. Without them none of this
would be possible.
11/10 ONE riders new websites
One Bicycles press release
MATISONS.COM new website
Arturs Matisons has restyled his website.
Check it out, it looks sharp! http://www.matisons.com
Another ONE Bicycles rider that has a new wesite is Maliek Byndloss.
His address: http://www.maliek.com
Have fun everyone….
ONE Bicycles BMX team is sponsored by: TROY LEE DESIGNS, BOMBSHELL,
SHIMANO, BOLLE, WLM DESIGN, BOMBA, THOMSON, FIZIK, ODI, ZITOUN, KENDA,
COOLSHIRT, NIKE 6.0, NIKE Cycling, NIKE Timing and BMXPIX
11/10 Psykopath Update
Psykopath press release
The New Psykopath Street and Race Frames are in, so get one before we
run out. They come in black, blue, red, or white with 20.5 and 21.25 toptubes.
Street Frame is 5.7lbs.The race frame is 4.2lbs. They come with newly
designed stickers also. We also got 2 new t-shirts made.One has a guy
doing a superman seatgrab and the other has a demonic looking skull on
it. The Psykopath DVD is now available too.
Psykopath went to Interbike in Vegas last month. We made contact with
about a million companies for possible co-sponsorships and what not. We
also made it to the Mt. Dew Action Sports Contest in San Jose, Ca. A couple
of our racers competed on the technical course. We got footage of the
event also. We also made it out to the Roseville State Championship on
Sept 24-25. We had our own little booth showin off our new product. Street
rider Omar (Endo) Romero got 1st in his class, Congrats. Other Psykopath
Racers competed in the ProAm race and went home with a little cash in
their pockets.
Now Psykopath is a neighbor of the track. We got a house right next to
the track. Its going to be used as the Psykopath Headquaters. There is
going to be ramps in the backyard for the street riders. Here comes all
the BBQ's and ramp sessions, no works gonna get done around there.
Welcome to the team Paul Dayton. Paul is the newest addition to the steet
team. He does the biggest Supermans you will ever see.Once again welcome
to the team.We are also looking for more riders to join the Street Team.
So send your sponsor me video to us.
Thats all thats going on around here at Psykopath. Stayed tuned for more
at Psykopath.com.
10/10 Cash Dash Winners
by bmxultra.com
At the Cash Dash yesterday Tony Harvey won AA Pro in a small field.
Nathan Evans came from behind to take the A Pro win in a field of 33 riders,
and 2 times former UCI world champ and mother Rachel Sheridan (Marshall)
took out the pro womens class.
Race report soon.
10/10 BMX South Queensland report
by BMXSQ athlete officer Wade Bootes
BMX South Queensland would like to congratulate the selected "A
team" that represented South Queensland at the State Championships
this past weekend. Due to an outstanding squad of 16 riders and hard work,
the South Queensland A team won 11 State Championship titles and 6 2nd
place finishes. Due to a misfortunate accident in the first race of Kevin
Watson, the Southern Zone Team sheet was left with only 9 riders out of
10 during the competition. South Queensland just missed taking out the
Zone challenge, but clearly the Southern Zone has the strongest riders
in Queensland and Australia when it comes to results.
Here are the Southern Zone "A Team" riders and results below:
BMX South Queensland A Team
Kara Wells 9 girls Centenary Plains – 1Q
Madison Janssen 10 girls Nerang – 1Q, 1Q cr
Taylor Argent 11 girls Nerang -1Q
Lacey Oliver 12 girls Nerang -2Q, 2Q cr
Stacey Jones 13 girls Redlands – 2Q
Cheryl Pointon 40+ females Nerang – 1Q
Liam Hilliam 8 Boys Pine Rivers – 2Q
Max Dempsey 9 Boys Nerang – 6Q
Scot McGetrick 10 Boys Sunshine Coast – 2Q
Kevin Watson 13 Boys Nerang – 20Q 10Q cr (DNF)
Nathan Simpson 15 Boys Nerang 7Q
Stevie Janssen 15 Boys Nerang -1Q, 6Q AA Pro
Alex Cossel 16 Boys Nerang – 1Q, 1Q A Pro
Matthew Kane 19+ Centenary Plains 1Q, 2Q A Pro
David Wallis 30-34cr Pine Rivers – 1Q
Scot Lynch 35-39cr Nerang – 1Q
The Southern Zone will continue to increase Athlete Development and help
produce more State and
National Champions from South Queensland by running more ID Work shops
and Camps in the
future.
Yours truly,
Wade Bootes
Athlete Officer
BMX South Qld Inc
07/10 Knox Dome/Warrnambool Classic entry forms
by bmxultra.com
As things warm up in Victoria so does the racing, Knox and Warrnambool
are two of the must do races in Victoria. Check
out our racing calendar for Knox and Warrnambool entry forms and a whole
lot more.
07/10 New Phantom products at ATiStore.com
by ATiStore.com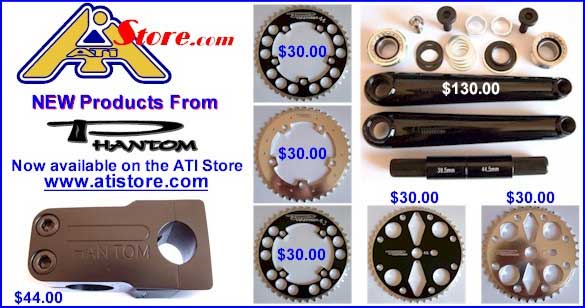 07/10 Free Agent team 2005
Free Agent UK press release
The Free Agent UK race team have beaten all comers in the 2005 race season!
In a team that was only completely formed when the race season had already
started, the riders have finished the year with numerous individual titles
and the two team titles that were up for grabs!
Elite rider Dale Holmes spent the early summer over here in the UK to
give Free Agent the kick it needed to get started on the race scene. As
the season went on Dale had won every race until he ended up breaking
his hand at the UCI BMX World Championships in Paris.
The rest of the team kept the hopes alive to win the National Team Title
for the rest of the season regularly getting first places to keep ahead
of the competition.
Free Agent UK are the National number 1 team and also the British Champion
team.
The national team –
Dale Holmes – Elite (Nat No. 8)
Lewis Lacey – 15/16 Experts (Nat No.1)
Tony Fleming – 30/39 Cruisers (Nat No.1)
Lauren Smith – Junior Women (Nat No.2)
Geth Shooter – Masters (Nat No.4)
Jamie Vince – 40+ Cruiser (Nat No.2)
The rider's 2005 titles are –
Dale Holmes – 16+ Cruiser British Champion
Lewis Lacey – 15/16 Expert No.1 & 16s British Champion
Tony Fleming – 30/39 Cruiser National No.1
Geth Shooter – Masters British Champion
Jamie Vince – 40+ Cruiser British Champion
Thanks also go out to "MAW Racing" for their support team throughout
the year.
Big thanks got out to all that supported the UK National team –
Raleigh UK, Free Agent, Profile Europe, and – High5 Sports Nutrition –
Who helped us make it to the finish line time after time!
06/10 Photos: Canadian ABA Grands
by bmxultra.com
Ok so it's been a long wait, but I have finally got around to posting
some of the photos from the Canadian ABA Grand Nationals.
Click here to check them out.
05/10 South Australian Titles results
by bmxultra.com
The South Australian Championships is one of the race meetings I didn't want to miss this year for two reasons, I wanted to race at Mount Gambier in the dry (which doesn't happen very often) and I had a ball at the '04 SA state titles.
Well I did miss it, and from what I hear it was a great event.
Click here to check out the full results.
04/10 Road trip from **** finale
by Shane Jenkins
You know with all the excitement of the past few weeks on "the road trip from ****". I refuse to say the word because when I started to write this last entry I was waiting to board my flight at Boston, and I still needed to cross the country and the Pacific. On Wednesday I drew some cash to get me to the end of my trip. A simple process normally, but that was the last time I saw my card. Friday comes around and I am in need of my card only to find that its no longer in my wallet. I am a fairly relaxed guy so I can wait to get back to my room and see if I dumped it somewhere there. So after I head back to my room and repack everything for the second time. I confirmed that it was indeed missing. I jumped on the phone to card services and Australia, and was pleased to find that someone in Boston had reported that they had found it. So my money was safe, I can't tell you how relieved I was.
Saturday comes around and I can be happy that this "eventful" trip is about to come to an end. I check out of the room, store my gear, book a cab and go for a walk. When I returned I found that my taxi was a limo, I am talking fully blown, so I got to travel in style with my bike by my side (it didnt fit in the boot/trunk). It's times like this that I don't think I'll ever get too old for BMX. Check in time at the Airport and I find that the wicked witch of the west work for American Airlines. Firstly she tells me there is no booking on my flight, but a few minutes later finds it, and then she doesn't like the fact that she has to check my bike in so charges me $US97 for it. It normally doesn't cost a thing if you are catching a connecting international flight, so I questioned her about it. This lady didn't want to listen, it made me feel better to tell her that I wouldn't have to fit the bill because my work will cover it until I sort it out, but she wasn't listening anyway. I am hoping that it is smooth sailing from here, oh yeah I checked, I have my wallet.
(I am finally writing this from my desk at home.) I got some sleep and some entertainment when I freaked the girl out who was sitting next to me, obviously Ashley from Oregan hadn't met an Aussie before, and was easily impressed, it helped make the 6.5 hour flight a little easier.
I arrive at the Depature lounge at LAX to find Grant from ECI was on the same flight, so I asked him all about Interbike and the new gear that he saw. He was very excited about the Kuwahara range and brough some bikes and frames back to Aus with him to show off at the Australian bike show later this month. He also said that Profile has a bunch of new gear which is mostly for street riding, hubs and he mentioned some new cranks that Profile are doing, they are very similar to their current cranks, but cheaper, because there is no lifetime warranty that Profile cranks are most famous for.
The flight back from LA to Melbourne, which I found out is the longest non stop international flight you can take – all 14.5 hours of it, was uneventful.
That's about it. I got home and mowed the backyard for 4 hours, all 1 acre of if with a hand mower…I gotta do something about that. Then I rode track for a while…Oh boy have I got a lot of work to do to get this track ready for the BSX race. If anyone has some free time to help me out next weekend (Oct 15/16), and they are in the area let me know.
04/10 TotalBSX Update
by bmxultra.com

Competitors list updated (now 39 male & 2 female riders)
If you are a BMX pro and will be in Melbourne during the Track Attack series and are looking for something to do to pass time on the Wednesday email us to have your name added to the list of riders already keen to win this unique event.
If we can get a minimum of 4 female riders (prefer 8) we will run a female class too. $30 entry fee and prize money is 100% pay back.
AA Pros
Wade Bootes (Qld)
Glenn Cadega (Qld)
Tony Harvey (Vic)
Levi Collins (Vic)
Ben Price (Vic)
David Page (Vic)
Jonathan Hoare (Vic)
Brock Tuckerman (Vic)
Ross Miller (SA)
Ben Davis (WA)
Blake Schofield (WA)
Simon Anderson (Vic)
Michael Vockenson (Qld)
Shaun Craven (Vic)
Brett Scruse (NSW)
Damien Rosenthal (Qld)
Daniel Stocks (Vic)
Daniel Johnstone (NSW)
Khalen Young (Vic)
Kiel Dellow (NSW)
A Pros
Shannon Rademaker (Vic)
Geoff Tripovich (Vic)
Aaron Jeffree (Vic)
Adam Carey (Vic)
Phil Brezigar (Qld)
Nathan Evans (Vic)
Scott Bradley (SA)
Nick Brookes (SA)
Paul Surrey (NSW)
Shane Jenkins (Vic)
Josh Callan (Vic)
Michael Chasteauneuf (Vic)
Adam Robb (Vic)
Aaron Wood (Vic)
Andrew Toth (Vic)
Shaun Kirshner (NSW)
Nathan May (Vic)
Josh Phillips (Qld)
Chris Fleming (Qld)
Pro Women
Caroline Sabotka (Vic)
Ziggy Callan (Vic)
Raising money for the Melbourne Royal Children's Hospital
There is a minimum prize pool of $1000 for the men at this event, providing we have a minimum of 32 participants on the day. The prize pool is entirely funded by the riders entry fees. However this event is to raise money for the Melbourne Royal Children's Hospital, there will be  an entry cost to watch the event and a special auction of the signed race plates once the dust has settled.
Thanks to our partners: TotalBMX.com.au, Dirt Designs, Cyclelink.com.au, Safe and Sound, BMXTronic and bmxultra.com, without them none of this would be possible.
Posted in: Archive