BMX Racing News November 2002
29/11 Track Attack 2003
The Eastern Region of Victoria proudly presents "Track Attack 2003"
Date: January 18th – 26th 2003
Venue: Melbourne, Australia at the following tracks; Lilydale BMX
Track, South Eastern BMX Track, Knox BMX Track, Eastfield BMX Track, Park
Orchards BMX Track including UCI Ranking Round and Frankston BMX Track
Classes:
Pro Classes, Voucher Classes, Bruiser Cruiser Class, PLUS Bonus Pools
Age Classes, Cruiser Classes and Sprocket Rocket Classes – Series Trophy
plus showbags for sprockets
Rider of the Series Awards(Male & Female)
Team Trophy
Something for every age!
Race Entry forms & Team Entry forms available shortly.
29/11 One Bicycles press release
Troy Lee Designs (http://www.troyleedesigns.com)
and Sun Ringlé (http://www.sunringle.com)
sign with ONE Bicycles. You'll see the ONE team flying at the European
tracks and at the Worlds in Australia, wearing the blue, with and red
colors using the BMW wheels that will be provided by Sun Ringlé.
After the Worlds Arturs Matisons (http://www.matisons.com)
will fly over to the US and compete against the top Pro's in the US.
For more information on One Bicycles check out http://www.onebicycles.com/.
29/11 Hope for rising BMX star
This is one for all the kids out there who have big goals in BMX.
David Page has an incurable disease but he came 2nd at the Vic titles
just last weekend only narrowly being beaten to the line after winning
all his motos. The disease has stopped him for growing. In March on his
way to Tasmania for the Australian Championships it was found out David
has ulcerative colitis an incurable disease.
Unlike many people after hearing news like this he got on with his life
and continued to do the one thing he loves the most BMX. He believes if
you believe in youself, and train hard you can be the best. David is going
to hospital today to see if he is getting better. Not the most wonderful
operation, but his is going through it. Not many kids of his age would
cope, but he's doing well.
2003 will be his 10th year at racing. His family are hoping they find
a cure for his rare disease, only 10,000 people have this disease in Australia.
Regardless of the cure David never stops to amaze us at BMXUltra.com.
He has skills to match any pro and is one of the most dominant amatures
in his class.
27/11 BMXPros.com Press Release: Dale Holmes signs with Free Agent BMX & KHS Mountain Bikes
As 2001 UCI World Champion Dale Holmes lines up on the gate this
upcoming weekend at the ABA Grands, battling it out for the ABA #1 Pro
Cruiser title, he will have a lot less on his mind than he has for the
past year, due to the fact that he has just signed to race for the Free
Agent BMX and the KHS Mountain Bike Programs for 2003.
"I am very excited to work with the Free Agent and KHS programs for
2003. I will do my best to bring them great recognition world wide in
BMX and Mountain Cross", comments Dale.
Dale had received great support and funding in 2002 from O'Neal, Supercross,
Smith, Shimano, Tioga, Vans, Atomic, ODI, and UGP. With a full factory
ride with the Free Agent BMX and KHS Mountain Bike programs, Dale will
look to step it up even further in 2003 as he will be competing the full
UCI World Cup and Norba National, as well as a full schedule of USA and
European BMX National events. So far for 2002, Dale finished up 7th overall
on the UCI World Cup tour in the Mountain Cross series, and is looking
to add another ABA #1 Pro Cruiser Title, as well as finishing up in the
top 5 in AA Pro after this weekends ABA Grand Nationals in Tulsa, OK.
Dale will be joining Darrin Mitchell, Alan Foster, and Jamie Lilly on
the Free Agent BMX Racing Team as well as 2002 Norba Mountain Cross Women's
Champion Melissa Buhl and Jamie Lilly on the KHS Mountain Bike program.
With a powerful program in 2003, Free Agent/KHS will be atop podiums all
over the world!
For more information on Free Agent BMX and the KHS line of Mountain bikes,
visit Free Agent
BMX.com & KHS
Bicycles.com.
For up to date information on Dale, please visit DaleHolmes.com.
For additional information or sponsorship opportunities with Dale or any
of the other Double A Marketing pros, please visit BMXPros.com
or E-mail Pete Dylewski @ Double A
Marketing
Double A Marketing proudly represents Thomas Allier, Christian Becerine,
Wade Bootes, Dale Holmes, Christophe Leveque, Robert MacPherson, John
Parker, Stephane Roncada, Jamie Staff, and Randy Stumpfhauser.
27/11 Enigma Bicycles at the ABA Grands
If your going to the ABA Grand Nationals this week in Tulsa, OK. Make
sure you stop by and check out the Enigma Bicycles booth. In addition
to having their great new frames, forks, and handle bars on display. Enigma
will also have some of their "prototype" products that you can
check out for the very first time.
And if your a team manager make sure you come over and introduce yourself
to Enigma as they are looking to help out a few teams for the upcoming
2003 race year.
Check out www.enigmaracing.com
for more Enigma Bicycles information.
27/11 BMXCentral/BMXPress news
BMXCentral have now confimed air dates for their TV races on Fox Sports
in Australia. The shows will air nationally on channel 11 or 12 depending
your area.
All the following times are eastern daylight savings time. Also check
the TV guides.
Show 1 from DK Spring Nats will air 10.30 am Saturday 21 December. This
will also be repeated on the 24 December.
Show 2 from DK Spring nats will air 10.30 am Saturday 28 December.
Show 1 from the DK Grands will air Monday 4pm 13 January 2003. This will
be an hour long. Half hour will be a repeat.
Show 2 from the DK Grands will air Monday 4pm 20 Jaunuary 2003. This will
also be an hour long show, with a half hour repeat. These shows will lead
into the extreme hour weekdays.
All other TV races filmed earlier this year will be shown as repeats by
Fox. Due to the time lapse, they will not be scheduled in the TV guide.
For the Sydney based riders or anyone coming to Sydney, we will have
a premiere night with the two Spring national shows and a premeire of
BMXPRESS new freestyle video "Burn It". Venue and date to be
confirmed. This should be in the next fortnight or so.
Check out www.bmxpressmag.com
for more information.
25/11 Victorian titles report: "Thunder" Danny Galea strikes again
The weather was perfect for the beach, a little uncomfortable for racing
though. The track was looking the best it has in years, the club have
done a fine job in the work they have done to the track.
You would think that after 20 plus years the format of the Victorian state
championships would improve. Personally I don't understand the mentality
behind starting Saturday's racing in the middle of the day when it's 36
degrees (C). When you have got 300 or so riders getting around in nylon
racewear it's a big ask, and then to have a break in between motos? What's
going on there? I think the officials should all be forced to wear racing
nylons during events if they expect the riders to stand out in the sun
all day.
The seating arrangement around the South Eastern track was pathetic
to say the least, in future it would be a good idea to think about how
many people might actually want to see the races, those people with tents
along the track fencing got quite territorial. I had to move at one stage
because I though some guy was going to list his tail and spray me.
After all the hyping we did on BMXUltra.com last week we had people talking
at the track. I even had someone willing to make a $50 bet on who would
win the Elite Class men. Just so you know, I would be $50 better off if
I had have taken him up on it.
Junior Elite cruiser made for some very tight racing, I think all of the
riders had a soil sample throughout the motos. Collins took the win narrowly
over Hollings.
Senior Elite cruiser looked like it was all Galea after the first two
motos, but then it all went wrong when he and Anderson collided in the
last corner. Once that had happened you could see by his racing Galea
was going to settle for second and focus on the 20inch class.
In the Elite Women Kate Eliott did a fine job to hold off Caroline Sabotka
and Elisa Foley.
In the Junior Elite men Khalen Young was unbeatable in the motos, but
in the main when it looked like he also had the race won he sat down which
allowed Beerens to take the win. Jonathan Hoare a respectable third, Levi
Collins in fourth.
Ben Price was a late addition to the Senior Elite field, his last ride
was the previous state championships so anything could happen with him.
As the motos progressed in the Senior Elite field the racing got more
intense, there were more and more mistakes and crashes on the track. Even
the smallest mistake can cost more than one placing when the racing was
so close. Galea was looking incredibly strong, and Pretlove's hand didn't
seem to be troubling him too much. There was no surprise that all of Victoria's
senior AA riders would qualify for the final, but A pro Porter was really
getting amongst it, in his last moto he spun on the gate and went over
the bars which would have put anyone else out of the final, but even with
a 7th he still narrowly qualified over fellow A pros Matthew White, Shane
Jenkins (bmxultra.com) and Nathan Barker.
When the gate dropped in the main Pretlove was off to a good start, narrowly
leading Galea and the rest of the field. Galea started to put the power
down and pull away as the field started to sort into single file. Through
the second straight Pretlove still looked a chance until he unclipped
over the double and with one leg off managed to get through the step up
double and get his foot back on the pedal, which was an amazing bit of
riding in itself. This allowed Grigg to sneak up into the second spot,
Pretlove was still in third. Coming out of the last corner Pretlove was
on the highside of Grigg and must have hit putting Pretlove on the ground,
and with Godsmark and Anderson right on his tail they had no where to
go. Grigg was looking secure in second, Pretlove worked his way into third,
but down the last straight he was mowed down by Price and Robb.
Who said that Thunder never strikes twice in the same place, Galea takes
his second state crown as he leaves the sport as a full time AA pro to
have a crack at MTB and track racing.
Results
Senior Elite Men
1. Danny Galea (Iron Horse)
2. Simon Grigg (TotalBMX)
3. Ben Price (Huffy/TotalBMX)
4. Adam Robb (Redline Vic)
5. Glenn Porter (Cassap)
6. Simon Anderson (GT Aus)
7. Peter Godsmark
8. Luke Pretlove (Redline Vic)
Junior Elite Men
1. Dean Beerens (Specialized/Top Gear)
2. Khalen Young (Norco)
3. Jonathan Hoare (KHS)
4. Levi Collins (Huffy/TotalBMX)
5. Ken Babington
6. Brendan Ruys
7. Adam Bensch (Huffy/TotalBMX)
8. James Hollings (Specialized/Top Gear)
Elite Women
1. Kate Eliott
2. Caroline Sabotka
3. Elisa Foley (XBMX/One Bicycles)
4. Marree Kenyon
5. Lynette Page
Click here for full Victorian State Championships results.

22/11 Victorian titles run down part 3
Ok it's time of the Amature classes. There are a couple of guys out
there we think would be worth watching in the Am classes, we are sure
there are a heap more but these have caught our attention lately.
Shaun Craven in the 13 boys, he won the event last year, but the other
guys in his class seem to be out growing him, he has all the jumping skills
of a pro.
William Babington in the 14 boys, he's getting stronger each time I see
him race, he certainly has a size advantage and a lot of strength, like
big brother Ken can really handle a bike.
The 15 boys class will be great to watch, Scott Lacey has been flying
in the A Pro class and Nathan May has also been holding his own with the
competitive A pro field. Ahron Jeffree is also one to look out for he's
been improving, may not match it with Lacey but a possibility for a podium
finish.
In the 16 boys Dean Miller would have to be a favourite but it's a tough
class. He's another example of a good A pro having to settle for an Amature
class at the state titles a victim of too many different pro rules. Why
can't BMXV just go with A and AA pro for state titles like NSW do?
The 17 boys is a small class and will be close between Warren Stoll and
Anthony Gray.
In the 19+ BMXUltra.com's Luke Chmielewski will return to racing to see
if he can hold off the heavy weights of the class.
25-29 could be a good match up between Steven Evans and Scott Tabe-Lewis.
30-34 is a stacked class but you will see a lot of riders withdrawn from
the 20 inch class due to injuries, it's the cruiser final that will be
most interesting. David Comport, Wayne Flint, Brian Kelly, Craig Merritt,
Julian Millis, Glenn Suridge and Jamie Bullows will all have a good chance
at the title. I'd hate to be amongst them as these guys plough through
the track in their main.
35-39 is another one that would be difficult to predict, Trevor Stamford
is strong, but he has Gary Morgan, Chris Malloy and Lance Mahuika to contend
with.
I'm not sure how the other classes are made up given the number of entries,
but look out for Choo Choo Brian Lacey in the 45+ class and keep a safe
distance from the track when you see him out there.
Well that's about it…we did get an email from GT about Simon Anderson
that was either a threat to the other Senior elite riders or a press release,
but by the way it was written it could have been just for a laugh. This
is how it goes.
"Simon was seen at Sth Eastern last night. He was doing some crazy
stuff, like bump jumping the first straight doubles at full speed… madness..
he is also looking super smooth as usual and fast…. he was also doing
crazy lines through the 3rd straight, but you will have to see him in
action on the weekend to see what he has in store for that straight…good
luck Simon.
The boys from GT bikes"
Make of it what you will.
Good luck to all riders…and prepare yourselves this is going to be a
very long weekend.
21/11 Victorian titles run down part 2
Due to time restraints I won't be able to go into as much detail with
the remaining elite classes, so I hope this gives you a good idea of the
main contenders. I also failed to say yesterday that Adam Robb helped
me put these lists together. Thanks Adam.
Jnr Elite Men (the main contenders)
Khalen Young (Norco): Annialated the field at the national championships
earlier this year, carrying a back injury, but still performing well.
The hot favorite for the Jnr Elite crown.
Levi Collins (Huffy/TotalBMX): Looking very strong lately, he gave
Luke Madill a good run at Shepparton only weeks ago, can he upset Luke's
team mate and take home the title?
Dean Beerens (Specialized/Top Gear): His first title event as an
elite rider, has been looking very strong in the last couple of weeks,
looks like a good chance for the title.
Jonathan Hoare (KHS): Has improved a lot during the year, knows
the track like the back of his hand and is determined to win, has been
in the majority of A Pro finals this year.
James Hollings (Specialized/Top Gear): He won the A Pro at the
DK Nats at Eastfield and qualified in top spot at the DK Race at Knox.
Very consistant rider, has the potential to win.
Ken Babbington: Has been a bit flat lately, he is just waiting
to let rip, will it happen this weekend. He knows what it takes to win.
Rides well at Sth Eastern.
Brendan Ruys: Hasn't raced much this year, but if you have seen
him race a Mountain bike you will know that this kid has Skill, Speed
and Power, can he put it together on the BMX?
Elite Women
The Jnr Elite and Snr Elite Ladies are combined this year to make
a class. Caroline Sabotka is back and riding well and has a good chance
of taking out the title while Kate Eliott has been at the top of her class
for years, with each moto like a final this will be one to watch. Elisa
Foley and Lynette Page will be in there doing their part as well as Maree
Kenyon.
Snr Elite Cruiser
Anderson, Barker, Galea, Jenkins, Porter and Robb. 6 riders one hell of
a race, each of these riders will be going hard, after 7 motos and each
rider competing in 2 classes it really will be a survival of the fittest.
Jnr Elite Cruiser
Babington, Beerens, Collins, Hollings, and Grant Carra. With Young only
competing in the 20inch class there is going to be some great racing.
The state crown up for grabs and nearly all these riders capable of taking
it out.
Don't expect us to make any predictions, but if you'd like to have a stab
email us at the email address at the top of this page and tell us who
you are and who you think will place top 3 in which ever classes you like.
If we get them in time we'll post them on the site.
20/11 Victorian titles run down
As a part of the lead up to the state titles this weekend. We'll be
presenting the elite class riders, with a bit of a short run down on each
one. Starting with the Senior Elite Men. The latest news is that Luke
Pretlove will be competing.
Senior Elite Men
"Thunder" Danny Galea (Iron Horse): Hungry for the win in
his last attempt at the state crown as a full time BMXer. Definitely has
the power, the favorite to take the title.
Luke Pretlove (Redline Vic): Has stepped it up since winning the
Jnr Elite title last year, determined to make history and become the first
rider to win the Jnr and Snr Elite titles in consecutive years.
Simon Anderson (GT Aus): Current state champion, been quiet lately
but has the skill and is capable of anything.
Peter Godsmark: Won the 19+ Amature class at the Nationals this
year and has stepped it up to Elite, awesome gate, a real dark horse.
Simon Grigg: Hasn't raced much this year, and has had bad luck.
Has good straight-line speed and gate, definitly a finalist.
Adam Robb (Redline Vic): Results have been up and down the past
few months. Is always up there when it comes to titles time. Gets off
to a slow start but comes home strong in the last half of the track.
Paul Morris: Seems to only race the state titles these days, old-school
style, good power and he knows how to handle a bike.
Shane Jenkins (bmxultra.com): The old man of the class, good start
and first straight speed, has been showing up in most A Pro mains this
year. Plenty of experience, this being his 20th state championships.
Glenn Porter (Cassap): Has put in the hard work, has been looking
really good in the last 2 – 3 months and has been in most A Pro mains.
Mathew White: Just returned to racing and is looking like he never
stepped off the bike, home track advantage, one to look out for.
Ben Thompson: Unable to race throughout the year, he has raced
one race this season and looked good, this guy could cause a stir.
Nathan Barker: Has stepped up into the Elite class, this guy has
potential, look for Nathan, he will be in the mix.
Luke Cristiano: Has good speed, but hasn't produced any big results.
In a tough field like this one anything could happen.
Craig Nevin: A scratching due to a motorbike injury.
There is a rumour going around that the Junior and Senior Elite cruiser
classes have been combined. This is not true, both classes have 6 riders
and 4 riders constitute a class.
Check back soon for the other elite classes.
19/11 Victorian state titles injured list
It's funny, with the state titles on this weekend I thought I'd do a couple
of updates leading up to the event, the first one is this one the "Injured
list" and then a run down on the Elite riders later. But when I stated
thinking about who is injured, all fingers were pointing at the 30-34
class. These guys are going hard…or getting frail…it's up to your
own interpretation.
Dean Coles – Injured at the pre-titles Australian Championships
in Tasmania over the easter weekend. He twisted his knee severly when
he dabbed his foot after losing balance on a jump and as a result had
to have his knee reconstructed. He will be out until January. He's made
a handful of Aussie's finals now he would have had a good chance at the
state titles.
Damien Walczuk – At the Cash Dash recently Damien had a fall with
another rider and while scrambling for his bike he was hit by a train!!
That's right "Choo Choo" Brian Lacey was powering around the
corner and ploughed into Damien which caused multiple fractures in his
leg resulting in 2 plates and 8 pins being inserted and to top that off
he developed pnemonia in both lungs after the operation. After a long
career and many titles, Damien will have to sit this one out.
David Comport – At the Cash Dash, Comport was having trouble with
jumps, it only being his second meeting back after a 3 year break. When
it came to his final he wen't down hard on the first jump and severly
bruised some ribs forcing him to rest for the lead up to the state titles.
A former state champion over a decade ago, it's still uncertain if Comport
will be fit to ride the event.
Craig Merrit – Craig has been progressing well getting some great
results in the lead up to the titles. He's been traing hard for months
now and it seems he may have over done it. He's got torn ligaments in
his lower back, after a rest and a few visits to the Physio we should
see him compete at the titles, but he will be in considerable pain. It
would have been nice to see him race to his fullest ability.
AA Pro Luke Pretlove – There has been no update on how Luke's hand
is healing.
In some other news leading up to the state titles, Jonathan Hoare
was seen training at South Eastern on Sunday with platform pedals…has
he gone hard core? Are the clips gone for good?
18/11 MikeGul.com updated
The all new and improved Mikegul.com is up and running. With some creative
help from the foks at bmxrated.com Mike was able to put up a whole new
layout to his website. With daily updates, interviews, clinic's, and more.
You should be able to find just about all your BMX needs from the new
www.mikegul.com.
Check it out.
Mike Gul is sponsored by www.mikegul.com, Enigma Bicycles, Answer, Dope
BMX Products, Sun/Ringle and BMXmania.com .
15/11 ChicksOnWheelz clinic cancelled
I just got an email from Lynette at ChicksOnWheelz saying the coaching
clinic that was scheduled for Knox tomorrow has been cancelled due to
lack of interest.
For more information contact Lynette through ChicksOnWheelz.
15/11 SE Racing scoop
It was about a week ago now that we saw the new SE Racing product
range on the www.bmxinnovations.com
website. We have received a bit of insider information since then that
should please any SE Racing fan.
The purchase of SE by Fuji Bicycles was finalised in August and the current
product range was put together in about 3 months.
"The 2003 product line was just a quick introduction"…"More
high end and refinement of models will come with the 2004 line."
Look forward to more from SE in the near future.
In the mean time keep an eye on www.bmxinnovations.com.
15/11 Clipless pedals at the World Championships
Apparently there have been rumours that there will be a ban on clipless
pedals for junior riders at the 2003 UCI World BMX Championships. Glenn
Ballinger, former bike shop chain owner, sent an email asking the UCI
about the ruling and he thought he'd share the news with the BMXUltra.com
readers.
This is how the reply went.
"I can inform you that there will be NO ban on clipless pedals for
the 2003 BMX World Championships in Perth, AUS.
The UCI are looking at other options rather than to ban these kind of
pedals for the younger age classes. At the moment there are no plans for
a ban even for 2004. We are working closely with Shimano to find a way
to educate riders how to use these pedals in a correct way."
15/11 ChicksOnWheelz Coaching clinic Tomorrow
Lynette Page has taken over the ChicksOnWheelz website to allow Elisa
Foley to concentrate on her own site. ChicksOnWheelz are putting on an
all girl coaching clinic on Saturday the 16th of November at the Knox
BMX Track @1pm, there's a small fee for each rider of $10.
For more information check out ChicksOnWheelz.
In addition we reported that Lynette had a heavy fall on Sunday at Frankston,
it's great to hear she's ok now.
15/11 RaceGirlBMX.com news: Calling All Girls!!!!!
RaceGirlBMX.com are setting up the first American all girls national
trophy team!!! If you are interested in signing up e-mail arizonaracegirl@aol.com
for a questionnaire (application).
The Racegirl Team will consist of 23 girls over the two sanctions for
ABA & NBL teams in 2003. There will be riders from 5 to 18 years old
(one from each age class). All applicants must be sponsor members of Racegirl
BMX League. Applications are available on the website for sponsor membership.
The team Package includes:
2 Jerseys
1 moto pant
1 pair of gloves
1 helmet
4 National entry fees paid
1 Grands entry fee paid
25% off all Racegirl clothing
Discounts on bikes and accessories
Making history!!!
Sponsors—Racegirl BMX League Inc. and Racegirl International
Co-sponsors—Answer~~ Enigma and looking for additional sponsors:)
Racegirl BMX League will be adding $500 to the Girls Pro Class purse at
the ABA Grands this year!!!! We hope to do this also for the Supergirls!!
Come to the Racegirl Pit after the race to collect the $$$$ www.racegirlbmx.com.
We are currently accepting applications for ambassadors and mentors. Please
see website under Outreach Programs for further information.
14/11 Redline Victoria news: Luke Prelove injured
Luke Pretlove could miss the 2003 Victorian State Championships next weekend,
due to a miss hap at work on Monday. He managed to drill a nasty hole
in his hand just below the index finger, leaving him with stitches and
a large bandage around his hand.
One of the main contenders for the #1 plate in the Senior Elite class
this year. He has been in fine form, winning a number of major Victorian
Pro meetings this year, including the Ballerine Spectacular and the Frankston
Hell track meeting just last week.
The doctors are telling Luke that he is pretty much out for the title
race at this stage. The stitches don't come out until this Saturday and
then the hand will need time to heal. We won't know until late next week
whether Luke will be able to ride or not.
If Luke was to win the Victorian State Championships this year he would
have been the first rider to win both the Jnr Elite title and the Snr
Elite title in consecutive years.
All of the team at Redline Victoria wish Luke a speedy recovery and hope
that he can get back on his Redline bike for a crack at the #1 title.
Redline Victoria's sponsors are Total Bmx, Odyssey, BMXUltra.com, Dragon
Optical and Dirt Designs.
13/11 New Dirt Designs number plates
It's been a while since dirt designs have come up with a new number plate design
that they have been happy with, but I think they have finally cracked
it with this one.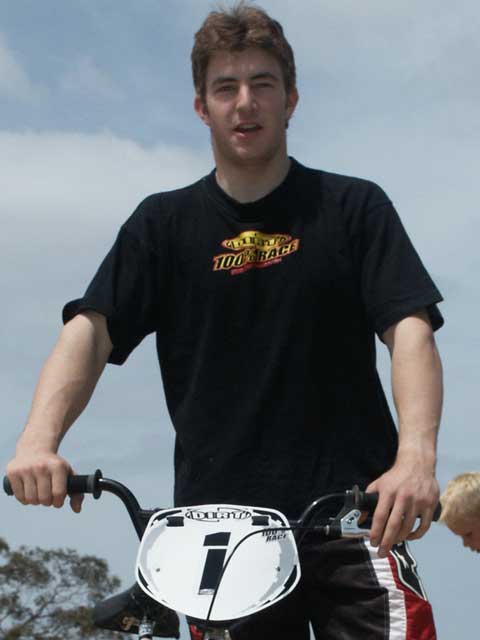 A handful of riders have been running these plates for about 2 weeks now
and according to Craig Merrit, owner of Dirt Designs, "the response
has been great".
As with all the pro plates that dirt makes there are various colour combinations,
the colours that we have seen are black/silver, black/red and blue/silver
all on a white background. Craig tells us that he has all the UCI/BMXAustralia
compliant number plate colours and mini and cruiser size plates as well.
Also in Dirt Designs news, Sean Dwight has agreed to run Dirt plates and
is heading to the ABA Grands soon. The Dirt crew wish him the best of
luck at one of the worlds greatest race meetings.
For more information on Dirt Designs check out www.bmxultra.com/dirt.
Dirt Designs is distributed in Australia by Elite Cycle Imports Phone
(03) 9761 9877.
12/11 Frankston Helltrack report
The Frankston track changed the way people build tracks in Victoria, but that
was a few years ago and nothing much has changed on the track since. The
club has recently built the lips up on the jumps and put in a swish new
starting gate with the expanded metal for additional grip on the gate
itself as well as on the base, and I even saw plans for a new club room/commentators
box.
After a 7 weeks of full-on racing it seemed that a few people were sitting
this one out, and there was a 4 cross mountain bike race on as well so
attendance wasn't so great but not too bad. The ability on the day seemed
to make a bit of difference filling out the fields in a lot of the classes,
there should be more of it.
Most of the big named Victorian riders were there, including Danny Galea,
Luke Pretlove, Dean Beerens, Adam Robb, Simon Grigg and Brock Tuckerman
opted to ride against the AA's after a great performance at Knox a week
ago now. Local rider Luke Cristiano and a gutsy effort by the current
Victorian 25-29 class Champion Trevor Weber jumping straight into the
AA class filled out the gate.
In the A pro class were the KHS boys Jonathan Hoare and Scott Lacey as
well as Glenn Porter rounding off the three riders hot off making the
main at the DK Grands the week before. Matthew White was there on board
a new Felt bike, also BMXUltra.com's Shane Jenkins, Nathan May, Brendon
Ruys, Warren Stoll, Nathan Barker, Michael Popko and Grant Carra.
There was a bit of a stir in the morning when the new gate failed sending
a gate full of riders over the bars. After a good 30-45 minutes later
the gate was back in working order, but took another victim, the starter.
Andrew Jeffree was minding his own business when the lever that lifts
the gate hit him square in the side of the face very nearly knocking him
out, but like a trooper he continued on starting for the whole day of
racing.
With only enough riders for one full gate the AA Pros would have
to race for overall points.
Moto #1 – Grigg and Pretlove get the start, Galea had a hard time getting
out of the gate, but caught up by the first double. Grigg is first into
the corner but swamped by Galea and Pretlove, Pretlove on the inside while
Grigg drifts out and slows Galea Beerens and Tuckerman all over them.
Galea works his way into second but too far behind Pretlove, Beerens slots
into third.
Moto #2 – Galea gets a better start and a more commanding lead, Grigg
hangs in there for second, Beerens for third, Pretlove and Tuckerman try
to jump the big tripples to make up ground and both land short and hard,
Pretlove finishes fourth and Robb fifth.
Moto #3 – Robb tries a "Khalen Young slingshot" pulls pack way
early and is left hanging waiting for the gate, this puts of Galea and
the rest of the field gets the jump. By the second corner Galea catches
the field but three guys go into a corner side by side and only two come
out Galea, who was on the outside, runs out of track. In the last corner,
Pretlove had the lead but Grigg pushed his way infront, but he didn't
have enough momentum to hold of Pretlove who went on for the win. Grigg
finished second, Beerens third, Tuckerman fourth, and after an official
protest Galea and Robb had their places reversed, making Galea fifth.
Moto #4 – Galea still had an outside chance of winning, but he'd have
to beat Pretlove by 2 places. When the gate dropped Galea was a little
slow off the mark, Pretlove was first to the first corner. Galea was builiding
up momentum on the second straight and put the bike into overdrive down
the third straight passing Pretlove and leading the rest of the way to
the line. Grigg finished third, Beerens fourth and Tuckeman fifth.
In the A pro, a final, but the final qualifier for the final had
to be decided by a run off. Nathan Barker, who's carrying a shoulder injury,
was put up against Warren Stoll who is really improving. The run off was
evenly matched, but Stoll got the better of Barker down the last straight,
only meters before the line.
When the gate dropped int the main Hoare jumped to the lead, White went
a little sideways and shut Jenkins down putting him back into 8th. Lacey
and Porter where hot in pursuit. In the first corner May, Ruys and Stoll
were caught napping by Jenkins who went straight underneath them all.
As they got to the line it was Hoare, White and then Lacey.
Emma Franklin dominated the AA womens class. It was a close battle
for second between Foley and Kelley, Foley taking second narrowly. Lynette
Page went down heavily in the third moto and was carted away in an ambulance,
we hope she's ok and wish her a speedy recovery.
When it was all over Galea had to settle for second behind Pretlove, it
was Galea's goal to take the win at the Helltrack, one of the only Victorian
sanctioned races he's never won in his decorated career, the other one
being the Cash Dash. This is setting up for what will be a huge state
championships battle between Pretlove and Galea. As everyone was packing
up Tuckerman and Galea were seen kicking back in the shade and having
a friendly chat. Rumour has it that Galea might return to the BMX track
afterall next year, but just not as frequently as he's riding now.
12/11 Answer Looks to Repeat
Valencia, CA – Will the ABA's current # 1 Factory team, Answer/Pro Concept
repeat? Currently in second place by a mere 60 points, Answer/Pro Concepts
looks to repeat it's # 1 title by SWEEPING the competition at the 2002
ABA Grands. Going into this race in second place has taken a lot of pressure
off the team, as we have nothing to loose but everything to gain. They
have done it before and can definitely do it again! Regardless of the
outcome, ANSWER PRODUCTS INC. and PRO CONCEPT BIKES INC. would like to
formally congratulate our riders and team parents for an awesome job this
year. We would also like to thank the other teams for the great competition
this year. Isn't that what BMX is all about – Competition?
For more information about Answer products check out www.answerproducts.com
11/11 Frankston Helltrack results
A Men
1. Jonathan Hoare (KHS)
2. Matthew White
3. Scott Lacey (KHS)
4. Glenn Porter (Cassap)
5. Shane Jenkins (BMXUltra.com)
6. Nathan May (Huffy/TotalBMX)
7. Brendan Ruys
8. Warren Stoll (BMXMania.com)
AA Women
1. Emma Franklin (O'neal)
2. Elisa Foley (Xtreme BMXing/One Bicycles)
3. Joanne Kelly
4. Kylie Gray
5. Lynette Page
AA Men
1. Luke Pretlove (Redline/TotalBMX)
2. Danny Galea (Iron Horse)
3. Simon Grigg
4. Dean Beerens (Specialized/Top Gear)
5. Brock Tuckerman (Xtreme BMXing/One Bicycles)
6. Adam Robb (Redline/TotalBMX)
7. Luke Cristiano
8. Trevor Weber (ECI)
For full results click here

08/11 Tasmanian State Titles 2002
Spreyton Park, Devonport, Tasmania – The past weekend saw a lot of action,
thrills and spills at the 2002 Tasmanian State Titles. There was a huge
turn out this year.
Saturday started off well with perfect conditions for a great weekend
of racing. There were 5 qualifying motos on Saturday and 4 Sunday, and
then run offs and finals. The riders lined up for gate practice and got
a few in before the gate failed, putting South Australian rider Luke Williams
and devonport rider Daniel Sullivan over the gate, resulting in injury.
The orgainsers tried to fix the gate but had to resort to the old manual
call of "riders ready, pedal set!" That meant that they had
to give riders additional practice on this start, which put them behind
a little.
The sprockets were rippin' up the track on Saturday, with a huge stack
from Southern City rider Yosha Leawood going over the bars, he laid there
for a minite then got back on the bike and finished off his race. It was
great racing all weekend and it will be good to watch these riders step
up to a competitive class next year.
The 40-44 cruiser class sore a field of 8 riders, a big increase in numbers
over the past years, this year Darrel Vincent was competing, a 64 years
old in the class. Rick Oxley borrowed a Bmxmania.com/Entegee Jersey off
Josh Isaac as he ripped his answer one. In the 4th race 4 of them went
down hard over the first step down and Darrel Vincent went with them.
Greg
Spicer from Launceston took nine out of nine races for the win in that
class.
16 year girl class was full of excitment, the biggest class for girls
I think in the history of Tasmania state titles, 6 riders and all of them
had a good chance of winning. Elise Kelley from Southern City and Meagan
Dewar from Wynyard battled it out all weekend with the title going to
Launceston.
16 boys class was the most competitive class at the titles, it had the
most riders and there is always someone different leading or winning the
race. James Vincent took it out this year after coming second to Dean
Miller for the last two years. Josh Oxley is back in racing after his
operation grabbing 5th, not bad considering he's only been outta hospital
for 5 weeks!
Only 3 riders in the 19+ men, Isaac, Sheppard and Malloy(Patrick). This
was one of the smaller classes but with good racing. Isaac and Malloy
both from Southern City were out to give Launceston rider Sheppard a run
for his money. Isaac
took out all 9 races, with Sheppard for second and Malloy for third. Sheppard
blew a disk in the 6th race, which put Malloy closer but it was not enough.
With the two interstate riders coming over for the event it makes racing
much more interesting, Chris Malloy from Victoria raced sat and didn't
show up on Sunday after a crash on Saturday scared him off, his hand was
shaking unstoppably.
By Josh Isaac (BMXMania.com)
08/11 SE Racing's new website
You've heard the rumours that Fuji, on of the cycling industries oldest
companies, and you've probably seen the pictures of the new bikes from
interbike, now you can check out the full range of 2003 SE racing bikes
for yourself. Although the website isn't finished yet you can get the
full bike prices, specs and geometry. Don't be surprised that the product
range has changed significantly, the names are all still there but the
bikes aren't quite the same; the Quad is now a freestyle bike? The Assasin
XL has only a 20.5 inch top tube, where the original was 21.5.
Is it true? Does the legend continue? I think, much along the lines of
GT, there will be some real changes in the first year or two and hopefully
we'll see the Quadangle return to the race track where it belongs.
Check it out for yourself at www.bmxinnovations.com.
The SE product range will be distributed in Australia from January 2003
by Euro Solutions.
07/11 Knox DK Grand Nationals report
The final of the DK Nationals co-sponsored and covered by BMXCentral
and BMXPress magazine was run on the weekend at the Knox track about a
30 minutes drive east of Melbournes CBD.
As always the track was well groomed, and there were only a few minor
changes since the last time we saw the track, only a couple of months
ago, giving the riders a little more air time in the second straight.
What was a little confusing was there were actually two meetings being
held at the same time…or at least that's how I understood it. There
was a two day event for the amatures called the Knox Thunderdome and the
Pro event called the DK Grand Nationals, which was only run on Sunday.
I turned up for Sunday's racing to find a total of 85 Pro entries, which
was quite a turn up, there were 27 Pro Open riders, 25 AA Pro men, 23
A Pro men and 10 AA Pro women.
It was hard to miss that Wade Bootes (Trek/VW) had made the journey to
Melbourne, his mobile home parked on the last corner.
In the AA pro class the likes of Robinson, Fenwick, Gray, Lim, Scruse,
Young, Bootes, Dwight, Johnson, Harvey, Johnstone, the Taylor brothers
were up against the Victorian field led my Galea, Collins, Pretlove, Beerens,
Godsmark.
When it comes to the crunch only 8 guys can make it through. Galea, in
what would be his last TV race, bowed out in his tough semi.
The Pro open was just as staked but a number of the A Pro riders like
Tuckerman, Babington and Porter would join them.
A Pro men was just short of semis, there was no give in the motos, one
bad one and you were out. Former Australian and World Champion Kamahl
Lord turned up to mix it with the A Pros, he did well making the main,
but had a few near falls getting a bit loose at times, but it was his
natural abilities that got him through the day. Brock Tuckerman was the
man of the day, he was flying, it looked like he should have turned AA
pro for this meeting, his results in the Pro open would support that.
For BMXUltra.com's Shane Jenkins it was all over after a bad start in
the first moto put him back into 8th and his chances of making a second
DK National final were over. Jonathan Hoare was out to make the main after
missing out at Eastfield, he was very careful through the motos and was
doing well in the finals. The youngster and multi time world champion
Leigh Darrell was in the mix…I don't think it will be long before he
progresses to AA.
Here's how the top three places in eack of the three finals went down:
A Final #1 Tuckerman, Hoare, Hollings
AA Women final #1 Chloe MacPherson, Emma Franklin, Renee Junga
AA Final #1 was all Johnson, Young was in second, but not strong enough
to hold off a late charge from Bootes and Dwight who finished second and
third, Young in fourth.
A Final #2 Tuckerman, Lord, Miller
AA Women final #2 Chloe MacPherson, Emma Franklin, Renee Junga
AA Final #2 Harvey, Dwight, Bootes
A Final #2 Tuckerman, Darrell, Hollings
AA Women final #2 Chloe MacPherson, Emma Franklin, Renee Junga
AA Final #2 Bootes, Johnson and Young
07/11 Galea V's Tuckerman
Iron Horse's Danny Galea has two more races until he retires, one
this weekend at Frankston and two weeks after at the Victorian State Titles
at South Eastern. It would be nice to see him and Brock Tuckerman go head
to head this weekend as Brock won't be racing the state titles. I hear
that Tuckerman will stay A pro for this weekend even though he's won enough
money to go into AA pro class, but he's waiting on his official letter.
You would have to assume he doesn't want the challenge of the AA Pro until
Galea has retired.
04/11 Knox DK Grand Nationals results
A Pro men
1. Brock Tuckerman (Xtreme BMXing/One Bicycles)
2. Jonathan Hoare (KHS)
3. Leigh Darrell (Crupi)
4. Kamahl Lord
5. Dean Miller (GT Aust)
6. James Hollings
7. Scott Lacey (KHS)
8. Glenn Porter (Cassap)
AA Pro Women
1. Chloe MacPherson (Norco)
2. Emma Franklin (O'Neal)
3. Renee Junga (Cassap)
4. Kerrie-Lee Lucas (Redline)
5. Jackie Babington
6. Caroline Sabotka
7. Lynette Page
8. Joanne Kelly
AA Pro Men
1. Wade Bootes (Trek/VW)
2. Sean Dwight (Sun Ringle)
3. John Johnson (Felt)
4. Khalen Young (Norco)
5. Tony Harvey (S&M/ECI)
6. Michael Fenwick (Specialized/Avanti)
7. Jamie Grey (Phirebird)
8. Brett Scruse (Standard)
Pro Open
1. Sean Dwight (Sun Ringle)
2. John Johnson (Felt)
3. Michael Fenwick (Specialized/Avanti)
4. Brock Tuckerman (Xtreme BMXing/One Bicycles)
5. Khalen Young (Norco)
6. Brett Scruse (Standard)
7. Wade Bootes (Trek/VW)
8. Michael Robinson (DK)
Posted in: Archive