August 17, 2001: It's about 2 years now since we last spoke to Dale Holmes. Since then he's won another UCI Elite World Championship crown, started his own website, started racing mountain bikes, and bought a new house. Read on to find out all the latest gossip.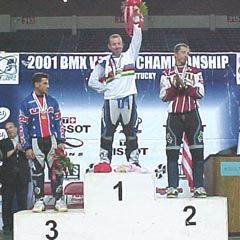 bmxultra.com: Your split with Nirve couldn't have been at a worse time. Even as a two times Elite UCI World Champion you struggled to find a major sponsor, how has this effected your racing and your outlook on BMX?
Dale: It did, and at times, still does, affect me as a racer. I thought after the winning the Worlds again and having a good year it would get me signed up again. Well as we know I didn't. They told me the money was not there to continue my contract, so I had to start shopping around. I tried all the big teams and there was nothing there. I had some leads, but stuff fell through and I ended up without a ride.  I put together a bunch of co-sponsors that help me out as much as they can, but still I'm paying my own way around this year in both BMX and mountain bikes. I've already spent over $US15,000 off my own money to race the first 6 months of the season, and I tell you, it's hard. I guess I never realised how easy I had it while on GT and Nirve. Sometimes I get on the gate mad. I look at some of the riders that have good sponsors and don't even bother going half the races or even bother training, and other times I get down before I even start. I sometimes have to make around 700-800 dollars just to get my expenses back for the weekend before I can even think of making a profit, it's hard and I'm never really relaxed like I use to be. Over the last few years I've made some good money racing BMX so I'm willing to pay my own way for the time being. Even after all this I'm still up at the moment, I've won my money back with good results. But I know if I get a big ride again I would be the happiest guy in the World and I know with 100% support for someone I could step it up even more. Right now I have to back down in tight situations on the track.
I can't afford to get injured 'cause I have no salary coming in to live off. I really have to depend on the prize money.  I've got to give props to riders like (Greg) Romero, (Jason) Richardson and (John) Purse they've done it without the big deals for a few years now. I know some riders who have quit, and others that would have quit in this situation, those guys have heart, and show their love for racing.
Mountain bike racing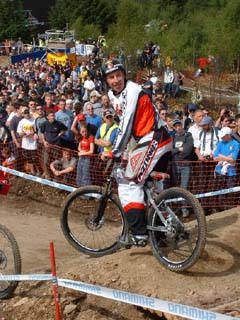 bmxultra.com: You seem to be doing well on the World Cup MTB circuit…what is it that attracted you to MTB racing?
Dale: You know it's just a new challenge. I've always followed MTB but just never had the time to do it. This year I made the time, and I missed a bunch of BMX races to do it. I really love it, the people are cool, the races are fun, and I can set new goals. The break from BMX is doing me good, as I don't get burnt out as I'm switching back and forth, which keeps it all interesting.
bmxultra.com: What are your goals for MTB?
Dale: This year I want to get top 5 in the World Cup, with only a few races left I can still do it. I am also going to give the Mountain Bike Worlds a big run. I go back to Europe for a month at the end of August to finish the MTB season off, I'm looking forward to it.
bmxultra.com: Do BMX skills simply1 carry over to MTB or do you need to adapt?
Dale: BMX skills do help, but there is so much more to learn, gears, braking, suspension. This year has been a big learning experience. Next year I will be more prepared, right now it's limited training due to having to hit up as many BMX races as I can to make my mortgage payments and pay for the next race. It's tight and a lot of traveling, but I'm making it happen.
bmxultra.com: If you had to choose either BMX or MTB racing which would it be and why?
Dale: MTB is new and fun and I really want to carry on doing it, but BMX has been with me for over 20 years now, it has it's ups and downs but it still rules. I'm hoping I can continue to race both at a top level for years to come.
The new house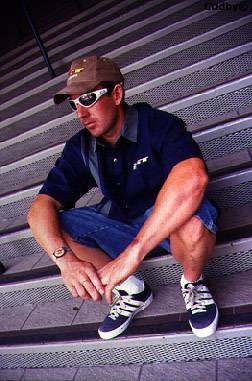 bmxultra.com: Oh so tell us about the new house…how's it going?
Dale: It's going great! I love it! I look at it and think wow BMX payed for this. I'm more motivated now, I've got to pay the mortgage!
bmxultra.com: How many rooms does it have?
Dale: It's got 5 main rooms (3 beedrooms) and a double garage, and a garden front and back. I'm turning into quite a little gardener now, it's my new hobby.
bmxultra.com: What's your favourite part of the house?
Dale: Well I like it all. I really like my bedroom, I've got a walk in closet. Ever since I watched the TV show Cribs with all the rich and famous peoples homes that have a walk in closets I've wanted one. Now I've got one, I love it.
bmxultra.com: Are you far from the beach?
Dale: I'm around a block from the beach, about a 5 minute walk.
bmxultra.com: Do you have jumps or a track in your back yard or near by?
Dale: No jumps in my backyard, 5-10 years ago I would have, but not now. I live around 10 minutes ride from Sheep Hills when it's up and running, and around 20 minutes drive from the Orange track.
bmxultra.com: Is it hard to keep clean given you spend so much time traveling?
Dale: Not really I'm kind of a neat and tidy person. Whenever I've got 5 minutes to spare I'm cleaning stuff or putting things in there place. You would be surprised how clean I am.
bmxultra.com: Do you miss having other people around like when you were living with Neal?
Dale: I do, and I don't. Ever since I came to America I've lived with BMXers, and don't get me wrong it was always a laugh and good because someone in the house was always up for riding. I lived with Neal and his girlfriend, Grotbags, and Steven Murray. It was always fun, but we were all on different time zones. Neal and I were the early morning and early to bed, eating egg whites on the training deal. Where Grots and Steve were on the dirt jumping schedule, up at 2pm, and watching Props till 4 in the morning treating on Mac Ds. Even though I don't live with them guys I still go over to hang out, and my house has been non stop with visitors from England since I moved in.
The internet and DaleHolmes.com
bmxultra.com: OK tell us about your website, what was it that made you want your own?
Dale: Just saw the fun Miranda and Lyons were having doing it, it's cool cause I can keep in touch with loads of old friends, sponsors like it as well, and I'm a computer junkie so it makes it even more fun, I got big plans for the site this winter, big shout goes out to Bill Ryan from Supercross for doing it for me.
bmxultra.com: You look like you have a lot of fun with the interviews, with all your running around with racing is it difficult to find time to update the site?
Dale: Sometimes I don't get time to do it , but I try and at least do it once a week, right now i just hired Greg Romero paying him the big bucks! to do some interviews for me, I'm going to get more of the AAs involved just for fun, everyone seems to get a laugh out off it and I only had 2 complaints so far.
bmxultra.com: What were the two complaints about?
Dale: Someone complained about the Darrin Mitchell interview and i got a complaint from someone who was mad Jason Richardson said Mike Gul sucked.
bmxultra.com: What do you think is the main focus of your site is it you or Pro BMXing in general?
Dale: The main focus is what's going on with Pro racing. A little promotion for me and my AA friends, but at the end of the day it's all good fun, it's just to get a laugh out of people without taking it too seriously.
bmxultra.com: What sort of a camera do you use to take you photos?
Dale: Well I just paid around $700 for a good hi-tech camera, but someone stole it out my bag at a race in England last week, so I guess I need a new one! Robbie Miranda is the computer and camera king, I've got to ask him what I should get next!
bmxultra.com: Should we expect to see race videos on your site any time soon?
Dale: No don't think so, I've got other things planned for the site.
bmxultra.com: Which was your favorite interview so far?
Dale: Wow I like them all. I guess Romero and Richardson say it how it is. I find Christophe's interview interesting, finding out what he's thinking. All the guys I interview are good friends and I already know a lot about them so I know what to or what not to ask them without pushing it too far. We're in the middle of doing one with the smartest guy in BMX, Bill Grad, that should turn some heads.
bmxultra.com: Last time we did an interview you said you checked out bmxultra, BMXMania, bmxracing-dirt.com, who would you say gives good web these days?
Dale: The same sites, plus DaleHolmes.com, BSX-World.com, ride4life.co.uk, bmxpros.com, fatbmx.com.
bmxultra.com: What do you look for in a website?
Dale: Cool pictures, interviews, updated news.
bmxultra.com: Do you still follow Sause-stalian BMX like you used to?
Dale: Not too much…most of the top guys are over here now, I will check by your site here and there.
bmxultra.com: People love being able to get inside the head and lifestyle of one of the worlds best BMXers, I pay a weekly visit and check out the news, photos and interviews. What are the plans you have for the site?
Dale: Well I can't say right now or Mike Gul will be copying me, like he did his interviews after I did it! let's just say it going to be good.
Word associations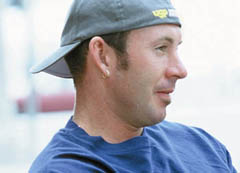 bmxultra.com: Ok let's try some word associations, just say the first thing that comes into your head.
BMX 24-7
NBL Getting better/ just need more races
ABA Bad payouts/ bad tracks
UCI Also bad payouts more about the officials than the riders
1986 Worlds (Slough England) I met Shane Jenkins there on his CW.
Corine Dorland The hottest chick to ever race a BMX
Australia Sause
Sauce Australia
Wade Bootes Player on both bikes/Very Professional/happy man always smiling!
Jamie Staff Rival/Respest/Power/Track guy/good friend for over 15 years
Kamakazi Mullet/outoff control/sausey name
Luke Madill smooth/fast/good looking/ bad luck, a cool guy
Your website (DaleHolmes.com) it's going to get bigger and better in the next few months
GT Always will be known as the best team
California Fake Boobs, Sun, BMX Central, Traffic.
UK The best place in the World, except the weather.
Girls Love 'em.
Marriage Not for me right now, no time.
James Bond Cool English guy who the chicks love, can get out of any situation, smoothly!
BMW Not got one no more, I sold it!
Neal Wood Non-clipping friend who I have battled with since I was 12!
bmxultra Cool Aussie website, with good interviews.

bmxultra.com: Ok, how about these;
Mike Gul I like Mike as a friend, but all he talks about on his site are his $20 co-sponsors he's got lined up to tell us about next week, and why he didn't make it out the motos, to be honest, he should be A pro, he's not ready for AA yet being only 120 pounds, he needs some of the good stuff from Australia to bulk him up! ha ha
Female Pro racers big butts
Dirt Jumping TV, Chicks, Money, Party. I should have gone that route all them years ago
Downhill BMX Well there's only one race a year, give us a 10 race series and Dale Holmes will be there, not worth risking injury for one race a year, it is rad though! Robbie Miranda we love you!
The past, present and future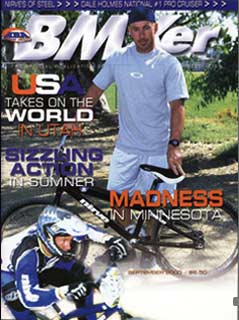 bmxultra.com: Last time we did an interview was nearly 2 years ago, you said you thought you had 3 years left in BMX, you won the UCI World Championships last year and had an awesome start to the year (this year) has anything changed?
Dale: Yes, a lot of things have changed. I feel I can go on and still improve and get faster. I have the heart and the desire is still in my blood and I can't even think about giving it all up now. I have new goals in bike racing, I love racing and traveling more than anything. If a big ride (sponsor) never comes I'll still be out there racing.
bmxultra.com: What was the last magazine you bought?
Dale: FHM UK One
bmxultra.com: What was the last movie you saw?
Dale: E T
bmxultra.com: What was the latest CD you bought?
Dale: Unwritten Law
bmxultra.com: What was the best moment of your career so far?
Dale: Best Moment, winning the 96 Worlds in England in front of a home crowd, best feeling I've ever had.
bmxultra.com: What do you think is wrong with BMX today?
Dale: Oh wow, there's a lot. Bad tracks, long days at the track, prize money, entry fees too high. It's all been said before. Yeah there are problems but we can't complain too much, we all still love it!
bmxultra.com: What do you think can be done to fix it?
Dale: Listen to the older and wiser riders and people who have been in the sport for years, people with a passion for BMX.
bmxultra.com: Who is the most influential person in BMX at the moment?
Dale: Oh wow that's a hard one…there's riders I think that influence things, then there's people who are doing stuff to help the sport that help influence things. I think the internet is good, to update the people whats going on, and reading about BMX related stuff. I get down when I see the magazines over here in he States, there's not much racing in them anymore. I love reading about all aspects of BMX, but I'm still a racer at heart. I used to love old Snap issues with 3 race reports and 4 riders being interviewed all in the one issue. You don't see that any more, theres only so much coverage a top racer can get now a days, freestyle has kind of taken over, sponsorship, TV and money is all on that side at the moment. That's why racing doesn't get that much coverage, hopefully racing will come back around.
bmxultra.com: Hey I saw Jamie Staff win his 8th final last night on TV, damn that guys got huge legs and so much power, he hasn't been hanging out with the Aussies has he?
Dale: Jamie has had big legs and mad power for as long as I've known him which is nearly 20 years. You can't sause for that long. He's won races for years, it's not like he just appeared and started pulling. He's a hard worker who naturally has power to go with it.
bmxultra.com: Have you been able to see any of the Commonwealth Games races that Jamie has been in on TV?
Dale: No but my friend Martin Murray calls me while it's live on TV in England and lets me know whats going down in Jamies race, he's video taped it all so I can watch it while I'm back in the UK next month, you know so I can study it see if I can do it!
bmxultra.com: Would you seriously consider taking on track racing too?
Dale: Yes for sure, I'm going to see if I can get tested when I'm home in England next month.
bmxultra.com: Who are your current sponsors?
Dale: Azonic/O'neal, Orange, ODI, UGP, Shimano, Vans, Tioga, Smith, Supercross, Profile and Atomic.
bmxultra.com: Who would you like to thank?
Dale: Yeah everyone that's ever supported me, Mum and Dad, Trilby, Lewis, Cully, Pete at Double A Marketing for signing me up and helping me in the future, Marco and Martin Murray for being my BSX buddies and all the above sponsors. It's been a hard this year, I thank you all for your support.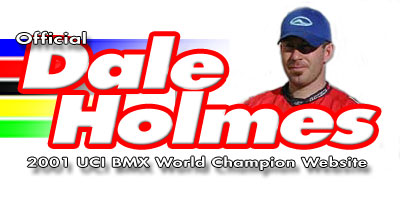 Posted in: Interviews