Who is Deanna Jamieson?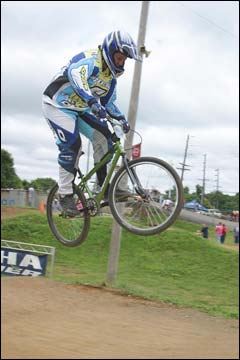 bmxultra.com: How did you first get started racing BMX?
Deanna: After hanging out watching the boys at the local trails I convinced my mom and dad to get me a BMX Bike for my birthday. When I headed out to the trails the boys weren't going to let me ride until I hit this small pit jump that looked huge at the time. They wanted me to fail and I just went for it. One of the fathers that helped out building the trails saw a potential and the family started taking me to the races with them. I was hooked immediately.
bmxultra.com: When and where was it?
Deanna: Bogie Downs was the name of the facility. It was a Polo Barn that was converted to a BMX Track. I started racing on February 15th 1980. I took a 2nd place to national ranked girl from Michigan. She was fast and it was my goal to beat her someday.
bmxultra.com: Did you ever get the opportunity to beat her?
Deanna: Yes I did, many times over. The rematch that comes to mind was the following summer. I finally had a good bike, which was a GT. I don't believe she ever beat me again.
bmxultra.com: How long did it take for you to start racing at national events?
Deanna: I was racing at national events within 6 months.
bmxultra.com: Was it a difficult transition going from racing local events to racing nationals back in the 80's?
Deanna: Not at all, I was fortunate to have some fast nationally ranked local riders so I had good practice mixing it up with them on the local level prior to hitting a national 6 months later.
bmxultra.com: How many girls would have been in your class at Nationals back then?
Deanna: We always had semis. Many times we had quarters. Almost all west coast nationals drew big rider counts even in the girl's classes.
bmxultra.com: How long did it take for you to start making the podium at Nationals?
Deanna: I really hate to admit that my first national I took first. 3 months into racing I won the Silverdome IBMXF International race. This was the race leading up to the IBMXF Worlds in Indy. I really don't know how I did it. I really don't like to think that I have natural ability. I think more than anything those days of proving the boys wrong at the local jumping spot molded who I became in the sport.
bmxultra.com: What are the biggest differences between racing then and now?
Deanna: The jumps, the little amount of peddling we do on today's tracks always surprises me. Places like Desoto, Texas when Lee Lewis lost his chain in his semi, pumped the whole track and still came in first without ever taking a pedal the whole track! I also notice there is much more follow the leader in turns. I love to go inside on someone and run him or her up the turn. Old School Roots for sure.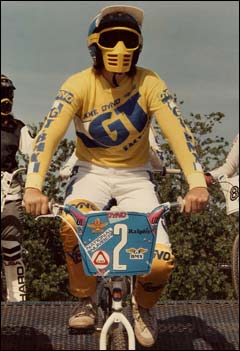 bmxultra.com: You had some big named sponsors back in those days…what kind of deals were thrown around then and how do they compare with now?
Deanna: It was truly a dream come true when Gary Scofield the team manager at the time for GT called my dad. There was an endless supply of money back then. With being awarded the number one team in the ABA, GT was given 5 airline tickets per national to fly some of the riders to. GT always picked up the rest of the airline tickets for the remaining riders on the team. We were given an allowance for food; I believe it was $75.00 per day. The funny thing is we never bought our own food so us kids had a ton of fun playing video games on the company. Food was purchased with the Team Managers Company American Express Card or some of the older riders on the team would hook up with some local hottie that would bring us a cooler of food and drinks. Product, Entry Fee's, Hotel and Rental Cars were also part of the deal.
As far as the deals thrown around now I don't think they compare. I hear from many people that they are barely scraping by. I think more than anything the difference is back in the 80's you would have 10 or more riders in the pro ranks getting everything paid for now you only see a few that are making a living at this sport. It's a shame there is not as much money in the sport now.
bmxultra.com: Do you think there was something that BMX was doing right to attract sponsors and money back then that we aren't doing now?
Deanna: This was the time before the influence of cable and video games. I honestly believe that Bob Osborn the editor of BMX Action hit the nail on the head when he said that video games killed off BMX in the 80's. Today there are so many choices for a kid. We really have to preach BMX Racing to the masses. Hopefully the Olympics will differentiate BMX from Freestyle or Dirt Jumping. I still can't believe that kids of today believe BMX is Freestyle or Dirt Jumping. That would have never happened in the 70's or 80's.
bmxultra.com: What were your highest national and international rankings?
Deanna: NBL National Number One, World Champion and International Champion. The most prestigious thing lately for me was being nominated for the ABA Hall of Fame. Visit www.ababmx.com and click on Hall of Fame. It's amazing the history of the riders that are already inducted. I hope to have enough votes someday to make it in.
bmxultra.com: When you were out of the sport for so long were you still keeping in touch with BMX friends and BMX in general?
Deanna: I kept in touch and still keep in touch with many of my old teammates and friends. Geoff Scofield, Danny Nelson, Charles Townsend and Gary Ellis to name a few. I would always attend Waterford Oaks local national they have every year and also when they hosted the UCI Worlds. It was always great to see everyone and talk about the old times.
bmxultra.com: How are Danny, Charles and Geoff doing these days?
Deanna: I really need to get in touch with Danny and Charles. It's been around a year since I last talked to them. Both were doing well at the time. Charles son was racing and I should call him to see how he is doing. I have spoken with the Scofields quite a bit over the past year. It's great to reconnect with people that were so important to you during your childhood. Some of my other teammates Rob Fehd, Dean LaBerge and Kevin Hull are all doing great. I hope Kevin will make another comeback soon. It seems he's really wanting to ride again.
The return to BMX
bmxultra.com: Ok, so after an 18 year break, how did
you find yourself racing again?
Deanna: My son started a few years back. As you know kids don't listen to their parents when you try to help them out on the track. He finally said "Mom why don't you get out there and show me." So I called my old friend Bill Ryan over at Supercross. Bill used to take care of me when I was a kid riding for GT. He was our support person on the inside at GT. Bill sent me out a bike right away and I've been addicted to the sport since. Thanks Bill, your support to your riders and the sport do not go unnoticed!
bmxultra.com: How much longer do you think you can race BMX?
Deanna: I don't really see myself quitting but I do intend to cut back next year. BMX is great exercise and having goals in the sport just drives you more. I have met many old friends and so many new friends that it would be hard to quit again. I've really missed the sport and am thankful to so many people that helped me out with product and countless questions and support when I got back into the sport 1-1/2 years ago. I would really like to see the women's cruiser classes get more competitive like the men's cruiser classes but I guess there is not that many moms that want to get out there and ride.
bmxultra.com: Do you think that you might inspire some of your former rivals to hop back on a cruiser, like maybe Cheri Elliot?
Deanna: So much of my competition went on to successful Mountain Bike careers. I chose the college path which is a choice I don't regret. I think the competition I raced against really got their fill of racing on the Mountain Bike tour where I really missed the sport during the college years and never got my fill of competition. Cheri as I have heard had a career ending injury racing Mountain Bikes. I don't think you will see the two of us racing again any time soon.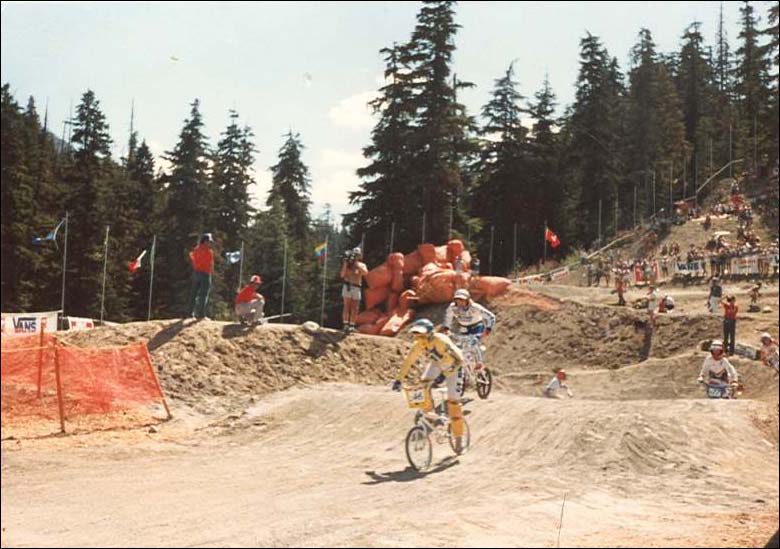 bmxultra.com: What are your current goals?
Deanna: NAG #1 ABA. It's the only goal I have had this year and I want the title that slipped away so many times as a kid. I am determined NOT to be the bridesmaid again this year. It kills me seeing all the pennants with the names of the former number ones hanging up at the ABA Grand's.
bmxultra.com: What do you do for training?
Deanna: I have to say I never trained as a kid but I have really been hitting the training hard since the middle of summer. Sprints 3 days per week, elliptical and weights 2-3 days per week and plyometrics. I don't really know what I'm doing I've heard that I'm over training because I don't really take a day off. I'm staying with Kenth Fallen our pro on Supercross and his fiancé Laura this weekend for the ABA Fall Nationals and that is something that Kenth is going to help me with so I can fine tune my game for the ABA Grand's in 4 weeks. I'm sure that Sammy Cools our other pro will have something to say. I'm going to pick her brain a bit and find out what her brother Ken has her doing. We have great Pro's on our team that are always an inspiration and a big help to me as I really don't know about training for BMX. I know I'm doing the right things I'm just not sure how many and how often.
bmxultra.com: What do you think the future will bring for BMX?
Deanna: I hope with BMX now being an Olympic sport we will see more new riders chasing the Olympic dream racing BMX. It really all depends on how we market it and if we can get the backing from the manufactures and outside sponsors. I know the two marketing heads Shannon Gillette of the ABA and Kevin O'Brien of the NBL are working hard to do just that. Let's just hope we can bring BMX back to where it was.
ABA Hall of Fame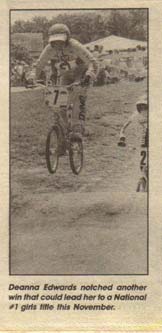 bmxultra.com: Are there any female riders in the ABA hall of fame yet?
Deanna: Cheri Elliott is and as far as I'm concerned there isn't a female more deserving. She was beatable. I beat her on many occasion as did Julee Lindsay and a few others but she was the first to capture all the title and win on a consistant basis. As much as I hate talking about my competition she was the person that pushed the limits of females in BMX. She was the first to beat the boys at a national. Today they have the girls racing the mixed open, which isn't against the experts. I believe if the girls raced expert open it would really push them. Now we have all the younger to middle age girls killing the beginners/Novices, what does that prove? Cheri Elliott set the bar for all females in racing. I believe we can all learn by what she accomplished.
bmxultra.com: What would it mean to you to be one of the first females in the hall of fame?
Deanna: The hardest thing for me to accept is that I belonged on the nominee list. I couldn't believe when Bill Curtin and Shannon Gillette asked for my bio for the hall of fame. I really hope someday to get in and people find my accomplishments and the way I have conducted myself through the years to be Hall of Fame worthy. It would truly be a dream come true. After winning the ABA title in November I have won all that BMX has to offer. I came back after an 18 year break and for the first time since being asked for my bio, I feel I truly belong on this list. Whether I get in is up to the people when they vote yearly, I have my fingers crossed.
bmxultra.com: What lead to you finishing up with racing?
Deanna: I guess I just wanted to be a normal kid. Racing every weekend in a different state or country took its toll on me. Geoff Scofield the Team Managers son decided to quit the sport also so we were left with a new Team Manager and he wanted to take the team in a different direction. I also believe that the ABA and NBL changed their rules on having to carry a female on the team sheets. That pretty much ruined my chances of signing with GT again.
bmxultra.com: What do you do now?
Deanna: I am currently employed as a Sales Engineer working the automotive market in Detroit. I sell fluid control and fluid power products that are used on everything from Welding Robots to Automatic Car Wash Equipment.
The Internet
bmxultra.com: What are your favorite BMX websites?
Deanna: www.supercrossbmx.com www.vintagebmx.com www.bmxultra.com www.bmxmania.com along with the USA sanction websites www.ababmx.com and www.nbl.org
bmxultra.com: We heard you are also a MySpace junkie…is that true?
Deanna: Who told you that? That's kind of funny. I try not to be addicted but it's a great outlet to keep in touch with many friends within the sport. I really enjoy leaving comments and messages for friends. Along with making new friends. If you are not already on my friend's list shoot me a request. I always accept the BMXers!
bmxultra.com: What do you look for in a website?
Deanna: I really like message boards where you see comments from everyone. I really like to read other people's opinions on a topic. You can always find me on the Vintage BMX message board. Reading that board got me hooked back into racing. You can never learn enough from the people that post. I really enjoy the training topics the Greg Romero and Greg Hill give advice on.
News and Interviews of top riders is something else I like. The more news the better as far as I'm concerned.
bmxultra.com: You are an active member of VintageBMX's forums, what's the appeal there? Do you think good can come from people discussing BMX on forums?
Deanna: Originally the appeal was to reconnect with old friends. I still thought about BMX and it was good to chat with people that had the same interest I did.
I truly believe that the sanctions are concerned with what people say on this message board. Some of it is funny to read but more often than not you get some good debate that leads to reaction from the US sanctions. If we force change or get sanctions thinking about what people want by our discussions than there is good things that happen on message boards.
Music
bmxultra.com: What music do you listen to?
Deanna: Artic Monkeys, Robbie Williams and anything that gets me going during a work out or a national main.
bmxultra.com: What do you think of Neil Young?
Deanna: This has to be a trick question to the Brits. Seeing I'm married to one I asked about Neil Young and I was told he was a wanker. So I guess I don't like him. LOL!
Playing favourites
bmxultra.com: What is you favorite thing about racing BMX?
Deanna: If I tell you my favorite thing you also have to hear me ramble about my least favorite thing. Favorite would be just riding the track and hanging out with my friends. I love to jump so the feeling of being airborne while launching a big set of doubles.
Least favorite thing is being up for the title at the ABA Grand's and Clayton John the President of the ABA going over his score card of who has to do what and who has to beat who while your nervous as hell sitting in the gate. The ABA Grand's are a pressure cooker and I'm hoping to deal with the pressure better than I did as a kid. The Worlds were always nerve wracking too but something about the ABA Grand's and Clayton's voice going over the point situation to this day makes me nervous. The funny thing is while I was retired for 18 years from the sport I was always on edge over Thanksgiving Holiday and I think it was nightmares of failures from past ABA Grand's.
bmxultra.com: What's your favorite event?
Deanna: ABA and NBL Grand's. I'm really looking forward to competing in Victoria BC at the Worlds this year. My class has finally been added as a Challenge Class. I would like to win the World's again as an adult.
bmxultra.com: What's your favorite track?
Deanna: Back in the day it was Devonshire Downs, South Park and the OrangeY Track in California. Today it would be the NBL Grand's Track in Kentucky and Evansville, Indiana. It's amazing the speed you carry in the downhill section of that track. It's like a toboggan run going warp speed around the turns.
bmxultra.com: Who are your favorite male and female riders?
Deanna: I truly have so many. If I had to narrow it down it would be Sammy Cools and Arielle Martin for the Women Pro's. Aaron Johnson and Kenth Fallen for the AA Pro's and Todd Parry for Vet. I'm still the founding fan of the "Todd Parry Fan Club" and he's going to take the ABA Vet title this year, I just know it! Gooooo TP! My husband being British is a huge fan of Shanaze Reade and Dale Holmes.
BS Open
bmxultra.com: What was it like to be the first female to compete in the chest thumping BS stops?
Deanna: It's actually funny I was not going to compete in this race. I was finally talked into it by my teammate Ken Pliska. I haven't been on a 20" in 19 years so it was a little weird hopping on one for this race. I'm glad I was forced over to registration to sign up as I'm sure my name would have shown up on the moto sheets even if I didn't sign myself up! Last year Todd Parry opted out of the race, he was the defending champ from the year before. I was going to ride his bike but it was a bit long and having just gotten back into the sport I wasn't ready to gate up with the Boys.
bmxultra.com: Did they treat you with respect because you are a female or as a threat because you were just another rider?
Deanna: I think they treated me with respect. I know none of them wanted to be beat by a women. Last year many of the old timers lined up on vintage bikes so there was a lot of "moto fill" This year was another story as 4 out of the 6 that were in my moto made the "A" main. I didn't have a prayer of making it but I did beat Elvis! ?
bmxultra.com: Do you think there's room for an open wheel BS stops for the ladies of the sport?
Deanna: We are actually getting our own race for the Christmas Classic! It isn't open wheels which I think would help the numbers and I also see the NBL is charging a $20 dollar fee for this race which I think is not good as the numbers would be many more. We may be lucky to hit the number of riders required which are 8. I hope people race it but I think the fee may be too much on an already expensive week of racing. I will be racing 20" and cruiser for the 2007 season so I expect to be ready for Rockford's BS open and not be on a borrowed bike for the race.
Some general questions
bmxultra.com: What do you do when you aren't racing?
Deanna: Spend time with the family, work and frequent as many pubs as I can!
bmxultra.com: What does your husband think of BMX racing?
Deanna: He actually pushed me to get back into racing a few years back. I always feel guilty leaving for nationals, expecially on the ABA side because my son doesn't go with me. Generally upon landing at the race I call the hubby and just hearing his voice tells me that all is well and that I have a job to do and to hurry and get back home. I truly have a great family support system. Afterall, how many men would let their wife fly all over the country chasing the dream of a ABA Number One title?
bmxultra.com: Does BMX interrupt with your work and family life much?
Deanna: Too much for my liking. At the beginning of the year I was just miserable. I don't like being away from home but I've had this monkey on my back to win the title that got away as a kid. I sometimes just want things to get back to normal. I love racing but hate the travel.
bmxultra.com: Can you think of any way to get more mums, or females in general, racing BMX?
Deanna: I think bottom line to get any rider out there riding you have to have a fun atmosphere locally. If there are to many rules and people yelling over microphones your going to really turn people off to riding. My class is a mixed bag with different skill levels. Just because I'm hitting up and jumping a section doesn't mean that everyone does. Have fun with it. I personally love the challenge of hitting up a tough section. It's great to see some of the X-racers in the cruiser classes. I hope with adding my class as a challenge class for the worlds in Victoria next year will show some increase in numbers.
bmxultra.com: Ok how about some quick answers to these questions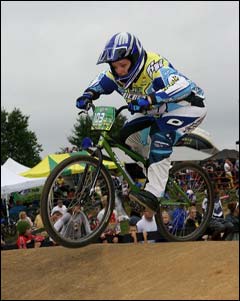 Preferences
Indoor or outdoor? Outdoor! Expecially the fast downhill tracks.
NBL tracks or ABA tracks? Tough one. I truly enjoy the majority of the NBL tracks. For a mom I do have jumping skills and that is generally what helps me break away in a race. The ABA tracks challenge my manual skills something that I desperately need to learn! For the most part I am comfortable in the air so I have to choose the NBL tracks but that's mainly because of my comfort level. How is that for a politically correct answer?
Very well done, how about Olympics or Xgames? Olympics. Xgames are a hybrid of BMX not what I would consider true BMX.
Clips or Platform pedals? Clips…. You wouldn't catch me saying that a few months back. Sorry to the old school crew out there but I truly love the power behind riding clips. Bill Ryan no doubt remembers the tough decision I made in switching to clips. It tore me up but I wouldn't go back at this point unless it was mandatory.
Old school or new school? New, I love the tracks of today and can honestly say I'm having more fun racing today because the pressures of racing as a kid are behind me.
World title or ABA title? This interview was conducted before and after the ABA Grands. Seeing I am answering this question after the ABA Grands my next goal is a UCI world title. The ABA Title is something that escaped me for so many years, for me it was the toughest to accomplish. For whatever reason I knocked off the world number one early in my career. I still can't believe I came back into the sport, set a goal to win the ABA Title and did it. I worked hard and am thankful for the help and support of my team and sponsors. Without the advise and support I couldn't have done it.
bmxultra.com: Who are your current sponsors?
Deanna: Supercross BMX www.supercrossbmx.com, O'neal Racing www.oneal.com, Paul Brakes www.paulcomp.com , SDG www.sdgusa.com, Thomson www.lhthomson.com, Shimano www.shimano.com and HRP Number Plates www.hrpdesigns.com
bmxultra.com: Is there anyone you would like to thank?
Deanna: The people who I work closest with. Bill Ryan at Supercross, Chad Roberts over at Shimano, Stu at HRP. They all have helped me out quite a bit when I got back into the sport. I would also like to thank the support system at the nationals for me. I know that sounds weird to have a support system at the track but the riders and parents in my close knit group of friends mean the world to me… you know who you are! Vintage BMX www.vintagebmx.com the out pouring of support to get me back on the track racing was great. I would never have been racing again if it wasn't for the great site Bill/Hal and Rick built.
Posted in: Interviews