Who is Glenn Codega?
bmxultra.com: How did you get started in BMX?
Glenn: I got started around the age of 6 through one of my Dad's mates, one particular weekend he witnessed our backyard races that we organized with the local neighbourhood. Steve asked if I wanted to see some real BMX racing down at the Local Browns Plains BMX Club. I rocked up to a monster track with BMX'ers everywhere. The rest is history!
bmxultra.com: When did you race your first world championship?
Glenn: 1989 Chandler Velodrome Brisbane, QLD
bmxultra.com: What is your best finish at a World championships?
Glenn: World #1
bmxultra.com: What year was that? and what class?
Glenn: 1994 In Michigan USA – I raced 14yr boys.
bmxultra.com: Are there any names that were in that final that the readers might recognise?
Glenn: Not real sure I never ready kept tabs on the my opposition but there is one name that comes to mind, Kein Dougherty he was the current world champion and ended up racing for GT USA for a short while.
bmxultra.com: Which BMXers did you grow up racing against?
Glenn: I use to bang bars with guys like Damian Palmer, John Johnson, Ashley Hutchinson, Paul King and Warwick Stevenson there were so many top riders back in those days I remember racing an Australian title one year and our age class had 109 riders.
bmxultra.com: Who do you train with?
Glenn: I work along side some amazing people, Brad Pillette-Hughes my strength trainer and my life time trainer and mentor Tom Creevey. I ride trails with Dave Woolard and Team PB.
bmxultra.com: What was your best finish at an Australian championships?
Glenn: I managed to win a few back in the days but it's been a long road since.
bmxultra.com: What has been your best finish as a Pro?
Glenn: It's taken me a long time to make a pro main at an Australian title and I finally completed that in Cairns 2005 finishing 8th for the day due to a crash.
bmxultra.com: What is your most memorable BMX moment?
Glenn: When I was first looking into racing BMX I went along to watch the Logan City 10,000 the biggest race ever (don't quote me 1985 maybe?) I could not even view the race because of the crowds so I watched the racing sitting on my dad's shoulders.
bmxultra.com: Which riders did you look up to as a kid?
Glenn: Damian Palmer, Anthony Waye (HOWIE) Paul Adams, Jessie Carlson and My Big Bro and his mates!
bmxultra.com: Who are the riders you respect most now?
Glenn: I respect all the guys I'm racing with each and every one brings something different to the plate and all have had there fair share of titles along the way. I think you would be surprised how much talent is sitting in the Elite class right now.
Phirebird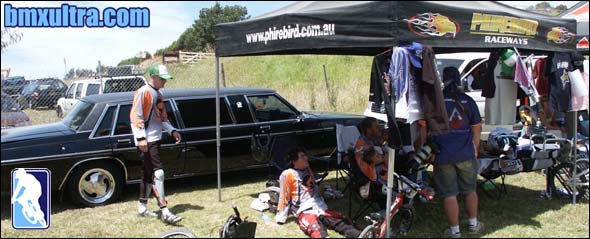 bmxultra.com: What is Phirebird all about?
Glenn: Phirebird is developing a Race Team that will set a standard for corporate and privateer teams to follow. We hope riders will be inspired to make BMX a life time activity and understand what can be achieved if you work it hard enough.
bmxultra.com: Why would you come up with the whole Phirebird thing and not take a secure job working for someone else like most other people.
Glenn: I'm tryin something new that most people think is impossible, don't get me wrong there's been many days when I think "what tha!" I can't complain because I enjoy the challenge and were continually moving forward which is a buzz.
bmxultra.com: Who's riding for Phirebird at the moment?
Glenn: Our current team is under wraps at the moment as there are many new developments in the pipe line.
bmxultra.com: What's the deal with the limo?
Glenn: We needed a new ride that was unique and stylish; the opportunity arose on EBay so we took it.
bmxultra.com: How did Jamie Gray go from Haro to riding for Phirebird?
Glenn: Jamie and I have grown up together as friends for most of our BMX careers, we have had similar experiences with sponsorship deals and recognize it's not the path that we wish to take. We have now partnered to make an extraordinary race team that will create a huge following and live forever.
bmxultra.com: Who are the team Phirebird sponsors?
Glenn: We are currently negotiating sponsors as we speak, you will be seeing some dramatic changes to Team Phirebird after the Australian Titles as we set ourselves up for the Olympic count down.
bmxultra.com: What products and services do you have to offer people right now?
Glenn: Phirebird currently offers Custom club merchandise and Coaching services to all Clubs Australia wide. Due to our expansion we had to start up another division called YourLogoHere that focuses on Promotional Products for all types of Businesses, Sporting clubs and clothing labels.
bmxultra.com: How do you see that changing in the future?
Glenn: I'm seeing some big changes once all the pieces to the puzzle are put in place. Unfortunately it all takes time…
Music
bmxultra.com: What music do you listen to?
Glenn: I listen to radio music most days and throw in a bit of Metallica, Slipknot and System of a Down when heading out for a ride.
bmxultra.com: Is there any song that drives you nuts?
Glenn: Thought you would never ask!  Those Australian idol superstars, I've never been the same person since.
bmxultra.com: What do you think of Neil Young?
Glenn: I've heard all about Neil but I still haven't brought his album!
Internet
bmxultra.com: Has the internet been much help to Phirebird?
Glenn: I'm sure the internet will be Phirebird's biggest asset in the future once where running at 100% capacity. Phirebird is building so much momentum it's very hard to settle for something knowing something else will be changing a month later.
bmxultra.com: What are your favourite websites?
Glenn: bmxultra.com, cyclesportsnews.com and istv.com
bmxultra.com: What is it you look for in a website?
Glenn: I'm always looking for race news to the events that I miss; also I enjoy looking at downloadable BMX racing mpegs from around the globe.
Pro racing in Aus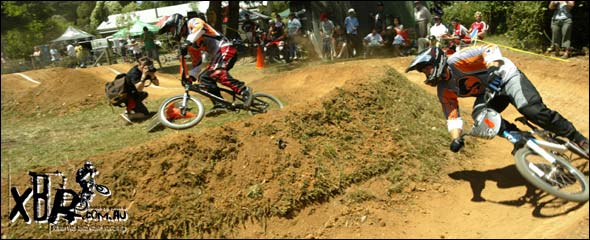 bmxultra.com: There seems to be a whole bunch of fast guys in the AA field in Australia these days, and any combination of guys can make or even win the main…it wasn't that long ago that there were only a handful that could win…what do you think had contributed to the change?
Glenn: Every Pro rider has been waiting for the word "Olympics" for some time now; it would be a great way to finish off any BMX riders career. Every rider that is serious about the Olympics is now developing the essentials to become a professional athlete.  My opinion is BMXA needs to look at upgrading tracks that host UCI events, these tracks require visual and technical upgrades to assist with TV coverage and exciting potential sponsors. Tracks need to be technically harder to allow for a higher element of skill riding which will make more room for fair competitive racing; first one to the first corner wins, this should not be the future of BMX.
bmxultra.com: Is there anything that can be changed to help the Aussie riders step it up another knotch?
Glenn: "Training" All riders should be following some type of program that leads into future personal goals, work it hard and consistently while attending major events to assist in racing experience. Create a success story…
bmxultra.com: Do you think eliminating A Pro is a good idea?
Glenn: End of the day the more main events we have the better for all. I would like to see Vet Pro, A and AA mains + consolation finals. We need to learn to "ENTERTAIN" spectators.   NO is my answer to this one…
bmxultra.com: What did you think of the XBR Factory Teams Challenge?
Glenn: XBR Factory Team Challenge was a huge success thanks to GavinD.com.au and XBR.com.au due to the fact that it made teams step forward to present themselves to the BMX community. It clearly demonstrated the lack of support riders are really getting out there from the larger bike companies. I would like to congratulate the other teams that entered as these are the teams BMX fans and riders should be supporting. Team PHIREBIRD won the 2006 XBR FACTORY CHALLENGE we started 5 years ago as a self funded private team with no support or sponsors and we still don't compete we set the standards"
bmxultra.com: What did you think of the BSX?
Glenn: Good call! Someone went out and did something different even know others disapproved, the end result spoke for itself. Job well done…
bmxultra.com: Would you encourage others to try something different?
Glenn: Yes so many people have great ideas, but can't follow through. We really need to take BMX to the next level.
bmxultra.com: What would you like to see changed about the BSX event to make it more entertaining next time around?
Glenn: Bigger jumps or just a few crazy sections that really test out the best. The racing side of things was fun and worked well. Maybe add in a few more different types of events, to crown an overall champion. More free riding …a live band… XBR girls a Beer tent for guest and a Camera on the finish line.
bmxultra.com: do you plan to head down to Track Attack in 2007 and do it all again?
Glenn: 2007 will be Team Phirebirds biggest year, and we look forward in defending our title
UCI Oceania series
bmxultra.com: What does the UCI Oceania series mean to you?
Glenn: Still trying to work it out! I think you need about $11,000 to be competitive each year so if you have the money why not! For the rest I suppose the only other option is acquire your one UCI point and podium the Australian and World titles.
bmxultra.com: Is it possible to compete in the series and do well as an independent?
Glenn: Anything is possible, but each rider will ne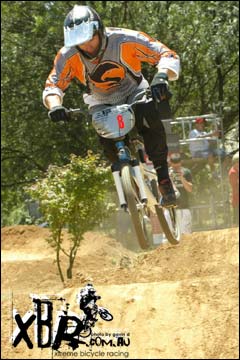 ed a lot of financial support to continue this unknown adventure.
Future of BMX
bmxultra.com: What do you think the Olympics can do for BMX racing?
Glenn: Maybe some quality sponsors for individual riders and a little TV coverage at best. The association is starting to forget about the 7000 + licensed members Australia wide that don't really care about the Olympics but just want to go out and ride there bikes for fun. The association seems to be focused on the 10% of riders that are pursuing their goals and spending the big bucks to do it. Will BMX ever grow?
bmxultra.com: Where do you see bmx racing in 5 years from now?
Glenn: Big call! I think it will depend on who gets onboard with the Australian BMX Association. BMX Australia needs to understand they can't do it by themselves they need to network with the best people in the sport or else nothing good will ever happen. Let's sharpen up to make BMX a professional sport for the future generation to enjoy and prosper. BMXA you owe it to your people…
bmxultra.com: do you think there is a future for you in BMX once your racing days are over?
Glenn: I hope so, but that question scares me a little, I sure to be out and about living the BMX life style.
bmxultra.com: Is there anyone you would like to take the opportunity to thank?
Glenn: My Family, Trainers, Team mates and there families, Fans and supporters that continually supports us and believes
in our vision. My special girl friend Mellisa and my dog (ZODI)
Posted in: Interviews