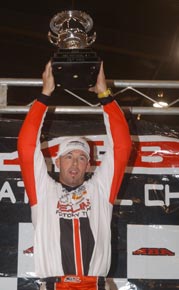 bmxultra.com: How did you get started in BMX?
JC: At 14, I was into freestyle when a guy who raced moved in next door. His dad took me out to the track and I was hooked. My freestyle bike got stolen soon after and I bought a Hutch "Hollywood".
bmxultra.com: When did you decide to turn pro?
JC: I turned pro in 1990 at 18. I was tired of racing for trophies and, even though I wasn't a top amateur I needed some incentive…and money. My boss wouldn't give me the days off for the big pro race so I quit my job at the grocery store. I didn't do too well at the first one.
bmxultra.com: When you started did you ever expect to still be hanging with the A Pros into your 30's?
JC: I never really thought ahead to the thirties. It seemed so old back then. If you had asked, I would've probably said I'd be finished racing by now.
bmxultra.com: How did you come to drive the Redline truck?
JC: Back in '99, I had a co-sponsorship with Torker (also owned by SBS) and did a summer tour of racing and clinics. There was a lot of positive feedback from the clinics and when gOrk took over as marketing director at Redline and they decided on getting a rig, he thought I'd do a good job. Plus, I had a clean driving record and drug-free urine.
bmxultra.com: Have you raced in Australia before?
JC: I came over with Wade Bootes (when he lived in Texas) for the Ipswich race in '96. I had a blast…rode Tiger's yard, hit the beach and partied a little. The ladies there are quite friendly. I can't believe that was 9 years ago.
bmxultra.com: You have spent some time with some of the Aussie pros, how are they different from Pros anywhere else?
JC: I've travelled a fair bit with Kamakazi, Sean Dwight, Luke Madill and hung out with Grant when he travelled with the ABA. I think the biggest difference I noticed was off the track. The Aussies know how to have a good time…fair dinkum.
bmxultra.com: Do you have a Kamakazi story that you can share with us?
JC: Well, I wasn't there for it, but when he was staying with me in Austin he had a scuffle with a dude at 4 A.M.. No big deal except Kama was butt-naked. I would've paid to see that.
bmxultra.com: How much longer do you expect that you can keep living the BMX lifestyle?
JC: Gork will have to fire me because I don't plan to quit any time soon. I have some knee problems that I plan to have repaired after the ABA Grands. Other than that I feel young and healthy. I'm hoping for 5 more great years.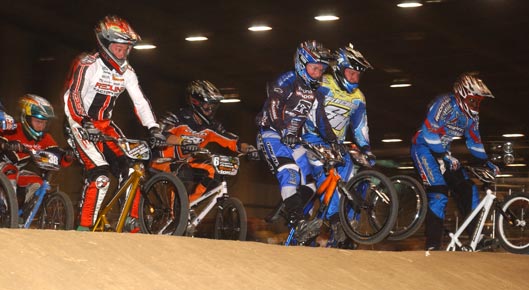 bmxultra.com: Do you prefer to race A Pro or Vet Pro?
JC: I like racing A Pro. It keeps me on my toes and it feels good to outrun the teenagers…but Vet Pro is my class and it tends to pay a little better.
bmxultra.com: How serious is the Vet Pro/Masters Pro class in the US?
JC: There are a handful of guys who put a lot of effort into training and racing but the majority just race because they love the sport. I'd say there are 15-20 guys who mean business when the gate drops.
bmxultra.com: How much more difficult is it for you to keep winning as each year passes?
JC: It's getting tougher for sure, not because I'm going slower, the class gets bigger and faster each year.
bmxultra.com: Who are you not looking forward to joining the Vet Pro ranks?
JC: Romero and Buddy Dale always talks about racing Vet, then there are rumors about Veltman and Mike King making a comeback. All those guys are ridiculously fast.
bmxultra.com: Who are your sponsors?
JC: Redline, Sun Rims, Tioga, Promax, FSA, Koolstop, S&M, Tangent, Oneal helmets and Sponsorhouse.com.
bmxultra.com: Is it difficult to maintain your sanity when you spend so much time on the road?
JC: I get a little bored since Kama's departure from the team. I don't have anyone to clean-up after. Really, it's not too bad since I have friends all over the country.
bmxultra.com: Do you get a chance to wind down?
JC: A little…from Thanksgiving to Christmas. Oh yeah, Kama said you don't have Thanksgiving there since there's no pilgrims in Australia. It's the last Thursay in November.
bmxultra.com: Do you get much of a chance to train and eat healthy food when you are on the road?
JC: It gets tough but those two things are priorities. I find a way to train and eat too much Subway.
bmxultra.com: Do you think you would continue to drive the truck even after your racing days are over?
JC: I'd have to say "NO" on that one. I consider myself a racer first, truck driver second…even though my job description is "trucker".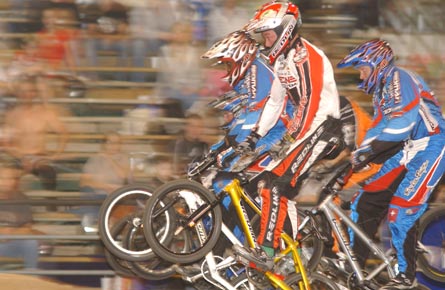 bmxultra.com: What do you think of BMX in the Olympics?
JC: I think it's a great opportunity for some much needed exposure. Racing is exciting but it's taken a back seat to dirt jumping. Hopefully the UCI and Olympic Committee will get it right and we won't look like a bunch of pansies out there. Unfortunately for us here, USA Cycling is way behind on developing any sort of program for American athletes. Any of the U.S. riders that make it will have done it on their own with the support of their sponsors…not our government.
bmxultra.com: Who would you pick as the Olympic gold medallists for male and female?
JC: Bubba or Mikey for dude, Lil Kim for chick.
bmxultra.com: Is there anyone you would like to thank?
JC: A big thanks to Chuck and gOrk @ Redline for my fantastic job. Thanks to Ryan @ Sun Ringle', Tioga, Koolstop, Promax, FSA, Rich and TJ @ Tangent, Chris @ S&M, Chris @ Oneal, Rich @ Sponsorhouse.com, and Thanks to Shane and bmxultra.com for the coverage. Laters.
photos from Redlinebicycles.com
Posted in: Interviews