bmxultra.com: What is Psykopath?
Nick: Psykopath is a rider owned company that is starting to make a name for itself in '06. Now the term rider owned is used for anything these days that a rider manages or whatever. But at Psykopath we are truly rider owned, there's not a large corporation funding the whole thing and we are just a front to look the part. I'm the same guy here that you will see at a big race, or at the skate park, and then talk to when you want info about us.
bmxultra.com: With a name like Psykopath do you guys have trouble with speeling?
Nick: Lol, actually I really do. Being that about 60% of the stuff revolves around the computer I sometimes forget to be proper. I may email someone and it looks like this "yo man i got that mail bout the frame u wanted n i can get it to u in a few days lemme know if dats good 4 u or not" so spelling wise I'm good, but the computer slang carries over into business and it gets interesting.
bmxultra.com: What is the Psykopath philosophy?
Nick: Philosophy? Well I'd like to think that we are going to try our hardest to put out a quality product and make it affordable. We, ourselves, can't see paying huge amounts of cash for the same old run of the mill stuff, so we are going to try to mix it up bring in some ideas and keep things cost effective.
bmxultra.com: Do you think that Psykopath can make a difference to the BMX industry?
Nick: We already are I hope. I mean when your a new company you have to try things that are different just because you don't have the financial backing to try things that are normal. Look at a BMX magazine and you'll see full 2 page spreads of the new pro on the block with the new cool frame and some results. Nothing wrong with that, but when you are new as we are still you can't advertise in every magazine because to run ads in those things are easily thousands of dollars. With the money that we have that is spendable we invest it right into our pro's. The cost of one ad in a mag can send a team to a national, cover entry fees and hotels for everyone. It makes more sense to us to invest right back into riders, because that's the guys who are representing you on and off the track.
bmxultra.com: Where are you based?
Nick: Were based out of NOR*CAL! It's the bay area in northern California. A lot of great talent has emerged from here both race and freestyle, and the local scene is great. Sure we wish the scene would overflow with BMX but the sport is up and down and we try and do what we can to promote the scene and our company.
bmxultra.com: What parts of the world have you sent your products to so far?
Nick: I wish I could list off countries left and right, but mainly just the US. To be honest, I think the US market is flooded with companies and! what makes a company sink or swim is mainly just marketing. We don't do expensive marketing, were trying to make it off good product and start up a following that people want to get involved with. As of late I've noticed that the UK, Australia, just about everywhere but the US, these places have large scenes and I think I'm going to try to setup a distributor there and see if we can move some units to those regions.
bmxultra.com: How many people work for Psykopath?
Nick: 3. The breakdown is basically Carl is the owner and he makes it all possible, he's a Vet Pro and you can catch him at the track day to day. I'm the main guy here when you call I'll be the voice on the other side. I make everything happen from team stuff to product development and anything in between. Carl has a son named Andrew, he keeps all the video stuff together, films and edits 24/7. And oh yeah Zack he's a street rider and assists me when I leave for the day.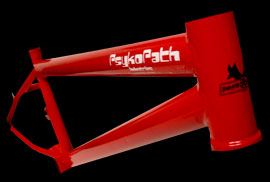 bmxultra.com: What products do you manufacturer?
Nick: We offer up as of now both a street and a race frame. The race frame has been a seller from day 1. It's a great bike and it comes in at a good price. The street market is a little tougher to get people into your stuff. If you don't have a pro that flipwhips on your bike it doesn't have the credibility to sell. But once again we've made a great frame and have yet to see one crack or have problems so fingers crossed we've built a strong quality frame.
bmxultra.com: Are they made in the US or offshore?
Nick: The frames we have available now are a project that we had made from a very credible company in Southern California. I'd like to say who made them but I'm not sure if it's Ok with me because they also have a company and I wouldn't want to get anyone in trouble. But the results speak for themselves the frames are top notch and I wish I could give credit to the welder. Offshore stuff is becoming all the rage these days because 15 years ago the quality wasn't there. But the technology has progressed and the guys over there are banging out some very high quality stuff. If you know a lot about markup and stuff you know that a company can easily make good money just importing all their stuff and marketing it well. We have stayed US made so far and as we are not opposed to using others we will try our best to keep stuff US made. Gotta support the USA!
bmxultra.com: Do you think it matters where something is made?
Nick: These days? No. Like I said the quality of stuff coming from out the country is amazing. And when you see companies doing lifetime warranties on that stuff, you gotta consider using those sources. We have a "no questions asked policy" here at Psykopath and we haven't had to warranty anything yet.
bmxultra.com: What makes your products any different to anyone else's?
Nick: They are straight forward. We aren't doing anything kooky because BMX is done with gimmicks. I've always admired Standard, their frames haven't changed much over the past years and it's for good reason. We're going along the same lines, trying to keep things simple and strong. Being that I'm a park rider as well as a race guy, I see the technology and I see where it can merge and produce a great product. My freestyle bike weighs in at about 26 pounds and that is comparable to a race bike. There are a lot of things that freestyle has done to lighten up things and hopefully we at Psykopath can carry them over to the race side of things.
bmxultra.com: Tell us a little more about your race frames…what sizes will they be available in?
Nick: The current frame we have is available in either 20.5″ or 21.25″ (top tube) versions. We are looking at doing more sizes to keep up with the sizes that most companies offer, and hopefully we can have alot of sizes like: 20.75, and 21 as well as our current sizes. We just wanted to offer the 2 most common sizes that we see and we think we have something that can suit just about any rider. With the options people have with parts companies it's pretty easy to get a 21.25 frame to feel short and a 20.5 to feel a little longer. If we can keep growing we are going to try and get more stuff out and cater to the riders' needs.
bmxultra.com: Will you be catering for juniors?
Nick: Kids. When you are around BMX for as long as some of us have been you quickly realize that not only are kids the future 19-27x and Pro classes but they are easily the core of the BMX scene. Go to a national and watch 1/4 mains and semis, and you will be amazed at how many gates of 8,9,10,11, and 12 year old experts are at every national. Without those families taking their children to both local and national races BMX could easily lose alot of support. So naturally we are looking hard into getting some smaller bikes together to offer the kids a choice in what products they want to ride. We are more of a traditional company we like to think, so for pro size stuff we stuck with a chromoly frame so it would hold up to the long seasons in the pro class and be a great bike that you can take to the trails and not worry about. Kids are different they don't have the ability to get any bike and just get used to it overnight, for some kids its a mental issue so we are definitely going to try and do a lightweight aluminum frame with solid proven angles. We've recruited two 9 experts out of the Sacramento area and with their assistance we are going to be able to have them ride some sample bikes and see what they like and dislike and with that product testing it allows us to make changes and get out a frame that is dialed. Thanks goes out to our little guys Terry Jason Jr, and Jr. Ferren. Terry was our first younger ripper and he's been down with the team since day 1. He's a great kid who loves riding and he's on the come up in the 8-9 expert class. Jr. is our newest addition and he's already turned 9 and looks to put in alot of races for us this year. Those guys are gonna be our eyes and ears for our smaller line of stuff.
bmxultra.com: What about cruisers?
Nick: Cruisers are in the works as we speak, with chromoly planned for the bigger sizes, and aluminum for the younger guys. We have a Pro Cruiser rider out of Canada by the name of Horacio Couto who will be helping us in putting together a solid 24″ bike. Terry that was mentioned above is a cruiser rider as well and he'll be doing any testing in that range as well.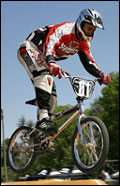 bmxultra.com: I have seen Terry Tennette on extremely long 20 inch frames…does he have a custom Psykopath frame or does he ride a stock frame?
Nick:After 12 years, yep 12 years, on BOSS frames which have a large following in the NOR*CAL area, Terry has finally hopped aboard a stock 21.25″ psykopath frame. Don't be fooled though I'm sure it is built with a nice long stem, and anything else to make it feel long.
bmxultra.com: How long do you think Terry can keep going?
Nick: As long as he wants, he is a prime example of what good training can do. I easily see him riding competitive for a good 5 more years it's all up to him. When he finds a young gun that is willing to hang with his training, the AA class will be in trouble.
bmxultra.com: Do you build custom frames to order?
Nick: At this time we don't have the financial means to have anything custom slapped together but hopefully in the future we can have people request things that aren't too crazy. I know brew bikes does custom stuff and from what I've heard their stuff is of good quality and they can help you with any special requests you may have. Shout out the guys at Brew, maybe we will send some stock frames to them and let them have some fun with em. Could you imagine if everyone had their own custom frames? Possibilities are endless…
bmxultra.com: Should we expect any Psykopath forks or handlebars in 2006?
Nick: At this time we are just trying to get a good name out there with the frame that we are offering. I think if we got too much stuff going at once we wouldn't get the quality control that we need to put out stuff that we 100% believe in. On the horizon we are looking at possibly doing some cranks if we can think of a unique design that is going to be different than some of the stuff out there. If we can keep sales going good and expand our sales region outside the US I think it'll give us more of an opportunity to see what people would like to see from us. That's the thing that's great about a young company we are free to try stuff and, as long as it doesn't totally bomb out, then we can try different things. It's a learning experience for sure and we look forward to learning and growing into a solid company with a full line of products.
bmxultra.com: Where can people buy Psykopath products from?
Nick: Unfortunately right now the sure thing is to hit the website and get everything off there. We are URGENTLY looking to pick up a distributor either US or abroad. I'm not sure how long we can keep running the entire operation out the office here. Some days I'll pack boxes and ship orders all day long and not be able to handle team duties and stuff, so I hope we can get the exposure we need and land a distributor somewhere that can have frames and stuff on hand so that people can get their stuff quicker and not have to deal directly with me. But I like dealing with everyone in a sense because when someone calls and wants to pick up an item its fun to hear about where they're from and their BMX scene. It's not just " I need a frame" "ok! $xxx.xx" and then the calls over. I scribble down everyone's information and ask about their riding situations and try and establish small consumer/company relationships so I know who buys our stuff and likes this and dislikes that. There's 2 sides to doing it all ourselves, but we hope to get a few distributors asap.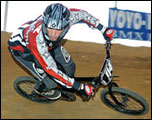 bmxultra.com: Who's on the team roster?
Nick: Not to take away from anyone and their accomplishments but I would be taking up a lot of space if I typed out our entire team. The site has a list of everyone and pics as well. The changes are daily as we are always looking to expand because that's how we market through riders. We have a few AA's and a lot of great talent in the A Pro class. And our ams are always gettin better. www.psykopath.com for the entire list.
bmxultra.com: As an independent company how are you able to support such a big team?
Nick: We wish we could pay all of our riders but at this time it's just not possible. Our main pro is Damian Lopez and we owe him a lot! That guy is constantly traveling, day in and day out, and he's a consistent main event qualifier in both class and cruiser. We wish we could cash him out and have him stay in 5 star hotels, but it doesn't work that way. Every rider we support gets info about every other rider we're cool with and we make cost effective road trips, the days of sleeping on someone's couch or a 6person motel room are not gone for us. BMX is a family style thing and all of our riders would gladly open the door for another family to help them out.
bmxultra.com: Who helps you out sponsoring the team?
Nick: Ryan @ extremeryd clothing co. Has come through this year. Answer has always helped us out for gear for all of our riders. Sponsorhouse has done what they can and we are glad to represent them. Shout out my personal sponsors also- Knight Bike co. New Era Caps and Ride Aid
bmxultra.com: What is your job there?
Nick: CEO, lol I'm just the guy who's here, and I get what needs to be done, done. Answer phones, emails, voice mails, shipping, basically anything that needs to be done.
bmxultra.com: How did you get involved with BMX?
Nick: I started racing when I was 12 with my church youth group. Shout out Jeremy and everyone in Picacho Az, thanks for the start! And since then I've traveled the states east coast and back riding my bike. If it's a national motto, or a pro street final, I'll be there enjoying every second of it. The love for BMX just grows and the longer you're in it the better it gets, seeing people progress and seeing the world for nearly free. I'll never quit. 55&over class sounds real nice.

bmxultra.com: How do you find time to still ride?
Nick: Well like I said you never stop learning. I actually am pretty good with my hands and I've learned to build ramps over time. Outside my office literally 5feet away is a 30foot wide 6foot tall mini ramp, that gets a lot of sessions. And behind that is the track and trails, so we made our spots here so we can break up the craziness of the daily grind.
bmxultra.com: What music do you listen to?
Nick: Mainly Rap, but I'll listen to everything. Rock is always cool for the energy. Whatever's playing is what I'm listening to. Oh yeah shout out #284,582 lol Carl's other son Arthur and his Dis-O-Bay rap hustle!
bmxultra.com: What do you think of Neil Young?
Nick: Haha, I hope he's not some very important person and I unfortunately have not heard of him. But yeah me and Neil we go way back since we were kids. He has that uhh hair and those eyes right? And like he wears clothes and stuff too. What a guy he is. Neil email me man we have to catch up!
bmxultra.com: Did you hang out at Woodstock with Neil Young?
Nick: Ok so with that question Neil Young is either a hippy or a musician from that time or maybe just some random guy that got lost on a bus and ended up at woodstock. I myself aren't even sure if I were alive duringthe woodstock era…wait… yes I was right? I don't know, but either way Neil Young is cool in my book and his signature frame should be available soon!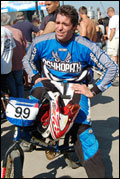 bmxultra.com: Neil's a hippy, he was known as the godfather of grunge (which makes me cringe to even write), he's been in the music industry for about 30 or 40 years. I'll look out for the signature frame though. Anyway…
bmxultra.com: Which do you prefer ABA or NBL and why?
Nick: Uh oh. Speak my mind or bite my tongue? The following statement is in no way representing Psykopath it is the sole opinion of Nick Valencia and who is he anyway? With that being said. What Pro do you know without a paying sponsor could live off of BMX? I think it's a shame that if you are the fastest AA on the planet you couldn't make enough at a weekend national if you tripled both days to get to the next race. The pro payout in my opinion is what's keeping the pro class from blowing up. If these guys are spending at least several hundreds to attend these nationals why can't the sanctions do more than 100% payback? I mean the take for street comps with no sanctions is ridiculous. I've seen pros make $25,000.00 over a weekend and the race scene is much larger, NBL, ABA whoever steps up and cashes out these pros what they deserve is going to have in my opinion the better sanction. My choice ABA or NBL is neither, support yourselves pros, keep throwing these local pro races, time trials, sprint track stuff, help yourselves.
bmxultra.com: What about platform pedals Vs clips?
Nick: Flats! All day. I get pulled down first straights all day by people that I know don't have a lot of power, but that's my choice. I think when a pro makes a main on flats it's the best thing ever. Hell I'll cheer for any pro that has the guts to ride flats. I see a local pro ride flats at the track a lot of the time and he is still fast as shit. The reason pro's ride flats in my opinion is to keep up and not lose any technology to the next guy. It's just like aluminum to chromoly. It just never appealed to me to clip in. Just be ready for me when you pull me to a corner because of your beloved pedals and I come diving underneath you with 1 foot off anxiously awaiting to hear some contact and your race be over and I'm still going strong.
bmxultra.com: What do you think the Olympics will do for BMX racing?
Nick: I hope it has a large impact and shows that our sport is indeed one of the most challenging sports and we have some of the best athletes on the planet. I think when downhill BMX got into X games that was huge for the movement and it brought in a lot of exposure and with that large scale exposure comes more money through corporate sponsors. But just as quick as the large pay outs of X came they suddenly vanished and so did some of the large sponsors. TV time is essential when you are pitching a big money deal to a billion dollar company and trying to bring them into BMX. So hopefully with the olympic effort we can land these big deals again and keep them locked up because BMX will have a spot every 4 years on the worlds biggest stage. Shout out to the guys who made that possible too a lot of riders and industry people put a lot of work into that effort and I'm glad it's paid off for them. Keep an eye out for our 2 riders who will definitely be representing their countries Damian Lopez who will be representing his homeland of Argentina and Augusto Castro who will be puttin in a Columbian effort. Those guys are super excited to be doing things in a big way and getting to that level, and we're glad that they will be doing it on one of our frames!
bmxultra.com: How important is the internet to BMX?
Nick: I think it plays a vital role. I see so many videos and read so much through the work day and it's all thanks to the internet. It make a lot of things possible and we use it excessively to get customers to see our product. But its kinda weird too because people get scared to call, like because email is so popular people are weirded out on calling me at the office. Someone call me 510-481-1372!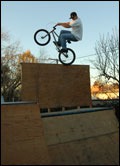 bmxultra.com: How important is the internet to Psykopath?
Nick: Without it we wouldn't be a company we'd still be thinking about everything. The entire day is based around this computer and you guys at the sites. The good thing about websites is they are cheap so people don't mind helping us out by posting info and news and stuff. It's a huge factor, so please don't ever kill the modem!
bmxultra.com: What websites do you check out regularly?
Nick: www.bmxboard.com, www.neweracap.com, www.knightbikeco.com, www.rideaid.org, www.sponsorhouse.com, and now www.bmxultra.com!
For more information about Psykopath check out www.psykopath.com.
Posted in: Interviews