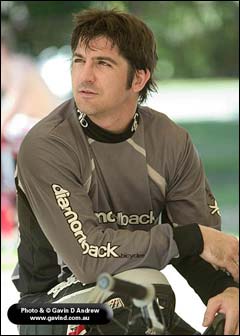 bmxultra.com: You have been racing for a long time now, when and how did you get started?
Travis: My parents were friends with the Crisp family. Darren, Dean and my buddy Adam all raced and got me interested. It was sometime in 1980. Beenleigh had a little goat track close to my house I would go to for small races. Then the local council and my parents and their friends obtained the refuse dump site the Beenleigh facility is on today.
bmxultra.com: Who did you used to ride with and race against when you first started?
Travis: I mainly rode with Adam Crisp, Shane and Jason Pearce and Beenleigh locals. My first real competition in 7 expert was a wee little boy-Wade Bootes.
bmxultra.com: Do any of them still race now?
Travis: Just Wade. Adam is a skater, Jason lives in So-Cal and my friend Shane is a gear head and still in the bike industry.
bmxultra.com: What was your first race bike?
Travis: JMC micro mini
bmxultra.com: Do you still have any of your old school gear stored away?
Travis: Every time I go back to Oz my dad and I throw away a little more away. They have a lot of my trophies and team photos also.
bmxultra.com: When did you turn pro?
Travis: When I was 16 you could race 16x and Pro-Ams but eventually I was a Pro at 18.
bmxultra.com: What's the biggest difference between racing pro in the US Vs racing pro in Australia?
Travis: The initial accelaration from the gate is much more important because you can get shut down easily due to no lines. Nobody makes mistakes and everybody's level is much closer than in Oz.
bmxultra.com: What was your best result at the Australian championships?
Travis: I got second so many times as an amateur that I don't even remember…like 4 or 5 times until I literally had 5 minutes of fame at Nerang in 96. It was good while it lasted and is part of the reason I headed stateside. In the US you can actually touch another rider in a turn and not be dq'd, because that is just racing…Thanks Darren [Hawkins].
bmxultra.com: Do you think Australia could benefit from running a national series for all age classes instead of the single weekend national championships?
Travis: Well this is a tough one. I think that BMX Australia is finally realizing that there is other ways to do things. With that said some type of pro series could really help out the Aussie pros so they don't have to travel half way around the world in there off season to compete in a few big US races. After not racing in a title race since 96, Cairns did not seem much different 9 years after the Nerang theft occurred. The whole UCI/Olympics deal seems like a joke. Not what you know, but who you know. When is the Aussie national teams next tryout?
bmxultra.com: Has the depth of the Aussie pro riders changed much in the 9 years?
Travis: I would say that the 'new' young guys have replaced the older breed. They are better riders but not as fast (except sauce-lock [Warwick Stevenson])
bmxultra.com: How often do you come home to Australia?
Travis: Every year.
bmxultra.com: Have you raced in Aus between 96 and 05?
Travis: I did a January race at Ashmore in 2002. Warwick [Stevenson] won, I was second and Luke [Madill] was third. Other than that I just ride BEENLEIGH.
bmxultra.com: What would it take to make you want to travel all the way to Australia for a BMX race? Large prize money, national team selection, TV coverage, a downhill race, coinciding with a family visit?
Travis: This past 2005 Cairns race was perfect as far as family, holiday, and DB. It was no special reason, it was realistically the last time I will probably race the Aussies [Australian Championships] so it made sense.
bmxultra.com: How did you end up living in Ohio?
Travis: My wife grew up there and it reminded me of home when it was summer.
bmxultra.com: Which do you prefer ABA/NBL/UCI/BMXAus?
Travis: Because of my location the NBL was my choice but any non santioned BMX downhill event such as the Vans [Triple Crown] races and the X-Games showed what you can really do on a kids bike. It's funny how some UCI dude comes to the US and uses a non santioned X-Games built track to showcase BMX and get an Olympic spot, and he thinks he invented downhill/supercross BMX. It will just be a bunch of roided up meat heads trying not to flip their carbon fibre bikes in their aero helmets and limmy suits. But who is to decide what BMX really is? When I came stateside I had no idea you could get a monthly cheque using this or that component. These days you are lucky to get dole wages to bust your ass all week for a company that pays you a little, but has the crash clause…just in case.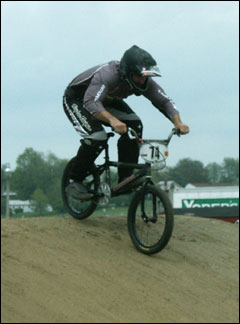 bmxultra.com: At what point did you decide to make the move to the US?
Travis: I fought my parents on this a lot straight out of high school. Peter Moyle and my mother and I would do the trade show in Anaheim and some Friday night races at Orange or Coal. After my decent performance at the Brighton worlds in 96 and smoking Darren [Hawkins] and his Sydney mates at the Ipswich Internatinal race and later at Tamworth, I decided to leave town.
bmxultra.com: Do you have any words of wisdom for riders who would like to one day follow their dream and race as a BMX pro?
Travis: Have an open mind, it's like starting racing all over again.
bmxultra.com: Your parents bought the Aussie BMX clothing company, PeddlePower, when did that happen?
Travis: PeddlePower was purchased around 1988 by my dad from the original owner.
bmxultra.com: They provided you with a lot of support along they way didn't they?
Travis: I owe my parents a lot. I still think about the Friday nights my mum and dad would load up the team and head to Sydney or even Melbourne for a weekend race so I could hit different tracks and race older pros.
bmxultra.com: Is PeddlePower still running today?
Travis: It is in semi-retirement.(07) 3807 3244
bmxultra.com: When you started racing in the US it didn't take long to get picked up by SE right? What kind of deal did they have you on?
Travis: My first season was probably the best of my career because I travelled so much with my team-mate Chris Sanchez and lived all over So-Cal with SE legends (Bubba Hayes, Rod Beckering and Perry Kramer). They were a really cool bunch of people and showed me a lot about BMX in the USA. They let me and Chris drive their pimped out 77 Dodge van across the states for 2 months doing clinics and racing and then into Canada for the ABA and UCI worlds and then back down the west coast to SE headquarters. They picked up the tab for the whole thing and it led to bigger and better things for Chris and myself…the stories I can tell.
bmxultra.com: I remember seeing you at the 1998 worlds in Melbourne spectating, it must have been disappointing to not race in front of a home crowd?
Travis: That was an all time low. 2 weeks earlier I crashed at the NBL South Park race and broke all the bones in my hand. SE already had my ticket so I came home anyway and did a lot of training for the following season. Soon after I quit SE and signed with Schwinn.
bmxultra.com: You were off the radar for a while then started to appear in the downhill races, what was it that brought you back to the track?
Travis: After Schwinn went into receivership, the whole industry took a huge down turn. About 9 of the top 20 double AA's were now with no sponsor and none in sight. I did an NBL only schedule on the east coast only, riding for Profile, Fox and Airwalk going to all the nationals close to my house. When you don't have a major sponsor and aren't hitting all the big nationals all over, you are out of the magazine radar. The next year Clayborn picked me up and I was able to do a bigger race schedule.
bmxultra.com: What did you think of the downhill races?
Travis: I think true downhill may never happen again because the current  people involved are mixed up with the NBL and UCI. They are not pushing the envelope at all. They are more interested in making a great TV race and are still using basic track layouts. They are even using scaffolding start hills to call it downhill but are racing in parking lots?
bmxultra.com: Do you really think there is no future for them?
Travis: It is how the NBL/UCI got into the Olympics and it will turn into a regular track with a tall hill – silly lines down the gate and jumps you can manual and don't have to ramp. It always ends up the same with a governing body with an egotistical old man running it.
bmxultra.com: Given the opportunity would you do another?
Travis: I probably won't because these latest UCI/NBL races are still about power more than skill unlike the original Vans/X-Games races.
bmxultra.com: What is you best result at a downhill?
Travis: I got a fourth and a seventh (crash) at the first two Vans [Triple Crown] races and was a consi finalist at both X-Games.
bmxultra.com: When/How did you hook up with Diamond Back?
Travis: At the first UCI dowhill race I crashed in my semi while leading going into the first turn and got ran over, knocked out and broke my ankle. An industry friend of mine, Steve Buddendeck was there and we talked about the possibilities of doing something with DB. I soon was at Beenleigh [Australia] rehabing my ankle, riding a new bike and deciding if I wanted to keep racing and crashing. I went back to the states and signed a 1 race deal for the next UCI downhill in Cali. I qualified second and had a bad semi. Soon after I signed on for the rest of 04 and 05.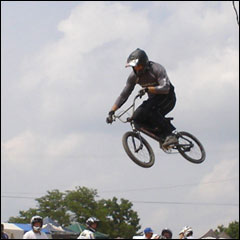 bmxultra.com: How did your life change when you were married and had your first child?
Travis: I now know how self centered I used to act, and my wife and son have made me a better person. I also go to bed early and am on a strict schedule of a 2 year old.
bmxultra.com: Do you look at BMX differently now to when you first decided to leave Aus to follow your dream?
Travis: For many reasons it looks different from the other side of the world. BMX is more business driven in the US which sometimes takes the true love out of it and has changed the direction of pro racing as I once knew it. I have learn't that you need to take chances and everything happens for a reason.
bmxultra.com: Have you set a goal for yourself that you are yet to achieve?
Travis: Maybe race some nationals in the later part of the year on flat pedals in vet pro.
bmxultra.com: What are your thoughts on clips Vs flat pedals?
Travis: Clips are a must in AA but flats are true BMX. The NBL tried to change the AA class back to flats in 2003. The 1st race in Vegas everyone rode flats, at the second race in Florida Bennett rode practice in clips and 20 mins later every AA was yet again clipped in.
bmxultra.com: If you had a choice which would you run?
Travis: Flats.
bmxultra.com: Do you still keep in touch with Chris Sanchez?
Travis: It has been a while.
bmxultra.com: If you raced Wade as a boy do you remember racing my brother Bryce?
Travis: Yes I do. I was much bigger than Wade and Bryce was much bigger than me. He also didn't like me high lowing him for the win at Albury Wodonga.
bmxultra.com: Do you try to keep up with BMX in Australia?
Travis: Not very much. If they are a bad-ass they end up over here at some stage.
Word association
Luke Madill: Skinny and fast, needs to move and try for a season.
Michael Fenwick:Young and strong with no style.
Jamie Gray: He is always in the right place at the right time.
Wade Bootes: Motivated win at all costs, old school style, old school sauce?
Warwick Stevenson: Ultimate pull. new school sauce? needs a sponsor
John Smart: Good rider on his so-cal track before clips mattered.
Anthony Waye: Untouchable in his prime. old school sauce?
BMXAustralia: To much POLITICS.
BMX coaching: Is boring for kids, go ride trails.
Sean Dwight: original old school sauce? besides Mr Ward?
Grant White: as above. Way too serious.
ABA: basic tracks, pros treated like 11 year old intermediates
NBL: there outdoor tracks are decent, they care more about the pros.
UCI: I am not sure that they know which way BMX is headed. They are trying to be supercross/downhill but they build this stupid 12 year old expert level track for the worlds 3 years before the Olympics…and Jamie Gray was winning – just shows how tech it was….
Bubba Harris: if he is in the race he wins from any position. phenominal.
Mike Day: trail boss with horsepower
John Purse: legend
Jason Richardson: stiff
Dale Holmes: nearly as stiff
Jamie Staff: biggest quads ever
Christophe Leveque: the original next level
Robbie Miranda: bad ass all rounder
Vet Pro: the pastures of has-beens
Politics: BMX in Oz
BMXPlus: trying to keep bmx alive
BMXPress: nice photos
Travis Turesson: Trying to decide if it's worth it anymore.
Music
bmxultra.com: What music do you listen to?
Travis: Deftones, Slimthug, Helmet…
bmxultra.com: What do you think of Neil Young?
Travis: He is SMOOTH…
bmxultra.com: Have you heard of the Mark Of Cain (Aussie band)? If you like Helmet you would love them.
Travis: Yes, I have 2 of their early CDs.
bmxultra.com: What was the last CD you bought?
Travis: Madonna-confessions on the dance floor…
The Olympics
bmxultra.com: Who do you think will benefit most from BMX being at the Olympics?
Travis: the officials and coaches
bmxultra.com: Who would you predict to take the top 3 at the Olympics?
Travis: [Matt] Pohlkamp, Bubba [Harris], Butter.
bmxultra.com: Butter?
Travis: Kyle Bennett
bmxultra.com: Do you expect that the Olympics might help growth in the sport?
Travis: Not at all. BMX has faded in the US in the last 2 years due to no media coverage or corporate sponsors.
bmxultra.com: In Australia the media thought that BMX racing in the next Olympics was a joke. Do you think peoples opinions will change once the event is over and the gold medals have been won?
Travis: No
More about Travis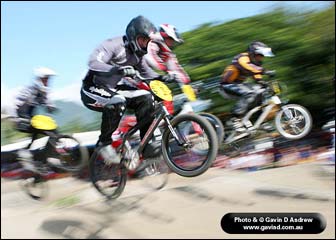 bmxultra.com: Do you think you will ever come back to Australia to live?
Travis: Don't say "one day"…
bmxultra.com: What does it take to earn the respect of Travis Turesson?
Travis: As a rider you need to actually be able to control your bike, not just pedal and hang on.
bmxultra.com: What do you do when you're not riding your bike?
Travis: Be a husband/dad and work at Dunhams.
bmxultra.com: Where do you see BMX in 5 years?
Travis: Probably the same but no more Olympics.
bmxultra.com: What are you up to now?
Travis: Working through the winter and getting my knee back to normal.
bmxultra.com: Who are your current sponsors?
Travis: My DB deal ended December 31st.
bmxultra.com: Is there anyone you would like to thank?
Travis: Jude, Dicko, Ryan, Bubba, PK, Sanch, Mike Devitt, JPRogers, Steve Buddendeck, Ryan Birk, Billy Au, Dwayne Taylor and my new family for all their love and support.
Posted in: Interviews