About Sirius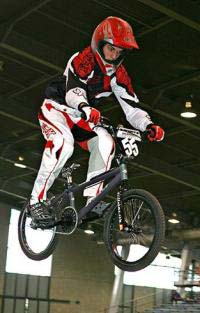 bmxultra.com: How did you get involved in BMX?
Adam: Like most kids in the 70's I stripped my bike down to the bare minimum & would race around the streets with other like-minded fools! Then when BMX (as we know it) finally arrived in NZ I went along to see a friend race. I think it was 1979 or 1980, I don't remember exactly. Anyway after watching them race around a purpose made track in all that MX gear I was hooked! I got a paper route & it took me an age but finally I saved up enough money to buy my first BMX bike. Mum & dad bought me a helmet & the rest as they say was history. However once I hit my late teens I moved onto road bikes & then a short time later MTB was big.
A few short years ago my son & I were in Hamilton (NZ) & we went along to watch the NZ BMX Nationals. Once again I was hooked. Only this time I had some company… my then 7-year old son Taylor. The sport had changed so much in the time I'd been away & for the most part the changes have been for the better. I think the thing I like the most about BMX now that I'm a dad, is that it's the ultimate family sport i.e. everyone in the family can participate. Whether as an athlete, or as coach, sports phycologist, mechanic, & cheerleader, which is the case where most parents are concerned.
bmxultra.com: How did you get involved with distribution of BMX products?
Adam: Like most BMXers I was frustrated at not being able to walk into my local bike shop & buy what I wanted/needed. And/or if the product was available it cost far too much. So I set out to fix that by offering BMXers in NZ & Australia the best products & at an affordable price. I'm not there yet my goal is to be the premier supplier of BMX product in Australasia.
bmxultra.com: How are things going for Sirius in Australia now?
Adam: I have dealers in NSW, VIC, QLD, & I'm looking for a dealer in WA & SA right now. The products are still very new to most Aussies but sales of Staats has started to take off. The next brand I'm very keen to push in Aust is Hyper. I've added Andrew Gillett from WA to my Hyper team & Charles (Nelson) has just started riding his bike again after a long rehabilitation from a serious crash. My kiwi female Hyper rider is moving to NSW in the New Year & the Extreme Racing – Hyper team I sponsor in QLD is doing great, so hopefully this will lead to greater exposure of the brand & subsequently more sales.
Music
bmxultra.com: What music do you listen to?
Adam: A lot of different types of music. I used to work in a music shop (a long, long time ago) & I developed very broad tastes. At the moment I'm listening to Jane's Addiction, The Gets Outs (UK punk band), Crosby Stills Nash & Young, and Led Zeppelin.
bmxultra.com: What do you think of Neil Young?
Adam: I love Neil Young!!!
bmxultra.com: What was the last CD you bought?
Adam: Jane's Addiction – Nothing's Shocking, which includes Had a Dad, Summertime Rolls, Jane Says… after leaving the music shop I sold a lot of my CD's so I'm now rebuilding my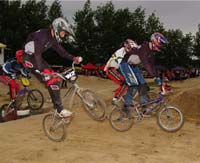 collection. Next on the list is Buffalo Tom, Monster Magnet, Brad, & I'm always on the lookout for a copy of CSNY 4-Way Street, which is a hard to find double album. There is also a Pearl Jam & Neil Young recording that rocked hard out that would be great to add to the collection.
bmxultra.com: What CD do you recommend for road tripping?
Adam: There is one CD that has become an essential for road trips that I bought in Venice Beach in 2002… Tenacious D (Jack Black) rocks hard out on the road! It features loads of credible musicians & Jack can flat out rock! And it's funny as hell to listen too as well. Ben Harper's Live from Mars is a good bet also.
Internet
bmxultra.com:
What do you think the web has done for BMX?
Adam: The web has been both good & bad for BMX. Websites like bmxultra.com et al has done a lot for the promotion of the sport & are a great source of news & information. On the other hand (offshore) mail order businesses are hurting locally based retailers. As strange as it may sound, gone are the days when you could walk into your local bike shop & buy a BMX bike or whatever else you need. I started out racing on a bike shop team & as kids we used to hang out at the track or the bike shop & it was a really good time. Many riders claim that their local bike shop doesn't carry any/enough BMX product but it's a double-edged sword because the majority of riders buy their BMX product online. If BMXers would buy locally then bike shops would again carry a wide range of product. And there are more products available locally now & at an affordable price than ever before… so there's really no reason to shop offshore. Also if the bike shops are seeing the business then they're more inclined to support their local club/riders(s) by way of sponsorship etc. So everyone wins!
bmxultra.com: Does it help you do business?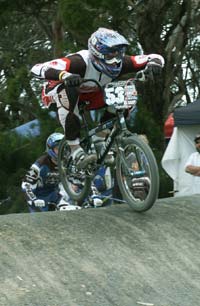 Adam: For sure, I can promote my products, post news items & race reports all online. And I love writing reports & updating my website… it's fun to do. It's also invaluable for keeping up to date with the latest product releases.
bmxultra.com: Do you think you would be able to do your job easily without it?
Adam: I think I would struggle. I'm able to cover a lot of ground by way of the Internet.
bmxultra.com: What websites do you check out?
Adam: bmxultra.com, bmxmania.com, bmxnews.com, & istv.com mostly.
bmxultra.com: What do you look for in a website?
Adam: I like a "User Friendly" website that has plenty of news & opinion provided the new articles are crisp & not overly lengthy. I simply don't have the patience to read a news item and/or race report that waxes lyrical about what is essentially a visually stimulating sporting event i.e. BMX is exciting to watch but quite dull to read about. All I need to know in a nutshell is who (was there), what (happened), & where (they placed). The same can be said for manufacturer's websites. Some are cluttered with all sorts of useless information and/or you have a hell of a time navigating the website through the maze of buttons I like drop-down menus that take you directly to where you want to go. Although very plain, I think the Dans' Comp website is a good one because you can find what you're looking for with ease & considering the number of product lines they carry everything is displayed/viewable with ease. My website (www.siriusbikes.com) is very basic & clearly a work in progress. In addition to providing info about the products I sell I'm also trying to offer riders a little local news & opinion. Of course to do it right requires a full-time commitment & as Sirius Bicycles is a one-man outfit that's just not possible at times, as well you know?
More about Sirius
bmxultra.com: What brands are you distributing at the moment?
Adam: Avent, Hyper, Intense, MCS, ONE, Revtec, Staats, & Supercross. As well as ITS, Vigor, SINZ, Bombshell, THE, & Snap. I'm always working on bringing new brands to the market.
bmxultra.com: Which are the main stores that people can buy your products through?
Adam: All of my dealers are listed on my website (www.siriusbikes.com).The list is long & getting longer by the week!
bmxultra.com: Who do you have riding for you at the moment?
Adam:
Junior/Elite/Pro
Andrew Gillet – Hyper (WA)
Callum Gifford – MCS (NZ)
Cameron Cole – ONE (NZ)
Charles Nelson – Hyper (VIC)
Dean Phillips – Hyper (QLD)
Dirk Winter – Staats (QLD)
Haden de Boer – Revtec (NZ)
Jason Kelly – Intense (NZ)
Jonathan Hoare – Revtec (VIC)
Lisa Horlor – Hyper (NZ)
Marc Willers – Staats (NZ)
Melissa Mankowski – Staats (QLD)
Michael Williams – Supercross (NZ)
Rhys Telford – Avent (NZ)
Robert Blackham – Staats (NZ)
Scott Hosking – Staats (NZ)
Stifler Jansen – Revtec (QLD)
Tim Ferguson – Staats (NZ)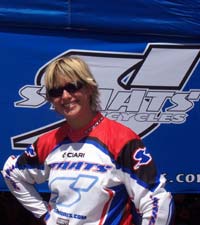 Am
Alexandra Williams – Intense (NZ)
Andrew McKenzie – ONE (NZ)
Ashleigh Cragg – Staats (NSW)
Ben Orchard – Staats (NZ)
Cory Martin – Staats (NZ)
Craig Lovell – Hyper (SA)
James Doyle – Intense (NZ)
Jarrod Browning – Revtec (NZ)
Kane Barry – Staats (NZ)
Kara Wells – Staats (QLD)
Chelsea King – Revtec (QLD)
Madison Janssen – Staats (QLD)
Micah McGoldrick – Hyper (NZ)
Stevie Winder – Revtec (NZ)
Wayne Pottow – Staats (NZ)
Wyatt Clinch – Staats (NZ)
I think that's everyone
bmxultra.com: Wow that's a huge team you have going there, is that it or are you still looking ate putting others on?
Adam: In my opinion the best way to promote my brands is by putting riders on the bikes etc. If you advertise in a magazine you will receive only limited exposure because not everyone buys them & they're usually monthly publications. If however you have a good rider on a bike & racing in your jersey, then you may receive greater exposure through the race coverage that the various magazines, websites, etc provide & if that rider is particularly good, then he/she may get their picture in said magazine on an ongoing basis. Most mums & dads haven't a clue about BMX and/or what to buy… but their lil' BMXer usually does! And to a larger extend kids are influenced by what they see in the magazines, online, or at the track. If the local Pro(s) is using a particular product, then usually that's what the kids want too. Having said that I also support many younger riders & a large number of female riders also. In addition to the bicycle industry I'm also very passionate about the sport of BMX & so I like to "give back" to the sport by supporting many of the top young Aussie & Kiwi riders as I can. I'm also currently looking for riders in SA & WA, & so no, I'm not done yet!
Posted in: Interviews