We last interviewed Wade Bootes way back in '98 when he was flying the flag for Trek on a signature frame. It's seven years later, Wade is back in Australia doing his own thing for TeamWBR (Wade Bootes Racing) but still hitting up international BMX and MTB events with impressive results. We caught up with Wade to find out what he's up to.
The move back to Australia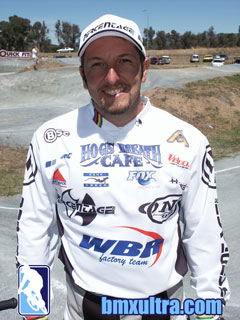 bmxultra.com: A lot has happened to you since we first interviewed you in '98. For starters you are now living in Australia…how are things in Queensland?
Wade: Queensland is great… I have always wanted to live in the area I am in now, since I was racing at Miami BMX track a few decades ago. We have a great bunch of riders in the area from Roadies, Mountain bikers, and BMXers… within 10 minutes I have the likes of "Tour de France" rider Robbie McEwen, mountain bikers Nathan Rennie and Katrina Miller, and BMX pro Julian Lim and a bunch more riders that we all hang out with… Queensland is also a good spot for the V8 drivers which we get to hang out with on their huge boats in the summer (David Besnard, Paul Weel, Steve and Dick Johnson). The Gold Coast is great, I would have to say it is one of the best places in the world that I have been to.
bmxultra.com: How did you manage to hook up with V8 Supercar drivers?
Wade: I first met a few with Oakley Australia (Greg Murphy and the Kelly brothers) as I was invited to some after parties at Indy and I am friends with David Besnard's wife (Next door neighbour to Katrina Miller when we all lived in Sydney). After hanging out a few times with David motocross riding, camping etc we then started to meet up with other Drivers at parties and weekend get togethers. Paul Weel and I trained together on road bikes this summer in the early morning bunch rides before he moved down to Melbourne at the start of the year. V8 drivers love the water and they get out on their boats as much as they can. So us jet skiers go tie up on their 40 -50 foot boats. Now that's the life.
bmxultra.com: What do they think of BMX?
Wade: They think BMX bikes are for little kids, and can't believe that I have made a living out of riding a "kids" bike.
bmxultra.com: Have you got any of them out for a ride on a BMX track?
Wade: I nearly got Paul out on the BMX bike at Nerang, but David does some MTB riding while Paul does the road bike thing… but most of them do motocross.
bmxultra.com: Sorry Wade, getting a little off track there…was it a difficult decision to pack everything up in the US and head back home?
Wade: Not really… I was only racing half a season with Mountain bikes and this allowed me to come home for a few months at a time. Since my late Mum was sick, I decided to purchase a nice home so that she would be able to rest well in for her final months in a great climate. Since then I have enjoyed living in Australia and don't really miss all the hectic lifestyle over in LA.
bmxultra.com: Does that mean you in Aus for good now?
Wade: I think so, as I am all set up with my own family and it is hard to travel as much as I used to, so I am planning to base myself in Australia and race a limited race schedule from now on.
bmxultra.com: Your mother was a big part of what made you successful in BMX. She was a big supporter of your racing throughout the years. I remember her being around when you were a grommit, and she helped you get to the US right? Do you think you would have gone anywhere near as far as you did without her?
Wade: My Mum always encourage me make the most of every opportunity…"if you are going to do something, then do it right" she used to say. I wanted to go to the US for one race and Mum talked me into trying to stay for a season and give BMX a real shot. We planned everything out and I had a budget of $2000 from when I landed in the States, and I managed to turn that $2000 into a career that is still going strong after 12 years (not a bad investment). Without my Mum pushing me to do my best, there is no way on the earth I would be where I am today. Thank you Mum for making me aim high.
bmxultra.com: Is it more difficult to get to the races you would like to go to internationally now you are based in Aus?
Wade: For sure… without the 6 figure travel budget it is hard to get around to all the international events I used to do. Now that I am focusing more on BMX, I can focus on the main UCI events in Australia. Then hopefully I can qualify for the National BMX team and get some assistance to travel to the UCI Supercross events and World Championship, so that I can help Australia qualify in the top 5 countries in the world. This way we can guarantee that 3 Australian Elite Men will go on to race at the Olympic games in 2008.
bmxultra.com: How do you choose which races to compete at?
Wade: As racing is still my profession, I have to decide on which races that will best give me exposure and prize money. Without the huge sponsorship bonus program, I am chasing the Jeep series and the UCI BMX series, as these are the shortest series with the biggest payout. It is no good to me to race a Norba event any more as it cost me money to attend and there is no prize money awarded. So with smart planning and commitment to certain events, I am still able to be a professional in the sport of cycling. With the limited race schedule, I am now able to conduct coaching clinic and camps for BMX riders. Also run courses to accredit new coaches which helps with the development of BMX in Australia.
Percentage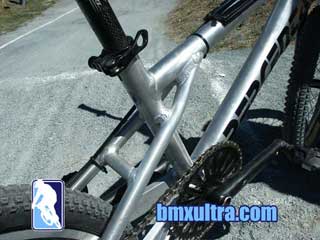 bmxultra.com: I think it's awesome that Australia can now boast that we have our own frame manufacturer, it's been a while. I hope it encourages more people into creating our own industry. Do you think that the Australian BMX culture, which seems as simple as following the US trends, might change as our own industry grows?
Wade: I hope so, Australia is leading the world in cycling and it would be great to see Australia have more bicycle and product manufacturers have a share of the bicycle industry.
bmxultra.com: Tell us about Percentage
Wade: Percentage has been around for a long time, at least 20 years… It was a guy who built bikes in his back yard for riders like, David Hasler, Bill Dixon, Katrina Miller. Now they are back making frames and also doing a clothing line.
bmxultra.com: How did you get involved with them?
Wade: I am good friends with one of the owners and it was perfect timing for both of us to join together. They asked me to represent Percentage Designs and help with future products. This partnership makes it even better…easier for me to base myself in Australia and attend a limited race schedule that I wanted. Percentage have a bunch of products coming out which will soon be on the market at www.ozcrank.com and exclusive dealers. Percentage also agreed that they would help support my race team I am putting together here in Australia. We will soon be announcing the Team Factory riders for the 2005/2006 race season. I am excited that I have the opportunity to help some of the future BMX stars in Australia with sponsorship support. All team information is on www.TeamWBR.com
bmxultra.com: What input did you have into the design of the new percentage frame?
Wade: I gave the most important information which is the geometry and input in how the bike should feel to ride.
bmxultra.com: What sizes will the Percentage frames be available in?
Wade: The first run will be with 20″, 21″, and 21.5″ top tubes, a Pro crusier and a 4X frame. Then a run of smaller bike will be made.
bmxultra.com: What colours will the frames be available in?
Wade: First order of BMX frames will be all white and 4X frames Black.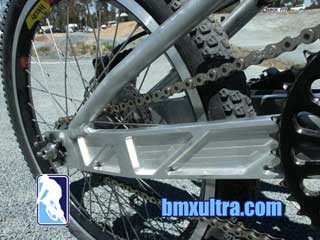 bmxultra.com: Why alloy?
Wade: You have a lot more options to design with alloy and it gives you a much better feel when riding.
bmxultra.com: Will there be any cromo versions in the near future?
Wade: Maybe in the smaller sizes of bikes.
bmxultra.com: Why a CNC'd rear chain stay? Wouldn't it make it a more expensive frame?
Wade: This was decided by the owner, I think it gives it a great look and helps with the performance and the feel when accelerating.
Let's talk about BMX racing
bmxultra.com: It would be safe to say that over the years you would have had the opportunity to experience a lot through BMX, what is your fondest BMX racing memory?
Wade: I think the fondest memories come from the friends you make in the sport. I remember traveling in a convoy to races with all the pro guys and just having fun racing our bikes… Going on tour with your team and uniting as a family. The friendship that is made over the years with your mates and team mates are the things that I most cherish.
bmxultra.com: There aren't too many Aussies that had the chance to ride the X-games or UCI downhill events. What was the experience like for you?
Wade: I have raced the Winter X games and Summer X games. All courses are crazy, but fun. It is like you are on a roller coaster and you control the speed…by letting off your brakes. It is a rush… you don't even have to pedal and sometimes having to tap on your brakes and you are jumping 40′ easily.
bmxultra.com: Why did you race for the USA at the '97 UCI world championships in Canada?
Wade: For a few reasons.
1) I was not licensed through Australia at that time and I only had a UCI license with NBL.
2) I was then a permanent alien resident of the United States,
3) I firmly believe in supporting the ones that support you. I was getting no assistance or help from BMX Australia or Cycling Australia back then as I had achieved all that I had on my own back. I was getting paid by American companies who were supporting me at the time, ABA, NBL (prize money) and sponsorship deals from American bike companies. I only felt it was fair to support a country that was supporting me during that time.
4) Finally, it would have been much easier for me to race for Australia if they had given me a jersey to race with in the first place.
bmxultra.com: Do you think a national ranking works better as a single weekend or a national series? Why?
Wade: I like a National Series. This shows the most consistent rider for the year and eliminates any lucky breaks that some riders get in a 1 final National title. That said I think that World and Olympic games should be only the 1 event to decide a Champion.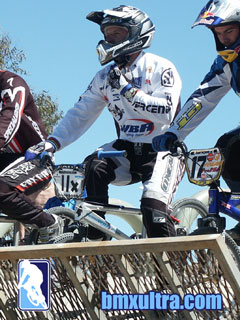 bmxultra.com: Do you think there would be any advantage in BMX Australia extending the UCI points series so that all classes are involved? Would it effect the level of racing?
Wade: Firstly BMX Australia have to follow rules that are passed down from the UCI. If the UCI rounds were open to all ages… I am not sure it would effect the top end of the racing level, but it would for sure make for more riders in a class. I do like the idea of the challenge classes of 13-16 open and Junior Elite 17-18. This helps develop riders to perform at a level that is required later on as an Elite rider. Give the riders the understanding of winning at that level of competition, instead of throwing them in the deep end.
bmxultra.com: If there was anything in Australian BMX that you could change what would it be?
Wade: There is a lot that BMX Autralia has to do to catch up with some of the other National and cycling organizations in the world, and I believe they realize this and they are trying to fix a few problems. Hopefully now with more funding towards BMX, a better high performance program will be put in place to cater for all National Team and Squad members than has been in the past. Politics will soon have to go and more black and white answers need to be put in place. With BMX now an Olympic sport, a proper selection process needs to be put in place that all riders and coaches can follow and understand. It has to be clear and all possibilities have to be covered to where there are no excuses for mistakes, mess ups or favoritism. A good DVD to watch is the "Road to Athens". It is about the USA MTB cycling team traveling the world chasing points just to make the team.
bmxultra.com: You have expressed interest in the backyard race we plan to hold in January. What is it about such a race that would motivate you to want to compete knowing that you still have 3 days of racing in the 4 days following the event?
Wade: It is more for the fun factor… it will be a relaxed race that I can attend due to being in the area.
bmxultra.com: Prize money hasn't even been discussed as an incentive for the backyard event, and you mentioned earlier that prize money helps you decide which races to attend. What was it that initially sparked your interest?
Wade: The initiative of BMXUltra helping promote and put on events for BMX. I would be in the area and it all comes back to supporting the people that support us. Also I am usually good with slalom/time trail events.
bmxultra.com: Ok enough about me…If you could make the call of clips or platforms which would you choose?
Wade: Hmmm either… I am not fussed… but clips do help with your performance and control at a high level of competition.
bmxultra.com: We have seen a fair bit of MTB technology cross over into BMX, like suspension forks, gears, disc brakes, monocoque frames, clipless pedals, and so on. It seems that the only thing that survived any more than a fad was clipless pedals…is there anything else in MTB that hasn't been used in BMX yet that you think might apply well to BMX?
Wade: Hmmm, I think it has nearly all been tried now… Some stuff works some stuff doesn't.
TeamWBR.com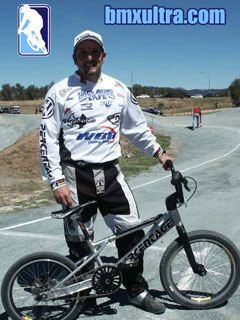 bmxultra.com: How are things going with TeamWBR?
Wade: TeamWBR's Going good… Just sending out letters to the riders that have been asked to join the Factory Team and Support Team. So soon everyone will see who is on the team through the TeamWBR.com website.
bmxultra.com: Who are the TeamWBR sponsors?
Wade: TeamWBR is proudly supported by Percentage Designs, One Ring, Volkswagen Australia, Hogs Breath Cafe, Velocity Wheels, Investco Merchant Bankers, ATI, Hayes Brakes, Fox Shox, IRC, Cane Creek, BSC, QuikShade, Bell Helmets, Truvativ chain guide, Funn, Nike Cycling, Shimano, Sockguy and www.TeamWBR.com.
bmxultra.com: How were you able to select the TeamWBR riders?
Wade: At the Australian Championships, the Percentage brand was on display and this is when we had announced that TeamWBR was looking for riders for the 2005/2006 race season. The riders were able to fill out an application form (or online at www.ozcrank.com) to join TeamWBR Factory team and also have a chance to be on the Percentage/TeamWBR support Team. This is were we have selected our team members from and the application process was very successful.
bmxultra.com: When will you announce the TeamWBR riders? Who are they? If you are still not ready to tell us, any hints?
Wade: Soon all riders will be announce on the TeamWBR.com website. We are still waiting on a few products to arrive before I can deck out the Factory Riders.
bmxultra.com: Can people join the TeamWBR grass roots team at any time?
Wade: TeamWBR has been created to offer riders a sponsorship support program, which they may never get in the sport of BMX. I have been given a lot from BMX racing in the past and this is my way of giving something back. If I am able to help out riders with some support, then I am more than happy to do so.
bmxultra.com: Will the percentage frames be Wade Bootes signature frames?
Wade: No. Percentage may do a limited run for a signature frame later on, but in the mean time you can purchase the same bike I use through www.ozcrank.com very soon.
What does the future hold for BMX and Wade Bootes?
bmxultra.com: How much longer do you think you will be racing BMX?
Wade: I will be happy to retire from BMX after I have completed the main event at the 2008 Olympic games. As long as I am a main event contender and still winning races in any cycling discipline there is no point for me to stop racing. I have been given a lot of advice in the past… if you stop racing before your time is up, you can not turn back the clock.
bmxultra.com: Do you think you will be more competitive on the MTB as you get older?
Wade: Seems like the MTB age is higher at this time but I am sure the age will keep going up now in BMX due to the Olympics… Bas De Bever is 35/36 Lopes, King and Carter (33-35ish) and all still going strong in the MTB World. Age is just a number… if you have the support and dedication, an athlete can continue as long as his or her heart is in it. I am only 31.
bmxultra.com: If Australia gets to send 2 female and 3 male riders to the Olympics, who do you think they will be?
Wade: Hmmm, that's tough… it is basically 3 years to go. If I see a selection criteria I will be able to answer that one a little easier, but as of right now I am not sure how the team will be selected. All I know is that a winning run only last for so long… it will be crucial to be winning at the right time. A lot can happen in 3 years. But I am sure Australia will pick a team with experience.
bmxultra.com: Do you still have any of your old school gear from back in the day?
Wade: Yeah, I have a set of each sponsors gear from when I have been in the States, even my Crisp gear that I went over there with.
bmxultra.com: Still have the Cobra and race gear?
Wade: No, I only have old pictures of the Cobra gear, that's 2 decades ago…lol
bmxultra.com: Which up and coming riders from Aus would you pick as champions of the future?
Wade: There are a lot of talented BMX riders out there right now… and all of them can reach the top with proper guidance and training. Hopefully most of them will be on TeamWBR.
bmxultra.com: Do you have any advice for riders who want to follow in your footsteps?
Wade: Invest your time and money wisely, if you are going to make cycling your career then make it your profession.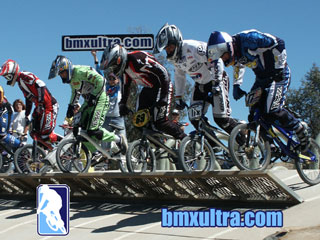 bmxultra.com: How do you compare the quality of Pro BMX in Australia to anywhere else in the world?
Wade: A few years back I would say it was below average, but now we are having semi finals that are like main events… this is great to see as the level of competition has been growing in Australia and there is more than 1 person that can win at any event.
bmxultra.com: Do you think you will have much involvement with BMX once you stop racing?
Wade: I would like to. With having a Level 3 coaching accreditation I would like to be able to pass on my experiences with other up and coming BMX riders and coaches. With BMX now in the Olympics, this will only help my situation towards being involved in BMX after racing.
bmxultra.com: Thanks for the interview, is there anyone you would like to thank before we finish up?
Wade: I would like to thank all my supporters and sponsors for their support over all the years, as without you guys I would not be where I am today. Cheers.
TeamWBR is proudly supported by: Percentage Designs, One Ring, Volkswagen Australia, Hogs Breath Cafe, Velocity Wheels, Investco Merchant Bankers, ATI, Hayes Brakes, Fox Shox, IRC, Cane Creek, BSC, QuikShade, Bell Helmets, Truvativ chain guide, Nike Cycling, Shimano, Sockguy and www.TeamWBR.com.
Posted in: Interviews