Anyone who was around back in the day will see the influences that Kappa BMX has drawn from in their custom frames. Old school Thrusters, CW Phaze 1 "Z" frames, Profile, JMC and so on, these aren't rebuilds they are modernised race frames, with v-brake mounts, euro bottom bracket, updated geometry and stronger designs. If you are looking for something a little different, stylish and classic, Kappa just might be the place for you. Read on to find out more about Kappa BMX.
About Scott…
bmxultra.com: What is your BMX background?
Scott: I used to ride dirt and freestyle in the 1980's. More of my time went to freestyle; half-pipes and flatland. BMX was obviously where it all began for me, but I was always in it for the fun and not the competition. I rode what was around my town, which usually involved a dirt trail, a half pipe and a cement structure rather than a regulated BMX track.
bmxultra.com: Do you still ride now?
Scott: When I can. It's hard finding time, but there's nothing like hitting the trails on a nice day. I only wish I was in the shape I was in at 17!
Who is Kappa?
bmxultra.com: What is Kappa BMX?
Scott: Kappa is a small custom BMX frame & component manufacturer located in Michigan USA.
bmxultra.com: Where did the name come from?
Scott: We are based in Kalamazoo Michigan and I wanted a name that began with a K. I always liked the word "KAPPA" from the Greek letter "K", so I chose it as the name.
bmxultra.com: How/when did you get started?
Scott: We were toying with the idea some time around 1998-1999. Formally the company was established in February 2002, although we had prototype frames being tested well before that date.
bmxultra.com: How many people work for Kappa?
Scott: Approximately four. There's me, a fabrication/welding person, a shipping person and an errands person. We all switch job functions at times.
bmxultra.com: Do people often confuse you with the clothing brand?
Scott: No, I have not heard anything about this. The clothing company Kappa is not very big in the US, and we don't make clothes, we make bikes. There's a Delta Airline company and a Delta Faucet company – I doubt they ever get confused with each other.
bmxultra.com: What would make someone buy a Kappa over an original Old School bike?
Scott: What would make anyone buy any new bike over an old one? I guess someone that buys a Kappa frame is someone that wants something unique and well made with an old-school BMX design influence. I think the old school bikes had way more style than anything produced after 1989, which is why Kappa rejuvenated these designs.
bmxultra.com: Who would you say is the stereotypical Kappa bike owner?
Scott: I don't think they fit into any mold.
bmxultra.com: Would most Kappa frames be built up for show or to ride/race?
Scott: I have no idea, but I know a lot of them are currently being raced.
The K-20…

bmxultra.com: What is the most popular style of frame?
Scott: The Kappa K-series definitely. The K-20, K-24 and K-26 frames seem to get the most response, and they all have that classic 1980's look. As for the K-26, not many bike companies make a 26 inch BMX frame.
bmxultra.com: What has been your favourite style of frame to build?
Scott: They are all my favorite, but I really like the looks of the Kappa K-series frames.
bmxultra.com: What is your personal ride?
Scott: A Kappa K-26 and a Kappa Brutus
Custom frames…
bmxultra.com: Do you work from photos and old magazines when reproducing frames? Or do you have an original of each of them to work from?
Scott: All we do is take the basic design and work up some prototypes with modern geometry. The Kappa K-series frames, for instance, were modeled after the early Robinson frames (pre mid-1980's GT buy-out). Chuck Robinson was a great frame designer. I wish I could have showed him the Kappa frames, I'm sure he would have been proud.
bmxultra.com: What do the manufacturers think of your tribute to their originals?
Scott: Most of the manufacturers which built the frames that inspired the Kappa special project frames are not around anymore or have different (foreign) owners. Really the comments I get are from the original owners and the original riders, and they have all been positive.
bmxultra.com: Do you ever get abusive phone calls or emails from purists, that don't think you should be modernizing legendary frames?
Scott: No. I don't make reproductions, just new bikes with classic styles. I don't think any one calling themselves a "purist" or a BMX collector would confuse a vintage bike with a Kappa bike, because they are totally different. Take a look at the new frames available right now (other than those built by Kappa) – I'd be more concerned that these frames are being confused with one another.
bmxultra.com: What is the most obscure/unexpected country you have sent a frame to?
Scott: I've sold a lot of frames outside of the U.S. One went to Iceland, which I thought was pretty unexpected.
bmxultra.com: What was your favourite race frame back in the day?
Scott: I like the clean and simple designs. The non-gusset pre-GT Robinson frame, the JMC Racing DY and AP frames, and the Hutch Pro Racer frames were my favorite.

bmxultra.com: Is the Phaze 1 "Z" style frame popular with Kappa-maniacs?
Scott: People seemed to like them. The originals CW's are not only hard to find, but they are also hard to ride without breaking them. I figured why not make a beefed up modern version that people could enjoy?
bmxultra.com: Are there any current big name AA Pro riders that have bought a Kappa frame?
Scott: Not that I know of. I think most are after free product, money and some type of sponsorship. We have little to offer when it comes to that, considering our size.
bmxultra.com: What is the most popular colour you sell?
Scott: Probably our Candy Red and Candy Blue. They look killer.
bmxultra.com: What materials do you work with mostly?
Scott: Mostly 4130, although we have made some aluminum and titanium products for testing purposes. I think 4130 is the best choice for BMX.
bmxultra.com: Let's say I order a custom frame, how long will it take (on average) from the day of ordering it until it lands on my front door.
Scott: Depends what you want. All Kappa frames are definitely not "off the shelf". If you wanted a stock Kappa K-20 frame in a custom color, it would take about 2-3 weeks. If you wanted a completly custom built frame, it would probably take at least 2 months. Of course, these have to built from scratch.
The new M-20 frame…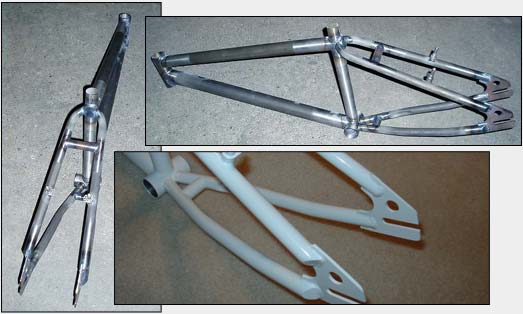 bmxultra.com: What made you decide to break away from the loop tail style retro/replicas and produce a more modern looking race frame?
Scott: If you're talking about the new Kappa M-20 frame, we made it for people that don't like the classic look of the looptail Kappa K-series frames. Also, the Kappa M-20 is a little lighter than the Kappa K-20.
bmxultra.com: What has been the initial reaction to the M-20 race frame?
Scott: We just made it available to purchase this week. Only our factory riders had access to the frames before this.
bmxultra.com: You often make limited edition frames, but don't advertise them anywhere except for VintageBMX, is this to simply keep the numbers down or is it just easier to hit the "target market" directly?
Scott: Younger riders don't seem to be interested in these special projects. Plus they are not cheap to build. For the older rider, vintagebmx.com is a great place to hang out and reminisce. It's also a perfect place to announce these special custom frames as these people are the ones most interested in them, in my opinion. Plus, we could never handle that large of an order on a custom jobs
bmxultra.com: Do you think the M-20 might lead to junior sized frames? For example a parent might buy one for himself and want one for his kid too, from what I have seen on Vintage BMX it's not unheard of Kappa buyers purchasing his and hers frames.
Scott: We may come out with junior sized frames in the future, but for now, that's definitely on the back burner. Hopefully the Kappa mini will be completed soon.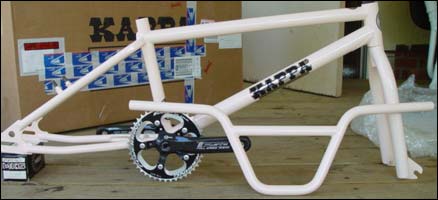 Music…
bmxultra.com: What music do you listen to?
Scott: I like 1980's music as well as 1980's bikes. I still enjoy listening to the early Beastie Boys, Run DMC, PWEI and the original Metallica w/ Cliff Burton. I listen to a lot of things I guess, too many to list. The Little River Band rocked.
bmxultra.com: What do you think of Neil Young?
Scott: I have never met him, but he seems like a cool guy. He's got some cool guitars. He seems to keep a youthful spirit. Money will do that to you.
bmxultra.com: Do you think building Kappa frames will help you keep a youthful spirit?
Scott: I just make them because I like the look of them. I think modern BMX needs to show off some of these classic designs from the past. Roots baby.
The internet…
bmxultra.com: What are your favourite websites?
Scott: vintagebmx.com and ebay.com definitely! kappabmx.com is another cool one.
bmxultra.com: How important is the web to your business?
Scott: It's very important since we have very little dealer presence. I try to respond to emails and telephone calls as soon as I receive them. It's tough sometimes since we are usually super busy and we are such a small company. I think most people understand the custom nature of Kappa.
bmxultra.com: Do you think you would be making frames if it wasn't for the likes of VintageBMX and ebay?
Scott: We sell very few frames on Ebay. Actually, Ebay is mostly used as an advertising tool. Most of the sales come from word-of-mouth, and vintagebmx.com and other websites. Of course, if there was no website we'd be selling a lot less.
bmxultra.com: What special projects do you have coming up?
Scott: You'll have to stay connected to vintagebmx.com to find out! The next one has been hinted and will be announced soon!
For more information about KappaBMX check out www.kappabmx.com.
Posted in: Interviews