Jonathan "Jon Jon" Hoare has been riding as bmxultra.com's AA Pro since the beginning of 2004. We realised that there is only so much you can learn about someone through photos and results, so it was about time we did an interview with him. Read on to find out more about one of Australia's new pros trying to break out from the rookies and join the legends of Aussie BMX.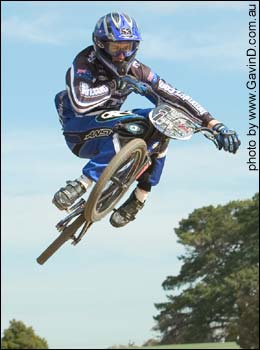 bmxultra.com: Why do people call you Jon Jon?
Jon Jon: That's just a nick name that I got from the local guys at the club and it stuck.
bmxultra.com: You stole John Johnstone's nick name, I heard he made a comment about it at the 2004 Australian Championships. What did he say?
Jon Jon: Ahh nothing much really, some one asked him why he didn't have Jon Jon printed on his jersey and he said coz Jon Jon's got it.
bmxultra.com: A lot of people don't know but you are from South Africa, is BMX popular there?
Jon Jon: I didn't hear too much about while I was living there but I have seen a few magazines that talk about tracks popping up
all the time, so it's growing I think.
bmxultra.com: How did you first get into racing? When was that?
Jon Jon: All my friends from school rode BMX's when I came to Australia, so I got one. I went down to the track one day and
decided I wanted to race. My first race was the last round of the Metro Plate series at Frankston end of 2000.
bmxultra.com: How long did it take for you to turn pro?
Jon Jon: I think it was about a year after I started racing when I rode pro at the Metro Plate series rounds and a few A pro races.
bmxultra.com: You really stepped it up during late 2003 and through early to mid 2004, some people say that you haven't made a lot of progression since. How hard is it to keep training, keep motivated and keep progressing?
Jon Jon: It's almost impossible for some one to progress at the same rate all year round, every one has their critics. It was harder when I was training alone but having some one to train with makes it easier and you tend to keep each other motivated. As long as I am happy with my progression that is all that matters.
bmxultra.com: It's no secret that Tony Harvey has dominated Pro racing in Victoria for many years now, so much so that AA Pro racing had become predictable and boring. Now people are watching the Jon Jon/Harvey battle and paying more attention to the class, other riders are stepping up too like Ben Price and Levi Collins. It's no longer a one horse race. What's it like to be a part of that?
Jon Jon: It's good, we are all pushing each other now and this will make the racing more exciting for us and for the spectators. This also helps us when we travel interstate and have to race the guys like Madill and Fenwick.
bmxultra.com: The battle with Harvey on the track has turned into a war of words off the track too at times, do you think it's too personal? And should what happens on the track, stay on the track?
Jon Jon: It shouldn't become personal, and it should never be taken off the track. It's not good for the class and it's not good for the kids to see it happening. Tony and I still get along but I guess he's taught me a few things about racing. When you are on the gate no body is your friend, if you have the chance to pick up a spot even if it means getting a bit aggressive then do it. Having said that I would still prefer to avoid contact if possible and just try and ride smarter.
MUSIC
bmxultra.com: What sort of music do you listen to?
Jon Jon: Pretty much anything but I prefer slightly heavier rock.
bmxultra.com: What was the last CD you bought?
Jon Jon: Green Day – American Idiot
bmxultra.com: What do you think of Neil Young?
Jon Jon: I don't???
INTERNET
bmxultra.com: What BMX websites do you check out?
Jon Jon: bmxultra.com, bmxstars, gavind.com.au, bmxmania.com, onebicyclesusa.com.
bmxultra.com: Do you think they are important for BMX as a sport?
Jon Jon: Yeh for sure, they keep everyone up to date with whats happening, especially if you can't get to races and you want to know whats happened. Also it's a bit of incentive for the sponsors.
bmxultra.com: What do you look for in a website, what keeps you going back?
Jon Jon: Regular updates, Good Photo's or video's.
SO FAR
bmxultra.com: You have been with bmxultra.com for a year now, how would you sum up your last year of racing?
Jon Jon: The year didn't start off that well for me as most will know, I spent more time on the ground than I did on the bike, but by about half way through I started to find my groove and got a few good results at some of the bigger races. End of the year (state titles) I had a bad weekend but you just have to take the good with the bad.
bmxultra.com: You do a little bit of coaching, are you enjoying that?
Jon Jon: Yeh it's good for the kids and it keeps me coming back because the kids want to learn new things. I also do my own one on one coaching now that I have completed my Cert IV for Sports Development and that helps me as well as the guys I'm coaching because we seem to keep each other motivated.
bmxultra.com: Some people say you lack race experience how can you work on that?
Jon Jon: Well I think everbody is saying that, it's just one of those things that you have to let run its course, I haven't been in the sport for very long when you compare me to some of the other pro's out there. It's only a matter of time, and I get more experience with each race.
THE FUTURE
bmxultra.com: What are your plans for the near future?
Jon Jon: Just to keep training, try and take home a number one, doesn't matter which number one as long as I give it my best shot and have a good crack I'll be happy.
bmxultra.com: Would you like to compete in the Olympics?
Jon Jon: Yeh definitely but I don't want to get ahead of myself just yet, Australia has a lot of talent coming up the ranks not to mention the guys who are already winning, but it's definately something I'd like to try and do.
bmxultra.com: Would you be eligible to compete for South Africa?
Jon Jon: I'm not quite sure, but I don't think there is an African UCI series so I don't think they will have any riders in there. Plus I'm an Aussie citizen now.
bmxultra.com: Where do you see yourself in 5 years time?
Jon Jon: I don't really know, I'm not looking that far ahead, just taking it one day at a time. I would love to be living the dream and racing in the states but I guess we'll just have to wait and see.
bmxultra.com: If you weren't racing BMX what would you be doing?
Jon Jon: Racing MTB's
WORD ASSOCIATION
UCI: Downhill
BMXPress: Aussie mag
Pro: Getting tougher
Tony Harvey: Racing for as long as I've been alive
One Bicycles: Sick frames
bmxultra.com: best site
Levi Collins: Corners Corners Corners!!!!
Luke Madill: Smooth
Mike Fenwick: The next Aussie Phenomenom
National championships: Too expensive
State championships: Too expensive
NSW Pros: Lots of them
Victorian Pros: Stepping it up
Platform pedals: Dirt Jumping
GENERAL
bmxultra.com: If you could change anything about BMX what would it be?
Jon Jon: There are too many things that need to be looked at but I'd lower entry fees for the nationals if it were up to me.
bmxultra.com: If you could invite 4 BMXers for dinner who would they be? And why would you invite them?
Jon Jon: Kyle Bennet, Warwick Stevenson, Randy Stumpfhauser and Christophe Leveque. They're all champions but these guys in my mind are what BMX is and has been all about.
bmxultra.com: What's your favourite movie?
Jon Jon: Bullet Proof Monk
bmxultra.com: What's your favourite track?
Jon Jon: I don't have one favourite but out of all the tracks I've ridden Liverpool, Lake Macquarie and Tuggeranong would be on the top of my list.
bmxultra.com: Is there anyone you would like to thank?
Jon Jon: First of all bmxultra.com for helping build my profile and providing me with great sponsors, One Bicycles, Answer, BMXBITS.com.au, Supercross, Pazzaz, Control Tech, Tektro, Dirt Designs, and ATi for all their support and products. Shannon and Bruce at Cyclelink.com.au/Bayswater Cycles. Glenn for the help with my training and anyone who has given me a lift to a race. Thanks
Posted in: Interviews