In the ABA's Vet Pro class stacked with former pro legends and full of history there's one rider who stands out as the underdog. Supercross rider Todd Parry doesn't have the pedigree of Eric Rupe, Harry Leary, Jason Carnes, Darrin Mitchell and the likes, but it doesn't stop him from being a player in class. Instead of his credentials Todd has used pure determination and brute strength to build a name for himself in the Vet Pro field. We wanted to find out a little more about Todd Parry and his background, what makes him tick and why he's so popular amongst the VintageBMX.com community.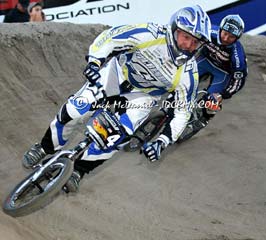 bmxultra.com: How did you first get started in BMX?
TP: My older brother Alan was going to a race with a friend and I just tagged along.
bmxultra.com: When was that?
TP: June 3rd 1978 (my moms birthday)
bmxultra.com: What were your results like as a youngster?
TP: I raced from 10 years old until I was 16. 1978 to 1984. I kicked tail locally most of the time. I didn't make it to many  nationals. When I did go I did well. I went to the 1979 ABA grands in Las Vegas, NV and got 3rd. The next year 1980 the grands were in Oklahoma city, OK I took 5th in 12 expert. 1/8ths,1/4's,semi's, main!! I think there were seventy some odd riders. I raced a national in Salt Lake in 1984 and got 3rd, 2nd in 16x. I always felt like I had what it took to be a national caliber rider. I just didn't have the money to get to the big races.
bmxultra.com: What was the level of racing you were doing when you had the crash that lead to your initial retirement?
TP: 17& over expert. I was 22 when I got hurt. As I told you I raced from 1978 to 1984. Then quit to play other sports for the high school, football, wrestling, baseball. I started racing again in 1990. won my first national in May in California. Won my next one in Salt Lake City, Utah in June. On August 8th I had my crash. So basically I raced 8 months in a 16 year span before coming back in November of 2000. And no I didn't ride my bike from 1984 to 1990. But just the short 8 month stint kind of bridged the gap. If I wouldn't have raced in 1990 I never could have done as well as I have.
bmxultra.com: What were you doing when you left the sport?
TP: Well, I destroyed my knee in August of 1990 racing. I tore my ACL, PCL & LCL in half. So for the first couple years I was just rehabbing my knee. Then I started playing softball again. I played on a bunch of tournament teams. My nickname was Baby Mac. After Mark Maguire. Yes, I hit a ton of Home runs!!!
bmxultra.com: What did you do that caused so much damage to your knee?
TP: Myself and another rider hit bars in the air over a big double. It knocked me sideways so I chucked my bike and tried to save myself. I landed on my right leg first and it just exploded!! That's another reason I like clips, I can't bail off like I did that time. I've separated my right shoulder twice but I'll take that over a knee any day.
bmxultra.com: Do you ever worry you could do it again?
TP: Oh Yeah!!!! I know I'm only one lap away from retirement. Anyone can get injured at any time. I promised my wife if I have any injury that requires surgery I would retire for good.
bmxultra.com: Were you still riding a bike during your time away from racing?
TP: Nope. I didn't touch a bike for over ten years. I have never owned a Mountain Bike or road bike. The closest thing I did was ride the stationary bike at the gym.
bmxultra.com: What was it that brought you back to the sport?
TP: My oldest son Ryan (5 at the time) wanted to try BMX so I signed him up. I watched for about three months and decided what the heck I'll give it another try.
bmxultra.com: When did you start racing Vet Pro?
TP: 2002
bmxultra.com: What made you decide to switch from Amateur to Vet Pro?
TP: Well, I always wanted to be a pro when I was a kid and I felt like I wasn't going to get any younger! I was 34 at the time. And I pretty much won everything in the Am ranks my first year back (NAG #1, ROC #1, RL cup #1).
bmxultra.com: Have you ever raced A or AA Pro before?
TP: I never raced any pro class before I raced Vet Pro. I have raced 4 A pro races the last three years, Salt Lake 2002, 2003 & 2004, also the RL Cup championship in 2003. I have a hard enough time making it to the Vet Pro races.
bmxultra.com: What is your highest Vet Pro year end ranking?
TP: 2002 #5, 2003 #4, 2004 #4. Even though I got the same number again my 2004 season was ten times better! Going into the last main at the grands this year I could still get # 1 to #4. I just had one crash and it cost me!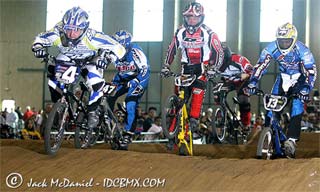 bmxultra.com: When you tried Vet Pro did you ever expect to be as competitive right
off the bat?
TP: Well, I wouldn't say I was competitive right off the bat. The first couple races I didn't even make semi's. Then I would make semi's but not make the main. It took me seven months to make my first podium. The 2002 ABA worlds 2nd place.
bmxultra.com: Do you feel like an outsider in the Vet Pro class given you don't have the pro background like Eric Rupe, Harry Leary, Darrin Mitchell, Jason Carnes, Todd Lyons and the others?
TP: Yeah, sometimes I do. I'm not really part of the whole Vet click or whatever. The two biggest legends in the class, Leary and Rupe have probably accepted me and treated me better than anyone. Sometimes I get the feeling that certain riders don't like getting beat by some old school Am who just showed up, raced one year and then turned pro. But for the most part all the riders are cool, but yeah I wish I had a AA background and got the respect that comes with that.
Family life
bmxultra.com: How do you juggle work, training, racing, and a family?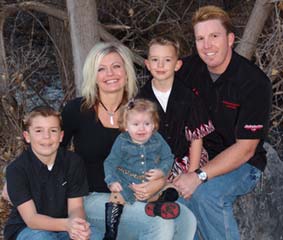 TP: Not easy!! I work 40-60 hours a week at the Oil Refinery, graveyard shifts, etc so it makes it tuff. My two boys, Ryan 10 and Zach 7 are getting to the age where they are not only racing BMX but playing baseball, football, etc. I usually coach their teams so that takes a chunk of time also. In fact they just started wrestling this week, practice three days a week and matches on Saturdays. I also have the new baby girl! Well she is 1 now but she keeps me busy on my days off!! My wife works full time so when I have a day off during the week I get to take care of Hayli!! It basically boils down to going to the gym 3 days a week for 1 hour, doing sprints twice a week (usually at like 1:00 AM) and I get to the track once a week. So I really don't spend a ton of time on my racing. I only raced 9 races all year in 2004. I think the hardest part is race weekend when I am gone for 3 to 5 days at a time. My wife Cathi is so supportive and understanding to let me go and race my little bike while she stays home and takes care of the kids. Being away from my family is a big sacrifice for me and them. Thanks honey, I love you!!!
bmxultra.com: What do you do at the oil refinery?
TP: I'm what they call a process operator, mainly I just monitor  all kinds of equipment, pumps, compressors, furnaces, etc. I also take equipment out of service to make it safe to work on. Big responsibility when other peoples safety is on the line.
bmxultra.com: It sounds like you don't see too much of your wife. If you are both working full time and you on night shift how do you keep the marriage going?
TP: I work day shift and night shift so it's not as bad as it sounds. We just had our 15 year anniversary in July of 04!!! We have had our up's and down's over the years but we both are committed to each other and to making it work. A marriage is like anything else in life you get out of it what you put into it!! We also have the same family goals, we
both want our children brought up right and proper and family is very important to both of us. My wife is awesome and I wouldn't trade her for anything. Plus she's a 10 and I'm maybe a 5 or 6!!!!!
bmxultra.com: Do your kids race at the nationals that you get along to?
TP: Sometimes my oldest son Ryan comes along. But not very often, they mostly just race locally. when I go they usually stay home with Mom.
Changes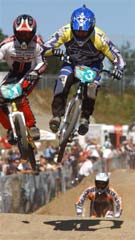 bmxultra.com: The tracks have changed a lot since the late 70's did you have any trouble with the track when you first came back to the sport?
TP: Big time YES!! the tracks have way more jumps and way less pedaling. Sometimes I would like to remind people it is a BIKE RACE !! you are suppose to PEDAL!!!! And I had never even heard of a manual? needless to say I crashed a lot my first year back, 2001.
bmxultra.com: What do you think of clipless pedals?
TP: I think they are awesome!! I love riding with them. I don't think I could race on flats anymore. I haven't raced on flats since 1990. I feel it is just the progression of the sport. Step up or step off.
bmxultra.com: How long did it take you to get used to using clips?
TP: Not long. I raced one weekend on flats and then got clips for my second weekend. By the time the weekend was over I pretty much had it down.
bmxultra.com: Are there any vet pros racing with Flats? Are any of them competitive?
TP: I don't believe there are? if so they aren't beating me.
bmxultra.com: How did you learn to jump and manual again? Trail and error?
TP: Yeah, I crashed a bunch for most of my first year. but it's just like anything else, you just have to practice.
bmxultra.com: What do you think is the biggest difference between now and the late 70's?
TP: A lot! Bikes are way better with longer top tubes, steeper front end, angles, etc. The tracks are way harder and I think the riders are in better overall condition. Just like every other sport on the planet, bigger…stronger…faster!!
More about Vet Pro
bmxultra.com: Are there other Ams making the move to Vet Pro?
TP: In 2002 & 2003 no. but this year there were a few. Chris Verhagen, Chad Roberts & Paul Caldwell. I have heard a couple more are coming in in 2005.
bmxultra.com: Are they having a similar success?
TP: Will they do as well as me? The jury is still out but they have made some mains so I think they will do fine. The class has gotten tougher every year so it's hard to compare. Chris Verhagen made a podium at the fall Reno race. But I think he was the only new guy to do it. And Jason Carnes and Eric Rupe weren't there because they were racing the NBL Grands. But I have a lot of respect for anyone who has the guts to step it up and move on to new challenges.
bmxultra.com: Do any of the Vet Pros ride like they are still racing AA pro?
TP: Yes! the three guys who finished above me in points, Carnes, Mitchell and Rupe. I think they all need to get a 40 hour a week job outside of BMX and then we'll see what happens.LOL
bmxultra.com: Hey how much is it to enter a Vet Pro event?
TP: $ 55.00
bmxultra.com: How much is the license?
TP: $ 70.00
bmxultra.com: What is the prize money at a regular ABA national
for Vet Pro?
TP: $500 1st,$300 2nd,$200 3rd and down from there.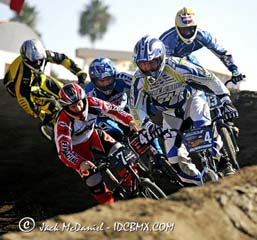 bmxultra.com: What's the biggest difference between ABA's Vet Pro and NBL's Elite Masters?
TP: Right now the ABA has more riders and deeper talent. But the NBL series just started in 2004 so I expect it to get bigger and for the talent level to be raised real soon. I believe the ABA series started in 1993 or 94, so it's been around for a while. Eric Rupe did tell me the NBL had series a few years back, why they did away with it I don't know?
bmxultra.com: Have you raced any NBL races?
TP: I showed up at one last spring in Boulder city, Nevada just south of Vegas. But only three of us showed up so we didn't make a class. That's another difference, most of the ABA Vet events are on the west coast and NBL Masters east coast.
Music
bmxultra.com: What sort of music do you listen to?
TP: All kinds from Metalica, Godsmack, Drowning pool, etc to 1970's Disco!! You gotta love that Disco baby!!!!
bmxultra.com: What do you think of Neil Young?
TP: He was a little before my time. But I worked with a guy who was a huge Neil Young fan so I got to hear his stuff A LOT! He's ok but not really my cup of tea.
bmxultra.com: What was the last CD you bought?
TP: George Thoroughgood's greatest hits—-bad to the bone bbbbbbbbad! get a hair cut and get a real job!! One bourbon, one scotch and one beer!!!
bmxultra.com: When did you last go to the disco?
TP: I have never been to a real disco!! After all I was just a kid in the 70's. Have I danced to a little disco? Of course!! I don't get out much, me and my wife are kind of over the whole party thing. Now it's just Disco in the bedroom baby!! Just kidding honey!!
The future
bmxultra.com: How long do you think you will be able to hang with the Vet Pros?
TP: As long as I want too. Like I said before I really don't spend THAT much time training. So I still have room for improvement. I haven't told anyone but my wife but I'm 99.9% sure this is my last year racing Vet pro. I kind of sell myself short by not putting 100% into my racing and I'm not willing to sacrifice more time away from my family to do any better. It's tuff when your main comp doesn't do anything but race and you have a ton of other things going on. I mean I only raced 9 races all year in 2004 and some of my main comp races like 25 to 30 races a year. I knew the rules when I came into the class so that's the way it is. The ABA isn't about to say riders can only race the Vet series that's it. But like I said that's life! It's also tuff being a bmxer from Utah where we can only race outdoors from May to October. And if you look at the Vet schedule the last three years and now 2005 it's front loaded in the year so by the time I get on the outdoor tracks as many as 7 of the 10 races are done. I have suggested a one race a month series to make it fair. But I guess I just waste my breath. Anyway, you got the breaking news. TP's farewell tour 2005. I'm not going to say I'm done racing just done with Vet. Who knows maybe I'll reclassify and get a big time sponsor!!
bmxultra.com: What will you do when you are no longer competitive in that class?
TP: Well, as I said above, I don't see that happening. but I did just turn 37 so you never know maybe I'll hit a wall in 2005? I love racing so I think I will always ride in some form. But it's kind of like either give 100% to what you are doing or get out. The Grands this year were real hard for me to swallow!!! I raced all year for a shot at the title and then someone runs into me in the first main and puts me on the ground! Season over!! It really made me think about why I race and if I am doing it for the right reasons? I decided I wasn't disappointed in my performance just the end result. It sounds bad when I say I'm not happy with # 4 again. I felt like I deserved better but we all know life is not about what we deserve!!! I know some people will ask me why I am quitting? But I don't see it that way at all. I'm starting my own race team this year and am going to have a bunch of products designed by myself come out sometime in 2005. So I feel I'm just moving onto a new challenge and I will continue to be involved in BMX.
bmxultra.com: What is the .1% that makes you think you will keep
going with Vet Pro?
TP: I Don't know? If the ABA changed some rules. Which I don't see happening or if I was to win the #1 plate I might defend it? And you never know maybe Bill Ryan at Supercross can talk me into one more year? But as of now 99.9% says I'm done with Vet Pro after the grands in 05.
bmxultra.com: What rule changes would be required?
TP: Limit the number of races you can race. If you are racing the full national schedule and race for a living should you be in Vet? the way I understood it the class was for riders who had families and or jobs outside the industry that still wanted to race but didn't have much time to train for racing. By outside the industry I mean that being a track operator or getting paid to drive the factory truck to the race really doesn't deter you from your racing. sitting behind a desk all day for a bmx company is a legit job and would be the same as me working here. well almost, they don't give me time off to race. Maybe they could let
you in at say 35 if you still race full time and 30 if you have a regular 40 hour a week job. Eric Rupe(42) and Harry Leary (45) most definitely belong in Vet even though they both have race friendly jobs. but just because a AA turns 30 he shouldn't just be able to come in if he is still making mains in AA. AKA Darrin Mitchell. Don't get me wrong Darrin is a super nice guy but he is hella fast!! and could still do good in AA. but what's done is done. Also I think a one race a month series would be more fair. It's to hard for the normal working person to get the weekend off every two weeks. I could go to every vet race if they were spaced out a month a part.last year I went to 7 of the 11 races.
bmxultra.com: How do you think they would make a difference?
TP: I don't think we will ever know. Not unless big money companies like Redline tell the ABA to make some changes. But as long as their riders are winning why would they? If I was hooked up with Redline or GT or Mongoose and they want me to have the best shot at the title they would call the ABA and say hey you know we spend like $200,000 to sponsor the Redline cup series plus whatever else we spend on adds etc.and our rider is getting a raw deal and we want something done! Then you might see the age go up or a limit on how many races you could attend etc. everyone has there own agenda! if I was making the call obviously I would say 37 and over as I just turned 37 and a full time JOB as in not racing! and so on. but everyone looks out for themselves and that is cool. Like I said before, the rules were like this when I signed the pro card and I'm not going to waste my breath trying to get it changed or complaining about it. Maybe if my company does well and the ABA wants my money for sponsorship they will listen to me and maybe put my picture in their magazine once in a while! BMX is just like anything else in life, you scratch my back and I'll scratch yours!! the only part that's not is the actual racing. you might know every Joe there is and had your picture in the BMXer every month but if I beat you to the finish line I win!!
bmxultra.com: I've been thinking of hitting up Vet Pro at some nationals and the ABA worlds 2005 or 2006. It looks like I'm going to have to race it in 2005 just to see if I can keep on the same straight as you in the Vet Pro…man have I got a lot of work to do over the next few months. Do you think you will get away with less training and still make podiums in Am class?
TP: Are you serious? I was just kidding about reclassing, never say never, but I don't think it will ever happen. Do I think I could destroy the Am class? Of course I do, if I didn't I would still be in there, remember move on to new challenges. Maybe I can come over there and see what you got? I just met Luke Madill at the Grands and I know Warwick really well. Let me know what's cooking over in your neck of the woods and I'll see if Bill Ryan and myself can make it happen?
bmxultra.com: Can you tell us more about the race team and products?
TP: The team is just a local team for 05 and if everything goes well it can work into a national team. The products are going to be awesome!! Almost all will be a built by Supercross and designed by TP thing. Bill is goinig to help me out with this project. Nothing is set in stone by if all goes well you will see, frames, forks, bars, stems, # plates, pads and who knows what else? It should be a lot of fun! So hopefully you will see some Parry Racing stuff over there some day.
The internet
bmxultra.com: Do you think that the Internet has helped BMX develop as a sport?
TP: Sure. It helps get news out faster. It makes it easier to buy products your local bike shop might not carry. And all the forums are a nice way to hear what other people around the world think. and it gives me a chance to talk a little smack!! I have a free pass on smack until the 30+ BS open part two rolls around. since I was the big winner winner winner! Did you hear about the 30+ BS open race?
bmxultra.com: What are your favourite BMX websites?
TP: supercrossbmx.com. vintagebmx.com. bmxmania.com. flynhighbmx.com. utahbmx.com. daleholmes.com. gregromero.com. toddlyons.com. ababmx.com and I just discovered bmxultra.com!
bmxultra.com: What do you look for in a website?
TP: News and pictures are cool. just anything about what the latest happenings are.
bmxultra.com: Will we see ToddParry.com any time soon?
TP: No, I'm not that cool yet!
bmxultra.com: Will you be using the web to try to sell the new
Todd Parry prducts? Why?
TP: Yes, probably see a Parry Racing website. just to let people check out the products, pictures etc. and then everyone can listen to me babble about stuff all the time! kind of like Dale Holmes! lol.
The BS stops here
bmxultra.com: the "BS stops here" race…what's that all about?
TP: Well, it started with a bunch of trash or smack talking on the internet. Someone asked who the fastest 30+ Am was and it kind of went from there. I talked some smack and had to go back it up. All the races are posted on bmxvideo.net and there is a DVD of the whole race available. It was the coolest trophy I ever won. Powder coated mag wheel mounted on a big piece of wood, it's awesome.
bmxultra.com: Is it open to all 30 + riders?
TP: All 30+ riders accept for AA. Sorry Dale.
bmxultra.com: Are you the only Vet Pro who rode it?
TP: No, Myself (37), Mark Melton (37), Harry Leary (now 45 years young) and Eric Dyer (38 ?). Top three were Vet Pro's. Me 1, Mark 2, Harry 3. Eric had a bad semi but came back to win the B main (for the 8 riders who didn't get out of the semi) It was a lot of fun but there was some pressure also. I was the favorite to win so step up or step off.
bmxultra.com: Any international riders?
TP: The only one who was there that I can think of was Domingos Lamaglia.(UCI world champ in 35-39 cruiser)
bmxultra.com: I'd love to see the DVD of the BS race…how much is it? Where can people buy it?
TP: It's $20.00 and you can order it on bmxvideo.net. I think vintagebmx.com members get it for $15.00 but don't hold me to it. It was done real well with music and everything!
bmxultra.com: Who supplied the trophy for the BS race?
TP: I believe vintagebmx.com and the ABA went in on it. they gave away a bunch of prizes, big props to the ABA and Shannon Gillette for coming up with the idea for the race to shut everyone up. And for going ahead with the idea and putting the race on!!!
bmxultra.com: Do you plan on defending the title?
TP: I'm not sure? I would like to. But there has been talk of a flats only race this year? If so, I'm out.
bmxultra.com: How many people competed in it this year?
TP: It was 57 I think? 50 something. 3 moto's pro style, low points moves on, 1/4's, semi's, A & B mains.
bmxultra.com: Do you recommend the BS race over Vet Pro at the nationals or ABA worlds?
TP: Well the BS race is on Friday night at the Rockford.IL national which is also a Vet race. So that would be the one to go too. They also have the vintagebmx.com museum bike show with all the old school bikes and such. For anyone who's coming don't miss the vintagebmx banquet, they go all out on it!!!
bmxultra.com: Do you expect there will be a big turnout of Vet Pros at the ABA worlds this year since they are in California?
TP: Yeah, it should be one of the bigger ones along with Reno, Phoenix. But any California race is usually big.
General stuff
bmxultra.com: What are your favourite tracks?
TP: Ontario, Ca. Phoenix, Az and Rad Canyon in Salt Lake city, Ut
bmxultra.com: What are your favourite movies?
TP: Rocky 1-5. Rudy. The Natural. The Rookie, which is kind of like my story.
bmxultra.com: What would it take to get you to race in Australia?
TP: I would love to come over and hit up a couple races!!! Let me know what races there are for next year? and I'll talk to bill about putting it on the TP farewell tour!! But if I come over there you have to promise to be nice to me and LET me win! I'll hit up Warwick or maybe Luke Madill about putting me up and showing me around.
bmxultra.com: Some of the biggest races in Australia are either in January or October/November time. There is nothing real big as far as prize money for Vet Pros at the moment, the biggest was the South Australian titles.
TP: Cool, I could just race A pro. No big deal. It would be fun just to come over and race. Maybe do a clinic or something.
bmxultra.com: It's funny that Luke Madill doesn't get the props he deserves in the US. Just because he doesn't follow the US circuit. He's been Australian Elite champion a couple times since being the youngest winner of the class in 1999. What's your take on him as a rider?
TP: Man, he's awesome!!!! The ABA grands last week was the first time I saw him ride and I was very impressed!! Most of the time when foreign riders come to the US it takes a little while for them to adjust. It didn't take Luke any time at all!! I had a chance to talk with him at the airport and he is a very nice guy. He said he plans on racing more US races in 05. I think he will prove to everyone that he is the real deal.
bmxultra.com: Have you raced against any Aussie Vet Pros?
TP: Yes, I raced Sainsbury at the ABA worlds in '04. Very nice guy!! I hope I spelled that right?
bmxultra.com: How did he finish?
TP: He did good, 4th I believe. It wasn't a real big race for the class but it was fun.
bmxultra.com: Who are your current sponsors?
TP: Supercross, Oneal, Paul, SDG, Snap, Static, Shimano, Black flame, Thompson, ATi, Sun Ringle. I'm sure I forgot some? Bill Ryan at Supercross pretty much lines up all the co-sponsorships for the team.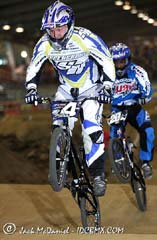 bmxultra.com: What's your current bike?
TP: Supercross EVO XXL. I also raced a UL XXL from January to June. I won races on both frames. It just depends on personal preference. Chromo or Aluminum? They both have the same specs and everything. I also run Supercross Forks, Bars, Cranks, Hubs. Black flame stem. Sun Rims. Snap gears. Shimano pedals and shoes. Paul brakes. SDG seat. Thompson seat post. ATi grips and Static # plate. Oh and I also wear O'Neal helmet, gloves and pants.
bmxultra.com: Why is it that Dale Holmes is so impressed with your arms?
TP: Probably because he is a little runt!!! Just kidding, Dale is an awesome racer and I consider him a friend. Hey Dale come on into Vet, I've got a BIG elbow for ya!!
bmxultra.com: Thanks for the interview. Is there anyone you'd like to take this opportunity to thank?
TP: Yes, My wife Cathi, my kids Ryan, Zach & Hayli. My sponsors(see above) Bill Ryan at Supercross for all his help in 04! and for lining up most of my co-sponsors. Mike Antes at Static/Dope BMX for supporting the local pro. Chad Roberts at shimano. My comp in Vet pro, thanks guys for showing me what being a Pro is all about, I consider all of you my friends. Greg Hill for training and racing advice in 04. Harry Leary for training and racing advice for the last three years. Mark Melton for putting me up in Rockford. Ken Cools for training advice and encouragement. Samantha Cools for being an awesome teammate, congrats on the #1. All the rest of my team mates! Burlin Harris, Gary& Kristy Martin, Ken and Sam Cools mom and dad for the encouragement and pats on the back! Sorry I couldn't remember your names. All the people back home here in Utah for their support, Healey's, Fazzio's, Critchfield's, Dave Halliday, Steve Spencer and I could go on and on!! For the most part anyone who took the time to say "good luck, great job etc," I'm sure I will forget somebody!! I'm sorry in advance and I'll give you a hug when I see you! Oh and thank you Shane for the interview! Race On!! Good Luck,TP
Photos courtesy of Jack McDaniel @ IDCBMX.com
Posted in: Interviews