One Bicycles are the biggest BMX brand to ever emerge outside of America. Since 2002 One Bicycles have been spreading like wild fire right across the world, Australia is one of the final  frontiers. For the 2003-2004 season Khalen Young was seen travelling Australia on board a One and took his to #2 in the Senior Elite class at the Australian National Championships. He has since moved on, but proved that One products have what it takes to cut it on the track. If that's not enough, what about Arturs Matison's domination of the Junior Elite classes at the 2003 UCI world championships in Perth? One Bicycles tear drop tubing and paint job makes it one of the most outstanding looking frames on and off the track. Read on to find out more about One Bicycles from owner Chris van de Groenendaal.

In the beginning…
bmxultra.com: Where is One based?
Chris: ONE's headquarters are based in the Netherlands.
bmxultra.com: How did One Bicycles begin?
Chris: My dad was a road cyclist, my brother raced BMX, so I grew up with bicycles. Back in 1987 I started making BMX number plates, known as GPR. Later I started importing bicycles and parts as well, but found the delivery time too long. In 1994 I designed a BMX bike and in 1995 we had a 2 rider team and 5 rider mountain bike team.
bmxultra.com: What inspired you to manufacture number plates in the first place?
Chris: The numberplates on the market were boring. The ones that are available now are much better. Because of GPR? 🙂
bmxultra.com: When you started making plates was world domination on the check list?
Chris: No, the way I started was really pathetic 🙂 It was more art then production. 100% handmade. I used real paint to make plates and every plate was different from the other.
When I started screen printing it became easier. Even now people know me (or ONE) from the 80's with GPR. I would like to dominate the BMX market with our frames though. Not for the money, but to be able to supply everyone with a quality BMX frame that is 100% BMX.
bmxultra.com: Is it true that One Bicycles started as an MTB company?
Chris: Not really. We started BMX, mountain bike bikes and road bikes at the same time. A lot of people mix us up with "Be One Bikes". A Dutch company that started a few years later.
bmxultra.com: What sort of a following did you have in the beginning?
Chris: In the beginning everything was tough. Jealous people, well known brands to compete with, all the expenses to start well.
bmxultra.com: At what stage did you begin to export?
Chris: We started exporting within 2 years.
bmxultra.com: What is your position at One Bicycles?
Chris: I'm way on top, I'm the owner 🙂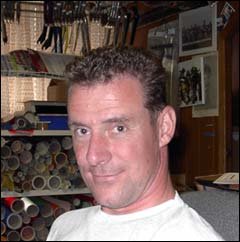 bmxultra.com: What is your BMX background?
Chris: My brother used to race, I was always in the organisation or doing articles for magazines. Now I am a photographer at the races as well.
bmxultra.com: Does your brother still ride? Does he have any involvement in the company?
Chris: My brother quit racing in 1994 after the Worlds and the National Championship
bmxultra.com: Do you race/ride BMX?
Chris: I ride mountainbike, just for fun. I used to go out and ride it for a couple of hours, several days a week. But I don't have the time for it anymore.
Now…
bmxultra.com: Who do you sponsor?
Chris: A whole list 🙂 European riders: Arturs Matisons, Maris Strombergs, Kelvin Batey, Joost  Wichman, Jana Horakova, Vilma Rimsaite, Dagmara Polakova, Magalie Pottier, Shaun Calvert, Aivars Buris and in Australia we have Jonathan Hoare. In the US we have a very big team, but that is arranged by ONE USA. Khalen Young is sponsored by DP1 (our Australian distributor).
bmxultra.com: Where are the products manufactured?
Chris: After being a bit disappointed with the American made products and the price we have now most parts manufactured in Taiwan, others are made in Holland.
bmxultra.com: What happened to the MTB and road side of things?
Chris: It's a different world, too much competition. My roots are with BMX – it's in my blood.
bmxultra.com: Are you in control of product design and management or do you have someone do that for you?
Chris: I design everything myself.
bmxultra.com: What makes One products any different to any other brand?
Chris: Our service. You will have a response to your email right away or no later than a day. We supply hi-end products and it shows. Our frames have a race proven geometry. Everyone can switch right away to a ONE and race it as if it's always been your bike. I just came back from the NBL Grands and one of the AA Pro's had tried the bike and that was exactly what he said too.
bmxultra.com: What's your best selling product now?
Chris: frames
bmxultra.com: One of the things that everyone notices about One frames is the slick paint job, how is it that no one else paints their frames the same way?
Chris: I think when you look at the paint sample it does look weird, because the sample is done on a small piece of paper. So you need to be able to imagine what it will look like on a frame. Right now I have some great ideas, but the price to do that is very expensive. I'm talking about printing a frame. That way you can put pictures and all kinds of stuff on the frame. The ONE frame is perfect for it because of the big teardrop shaped downtube.
bmxultra.com: Are you able to paint the cromo frames the same way?
Chris: We do have CrMo frames and they are done the same way. My preference goes out to the aluminum frames though. They're light, stiff AND strong.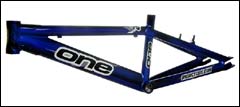 bmxultra.com:
Are the frames available in both euro and american bottom bracket?
Chris: yes
bmxultra.com: Is there somewhere that people can find a full list of geometry for all your frames?
Chris: yes on the US website: http://www.onebicyclesusa.com. We will have a new website for 2005. That should leave no questions to our customers.
bmxultra.com: Do you manufacture custom frames?
Chris: no, we don't anymore
bmxultra.com: Are there still people getting around on your early frames?
Chris: yes, come to Holland and you will see.
bmxultra.com: Do you still make number plates?
Chris: yes, we do
bmxultra.com: What other products do you manufacture? Forks? Handlebars?
Chris: forks, handlebars (CrMo and aluiminum), cranks (CrMo and aluminum), sprockets and chainrings, hubs and cassette hubs, stems, seatposts, seatclamps, chain adjusters and pad sets
bmxultra.com: Do you sell complete bikes?
Chris: yes we do, but they are hi-end bikes
bmxultra.com: One are big in most parts of Europe and growing in the US, what other countries do you have distribution?
Chris: Besides US and Europe – Japan, New Zealand, Canada, Australia, and starting in Hawaii and South America now.
bmxultra.com: One must have been easier to manage and market when it was smaller, what's it like to manage now it's an international success?
Chris: True, but with management in the US it is still easy to control
The internet…
bmxultra.com: How important is the web for marketing your product?
Chris: very important. It is an easy way to reach the whole world
bmxultra.com: How important is the web for BMX racing?
Chris: I think it is important. A few years ago you got your information from magazines. Not everyone had magazines. Now everyone is able to access the internet. Results, photos, products everything is available.
bmxultra.com: What websites do you visit?
Chris: bmxultra.com, BMXmania.com, Schijfbmx.nl, ONEBICYCLESUSA.com, bmx2000.be, matisons.com and all sites of companies. I check every website daily.
bmxultra.com: Do you think that One would be as successful if you didn't have a web presence?
Chris: Maybe. We will never know. I do think results of riders on a world level are most important.
General questions…
bmxultra.com: Who's a better swimmer, Peter Van der Hooganband or Ian Thorpe?
Chris: They are both the best on their own favorite distance. I don't know Ian, but I know Pieter is a very "down to earth" guy. I respect people like that.
bmxultra.com: What sort of music do you listen to?
Chris: all kinds, but Jazz makes me nervous and country makes me go line dancing…NOT.  It all depends on the mood I'm in.
bmxultra.com: What do you think of Neil Young?
Chris: Neil who ? 🙂 Not my kinda music, kinda depressed.
bmxultra.com: If there was anything you could change about BMX what would it be?
Chris: a lot, it needs to be more professional. I know it is easy to say. Why is 4Cross so popular ? Maybe add BMX to the same Worlds – BMX and mountain bike together.
bmxultra.com: Do you think that BMX is ready for the Olympics?
Chris: yes, why not. There are still 4 years to go. I wonder how some sports could ever become Olympic.
bmxultra.com: Do you think that BMX will last longer that 2008 as an Olympic sport?
Chris: I hope so and I think so. It's up to the riders too to present the sport at it's best
bmxultra.com: What do you think of the Downhill BMX races?
Chris: I've been to the 1st Supercross in Woodward (USA). Very nice and spectacular, but BMX has more. Downhill BMX is more like riding a train, every rider behind the other.
bmxultra.com: Who are your BMX heros?
Chris: Before Arturs Matisons was in our team I have been following him. He was an amateur but so fast. He has been my favorite amateur. He is a coming star.  My favorite BMX'er now is Cristian Becerine. I am impressed by Eric Rupe, for still being there at the top. Bas de Bever from Holland is just like him, still into BMX and STILL riding Elite Men.
bmxultra.com: Who are the major sponsors for the European team?
Chris: Bombshell, Troy Lee, Fizik and Nike (ACG and timing)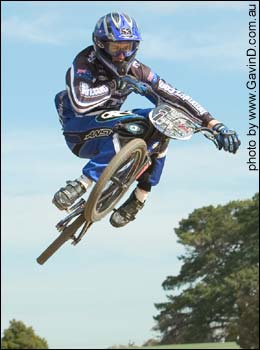 bmxultra.com: What do you think works better the UCI elite classes or the AA/A pro classes that are normally run around the world? Why?
Chris: AA Pro and A Pro – there is still a gap between AA Pro and A Pro. UCI Elite is like a Pro Open.
bmxultra.com: What are your thoughts on clipless pedals?
Chris: I like it. It makes BMX more spectacular, it is part of the evolution. I don't like people telling clipless is dangerous, cause I have seen the opposite. At least we have no more slipping pedals and jumps are cleared. Ban clips, then also ban different gears. Have everyone in each class race with the same gear. The problem is that most clubs or parents don't reach riders how to adjust the pedals.
One in Australia…
bmxultra.com: If someone in Australia wants to buy a One frame (for example) and their local bike shop doesn't stock One, or know who imports them, what should they do?
Chris: Contact us, or bmxultra (ONE and bmxultra can supply you with info), we'll steer then in the right direction.
To find out more about One Bicycles check out www.onebicycles.com.
Posted in: Interviews