Natarsha Williams is a two times UCI world champion, she's raced against the world best riders throughout europe and on the US national circuits and she's always a favourite for a podium finish. It was Natarsha's love for the sport, her determination and her jumping skills that has brought her a lot of success and pushed women's BMX racing to a whole new level.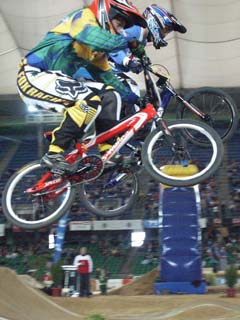 bmxultra.com: How did you get started in BMX?
Natarsha: I started racing to 1981 when I was 5 years old. My brother started racing and I told mum that I wanted to race as well, the rest is history.
bmxultra.com: Being from the isolated far north Queensland town of Innisfail, how hard was it to find competition?
Natarsha: It was really hard. I grew up racing the boys for competition, so I suppose it was good. I rarely raced the girls as I never had a class, unless it was a National or State Championships event.
bmxultra.com: What made you head overseas?
Natarsha: I always wanted to compete overseas so I first got my opportunity in 1997 when Vans Holland wanted me to ride for them in the European championships. After that I was hooked on racing the international circuit.
bmxultra.com: When you started did you ever think you'd be living in America and making a living from it?
Natarsha: I'm not sure. I don't think I really ever thought about it, things have just happened this way and it really has been the perfect life.
bmxultra.com: How has female pro racing changed since you have lived in the US?
Natarsha: Well I keep getting older and the girls keep getting younger. Other than that not much else has changed, it's still harder than ever.
bmxultra.com: How difficult is it to make a living from BMX as a female?
Natarsha: It's not impossible but it's a lot of hard work. Girls can make a living but it's not a huge amount of money. But there are a few of us doing it.
bmxultra.com: Who is your biggest competition?
Natarsha: Oh where do I start?… the competition over here is insane, it's getting that way that everyone on the gate in the main has a chance of winning.
bmxultra.com: How much longer do you think you'll be competing?
Natarsha: Well I didn't think I would be racing this long, so who knows how much longer.
bmxultra.com: After your racing career is over do you plan to return to Australia?
Natarsha: I have a 2 year contract with Sun Ringle afterthat I will just let life take it's course maybe i will be married to my long time boyfriend and then decide if we want to live in Australia
or America or a bit of both.
bmxultra.com: You've been world champion a couple of times now, how hard is it to keep motivated?
Natarsha: Oh my god, it's really hard for me right now to stay motivated I'm having a terrible time, I'm getting older and it hurts now to crash, I have done all I want to do in BMX so now it's finding the motivation from somewhere. I still want to do well so hopefully that's motivation enough.
bmxultra.com: What are your current goals?
Natarsha: Probably right now to win the NBL title again but it's going to be hard as I have missed a lot of this year already so we will see. Also I would like to win the ABA Grands main.
bmxultra.com: Who are your current sponsors?
Natarsha: Sun Ringle/Maxxis, Specialized, Fox, Answer, Profile, Spy, ATI.
bmxultra.com: What do you think of the state of BMX in Australia?
Natarsha: No comment!!
bmxultra.com: Do you think you will be still involved in BMX in 2008 for the Olympics?
Natarsha: That's 4 years away who knows, I was retiring last year and I'm still going so in 4 years I may be there or I may not.
bmxultra.com: When you finish with racing do you think you will still have some involvement? Coaching/Official?
Natarsha: I would like to think so BMX has been my life so it would be hard not to have some sort of involvement in BMX..
bmxultra.com: Do you think it's more important to train in the gym or on the bike?
Natarsha: I think it is a combination of both you can't just be a sauced up meat head with no bike skills but if you have no power then you are just back there jumping around..
bmxultra.com: What is your favourite track?
Natarsha: 2001 Louisville NBL Grands track.
bmxuItra.com: Do you prefer to race indoor or outdoors?
Natarsha: Outdoors.
bmxultra.com: Female BMXers are very impressive with their jumping skills these days. Do you think the women are up for downhill BMXing? Even on a slightly smaller scale to men?
Natarsha: There is a few girls that could handle a much smaller scale but definitely not enough girls to even get a class.
bmxultra.com: What are your top 3 movies?
Natarsha: Memento, Old School, Billy Madison.
bmxultra.com: What do you miss most about Australia?
Natarsha: I miss the food, I love the food in Australia…oh and I miss my family and Mum and Dad's dog Molly.
bmxultra.com: What would be your ideal meal?
Natarsha: Any type of seafood.
Music
bmxultra.com: What music do you listen to?
Natarsha: John Butler Trio, Waifs, George, Lucky Boys Confusion, Jim pretty diverse.
bmxultra.com: You seem to listen to a lot of Australian music how do you keep up with it? Is it common to hear Aussie music in the US?
Natarsha: No its not to common to hear Aussie music over here i just catch up on it all when i come home, stock up on CDs..
bmxultra.com: What was the last concert you went to?
Natarsha: Wow that was so long ago probably the Big Day Out 3 years ago..Concerts are always on weekends we have to race..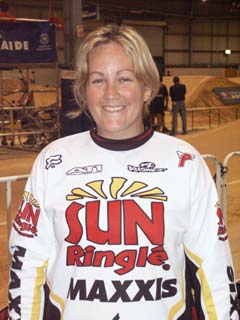 bmxultra.com: What do you think of Neil Young?
Natarsha: Don't you mean Neal Wood..Yeah Neal Wood is cool.
The internet
bmxultra.com: How is your website going?
Natarsha: It's going good i have added a new page called Birk uncut, written by Ryan Birk of Sun Rims it has some funny stuff there will be interviews coming with the World Champions hopefully soon.
bmxultra.com: You tend to speak your mind in your journal, do you get much feedback from what you say?
Natarsha: I do not speak out too much, only when I really feel that wrong things may have been done or handle in a bad way. I try to keep it constructive criticism. From the few things that I have commented about I have had some good positive feedback, which makes me feel that maybe I was on the right track with my comments.
bmxultra.com: I was sad to hear when RaceGirl.com shutdown, they had such a great program. Do female BMXers get much support now that RaceGirl has folded?
Natarsha: I won't say much now, but myself and a few other pro girls have something in the works for girls BMX.
Word Association
bmxultra.com: Natarsha's answers
Jamie Lilly: Lilly Pounds….just kidding Jamie
Alice Jung: Fast when she's not blowing up
Jill Kitner: Determined Racer, knows how to win on any size bike
Samantha Cools: UCI Queen
Tanya Bailey: All the BMX boys over here seem to really like her butt!
Melissa Mankowski: The next big female to come out of Oz
Emma Franklin: Always in the mix at any race
European female BMXers: Very professional in their approach to racing
ABA: Doesn't pay out for the Girls Title
NBL: Pays out 1st thru 3rd for the Girls Title
UCI World Championships: Yeah, I got 2 of those in Elite Women
ABA World Championships: World Championships?
Family: Very, very important to me. Thanks Mom and Dad. Love you Pa.
Innisfail: Forever my home. Love you Lainie
Warsaw: Ain't no party like a Warsaw party, cuz a Warsaw party don't Quit!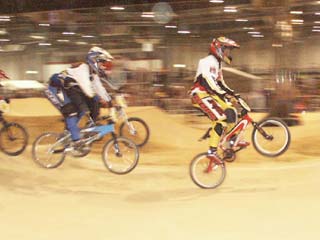 bmxultra.com: Is there anyone you would like to thank?
Natarsha: Not really, I can't really give anybody but myself credit for all my success…Just kidding. I've got to thank my Mom and Dad and family for sure. I never would have made it this far without them. Jerry Landrum at BMX Mania for getting to America in the first place. All my sponsors that help me out, Sun Ringle', Maxxis, Specialized, Fox, Answer, Profile, ATi, Spy, Noa
Noa Restaurant, and anybody else that's helped me out along the way. And last but not least, bmxultra.com for letting me do this interview so Australian BMX doesn't forget about me.
Check out Natarsha's website at www.tarshasbmxworld.com
Posted in: Interviews