We caught up briefly with 1997 UCI world champion John Purse to find out what's going on with his Mongoose/Hyundai deal, what he thinks of Australia and his plans for the next worlds. Read on to find out what he had to say.

bmxultra.com: Hey John, how's the new ride with Mongoose/Hyundai?
John: The new ride was a great blessing to me for 2003. My Mongoose's Team Manager Pete Dylewsky had faith in me and gave me a chance to give it another go.
bmxultra.com: how long is your contract with Mongoose/Hyundai for?
John: I just got a two year deal that will support me in 2004 and 2005.
bmxultra.com: was it a surprise to pick up a major deal after doing it alone for so long?
John: Actually, the timing was really good as in those two years I had to re-invent myself. It was a tough road, but the Mongoose deal came along when I had my act  together and my performance was where it needed to be.
bmxultra.com: when should we expect to see the John Purse signature model bikes on the market?
John: We are working on prototypes as we speak and the line will be out for 2005.
bmxultra.com: what do you think of BMX at the Olympics?
John: BMX Racing in the Olympics is a dream come true. BMX is finally going to get the attention it deserves. Hopefully, BMX Racing will be able to get more Corporate Sponsors in line to push BMX Racing to the next level.
bmxultra.com: when people talk about who will represent America at the Olympics your name keeps coming up, how do you react to that?
John: I would love to represent the USA in 2008 at the Olympics. I am sure I will be involved with the sport in 2008 and I look forward to racing for Gold.
bmxultra.com: What is it that keeps you coming back?
John: I started racing BMX in 1981 when I was 8 years old. I never knew that I would be in this position 23 years later. BMX is my life and I look forward to just pushing the limits within myself to experience all that I can.
Australia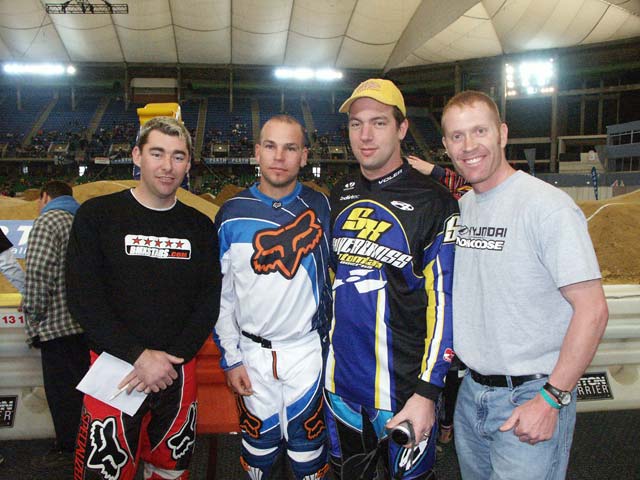 bmxultra.com: The world championships in Perth last year were your third trip to Australia right?
John: Perth was my 4th trip to Australia. 1st- 1989 IBMXF World Championships (1st in 16 boys), 2nd- 1998 UCI World Championships (crashed in the semi), 3rd 2001 Redline Promotional Trip, and 4th- 2003 UCI World Championship (hurt my back at the Red Bull Challenge). I love going to Australia whenever I have the chance. You guys have a great program for BMX always.
bmxultra.com: You had a bit of bad luck on the track, do you think you'll be going to Holland next year to have a go at winning the Elite crown  again?
John: Yes, I will be in Holland in 2004. I will have what it takes and look forward to adding another gold medal to the list.
bmxultra.com: Is there anyone you would like to thank?
John: I would like to thank my wife Nicole for all of her support, my friends and family, Mongoose Bicycles, and to all those who have support me past, present, and in the future…Thanks to you for the opportunity.
Posted in: Interviews