bmxultra.com: First of all I'd like to congratulate you on a very successful year. You should be proud of your third place at the ACT titles (behind Jon Johnston and Luke Madill), and the double in the junior elite classes at the nationals. And about what happened at the worlds, hey we saw the same thing happen to Gary Ellis in 1998 in Melbourne at his last appearance, you are amongst legends, and you have a lot of years ahead of you. What are your plans from here?
Mike: I'd really like to go to America and spend some time racing over there. It has been a dream of mine since I was little and I love it there so that's my main goal but now BMX is in the Olympics, who knows whats going to happen. I need to finish my schooling at the moment, and towards the end of the year I'll decide what I am going to do next year.
bmxultra.com: You were on a 2004 Specialized Hemi prototype frame at the worlds, how was that? Was it very different to the 2003 model?
Mike: The bike is really good! The whole frame design has pretty much changed, the rear end is a fair bit shorter and the front end is pretty much the same as the old one. I think that it was hard to make improvements on the frame as the old one was a super good frame which couldn't really be improved. Specialized have made little changes here and there which are for the better but I am stoked with the new frame, it's sweet.
bmxultra.com: Who are your current sponsors?
Mike: Specialized, JTcycles, Spy Optic, S&M, Atomic, Sun Ringle, Tuff Neck, Profile, Dirt Designs, Sean Dwight Training Systems, Piccadilly Spring Water, Boss Racing Differentials, JR Sprockets and Action Signs.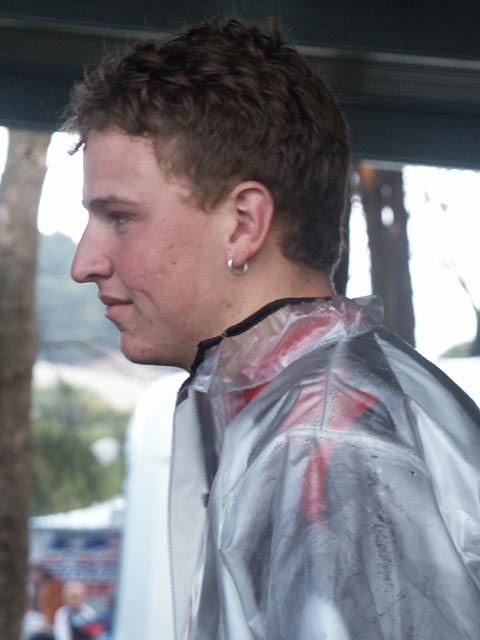 bmxultra.com: Specialized have set you up with an MTB, have you raced it much? Do you think it's something you may look at more seriously later on?
Mike: Yeah Specialized have been great hooking me up with a MTB! At first it was just gonna be for a little fun, but then after I won the the South Australian State 4X Championships it's become a little more serious. I've actually just come back from Melbourne racing in the 4X Nationals at Mt Beauty but it ended up getting postphoned to the next night due to the terrible conditions. I like to race 4X though because it's something different and the scene is so much more relaxed and chilled out than BMX.
bmxultra.com: We hear you have had a go on the Velodrome, how does it compare to BMX? Are you going to take it any further?
Mike: A couple of years ago I was asked to take part in a development squad for track cycling with the South Australian Institute of Sport. A couple of other ex-bmxers and myself were involved in it for a couple of months but I just got sick of it, and I wasn't enjoying myself riding in circles. Maybe one day, when I am much older I might consider it but at the moment I have no interest.
bmxultra.com: What's your favourite track?
Mike: I don't know! I had a lot of fun on a track in America called Tom Sayer in Kentucky.
bmxultra.com: What's your favourite country to race in and why?
Mike: I love racing in America! The atmosphere is great and you get excited about racing. I like racing the big races in Australia also, they're a lot of fun.
bmxultra.com: What are your plans for doing the US circuit? Would you compete in the NBL or ABA?
Mike: I still dream of getting over to the US and racing but it's something that I want to do when I'm fully ready and at the moment I think it may be a little to early. As far as ABA or NBL, it doesn't really bother me too much, as long as I get a good shot at racing there and trying to achieve my life long dream.
bmxultra.com: How do you juggle school and racing with all the traveling you do?
Mike: It's hard, but I cope ok.
bmxultra.com: You finish with high school this year, what are your plans for next year? On to Uni?
Mike: So far I have applied for a course at tafe for next year, so if I get in I will be doing that but if I don't get accepted I will probably be doing some sort of traineeship for the year!
Music
bmxultra.com: What music do you listen to?
Mike: Mainly hip hop and R&B, but I enjoy all types of music.
bmxultra.com: What do you think of Neil Young?
Mike: Great Bloke, look forward to meeting him.
bmxultra.com: You realise that Neil Young is a musician right?
Mike: Yeah!
bmxultra.com: Who do you train with?
Mike: No one really! I do starts with the local Happy Valley crew but that's pretty much it!
bmxultra.com: Do you have a coach?
Mike: Sean Dwight helps me out a lot. He's doing some fantastic stuff with training, check him out at SeanDwight.com
General stuff
bmxultra.com: Where do you see yourself in 5 years?
Mike: Hopefully by then I will be living my dream of making a living from riding my bike and maybe an Olympian!
bmxultra.com: Who do you look up to in the BMX scene?
Mike: I look up to anyone that is always progressing and trying new stuff.
bmxultra.com: Who are your BMXing heros?
Mike: When I was younger I always looked up to the pro who I was riding the same bike as eg. John Purse, Christophe. Now it's weird because I have raced all the people that I have looked up to throughout my career, it's surreal.
bmxultra.com: Here's one for our female readers…What's the deal on the girlfriend front?
Mike: I'm single at the moment! I don't really have time for a girlfriend at the moment with training, school 'n stuff.
2003 UCI World titles
bmxultra.com: Ok let's talk a but about the worlds…what did you think of the international turn out?
Mike: I thought the international turn out was pretty good. In both the Junior and Senior Elite classes, but there were some major players missing such as Bubba (Harris) and Jarret Kolich in Junior and Podge (Warwick Stevenson) in Senior but apart from those riders I think pretty much most of the good riders were there.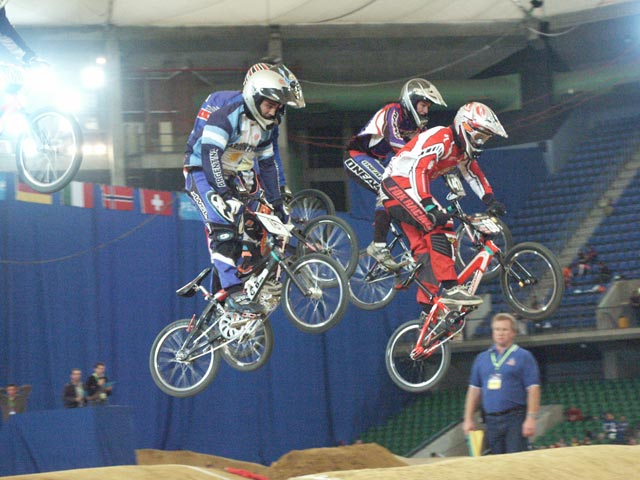 bmxultra.com: What did you think of the Australian jerseys?
Mike: I wasn't much of a fan of them! I think we need a serious redesign.
bmxultra.com: What did you think of the track?
Mike: The track was pretty good! I prefered it a lot more before they mellowed out some of the jumps but overall it was a fun track to ride. Props to the WA boys.
bmxultra.com: What did you think of the venue?
Mike: The venue was good! I thought the roof being held up by air was a little weird but it didn't cause too many problems. I wish Adelaide's venue was that big.
bmxultra.com: Your biggest competition for the worlds would have been Arturs Matisons (LAT) and Manuel Lopez (ARG)…how do you think you would have gone against them taking into consideration your win in the cruiser class at the Pacific Oceanics? Do you get a chance to race against them any other time apart from the worlds?
Mike: You never know I suppose. I believe I could have pulled all of them, but I didn't so I cant really say that. I'm sure I will get another chance to race them in the future. I'll just make sure I'm fast enough to hit the gate and still pull everybody down the first straight.
bmxultra.com: Do you think Australian's are disadvantaged with the world titles being held during our winter?
Mike: I think we are, especially when you live in Adelaide where the winters are pretty miserable. I didn't really get as much riding in before the worlds as I would have liked due to the weather but oh well.
bmxultra.com: If you had a choice between the ABA worlds or the UCI worlds which would you choose?
Mike: I would rather race the UCI because it's more recognised globally than the ABA Worlds.
bmxultra.com: What about the UCI worlds and an ABA or NBL grands?
Mike: I'd rather race the ABA Grands because it's a lot more fun and I think the ABA format is better.
bmxultra.com: What are your plans for next years world championships?
Mike: Hopefully next year I get the opportunity to go the the worlds again and hopefully if I do get the chance my performance will be a little better than this year. It's definitely something I'm looking forward to though!
Pro racing in Australia
bmxultra.com: What do you think of all the different Pro rules we have in Australia? (AA/A Pro, 14& Over and Elite)
Mike: I think there are too many different rules! We should just have AA Pro and A Pro, no hassles then and it gives the younger kids that are too fast for junior elite a chance to race some competition in the AA class.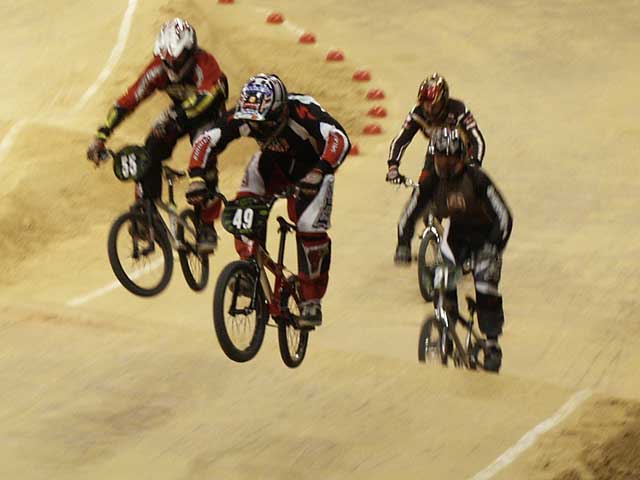 bmxultra.com: Which do you think works best in Australia?
Mike: Definetly AA Pro and A Pro. You just have to see how smoothly the BMXcentral races are run with AA and A Pro classes, it's a lot better racing also!
bmxultra.com: Do you think your goals will change now that BMX is in the Olympics?
Mike: I don't think they will change too much. I've always dreamed of one day making a living from racing BMX bikes in America and I plan on one day fulfilling that dream. The Olympics have given me another goal to work at over the next few years and I think when the Olympics come around it will be a very exciting time for BMX and hopefully for me, but it's still a long way away yet!
bmxultra.com: Has your training changed?
Mike: My training hasn't really changed! There hasn't really been a reason at late to change it. The training I do with Sean Dwight has been super beneficial to me and I would just really like to thank him a lot for that!
bmxultra.com: What do you think of the state of BMX in Australia?
Mike: I think it's slowly growing, but we still have too many people that are happy with BMX the way it is, and these people have no interest in pushing the sport to progress in Australia. I think what Warwick Wheeler has done with BMXcentral is fantastic for BMX in Australia and the sport in General.
bmxultra.com: What do you think it would take to make it better?
Mike: We need more Warwick Wheelers in the sport, without his Magazine and his TV show, I believe that BMX wouldn't be as recognised as it is today and I give him full props for having the balls to stand up and do something good for BMX in Australia. We also need more major races throughout the year, and the National Pro Series will also be good for the sport.
Internet
bmxultra.com: What are your favourite websites?
Mike: bmxultra.com, BMXMania.com and BMXPressmag.com.
bmxultra.com: What do you think makes a good website?
Mike: Frequent news updates, rider interviews and good pictures.
bmxultra.com: Should we expect to see MikeFenwick.com in the near future?
Mike: I hope so! I'm going to try set one up when I have finished school so I have some quality time to put into it.
Mike Fenwick Racing
bmxultra.com: What's the deal with your Fenwick t-shirts? How did they come about?
Mike: I'm actually doing a subject at school called Small Business Enterprise and I decided to start up a company called MFR Racing (Mike Fenwick Racing). At the moment I am selling Specialized/ Fenwick 69 Shirts but I plan on developing a full line of clothing merchandise in the future if things turn out. Any profit that is made is collected by my school!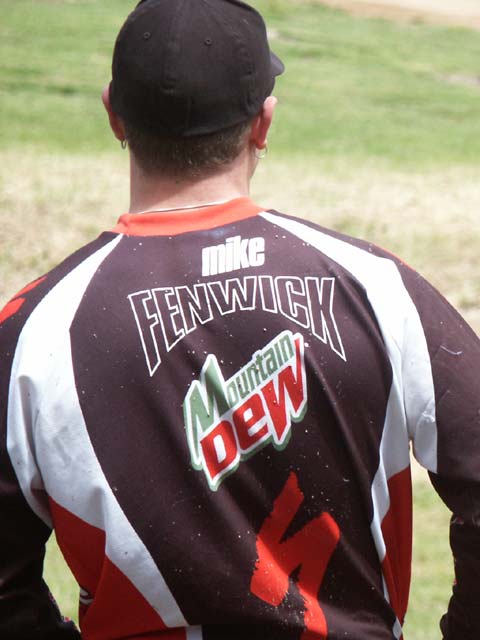 bmxultra.com: Where can people buy them?
Mike: At all the major races around Australia. I will, more than likely, have them with me, so they will be available at those races for $25.
bmxultra.com: Do you have anyone you'd like to thank?
Mike: My sponsors Specialized, JTcycles, SPY Optics, Elite Cycle Imports, Jr Sprockets, BOSS Racing Differentials, Action Signs and Dirt Designs. My Parents for there ongoing support and anyone who has helped me throughout my time in BMX.
Posted in: Interviews