Scot Beithaupt: The History of SE Racing
The History of SE Racing
bmxultra.com: When did you start SE?
Scot: I started SE Racing in Mid 1977 when I was 14. I had won the National Title on my FMF Team Replica in 1976 and had Stu, Greg Hill and Jeff Utterback all riding for me. All of us were in the top 10 National rankings.
bmxultra.com: Why did you start SE?
Scot: I owned an advertising agency and public relations firm called Scot Enterprises that handled clients like Oury Grips, Bel Ray lubricants, Skyway, Mongoose, Troxel, Bell Helmets, and Shimano. With the success of my FMF line, I realized that I could create my own line for the dealers across the country. FMF wanted to concentrate on motorcycles at the time, and Donny Emler & I split on good terms. He is a brilliant designer, engineer and motor builder. I respect his talents tremendously. It is great to see him get back into the market 25 years later.  So with the top team in the world, I asked each of my ad agency clients to participate in a nation wide tour where we raced and taught bicycle safety seminars. Bicycles had a bad rap back then cuz kids were jumping off anything they could and bailing hard, injuries were high! Everyone wanted to be Evil Kenival! [laughter] I convinced the CPSC (A branch of our federal government) to sponsor us with the safety shows. (I had done something similar with my Makaha Skateboard tours across the country). I bought the bus and we headed out… 17 "yahoo" riders including guys like Bob Haro, Kevin MacNeal, Stu, Greg Hill, Jeff Utterback, Eddie King, Mark Pippin, Randy Olsen, and others. We promoted all my clients products, sold sticker packs and won most all the events we attended.
We tore up the NBA, NBL and NPSA nationals!! It was all under the umbrella of Scot Enterprises Racing Division. I had dealers coming to me at each event, wanting product. We only had t-shirts, jerseys, hats and stickers!
I developed Floval tubing later that year and built the prototype to the PK and later created the Quad. By 1978 we were rocking big time and had such a huge following that we couldn't make the stuff fast enough. We were constantly back ordered over 2000 frames for the first few years…I had to drop the conflicting BMX clients like Mongoose once I started making my own bikes. I shortened the name to SE Racing BMX Innovations and created a corporation in March of 1978.
bmxultra.com: When did Mike Devitt join you?
Scot: Actually, Mike and I knew each other from the early days of BMX. He had a team he would bring out to my races at BUMS II (1972-73) and later when I rode for Yamaha and he had created Dirtmaster. (1974) I used to thump on his riders and at one of my events, he got me disqualified from my own race, for being over age!!! (Yamaha Bicycle Gold Cup) I still have the Belt buckle (Award) from winning and smile each time I think of it. In 1975, Mike started Dan Gurney Racing with Tommy Kamifugi, and I had been out of racing with a broken leg. He offered me a ride and I became the Team Manager and assisted him with marketing and product development. We became best friends and he was my mentor. Mike is an incredibly talented and ingenious man. I owe more than you can imagine to Mike. Tommy was not a good business man and Gurney finally folded. Mike got into Skateboards and I started FMF with Donny and Tony. Mike contracted with Scot Enterprises to do the promotion on Makaha Sateboards for him and his partner, Larry Stevens. We did Nationwide tours and I had the first ever 1/2 pipe on a trailer built to do shows. It was huge and we all had a great time. In the mean time, I was still kickin' bootie in racing MX and BMX, and running FMF BMX. When I started SE Racing, Mike consulted with me for a few years and when Makaha was sold to Blue Mountian Industries, I made Mike an offer to join me at SE full time. (1980) We created Scot Industries by buying our contracted  manufacturing plants, brought our production  "In-House" and SE grew at an incredible rate. We have been together ever since. Still best friends!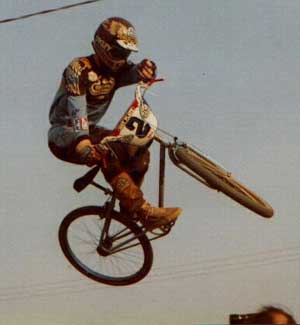 bmxultra.com: When you started what were your goals?
Scot: I wanted to make the best bikes in BMX. I spent a lot of time studying metal properties, tubing shapes, dynamic loads, & on the trail and tracks to create unique, yet functional frames and parts. I was a hands on guy who wanted to make SE Racing a dominant force in the bicycle industry. It became my passion, my life. I just wanted to make money, having fun, then it wasn't really a job!!
bmxultra.com: It's not unusual for a new manufacturer to get into "badge engineering" before they make their own first frame (most recently Giant have done it with GT frames)
Scot: It is a lot different now since manufacturers overseas are involved and the sport is viable and recognized worldwide. In the early days, most people did not know what BMX was and I had to search high and low to find production shops that would make frames and parts. Most were motorcycle parts makers and had goofy-funky designs that were not functional. I had developed great designs after 1000's of hours in development and paid top dollar to build prototypes and later jigs. I did not want to be a copycat like so many others. Within 2 years we were making our own frames and consumed three companies. Granted it is easy today to go to China and slap your brand on a frame, throw money in ads, and market it as the trickest bike made, but I respect the little guys that create the innovative stuff. Look at Mike Devitt and some of the
dirt jumper guys, they make the good stuff, no imitations!
bmxultra.com: What made you work with Alloys?
Scot: Everyone had Chromoly and 1010 Steel in 1975… and I knew from my motorcycle racing days that 6061 T-6 was a great material, 30% lighter for the same strength… so I studied all I could on alloys and built a frame with round tubing… broke a few because of small weld filets and too thin of tubing. It took a year to come up with the Floval tubing design and proper wall thicknesses.. lots of trial and error… The word "Floval" I created from "Flat-Oval"… The round top and bottom provied excellent compression load strengths, the flat sides gave incredible top load tolerances. A bike has tremendous stress on it when you jump or even land hard after a wheelie… Floval tubing is far superior to any other shape used in BMX as far as I am concerned.
It basically was an evolution, and I wanted to build the best in BMX. None of the bike makers believed in alloy frames. They were all afraid that they would crumble. I went to all the big makers to offer my designs and marketing talents, but they all wanted steel and chromoly bikes because of the feared liability. I like being an underdog, and set out to prove them all wrong! … and with the help of a great many employees and riders, we proved them wrong. The PK Ripper became the most sought after bike in BMX. There were quite a few manufacturers kicking themselves for not jumping on the Alloy craze sooner. Many manufactures have duplicated or created close designs… that is the best form of flattery there is!! It works!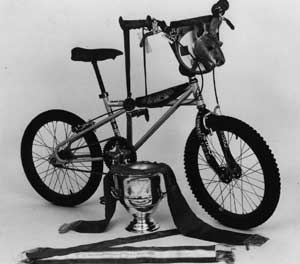 bmxultra.com: Can you tell us a bit about the legendary frames you designed…how you came up with the ideas, how difficult they we to produce. Let's start with the PK Ripper
Scot: The PK Ripper was the mainstay of my original line, and we developed the Mini Ripper, the Jr Ripper for all sized riders. In our first few years we were back ordered over two thousand frames. Couldn't make them fast enough!!
bmxultra.com: OM Flyer
Scot: When I created the Cruiser Class in 1978 and convinced the NBA, ABA, NBL, and NPSA to run us as a new class, we all rode Schwinn cruiser frames with trick parts and I got alloy rims from a Trotter Horse Buggy maker. They were imported from England. Since we were so back ordered in our alloy line, I decided to go with Cromo so we could get contractors to make them. The original was an alloy version. I raced it and won a title or two with it plus set the distance jumping record with it, so I blended OM, my nickname and Flyer… The OM Flyer…. For several years, it was the hottest cruiser around… Then the 24"s came along.
bmxultra.com: Quadangle (remake 1998-1999)
Scot: Mike Devitt redesigned the Quad in alloy and stretched the geometry to fit today's racks and consumer needs. He did a great job, it is a VERY popular frame with the bigger riders.
bmxultra.com: Assassin
Scot: This was our attempt at an mid-priced model, produced in the USA, to compete with imports. Our PK, Quad and Cruisers were all full 4130 or 6061 T6 alloys… Very expensive! The bike  (Assassin) never really hit it BIG for SE, but was a quality bike. Later we took it overseas for production as a complete bike.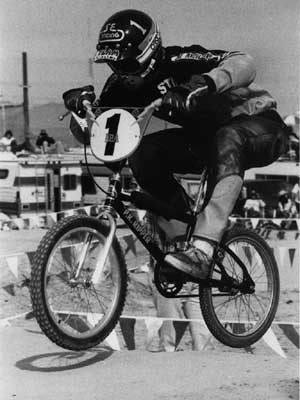 bmxultra.com: The Mauler
Scot: This was a name we came up with for our round tubed alloy models, made by Race Inc. Bill Bastian wasn't doing very well with his line and we started buying up all he could make and abeling them with SE-Mauler stickers. We were so back-ordered with PK's and Quads, we needed frames to sell… Later , I designed the 24″ Mauler and had it produced by Murray for us to again compete with the overseas makers. We really prided ourselves on "Made in USA" and stuck it out as long as we could with all models. Unfortunately, Murray was unable to meet our quality standards, and we discontinued the line.
bmxultra.com: Hauler
Scot: This was an import we developed and marketed under the Hauler name and had a signature endorsement with Toby Henderson when he rode to several major wins for us. It was 4130 Chromoly with good components at a terriffic price point. Toby did well for us and he and his wife Shauna, girl Paris are still a very good friends ! He is the owner of ProBike parts and Sinz … doing great! I am proud of Tobs and all he has given
to BMX. He was a tremendous asset to the SE image and success.
bmxultra.com: Trickster I & II
Scot: The first Trickster was a modified PK Ripper. We build heavy duty ones for RL Osborn and Mike Buff when they rode for us. Many top Freestylers rode them, like, Todd Anderson, Danny Hubbard, Eddie Fiola, and many more. They did well, sales wise, but we could not keep up with PK orders and concentrated on them instead. The Trickster II was a chromoly version built overseas, and endorsed by Fred Blood, another top SE rider. It competed with the Pro Performer by GT and others. We were so entrenched in racing that we did not do a good job of really promoting the FS line. It could have been much larger than it was..
bmxultra.com: Ripper, Mini Ripper
Scot: This was an evolution frame. It started out as the GH Flyer, named after Greg Hill, who rode for me with my FMF brand. After winning the National Championships that year, we renamed all the bikes in the line to reflect our winning ways. The Mini was named the "Jr. Pro". Then I created SE and switched it to the BDIII (Breithaupt
development 3rd version). When Derek Brown, a Hot Shop rider for us became full factory, I named the mini after him; "The DB IV" (4th version)… and after Derek went to motorcycles, we went to the Mini-Ripper… Mike refined the bike over the years and made several versions for larger sizes and weights. It was and is a great bike for young bmxers.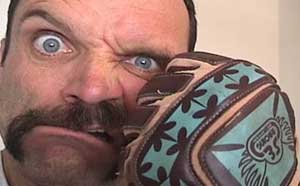 Part 1: How did BMX begin
Part 2: The History of SE Racing
Part 3: About the OM
Part 4: The old-school photo
gallery
Some Scot/SE links
Posted in: Interviews