Scot Breithaupt: the OM of BMX
Part 3: About the OM
bmxultra.com: What's your current enterprise?
Scot: New World Mortgage. I am a banker so to speak…homes and businesses… I lend $$.
bmxultra.com: That's a little different to BMX manufacturer
Scot: Yuppers, but profitable and I use my business knowledge to help others. Bikes have not been my own enterprises over the years. Real Estate and mortgages are my main priority…stable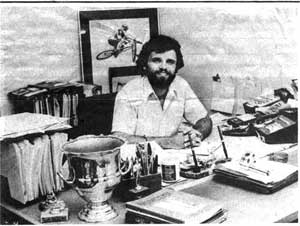 bmxultra.com: What else have you done over the years?
Scot: I have done magazines, TV, clothing, skateboards, toys and other businesses.. 400 TV shows and commercials… BMXA and BMX Plus mags (I Co-Founded both).
bmxultra.com: What did you do with those businesses?
Scot: I create them, built them up to profitable levels and sell them, then move to new ventures.
bmxultra.com: Is the excitement in creating new businesses or selling them?
Scot: It's in creating them…doing what others say can't be done!!!…I say "screw you and watch me"!! [Laughter].
bmxultra.com: Have you created any online businesses?
Scot: Not really.. I have helped others with theirs…consulting…web sites. I am good at building businesses…and I enjoy it.
bmxultra.com: Do you help any BMX companies? Do you keep in touch with many people from the BMX scene?
Scot: Yes.. lots…Sinz, Pro Bike Parts, Alliant, SE…I spend most my time with the Real Estate and mortgages though.
bmxultra.com: You have been working with SE (Fuji Bicycles)?
Scot: A bit…
bmxultra.com: Fuji (the new owners of SE) are huge aren't they?
Scot: Yes, they are…many plants overseas…but not much grassroots so to speak.
bmxultra.com: Were you working on the 2004 range?
Scot: I just wrote the copy for their web site and catalog…no, not doing products with them…I am not happy with their direction on that to be honest…I have just helped with the history of SE… the Old School stuff.
bmxultra.com: The 2003 range left a lot disappointed
Scot: True…me too. I don't have time to be on their product development team…and they cannot afford me !! [laughter]
bmxultra.com: I still have my new wave Quad and landing gear forks…I actually am lending the frame to a friend that is riding at the 2003 UCI world titles
Scot: Kewl…was it built by Bill Ryan [Supercross]??
bmxultra.com: No it's the SE built one from 1999
Scot: Ohhhh 20″…good stuff…built by Mike.
bmxultra.com: Yeah the 20, it's black, it's a keeper. I will never part with it…it's a piece of history.
Scot: yuppers, mine too, it's red/black combo.
bmxultra.com: You didn't sell everything?
Scot: No way! I have a ton of stuff…SE was my life…when you put your heart and soul into something like SE and BMX like I did, you can't just sell it all. I have a four car garage and you can't fit a car in it!! It's scary!! loaded to the ceilings!!
bmxultra.com: Yeah I know but talking to Greg Hill he didn't keep anything, just sold up.
Scot: Well Greg was a rider, not a manufacturer.
bmxultra.com: Do you have any old-school SE jerseys you can sell?
Scot: A few, but they are getting top dollar…better to get the retro ones from M&M only $US40
bmxultra.com: I'll have to check it out. They are reprints right?
Scot: Yes.
bmxultra.com: Getting back to your garage, I hope you have an alarm system setup in there.
Scot: I have a great alarm.
bmxultra.com: How many bikes would you have stored away in there? Do you know where everything is?
Scot: 68 bikes, motorcycles, go karts, wave runner, boat and kyacks and other goodies. It's jammed full!! And NO…I do NOT know where everything is. [laughter]
bmxultra.com: It would take you all day to get something out if you decided to go for a run on one of the bikes
Scot: Naw…they are at the front…I have them hanging in rows from the ceiling and in bike racks. Like in a bike shop.
bmxultra.com: What music do you listen to?
Scot: I love all types of music, from hard rock, to oldies rock, to jazz. I have an old vinyl ablum collection with classics from Jimi Hendrix, the Stones, Led Zepplin and Jazz greats like Dave Brubeck, Stan Getz, and Buddy Rich…and there is the blues with BB King, Johnny Winter and John Mayall…and there is my "Road Music" that I rip the highways with..Like ZZ Top, 38 Special, and Lynard Skynard. I play all sorts in my office as I work too.
bmxultra.com: Do your children race?
Scot: Two of my sons competed for a while, but they were a bit intimidated because everytime they raced, they were compared to my past. It is hard to have such high expectations put on you. I never really pushed the racing on them. They have both become excellent athletes, one in running, the other in tennis. Scot Jr., got a scholarship to college, starting in Aug. 2003. Brandon & I ride motorcycles and go MTB riding together. He also rides his Alliant and his PK Ripper. They both drive cars now too, so the bikes sit quite a bit [laughter]. I am very proud of them and blessed that they have become such fine yound men.
bmxultra.com: What do they think about BMX?
Scot: They love the sport and respect it. They know the immense amount of training it takes to be competitive these days. They are all proud of the fact that I am considered the "Founding Father of BMX" and understand the dedication I gave to the sport through all my work and racing.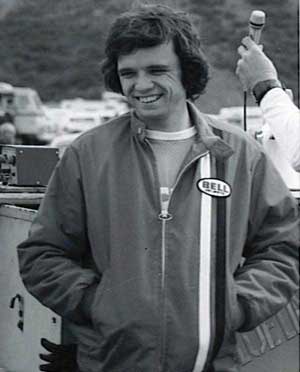 bmxultra.com: Have people ever seen you in the streets and asked for your autograph?
Scot: Sure…not so much anymore, but in the 70's and 80's I got stopped all the time. A lot of the late 80's and 90's I was hosting my own series of TV programs and would get stopped quite often for that. It's an honor to have fans and people that appreciate my efforts. I still relish the emails I get these days where people write about how I influenced their lives in a positive manner. I am blessed no doubt.
bmxultra.com: What do you think of the huge international representation on the US national series?
Scot: It is awesome to see so many young men moving to the US to take advantage of the great competition and make a living at a sport they love so much. Their disclipine and training has made the Americans step up to the plate to stay competitive. It also has boosted the sport in other countries as kids aspire to be like their heros that have gone abroad to challenge the best!! It reminds me of my early days in Motocross (Motorcycles) when the Europeans came over here and slaughtered us… we had to work our fannies off to catch up… It was a big deal to go overseas and see crowds of 100,000 spectators! So now it is a reversal, with BMX in the US.
bmxultra.com: Can you tell us more about your retirement from racing?
Scot: As I said, I retired the first time in 1974. I came back to win the National Championship in 1976, then retired from 20″ racing again in 1977. Created the Cruiser Class in 1978, won a few Titles in the Pro Cruiser Class and came out of 20″ retirement in 1980 for the Australian Grand Prix events. Won a class first time out and also got the Trophy Dash. It was fun because Stu was there and said I wouldn't have a chance since I hadn't even ridden a 20″ in over 2 years! I love being the underdog!! I retired from the Pro Class in 1983 I think… Then I rode the Old Man Cruiser Class for a few years. Business kept me so busy that I could afford the time to train. I still race occasionally in Vet and Hall Of Fame events, but spend most my free time back on a motorcycle.
bmxultra.com: What involvement did you have apart from that?
Scot: I have stayed active in BMX as a consultant for many companies. Besides the consulting, I am proud of the work I put in to create Alliant Bicycles with Gary Turner and Mike Devitt. They have continued to push the envelope of innovation with the Billet line and all the other awesome parts under the Radix label. The Axxis freestyle line is second to none.
bmxultra.com: Do you miss racing? Do you think you'd ever race again?
Scot: I ride every once in a while at Rancho BMX, a track near my home. Bob, John and Diana that run it are good friends and give a lot to the grassroots effort of BMX. I really do not see myself racing the National circuit again. With 5 kids, a business and my other hobbies, there just isn't enough time. I have several projects in the works to promote BMX on a global level, my time is better spent doing that…besides, I don't heal as fast as I used to [laughter]…crash and burns, burns a little longer if you know what I mean!!
bmxultra.com: What do you think of the new directions of BMX?
Scot: What the ABA and NBL have done with our sport is incredible. Bernie Anderson and Bob Tedesco are true patriots to our sport. I admire them and all they have done over the years. I see things like the new vendor deal with Toby Henderson, and all the outside sponsors being brought in and I am proud of our image to the masses. Commercially, BMX has become a substantial business, far beyond my wildest dreams as a teenage promoter. As far as the racing… the tracks… it is a whole new generation. A sprint race of speed and grace vs the warrior battles and gnarly tracks of the old school era. Of course I prefer the Old School tracks and racing, because that is where I excelled. I'd really like to see more emphasis put on the local level to develop the infrastructure of our sport. The sanctioning bodies spend most their time on Nationals, because that is where the money is at. I respect that, but still realize the need for more grassroots marketing. Overall, BMX ROCKS in 2003!… Hard to believe I have been involved for 33 years… geeeaasseee it makes me feel OLD! [laughter]
bmxultra.com: What are your thoughts on the push to include BMX in the Olympics?
Scot: Wow, what an honor it would be to see the sport I love so much in the Olympics. I think there will be Am vs Pro problems, but once they get that straightened out, it would rock. I'd love to be involved some how…We'll see.
Part 1: How did BMX begin
Part 2: The History of SE Racing
Part 3: About the OM
Part 4: The old-school photo gallery
Some Scot/SE links
Posted in: Interviews