bmxultra.com: How/when/where did you start racing?
Grant: I got interested in BMX back in 1982 as a mate of mine from school raced. I replaced my mono-shock bike with a Quicksilver BMX which I received for my birthday. I then joined up with Cardiff BMX club in the Newcastle area.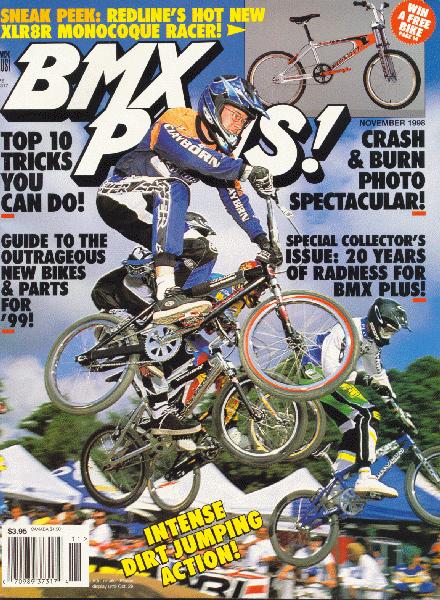 bmxultra.com: When did you go to the US and why?
Grant: I left for the USA on January 6th 1998, and arrived for the first ABA national for the year, which was an indoor in Reno Nevada. I came to the USA as a result of breaking my leg over a year prior. I had set my sights on the 1997 Australian Championships in Tamworth and whilst out training on some trails in December 1996 (in preparation for the World Cup) I broke my left leg down near the ankle joint. This injury took me over 6 months to recover from, thus I missed the 1997 Australian Championships. After missing this event I decided that I would follow my true dream and go to the USA to race on the Pro circuit. I didn't put any time limit on when I would go to the USA, just that I would do the hard work first, after I was quick I would then follow my dream.
bmxultra.com: When did you turn Pro?
Grant: I turned Pro as soon as I arrived at my first national (Reno). I just raced A Pro at this event, and after winning my three motos very convincingly I then was cleaned up in the quarter final and fractured my wrist. I then had 7 weeks of training with a cast on my arm before I raced again. My first race back I won A Pro on Saturday and placed 2nd on Sunday at an ABA national in Puyallup Washington.
bmxultra.com: If you could change anything about BMX racing what would it be?
Grant: In Australia I would like to see the tracks more technical, which makes racing more fun. After spending a year racing in the USA I've definitely enjoyed the challenging tracks. South Park Pennsylvania would have to be one of the best BMX tracks in the world. Awesome!! Apart from that though I think BMX racing is just the best sport out there. Of course I am biased though as it's in my blood.
bmxultra.com: Who are your sponsors?
Grant: Clayborn Bikes, Xtraskin, Answer Products, Play Clothing, Atomic Industries.
bmxultra.com: Although you had won the NSW State Championships a number of times in the last couple of years, you haven't raced many national championships in Australia, why is this?
Grant: Well this has been due to injuries. I last raced the Australian Championships in 1994 when I won cruiser and placed 6th in class. I missed the 1995 Championships as I was recovering from an ankle injury, which I sustained in the USA practising for the 1994 World Championships. This was the third time I'd injured the same ankle and it really needed a long break. In 1996 I missed Nerang as I had a blood problem, which resulted in me having my spleen removed a few months after this event. The blood disorder wasn't from racing, just one of those things. In 1997
I missed Tamworth because of my broken leg, which I mentioned earlier. After having all these things happen to me I knew the Aussies just wasn't meant to be for me.
bmxultra.com: What are your plans in BMX for the future?
Grant: Well next year is not too clear at the moment, however things will get sorted out soon enough. Further down the track though I'd like to be involved in training BMX champions and conducting coaching programs aimed at improving riders performance levels.
bmxultra.com: Do you still call Australia home?
Grant: Well this year when I am speaking to people over here in the US, when I say "home" I am referring to San Jose California. However Australia is my true home. I am looking forward to catching up with my friends back home (Aust.) in December after the Grands.
bmxultra.com: What music do you listen to?
Grant: Just mainly Top 40 current stuff, but I like to listen to songs with strong words or meanings behind them. I'll use songs I like for motivation or relaxation etc.
bmxultra.com: What do you think of Neil Young?
Grant: I'm not a big fan there
bmxultra.com: What do you think of Drugs in Sport (eg Aussie Neil Stephens at the 1998 Tour De France)?
Grant: That's a touchy subject, and I am sure I don't know all the details. However I believe that cycling is quite far from being a clean sport, especially road cycling. Possibly Neil was given medication unknown to him, however I believe that there are many riders who know exactly what they are taking, in a wide range of cycling disciplines. It would be great to know 100% that everybody competing is clean, but I can't see it happening. The stakes are too high now to be that ignorant to think that people won't go to extra lengths to become successful.
bmxultra.com: Are you looking forward to coming back to Australia?
Grant: For sure, I am really looking forward to coming back and catching up with my family and friends. I've been able to keep in contact with some people through e-mail etc which has been good. There were quite a few people who knew of my ambitions for this year, and I am looking forward to sharing my experiences with them.
bmxultra.com: If you weren't involved in BMX what do you think you would be doing?
Grant: That's a tough one as BMX has been in my blood for well over half of my life. I'd say though that I'd probably be involved in the fitness/sports industry somewhere, or in the automotive industry as I am a qualified automotive technician. Who knows maybe I could have even completed the course to become a Maths teacher which I was accepted into University for, and be teaching maths somewhere. LOL!!
bmxultra.com: What are your favourite BMX websites?
Grant: My favourite would be BMX'tra the online BMX magazine, also the ABA home page. I also check out BMXV and it's links on a regular basis, such as "bmxultra", just to make sure I am keeping in touch with what's happening back home. 🙂
bmxultra.com: Why didn't we see you at the World's?
Grant: Basically it was just a financial decision. My sponsor hadn't really included it in their budget of races for me to attend, thus I would have had to purchase another return air-ticket to get back to the USA after the event was over. I've set my goal around placing as high as possible on the ABA rankings, so I decided to stay and pursue that goal. If I was back home instead of over here when the World's were on then I would have really been looking forward to competing against the world's best. However being over here I compete pretty much against the World's best almost every weekend. 🙂
bmxultra.com: What have people from the US been saying about Australia now the World's are over?
Grant: A few of the guys have commented to me how they really liked Australia as a country. They said the would have liked to have spent more time there, however the racing schedule doesn't really allow for that in the summer over here. There were a few comments about the track, saying that it could have been better, particularly the first corner. However it was just another race in the year and once people had arrived home they were pretty much thinking of the next National on the schedule.
bmxultra.com: What sort of money can be made from racing BMX in the US professionally?
Grant: There is an extremely high amount of money floating around over here, however like anything I guess it all depends on how good you are as to how much you can make. First place at a National in AA will range from $875 to $2,000 per day depending on how many riders there are. The prize-money is a lot higher than back home, but so too are the entry fees, $100 per day for the AA class. That's almost $400 Australian dollars for a weekend of racing just in AA let alone Pro Open. The salaries that are being paid range from the basic all the way up to the extraordinary. It all depends on how fast you are and how big your name is. Over all though the USA is the place for opportunity as far as being a Professional BMX rider.
Interviewed: Nov 1998
Posted in: Interviews