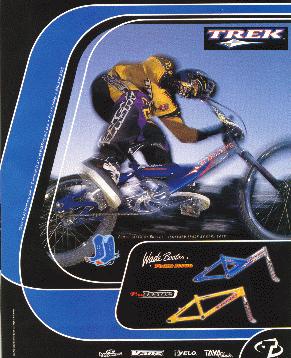 bmxultra.com: How/When/Where did you start racing BMX?
Wade: I started racing in 1981 as a friend from School was into BMX. I live in Toowoomba, Qld when I first raced BMX. We  had a local track at a water park in Toowoomba.
bmxultra.com: When did you move to the US and why?
Wade: I moved to the US in November of 1993, I was just going to go race the ABA grands but decided to stay a year and do the circuit. Things went really well and I realized that I could make BMX my career if I stayed in the USA, so I did.
bmxultra.com: When did you turn pro?
Wade: I think it was June or July of 1993, just for the race in Qld as there was more prize money if you race the Pro class than the Pro- am class
bmxultra.com: If you could change anything about BMX Racing what would it be?
Wade: In America I would say less and bigger races. We have Nationals like 35 weekends of the years and if you add in the mountain bike races and bike shop appearances and Bike shows we are hardly at home.
bmxultra.com: Who are your sponsors?
Wade: Trek Bicycles is my main sponsor and I have several Co-sponsor: Vans, O'neal Answer, Nema, ATI, Crupi, CTI2, Powerbar, Cytomax.
bmxultra.com: Do you prefer riding your cruiser or 20?
Wade: The cruiser does ride smoother but I like to ride my 20″ as you can do much more on it.
bmxultra.com: What made you change your citizenship to US?
Wade: I am still an Australian citizen, I am a permanent Alien resident of the USA. This allows me to live in either country.
bmxultra.com: Do you still call Australia home?
Wade: Yes, as I want to move back to Australia some day but right now I call America home as I am making my living here and getting a lot of support through America.
bmxultra.com: What music do you listen to?
Wade: Alternative, metal and rock. I also just like listening to the radio and what ever is on top right then I like.
bmxultra.com: What do you think of Neil Young?
Wade: Why is Neil Young??
bmxultra.com: Are you looking forward to coming back to Australia?
Wade: I have only been back to Australia once since I moved here So I do look forward going back to Australia, But I do not know when that will be as I am not going to the World championships. I have a mountain bike race that weekend.
bmxultra.com: Will you have enough time to pay the family a visit?
Wade: I can only talk to them on the phone and send E mail right now. But I would spend some time with them if I was going over there.
bmxultra.com: Trek bikes seem to be catching on here in Australia, do you think it has anything to do with you being their number 1 rider?
Wade: I would like it to be, I would like it to be the Number 1 bike seller in Australia but that is up to the Trek distributor in Australia.
bmxultra.com: If you weren't involved in BMX what do you think you would be doing?
Wade: I would have finish with my Physical education coarse and would be teaching PE at some school in Australia.
bmxultra.com: What are your favorite BMX websites?
Wade: I go to BMXtra alot and the ABA web site. I do not have to much time to check out any other web site except my on TrekBMX.com
bmxultra.com: What do you think of the worlds being an indoor event?
Wade: I think it is a great idea but I heard the arena is very small which will make the track tiny. It will be better for the spectators but not for the riders if it is a small track.  Most of the indoor track in America are as big as an outdoor track.
Thanks Wade for being a part of Online Legends.
You can email Wade through the Trek website check it out at trekbmx.com.
Interviewed: June 1998
Posted in: Interviews