bmxultra.com: Tell us about how you first started in BMX.
Jamie: When I was 12 I spent a year doing 2 paper rounds so I could buy a motocross bike (motocycle). I raced motocross for 2 years before moving back into the city on a small block. Because of this I could no longer practice motocross easily and cheaply. I did reasonably well at it, however it became too expensive and inconvenient to do so I ended up quitting. At the time a company in Sydney started advertising Mongoose bicycles in a motorcycle magazine. My friends an I became interested in this and we started doing up dragsters etc so we could ride off road. Eventually we all bought quicksilvers and went to the 2nd race ever run in Victoria which I think was in late 1978 at a motocross track in Springvale. It was run by Pat Dillon of PRM BMX fame….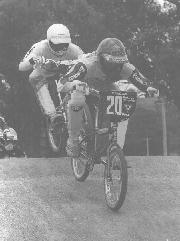 bmxultra.com: When I started racing BMX in 1981 Jamie Hales was already a household name, tell us how and when that all started. And tell us about how you got your photo on the back of the weet-bix boxes.
Jamie: In 1981 point I had been racing for 3 years. My results until then were
1980 2nd Australian champs 20″
1980 1st Victorian champs 20″
1981 1st Australian champs 20″
1981 2nd Australian champs Cruiser
As the sport was totally new it generated a lot of interest. I guess this is why I got a lot of exposure. Now BMX is an established sport and most people at least know what a BMX bike is. I still find that most lay people have no idea what a BMX race consists of. This is actually good as it means we still have more people (read market share) out there that are potential BMX racers….BMX now has to share the market place with the many other new sports that have evolved in the past 2 decades so it is tougher for the elite riders of today to get the coverage that I was fortunate enough to get.
Oh and the weet bix thing was totally unknown to me. They just got a picture from a magazine and used it. I did not profit 1 cent from it.
bmxultra.com: Could you tell us what happened to you in your final at the Ashmore Nationals?
Jamie: Basically I was shafted. There was a protest by a team rider of mine (Dean Crisp) claiming that I crossed over the lane on the stating hill pushing him across. On the video of it, it is clear that I did not cross until the lines finished which is perfectly legal. Unfortunately this was not available at the time. Basically it was because Dean was pissed that he never was able to beat me and being on his home turf it made it all the worse for him. It was an incredibly uncool maneuver by him as he did not get second anyway.
Also it was a bad result for the team as he pushed his team mate (me) out of first and replaced him with a rider of another brand.. Mongoose were not happy about this at all I can tell you.
The officials made some blunders as well. I should have been disqualified all together if I had infringed and not just moved to second.The official that was backing up Dean was a Queenslander (somewhat biased) who made BMX frames and happened to be operating the gate at the time. By the way he had also been drinking. I don't recall his name.
bmxultra.com: What was your favorite track in the 80's and how would you compare it to today's tracks?
Jamie: I really could not pick one as they were so many that I loved. Todays tracks (what I have seen of them) are more technical in that they have more jumps. This is great as it really test the skill of the rider and basically a lot more fun for everyone. The gates seem to be a lot more reliable too.
bmxultra.com: As a youngster I went along to a Jamie Hales coaching clinic at the Shepparton Twilight track, could you tell us about these clinics. Did you enjoy coaching? Did it help financially?
Jamie: Yes I did and still do enjoy coaching. I coach in other areas as well now as I have taken up a couple of other sports since then as well.
And yes I did make some (not much though) money out of it….
bmxultra.com: Who were your sponsors?
Jamie: Here they are in order of appearance
Pegasus Cycles (shop)
Quicksilver
Mongoose (B.M.X. Products USA)
Balwyn Cycles (Co sponsor)
Giant (Now)
Not many eh!
Mongoose sponsored me for something like 5 years which is very rare these days.
bmxultra.com: This is not the first comeback you have made, what made you comeback for the Whistler (Canada) World Championships and what happened there?
Jamie: Hmm not sure I would call the Whistler race a comeback. I basically I had never retired at that point.
I was leading the second Moto (against Toby Henderson and Greg Hill) and my chain came off due to (I found out later) a bent
frame. I gouged my calf on the chain ring and was on cruches after that. Really disappointing!!
bmxultra.com: What lead to you quitting BMX?
Jamie: The main reason was that the BMX bubble burst. Mongoose was bought out by a company and they decided to discontinue there international teams. This means I could no longer afford to race full time. I was kind of burnt out at this point with the whole thing as well. At this point I started racing sailboards and wave sailing and just lost any interest in going back to race.
bmxultra.com: How do you compare BMXing to Mountain bike racing?
Jamie: There are 3 types of MTB racing ..uphill, downhill and cross country. They all require certain skills and fitness types. Generally speaking I would not like to compare them. They are both great fun…and I love doing them both. (I only really do the MTB downhills these days)
bmxultra.com: What's you favorite BMX website?
Jamie: Yours of course….well actually I haven't really looked at them enough to judge…perhaps you could send me some address's to check.
bmxultra.com: Will we see Jamie Hales on the BMX tracks after the 1998 Worlds?
Jamie: I would only continue if I could be competitive in the pro events so lets just see how I develop until then. I certainly feel fit enough. (due mainly to hockey)
Posted in: Interviews