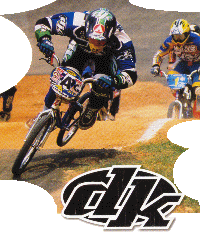 bmxultra.com: What is your occupation?
Robbie: I race BMX for a living.
bmxultra.com: How did you get involved in BMX? Where and when?
Robbie: I lived in Rolla. Missouri in 1989. I picked up a 'BMX Plus' and read an article on how to get started in BMX.
bmxultra.com: How's things with DK? They must have been stoked with your efforts at the 97 World Championships?
Robbie: DK is great. They let me turn pro 2 years ago and gave me a chance to prove myself. They were happy about the World's but its just a race.
bmxultra.com: Who are your other sponsors?
Robbie: 1-800-COLLECT, airwalk, sunrims, ATI, Fox, UGP, tektro, paint can designs, victory records, Smith sunglasses.
bmxultra.com: Are you looking forward to coming to Australia? Is there much talk about BMX racing in Australia and the 98 Worlds?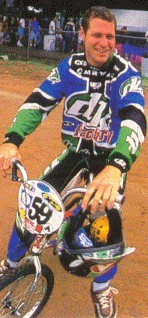 Robbie: I think my girlfriend is more excited about it than I am. But when the time comes I'll be happy.
bmxultra.com: Any predictions for the Elite final? How have you been riding?
Robbie: No predictions. Anything can happen. Hell, I made it last year. For my riding, winter time is tough because its indoor season but spring/summer season I'm good.
bmxultra.com: Does anybody in America know about the Venue change (to The Glasshouse which is directly across the road from Melbourne Park)? The track layout has changed to one with longer straights. What do you like most in a track? Do you prefer indoor or outdoor tracks?
Robbie: I don't think anyone knows about the venue change, nor do they care. I like long smooth tracks with big jumps and rhythm and good turns. Outdoor tracks definitely.
bmxultra.com: If there was any one rule in BMX you could change what would it be?
Robbie: I think there should be more contact, more fights, more anger instead of happy pros being good role models.
bmxultra.com: What are your favourite BMX websites?
Robbie: I don't surf the web too much. It takes too long to check stuff out so I leave it alone.
bmxultra.com: If you weren't racing BMX what would you be doing?
Robbie: I'd be a bike courier in the nation's fine capital Washington, DC.
Thanks Robbie for the interview.
(The photos I have used can be found in the Nov/Dec 97 Issue of Snap.)
Interviewed: – April 1998
Posted in: Interviews