Luke Madill (Norco) has been a dominant force in Australia for many years now and in 2001 he made a big mark on the international professional BMX racing scene. With his own signature frame and a top 8 finish in the senior elite class at the 2001 UCI world championships Luke still has a lot of years ahead of him. Read on to find out more about Australia's own Luke Madill.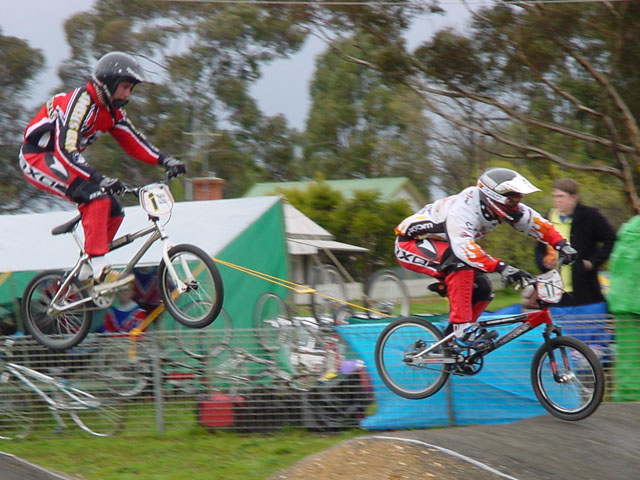 About racing…in the beginning…
bmxultra.com: I have been racing in Australia since 1981 and for most of those years I remember the name Luke Madill. How long have you been in the sport?
Luke: 18 years I started when I was 3.
bmxultra.com: How did you get involved?
Luke: My brothers use to race and I guess I copied them.
bmxultra.com: What was your first bike?
Luke: It was a 12″ Mongoose. Shane Robinson got it for me, if anyone remembers him.
bmxultra.com: He was factory Mongoose in the early to mid 80's right?
Luke: Yeah, but I can't remember him racing, only on a video I have from 84 when I was 4, and other pros are on there like Darren (Hawkins), he's 12. It's funny to watch. Shane lived a couple of houses up from me and used to have a track in his backyard. A lot of people use to turn up and race. The track was pretty good.
bmxultra.com: How old were you when you first made an Australian championship final? How old were you when you won your first Australian Championship?
Luke: I went to my first Aussies when I was 5 and got 3rd, then won my first Australian Title in 88 at Alice Springs when I was 7.
About racing…more recently…
bmxultra.com: Let's go back to 1998, you made 2 mains at the worlds as a Jnr Elite…how did you finish up?
Luke: I got 2nd on cruiser and 3rd on 20″. I was happy…I would have loved to have won…especially being in Australia, but I was still happy.
bmxultra.com: What was it like to do so well in front of a home crowd?
Luke: It was great. They really got you psyched up to race. When my name was called out I remember the crowd banging on the signs and you could hardly hear yourself think as you went around the track from all the noise.
bmxultra.com: What about 1999 at the national championships, you were the youngest Aussie pro champion ever. How did it feel to win and beat the likes of Grant White, Darren Hawkins, and the rest of Australia's best?
Luke: That was an excellent year. I won a lot of races but it all started at the Aussies. The track suited me a lot, being tight and short. My starts were good and that helped me all weekend. I knew it was going to come down to either Grant, Darren or Myself. I knew I just had to keep getting good starts and should be able to hold them off. That's what I did and ended up getting the win. I tried not to worry about being that much younger, but it felt better when I won.
bmxultra.com: What about the nationals in 2001 you were the favourite in many peoples eyes, dominating all weekend … what happened in the main event?
Luke: I felt like I was going good that weekend not dropping a moto. In the main Kamakazi and I were side by side and well he didn't stay too straight and we hit coming out of the gate and I clipped out. In the end I picked up 4th, but that's the Aussies, anything can happen. I just forget about it, it's only one race.
bmxultra.com: Are you and Kamakazi friends?
Luke: I think we are. There is a lot of people who probably think it's always Luke Madill Vs Kamakazi and we are enemies but we get along OK and have some close races.
bmxultra.com: The attendances at Australian BMX races are nothing on what they could be. Does this worry you?
Luke: It does, when you go to a big race and there is only 150 riders and only 9 AA pros. It gets you worried weather it's dropping off, but hopefully they can fix it and build the sport back up.
bmxultra.com: Is there anything that you think you can do about it?
Luke: I think if the BMXA listened to a few of the pros ideas they would realise that we are trying to help the sport and not just the AA riders. A lot of us have been in the sport longer than any of them and have seen over the years the things going wrong. I think the biggest thing we need is a series for the Nationals not just one race…and the sport isn't advertised enough. People think BMX is either dirt jumping or Vert, and they get way more coverage than us.
The 2000 USA tour and the Norco signature frame
bmxultra.com: You had quite a successful tour of the USA during their summer, why did you choose to come back to Australia and not continue on with the rest of the racing season?
Luke: I love my house, so that was about as long as I could last. I wanted to see how it was over there and then make my decision what to do next year.

bmxultra.com: Were you happy with your results at the 2001 world championships at KY in America?
Luke: I was glad to make the final but not to happy when I crashed, It would of been good to see if I could of come in the top 3.
bmxultra.com: Who are your sponsors?
Luke: Norco, AXO, 661, Marzocchi, Spy, Sun Ringle, Profile, Knucklebone, S&M, Drive Technologies, Atomic, Kore, Elite Cycle Imports, Champion Cycles, Blackman Bicycles. I hope I didn't miss anyone.
bmxultra.com: Tell us about your signature frame, it's the first signature frame marketed for an Australian audience right?
Luke: Yeah that's been excellent to be able to have my own frame. The geometry of the bike makes it feel real stable to ride and perfect for racing, the parts that come on the bike are so good for the price. I love it and hopefully the people who buy it will to. I cant thank Julian Millis and Norco enough for what Norco have done for me.
bmxultra.com: We hear that there have been international orders for your frame, what do you think about that?
Luke: It's great that the bike will be seen in other country's. Hopefully they will become as popular as they are getting in Australia. Norco makes a range of sizes now and they are taking over Australian BMX.
Some general stuff
bmxultra.com: What do you do for a living?
Luke: I just finished my apprenticeship as an auto electrician. It's a family business and I can get time off to race so that helps me a lot.
bmxultra.com: What music do you listen too?
Luke: My Favourite band is Blink 182, but I listen to anything I also like R&B.
bmxultra.com: What do you think of Neil Young?
Luke: Who?
bmxultra.com: What did you think when you found out that Western Australian band Jebadiah used a slightly modified picture of you for the front cover of an album?
Luke: When I saw it I thought it was cool. I went to HMV and they gave me some posters of it but I don't really like their music that much.
bmxultra.com: Do you remember what race the photo was taken from?
Luke: I'm pretty sure it was from the semi final at he Nerang Australian titles.
bmxultra.com: What are your favourite websites?
Luke: For BMX I mainly just look at bmxmania.com or bmxultra.com for other Australian news. I don't get on the computer that much.
bmxultra.com: Tell us about the BMX track you have in your backyard.
Luke: At the moment it's not much, but I've started on a new track with a 4 man gate. I also started building a foam-pit but I'm still short on foam.
bmxultra.com: What do you do for training?
Luke: Not enough.I try to ride my bike as much as possible. I go to the gym and do sprints but that's not much fun and I don't go as much as I should.
bmxultra.com: What other sports to you play? Or enjoy watching?
Luke: I had a motorbike but sold it before I went to USA, so I need to get another one. I've just learnt how to wakeboard and I'm on my mountain bike a lot.
bmxultra.com: What are your plans for the future?
Luke: Try to race as much as I can, hopefully do some mountain bike races and get my coaching clinics bigger…and hopefully I can do some clinics in other states. Try and get Norco bigger and more popular than ever before.
Posted in: Interviews