John Purse, 1997 UCI Elite World Champion, has been racing BMX for many years now and has become a house hold name in the BMX community. While still a competitive AA Pro John is spending time organising events, promoting BMX, training and being a husband. John took some time out of his busy schedule to have a few words with us, we hope you enjoy it.
The Past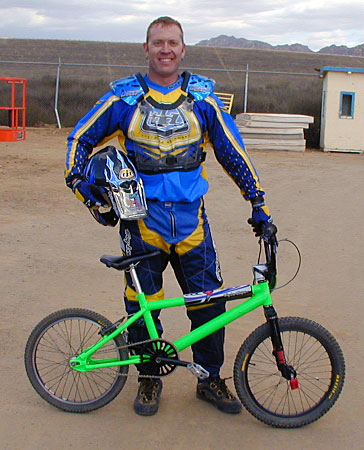 bmxultra.com: Let's go back to 1997, you won the UCI World Championships in Canada. What was it like to be an American winning what is mostly a European dominated event?
John: Winning that race was definitely a highlight of my career. I had won 2 previous world titles as an amateur, but I always wanted to win a world title as a Pro. Being an American winning was definitely an accomplishment. It was a time where BMX was opening up a new chapter as far as the level of competition. It was an exciting final as well. I was winning, got passed, and won down the last straight.
bmxultra.com: BMX has taken you all over the world, what are your fondest memories on and off the track?
John: My most memorable experience was my first race on February 8, 1981. I was 8 years old and I got 2nd on a $ 40.00 bike. More of my fondest memories are at an amateur level traveling on summer tours, going to World Championships all over the world, and meeting people from all over the globe. All of my title races have been very exciting and memorable as well. Off the track was my marriage to Nicole Kubeczka-Purse on December 18, 1999.
bmxultra.com: You have suffered from a few injuries since then which lead to you being dropped from the Redline team, who had been your major sponsors for a long time. How do you feel about all of that now you have had time to regroup and you are doing your own thing?
John: I am very excited where I am headed in this stage of my career. I don't have a bicycle sponsor at this time, but it leaves me free to do what I want to do right now and that is starting a new Pro series called The Grind Series. I developed the series to step the level of competition, sponsorship, and track design to put us back on TV as well.
bmxultra.com: Do you still get along well with gOrk and the riders from Redline?
John: I do not feel the same about their program as I once did. Jason Carnes and I ramp the 9th Street Trails in Austin, Tx. Matt Hadan and I will always be brothers for life.
bmxultra.com: Do you still talk to Greg Hill now that he's retired from the sport?
John: yes, Greg and I talk often. We still support each other.
Present
bmxultra.com: Who are your sponsors now?
John: Purse Racing via John Purse Inc. Co-Sponsors- Marzocchi USA, Troy Lee Designs, Phone Line Voice and Data, Maxxis Tires, and Grind Factory. Product Sponsors- ODI, Vans, EVS Speed Protection, Richard Mozey-CPA, Ultimate Exercise, Kovachi Wheels, Profile Racing, KMC Chains, and Control Tech.
bmxultra.com: We hear you are working with Sponsorhouse.com, tell us a but about them.
John: Sponsohouse is a company that helps with sponsorship for athletes that participate in motocross, bmx, downhill, snow, skate, and surf. I am helping them head up their BMX program.
bmxultra.com: How are you helping SponsorHouse?
John: by promoting BMX to sponsors from outside the sport, to try to take BMX to a new level.
bmxultra.com: Tell us about the Grind Factory thing.
John: The Grind Factory is a 60,000 square foot indoor skatepark we are working on in Houston, Texas. It will consist of an indoor skatepark, indoor dirt jumps, outdoor park/street scene, outdoor BMX track, outdoor dirt jumps, outdoor paint ball, and indoor wall climb. It will also host the Grind Series, a spin off from the Grind Factory, in the future.
bmxultra.com: Why do you think clipless pedals are being banned?
John: They are banned in Europe from 14 years old and under. America needs to ban them as well. If anything, experts and professionals should only be able to race in them. The organizations are starting to build the tracks less technical to keep them "safe." They are banned because they are very dangerous if you are not a very experienced rider.
bmxultra.com: Haven't you used clipless pedals?
John: I presently use clipless pedals to be able to compete in BMX at the level it is at today. I do not like them and never will. At this time they are legal and everyone uses them. To me using clipless pedals takes from BMX as much or more than it gives.
bmxultra.com: Where do you find the time to juggle a family, racing, training and organizing events?
John: What time? My wife helps me a great deal with my projects and supports me 100%. We have a group with the Grind Factory that we work with to accomplish our goals as well. I am extremely busy, but I think it is worth while for the sport to grow.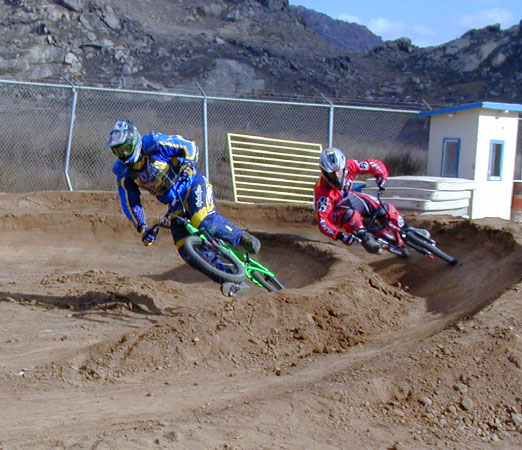 The Web
bmxultra.com: Tell us about your website – www.johnpurse.com
John: It was made possible by 22 years of BMX blood, sweat, and tears. It was composed by Christy Nicholson and Frank Sarate of All Star Racing Sports- christy@allstarracingsports.com
bmxultra.com: What are your favorite websites?
John: www.johnpurse.com, www.grindfactory.com, www.sponsorhouse.com and everything BMX or Motocross
bmxultra.com: Do you think that BMX websites help promote the sport or just the riders?
John: I think BMX Websites promote the riders, the sport, and the sponsors related to both.
bmxultra.com: Do you think they are being used as well as they could be to promote the sport?
John: yes, but I think all riders need to be represented on the web.
Music
bmxultra.com: What music do you listen to?
John: alternative- P.O.D., Jimmy Eat World, Limp Bizkit, Incubus, Linkin Park, Metallica, and my girl Shania Twain.
bmxultra.com: What do you think of Neil Young?
John: who is Neil Young? I think Neal Wood is cool.
bmxultra.com: We saw the results from that Canada bike show race, there was a report that said you use a Redline is that true?
John: I DO NOT RIDE A REDLINE!
bmxultra.com: Ok, we just wanted to clear that up.
John: I ride a Control Tech prototype frame that I designed that Welder John created. Control Tech makes great USA made equipment.
Future Plans
bmxultra.com: We hear that you have a signature model frame on the way, tell us about it.
John: I have Control Tech make the frames that I ride. They are the best American made aluminum frames available. I have talked to them about making a limited amount of signature frames, but have not acted on it yet. I am still open to pursue other sponsorship opportunities first.
bmxultra.com: Are you going to start racing MTB events as well?
John: I participate in as many Mountain Bike events as I can. It is a great cross-over sport to BMX.
bmxultra.com: What are your plans for the future?
John: To help promote BMX Racing in a more serious way, win more titles, and have fun with what has been my passion for over 20 years.
bmxultra.com: There is also a rumour that you are going to start your own race team, is there any truth in that?
John: I would love to have my own team. Right now I am envisioning the future of how BMX Racing needs to be to move forward out of the rut that it is in. I would do a Pro team first and go from there.
bmxultra.com: Are you planning to come to Australia for the 2003 world championships?
John: Yes, I look forward to coming to Australia in 2003.
Photos courtesy of www.echelondesignteam.com
Posted in: Interviews