Clayborn with Richard Bunt
Behind the man behind Clayborn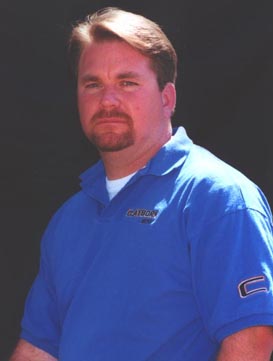 bmxultra.com: How did you first get involved in BMX?
Richard: I saw it in Texas while visiting my brother, he use to race MX for Honda on the Florida circuit…. and when I went to Texas to visit him, he took me to a track to watch a race.
bmxultra.com: When was that?
Richard: like around 81-82 I think. When I came back to Alabama, I didn't know where a track was, or how to find one. So in 85 I finally found out that Alabama had 6 tracks.
bmxultra.com: What placing did you finish in your first race?
Richard: I got 2nd… I still have the trophy…lol.
bmxultra.com: Did you race any of the national events?
Richard: No not until, 87.
bmxultra.com: What was your highest nationals finish?
Richard: I was a consistent 5th in my mains…I was top 20 most of the time at years end. I really wasn't good, but got some good breaks.
bmxultra.com: You are Alabama's BMX state commissioner right? What do you do as commissioner?
Richard: I over see the state qualifiers and championship head up the programs we run in the state NBL programs.
bmxultra.com: To make sure no one cheats?
Richard: Well, not really on the cheating, but I am the national director, but just on a state level
bmxultra.com: Is there a website for Alabama BMX?
Richard: check out www.alabamabmx.com
Some Clayborn History
bmxultra.com: How did you get involved in Clayborn?
Richard: As an investor with Bill Madden
bmxultra.com: Hey…so where you racing when you first got involved with Clayborn?
Richard: Yeah I was, I had just got back into it, after some time off for school.
bmxultra.com: When was that?
Richard: 94 or 95 I'm not too sure.
bmxultra.com: Was there anyone else involved?
Richard: Nope. He bought it from the original owner and needed some cash to get it going, so I stepped in.
bmxultra.com: Who was the original owner?
Richard: Scott…something…I can't think of his last name.
bmxultra.com: Ok, so when did Bill leave Clayborn?
Richard: In 2002, I bought him out of his half.
bmxultra.com: Did he leave to start Xtrskn?
Richard: No he had that going long before we got Clayborn going.
Clayborn today
bmxultra.com: How would you describe how Clayborn fits into the BMX industry? A small-medium manufacturer?
Richard: We are gearing back to the small company we were where, the customer service is second to none and as always the best frames and accessories on the market. So, I would say we are a small company, we are looking to make on a certain number of each size of our frames and when they sell out, they are gone until next year, so they aren't flooding the market.
bmxultra.com: Ok, so recently you made some changes…tell us what is going on with Clayborn now
Richard: We're going to continue making top quality frames and products. We'll add another cruiser size, we have a junior, expert and pro. I want to add a true pro size and make our current pro the pro XL…There is a lot in store for Clayborn this year.
bmxultra.com: You're not revealing any of your secrets?
Richard: Well, I will at a later date, just in case something falls through…
bmxultra.com: Ok, so tell us about the unusual design of your frames, how did you come up with it?
Richard: It was more Bill doing the designs, then he would run them by me. After talking to a few engineers, we realized that the small gusset bar we have actually takes much of the shock from a cased jump. With that the shock waves are very short and doesn't add any wear and tear to the main frames.
bmxultra.com: Will you stick with that design for a while then?
Richard: Yeah, if it isn't broke why fix it? Oh just a little insight to something new, we are redesigning our CRX, which will be 100% race cromo frame and a new street/dirt frame as well.
bmxultra.com: It's your first cromo frame in a while isn't it?
Richard: Yeah it is…
bmxultra.com: what have you been using for your frames?
Richard: T-6 6061 aluminum. There is a slight possibility of a little T&A happening here, meaning Titanium and Aluminum…keep ya eyes peeled for that.
bmxultra.com: made in the USA?
Richard: Yeah all our stuff is 100% made in the USA
bmxultra.com: There would be very few companies in the USA with their frames 100% USA built now right?
Richard: Well, some claim to be, but the truth is many go to Taiwan, but there are some, S&M, Fit, I think Standard still is, but I am not sure of all that are or aren't, I just know a few that claim to be but aren't.
bmxultra.com: What do you do aside from the frames? Forks and handlebars?
Richard: Yeah bars, stems, forks, and working on a new bar end and chain tensioner.
bmxultra.com: The forks are cromo right?
Richard: Yeah they are…..
The Race Team
bmxultra.com: How many riders do you have on your team?
Richard: Barry Nobles 15 expert, Evan Bartlett 17 expert, John Andrews 21-24 expert, and we are currently talking to a AA Pro to add to the line up.
bmxultra.com: Who are the teams co-sponsors?
Richard: Right now we have a few co-sponsors, but looking for more, they are, Cane Creek, FLY Racing Products, UGP, Kovachi Wheels, XTRSKN, and MP mini, all of which have great web sites, so check them out.
bmxultra.com: How is the new team going this year?
Richard: Doing really good.
bmxultra.com: How much influence do your team riders have in the geometry/design of your products?
Richard: Some, but to be honest, my riders would ride anything, they are good and they love to ride, but they do ask or show me ideas some.
What's new?
bmxultra.com: How's the rework of your website coming along?
Richard: Very well, we've just got to get some frame and rider pictures done and we will be up and running.
bmxultra.com: Sounds good…have the frames changed much?
Richard: No, not at all.
bmxultra.com: Have the jersey or the stickers?
Richard: No, we are getting some new art work for the t-shirts. But not changing the frame stickers or let me say I don't plan to, but you never know.
bmxultra.com: Do you export at all at the moment?
Richard: No, we are going to sale direct on the internet, so I am thinking that when we do that, any one anywhere can get a frame if they want one.
bmxultra.com: Is that going to be the only way people can buy Clayborn bikes/frames?
Richard: No, at the races we are working with 2 of the big vendors.
bmxultra.com: Are you going to be teaming up with the major websites to direct traffic to the online sales?
Richard: Yes, keep an eye out.
For more information about Clayborn Bicycles, you can email them at clayborn1@aol.com or check out their website at www.claybornbmx.com
(The site was down when we wrote the interview, keep checking back if it's still down when you read this.)

Posted in: Interviews