The interview you are about to read is an extract from an interview bmxultra.com did with Danny Galea as a part of a project we are working on. We are putting together a CDROM with interviews, racing, etc, and because it's taking us so long to get it together we thought we'd give you a little teaser.
For those of you who don't know Danny he has been one of the strongest Pro riders out of Victoria for close to 10 years and in the past year or two has been sponsored by Huffy, GT and even did the independant thing briefly.
This is what Danny had to say about BMX racing;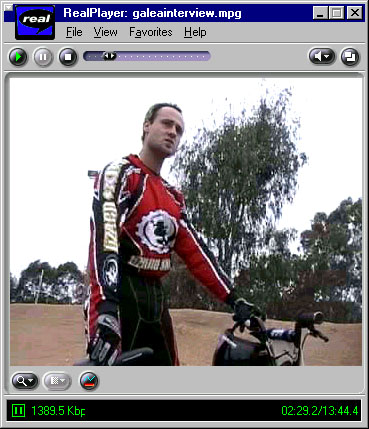 bmxultra.com: We're talking to Victorian State AA Pro Champion, Hoffman Australia/Pedalinn.com sponsored Danny Galea.  Danny tell us about yourself
Danny: I'm the current Victorian Elite State Champion and I've been racing on and off for about 19 years, I've won 10 state championships, and I currently race AA pro.
I'm 27 and I'm sponsored by Trick Bits, who import Lizard Skin, Profile and Hoffman Bikes into Australia and bmxultra.com.
bmxultra.com: What is your favorite track?
Danny: Probably Frankston, in Victoria, at the moment.
bmxultra.com: What makes it your favorite?
Danny: The layout of the track, the jumps, it's pretty good.
bmxultra.com: You are considered a bit of a "powerhouse" why do the jumps interest you? Why don't you prefer a flatter track?
Danny: I do prefer flatter tracks, but it's a sign of the times, you've gotta move with the times. The tracks are getting a lot more jumps in them now and they are flowing a lot more. I'm starting to get up with that. I'm losing a bit of weight and starting to get up with what is happening.
bmxultra.com: Tell us about your Bike.
Danny: I've gone back to the cromo Hoffman Flash frame, the length of the frame is 21 1/4 inches in the top tube. It's fairly stiff. I'm also running dirt jumping forks on it now. They are really stiff too I love the feel of them. The bike handles just great.
bmxultra.com: Who are your major competitors Danny?
Danny: As far as the state goes, probably Tony Harvey, even though he's not in the state much any more. A lot of the younger guys coming through like Jamie Wallace, Levi Collins, Leigh Weber, those sort of guys on a local level.
bmxultra.com: Which riders do you admire?
Danny: Luke Madill, when he's riding he flows so well.
bmxultra.com: Who do you hate riding against?
Danny: Hmm, I don't know, I'd have to say Carl Wilson. Did you read that Carl?
bmxultra.com: Tell us about your bike.
Danny: Hoffman Flash frame, Volume dirt jumping forks, Profile dirt jump cranks, Profile chain ring, Mavic rims, Profile cassette hubs, Profile handlebars, Profile stem, Dirt Designs plate, Lizard Skin accessories, Hoffman saddle…and sometimes it can go very fast
bmxultra.com: You've run seven pro races in a row how long do you think you can keep it going?
Danny: I'd like to get to 10. (Danny got to 10)
bmxultra.com: You do a lot of travelling…where do you plan on going this year?
Danny: I've already been to Adelaide twice, Mt Gambier, Canberra…I'll probably get back to Adelaide, up to Sydney and see what happens from there.
bmxultra.com: At the Aussie Nationals this year you had a little bit of trouble, what do you think will be different about next year?
Danny: I think this year I tried to modify my preparation, this year I changed a few too many things..it didn't work…so I'll probably go back to my normal routine leading up to it.
bmxultra.com: You spent some time in the US in the mid 90's how did you go there?
Danny: I basically went over for a holiday and to see a few rock bands…I put in a couple of races and did alright, I made the mains.
bmxultra.com: How do you compare racing there to racing in Australia?
Danny: It's a lot bigger, they've got the national circuit over there…where we've only got the one national a year…and they have about 30 a year. And just the hype…there's a lot more hype. Also there are a lot more classes, which I don't think is a good thing, it tends to make the meeting to drag out a bit more. Everything is a lot bigger.
bmxultra.com: Do you think that BMXA can learn from the US?
Danny: Definitly…they've gotta get back to what the sport is all about and that's the riders. Instead of worrying about political issues and keeping the UCI happy. I think they have to get back to the riders. There are too many people making a money out of the sport…the people who should be making money out of the sport are the riders, not the officials, the officials just seem to be making a killing…travelling everywhere…5 star hotel rooms, first class airfares.  I don't think it's the right thing.
The riders should be the ones getting the money, the amount of money those guys do make off the racing is not getting put back into the prize money something's gotta be looked at there…I think there's gotta be a total overhaul at the top level, everyone out and let's get some riders in who know what It's all about instead of parents who's kids have been retired for more than 10 years.
bmxultra.com: Do you blame the top end pro riders in Australia for skipping the country and racing in the US?
Danny: Not at all…it's the best place to go, if you can afford to go over there, the money's good. It also says something for the state of the sport here, when you look at it. None of the Aussie riders overseas come back for the Australian National title. Why is that so? A National title is still pretty important to these riders…you would think. To put it simply, there's no prize money up to make it worth while for those guys to come back.
bmxultra.com: If you were given an opportunity to make a difference to the sport what do you think you would do?
Danny: I think I'd have to have a look at the books first and check out where it's been run badly. I'd cut costs and roll it back into a national circuit perhaps…or at least a national pro circuit and maybe have a few amateur classes in there…maybe 6 national races a year.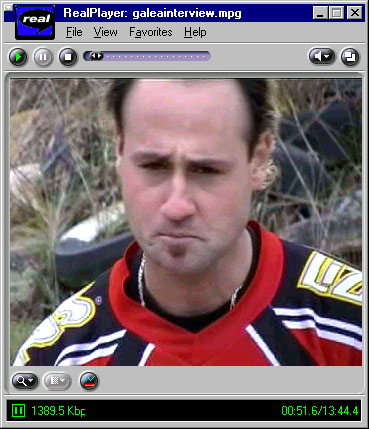 bmxultra.com: BMXA don't do a great deal of marketing of the sport (outside the sport) do you think it's important that they do so something along those lines?
Danny: I honestly think that if you have a look at the amount of riders who have gone on to other cycling endeavors, we've had a number of Olympic cyclists come from BMX, and I think it's time that the cycling federation of Australia maybe look at BMX as a stomping ground and maybe send scouts out to the tracks and check out some of the talented riders out there. There are young kids out there that are possible Olympic hopes. Also in conjunction with that, if you could get in with the cycling federation it will promote itself through that. There are just so many different avenues where it can promote itself…and we've also gotta capitalize on those riders racing Tour De France, and racing at the Olympic games…I think we've gotta ask these riders to come back and promote the sport…and maybe work on getting it on to some of the pay TV channels.
bmxultra.com: What about the riders like Wade Bootes who expect to be paid to make an appearance at a race meeting in Australia?
Danny: I think that that's wrong, but at the same time if they are going to promote the sport then they deserve to be paid, but just to appear at a race…I don't think it's necessary.
bmxultra.com: Do you think it's important to have BMX races on TV?
Danny: Definitely the sport is so competitive, and it's so good to watch, when I miss out on a main I still love to watch it from the sidelines…it's great to watch.
bmxultra.com: There are some tracks where the racing is not so great to watch. What do you think we can do about that if say a track with small jumps and long straights was going to be televised? How could the racing format be changed to make it more exciting?
Danny: First of all you'd stay away from those tracks…you'd only take it to the tracks that have got a lot of jumps and a lot of flow maybe build triple crown type tracks…taking it up to the mountains and some of the downhill tracks putting some big doubles in there and a couple of corners.
bmxultra.com: Do you think it would be possible to get some of Australia's best riders up to say Victoria's ski fields and do a bit of triple crown type of racing?
Danny: Definitly…without a doubt…and the sooner the better.
bmxultra.com: How do you think that BMX Australia can use websites and magazines to push the sport externally?
Danny: I think BMXA hasn't capitalized enough on the success of BMXpress and also the website bmxultra.com, BMXA seems to be burning their bridges a bit especially with the amount of people who visit bmxultra.com, and the magazines now selling well and they haven't used them well enough to promote themselves.
bmxultra.com: How do you think they could use these better to promote themselves?
Danny: All you've gotta do is look at the number of people who get on the web and they've gotta get more links on the bmxultra.com site, and they've probably gotta get some one to set up their site a little better than what it's set up.
bmxultra.com: What do you find useful about bmxultra.com website?
Danny: It's a good way of finding out how Aussie riders are doing overseas, also it's a good way of finding out what meetings are coming up interstate, and to check out the interstate action…what's happening there as far as how riders are going. And when you meet you know what sort of form they are in. Also the rider profiles and rider interviews, the classifieds, the pictures, especially the pictures of me I like those and I like the movies of me too.
bmxultra.com: OK, I've got to ask you what music are you listening to at the moment?
Danny: That's difficult to answer I listen to a lot of stuff, it's always changing, but for now I'd say The Super Jesus, Kiss, Fuel, Foo Fighters.

bmxultra.com: What do you think of Neil Young?
Danny: The godfather of grunge…I love his work.
bmxultra.com: Danny you have been in the sport for a long time how hard is it to keep motivated? What's been keeping you in the sport for so long?
Danny: Motivation does come into it sometimes, it's pretty hard to get motivated but the traveling aspect of it I absolutely love. And you know catching up with the guys from interstate especially when we meet in some town where we've never been and we absolutely run amok, or when you go to NZ and the shenanigans going on…there's too much stuff going on that I can't mention in this interview but we have a ball and I wouldn't give it up for quids.
bmxultra.com: Any hints for the younger riders?
Danny: For the younger riders coming through…it's just best to stay on your bikes as much as possible…once you get to a certain age and you start working and get a car it's hard to keep riding. You make your best progress when you are in your teens, when you don't have all that much to worry about. To those guys coming though and starting to get jobs and cars, just stick to your bikes. I made the mistake when I was younger of stopping riding my bike and hitting the gym a bit too much. You just have to keep riding.
Posted in: Interviews