You may not know it, but you have probably used Pazzaz made parts before.
The company, Wei Hau Accessories, have gained a reputation for high quality in products and service in over ten years of working with the best names in the business. Their handlebars, stems, seatposts and specialty BMX parts appear on many of the better models from manufacturers such as Mongoose, Trek, Schwinn, Sunn, GT, Diamondback, Redline, Huffy, SE, Hoffman Bikes, Haro, KHE, Free Agent, Specialized, DK and more. They develop and manufacture parts for brands including O'Neal, Profile, Odyssey, Primo, Sun-Ringle, DK and others. If you see something in the Pazzaz range that looks familiar, it's probably because they make the part you know by some other name.
bmxultra.com: Who are Pazzaz?
Pazzaz: Well, Pazzaz is a brand we started about 3 years ago. We decided we should have a channel to market by which was independant of our established channels and by which we could develop our own ideas rather than only those of our existing cutomer base, meaning private label and OEM customers. Pazzaz is mid to high end, we develop and produce parts for road and mtb, as well as bmx. Although a lot of the freestyle guys seem to hate "gay" mtb companies, we think a lot of mtb technology is applicable to 20″ bikes, the development process is not much different.
bmxultra.com: What is your role in Pazzaz?
Pazzaz: International Sales Manager.
bmxultra.com: How long have they been involved in BMX?
Pazzaz: Since the very beginning, over ten years now. At least 50% of our business is in the bmx sector. We started making parts for GT, Diamondback and Mongoose, and the others followed. We started out simply, making handlebars and seatposts, and later moved into the alloy stems and bars that we specialize in now.
bmxultra.com: What do you manufacture?
Pazzaz: We try to stick to our core products which are handlebars, stems, seatposts, axle pegs (we are probably the biggest manufacturer of axle pegs in Taiwan), seat clamps, brake boosters, bottle cages, ahead caps, bar ends, chain tensioners, adapters, shims. We'll be launching a bmx pedal soon we are doing in collaboration with a leader in that field.
bmxultra.com: How many people do Pazzaz employ?
Pazzaz: We have about 80 people in total. Admin staff of about 6, sales dept. of 6, 8 in R&D, the rest in manufacturing, tube operations, welding, finishing, packing. QC staff is about 5.
bmxultra.com: What is your most popular product?
Pazzaz: In terms of sales, axle pegs by far, probably close to a million pairs this year!
bmxultra.com: We hear you have big plans for BMX in the year 2000, could you tell us what those plans are?
Pazzaz: We'll be working with our sponsored riders to develop new product, we got some input from Team Mongoose last year which helped. We are looking to go to the grass-roots to increase our involvement in the sport. We want to help with the continued growth of the sport, and will be looking for 50 or so young riders in the US and Australia to sponsor with equipment. We feel it's nice to have high-profile pro riders to provide feedback and design input, as well as testing product to the extreme. But, more needs to be done to encourage the younger riders, the ones that can't afford new pro-level bikes every season, the ones who are trying hard but not seeing any of the prize money or recognition the older riders get. There is more money coming into the sport, but slowly, and always top-down. I like to see the pros get paid well for what they do, it's about time, but the younger riders get not much more than a trophy and a pat on the head for training hard, riding hard and going out and winning races. Not to mention the pressure some of them get from parents…maybe that's more of a problem in the US than in Aus. There isn't enough coming in at the club level to offer cash prizes, and we can't afford to offer them either, what we do want to do is offer equipment to those riders as encouragement to keep them going. Eventually the sport could go the way of motocross with a contingency program, so the average racer gets a slice of the pie. Maybe that's a long way off, but I hope it happens.
We are interested in promoting cycling in general, we sponsored the Critical Mass group that's riding across China and Tibet right now to publicize their stand.
bmxultra.com: What benefit is there in targeting your market at the intermediate rider?
Pazzaz: Although we make many of the high dollar parts that the pros use, the Pazzaz brand is still young, and as a young brand we are careful to offer parts that are of high quality but fit the budget of the intermediate rider. We offer great value for money, a high quality part for a very reasonable price. What we learn from developing those high dollar parts trickles down into the mid-range very quickly these days as development cycles shorten. We are pushing ahead with carbon fiber and magnesium materials and looking for ways to reduce production costs so the largest numbers of riders can benefit from the technology.
bmxultra.com: How will the sponsorship work with you being in Taiwan and the riders in the US and AUS?
Pazzaz: We work closely with a consultant in the US who will be scouting and selecting riders. He'll also be out there to support them at the races. In Australia we'll likely screen applicants from the website and try to visit as often as possible to keep up with them. This is one reason we use the website to advertise that we are looking for riders, we know they have email access…
bmxultra.com: Can anyone apply or will you have scouts?
Pazzaz: Sure, anyone can apply. We are looking to find kids who are applied to racing, while keeping attention on schoolwork. I don't need abusive mail from parents blaming me for their kids dropping out of school to turn pro…so we'll be wanting to look at grades.
bmxultra.com: Will the riders get racing clothes as well as product?
Pazzaz: A baseball cap? can we call that clothing?, maybe a t-shirt when I get around to it.
bmxultra.com: Have you raced BMX? How did you get involved in Pazzaz?
Pazzaz: No, never raced BMX. I was dirt jumping way back in 1975 though…I used to race motocross (it was scrambles back then) and dirt jumping was a good way to hone those aerial skills. Hurts a bit less to crash, and costs a lot less to the bike!
I was in a trading company before I came here, sourcing complete bikes. That's very much a cut-every-penny kind of business, it's very tough. My background is in mechanical engineering, so it's natural to work with product development. In parts and accessories, I get to hang out with riders, editors, dealers, distributors as well as product managers, so it's more varied than doing complete bike.
bmxultra.com: What effect would the web have on sales?
Pazzaz: Hmm, we reach a lot of people this way. You print catalogs, thousands of them, and rely on luck to get them into the hands of people who are interested in seeing them. With the website we have a vehicle that's always there, never gets lost, dirty, torn or eaten by the dog. We can update it in a second. We still have to advertise to get the hit rate we do, but then not everyone who sees our ads has a computer anyway…
bmxultra.com: How do you test your equipment?
Pazzaz: We have a test lab full of expensive equipment we use for initial development work and QC testing. You have make sure that every part is as strong as the first one off the line. We also send parts to Germany for the DIN tests, which are as tough as they get. Gio and Team Mongoose use the parts we are developing for the real test. There are things they can do with bikes that are hard to reproduce on the test rig. The machines are good for delivering precisely measured stresses to parts, and doing tens of thousands of times over, but nothing can replace a rider going off on a bike and seeing what happens.
bmxultra.com: Who tells you if it feels good to ride with?
Pazzaz: The machines can't do that, we ride ourselves, but rely mainly on the feedback from our sponsored riders. If they don't like sometime, they are not shy to tell you, they just won't use it. If they do like something, you never get it back!
bmxultra.com: Is there any BMX racing in Taiwan or neighbouring countries?
Pazzaz: Not in Taiwan. There are some kids starting to ride freestyle, but no racing yet. There is some in Malaysia and the Phillipines.
bmxultra.com: What music do you listen too and what do you think of Neil Young?
Pazzaz: Hmmm. I'm not sure this is a serious question, but I'll bite anyway. Neil Young is a depressing whiner who should be locked in a cupboard with all the others I've convicted of crimes against rock music. Like Joni Mitchell, Phil Collins and Billy Joel…it may be unfair to lump him in with those 'artists' as they can actually sing.
Otherwise, I still listen to grunge (though it's unfashionable), still like punk (after all these years) and like electronica, gangsta rap, drum n' bass, trip hop, jungle… yadayadayada.
bmxultra.com: What are your favourite websites?
Pazzaz: Hmmm. I like looking around for mp3s, always check out glassdog to see what's up, paragliding club sites and online flying/bike magazines. There were a lot of cool 20″ sites, but they've faded some. That's good I guess, means those guys are out riding instead of sitting in front of computers…
bmxultra.com: How do you keep in touch with the rest of the world…results, news etc?
Pazzaz: Email, hang around in chat rooms to see what the kids think (but can't spell) Obviously there's a lot of industry newsletters and so on that circulate. My major customers are product managers with the big manufacturers and distributors, who are a very good source of industry monkeybutt.
bmxultra.com: What do you think the future has in stall for Pazzaz?
Pazzaz: We will keep moving forward, doing more hi-tech components, while trying to expand our market share enough that we can offer these new products at a reasonable cost to the end-user. I don't know when magnesium parts are going to become everyday, but it wasn't too long ago that only pro racers had alloy-framed bikes. The carbon parts we offer are breaking some price barriers as sales expand, so everything depends on market conditions. New materials are always interesting, but you have to make parts that work from them, so we follow our engineering sense and try to avoid following marketing trends that lead into places that don't make sense from a performance standpoint. I don't pretend to be a guru of the bike business like Gary Fisher does, but the direction is obvious. Look at the bmx bike that, say 300 dollars, gets you now, compared to what it bought five years ago. That's what you'll see in the future, more product for your dollar. Actually it's interesting that bikes and computers are some of the few products on the planet that get better AND cheaper every year, the pace of development is so fast.
bmxultra.com: Do you think you'll go as far as frames and forks?
Pazzaz: No, frames are just too far away from our core skills. Also, unless we were to go into really trick products like pressed monocoque alloy frames, or CF, the Chinese would just kill us on pricing. The Taiwan frame makers are already having a very hard time with competition from China and Indonesia. We don't want to go into a particular product if it's not something we can excel in. I'd rather keep the product line more focused. A fork is something we may consider though, a steering system product. We'll have to do a lot of work and development first, so don't go looking for one in your bike shop this year.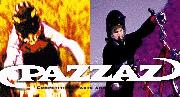 Interview: 20 Oct 1999
Posted in: Interviews