About Kai Cheng
bmxultra.com: What's your job at Tioga?
Kai: I'm the General Manager of Tioga's North American operation.

bmxultra.com: What does your role entail?
Kai: Being a small company, we all have to wear many hats.  I'm involved with everything from Tioga's marketing, which includes advertising and promotional strategies, to product trending and on to planning and implementing sales strategies with Tioga distributors.  Sometimes I even get out to various tracks to dig up dirt samples (with track operators permission of course) to send to our engineers!  The job is not boring that's for sure.
bmxultra.com: Have you raced BMX?
Kai: Only around the neighborhood with friends on makeshift tracks when I was a kid.  I love the sport but lack the skills so I'm certainly lucky to be able to do what I do!
bmxultra.com: How long have you been working for Tioga?
Kai: This is my 14th year.
bmxultra.com: How long have you been the GM?
Kai: Six years.
bmxultra.com: Have you always worked in the bicycle industry?
Kai: Tioga is my first and only "industry" job.
bmxultra.com: What BMX websites do you check out?
Kai: Besides many of the bike brands and component brands, I always check out bmxmania.com, fatbmx.com, bmxactiononline.com, bmxnews.com, bmx-forum.com, vitalbmx.com…and so on.  Oh, and this little site called bmxultra.com. Yes, it's hard work, I know…
bmxultra.com: What music do you listen to?
Kai: Very cliche but many types.  Though I rarely listen to country and hard rock/metal – do they still call it metal?
bmxultra.com: What do you think of Neil Young?
Kai: You gotta respect the man for his longevity alone.  "Like a Hurricane" and "Philadelphia" are pretty good songs.
About Tioga
bmxultra.com: how many people work at Tioga?
Kai: Tioga is a global brand headquartered in Japan.  Globally, there's probably 30 people involved with the Tioga brand.
bmxultra.com: What BMX specific products do Tioga currently produce?
Kai: One product I'm very excited about is the Power Block BMX racing tire. This tire was under development for about 2 years and the first racing specific tire from Tioga since, well the Comp-III, so I can't wait for it to hit the market later this year!  In addition to the Power Block tires, we also recently introduced a racing saddle (which is unlike anything currently in the market), platform pedals, and lock-on racing grips.
bmxultra.com: What products are planned for the near future?
Kai: We have stems, additional pedals and saddles for racing and freestyle that will make its way to the market throughout 2009.
bmxultra.com: Which riders/teams do Tioga currently sponsor?
Kai: For 2009, Tioga will be the official tire supplier of the Redline Factory Team, which includes star in the making Denzel Stein; GHP BMX Factory Team, which includes Randy Stumphauser; Donny Robinson, 2008 Olympic Bronze Medalist, 2008 UCI Supercross Champion; and of course the bmxultra.com/ONE Team!
bmxultra.com: Do you think the inclusion of BMX racing in the 2008 Olympics has made an impact on BMX in general?
Kai: I think it's made an impact in the sense that it has increased the general public's awareness of BMX racing.  Before the Olympics, the general public might have very little idea what BMX is, since the Olympics, these same people may now have a reference for BMX racing.  Let me use my own experience to offer an example – you know the sport of "Curling?"  Well, if Curling was not included as a sport in the Winter Olympics, I will probably never know what it is!  I actually find myself to even enjoy watching curling during the Winter Games, but I have yet to try it in real life.
bmxultra.com: Has it made any changes to the way Tioga view BMX racing?
Kai: No – simply because we didn't expect BMX being in the Olympics was going to immediately transform the sport of BMX racing.  We continue to view BMX racing as serving a tight community of dedicated enthusiasts who enjoy the competitive nature of the sport.
bmxultra.com: How have the needs of BMX racers changed over the years from a manufacturers point of view?
Kai: Actually, I think racers' needs have always been same – as far as their equipment is concerned, racers always look for components that give them some advantage.  What's changed is racers are much more knowledgeable than ever – thanks to great innovations by manufacturers and the sharing and accessibility of information from places such as bmxultra.com.  So when Tioga makes certain claims on its products, it better deliver on the promise because racers today are very well informed.
bmxultra.com: How does Tioga approach the cheap immitation tires? I'm sure in ways it's flattering but do you think the cheap and nasty rip offs of Comp IIIs with inferior compounds and poorly aligned molds will effect people's opinion of the Comp III tread pattern at all?
Kai: Wow, tough question!  Yes and no on imitation Comp-III affecting people's opinion on the tread.  For enthusiasts that know the difference between the Tioga Comp-III and the imitations, this isn't an issue for Tioga.  For individuals that don't know there's a difference, they may think that Tioga is behind all Comp-III style treads which obviously reflects badly on Tioga.  Can you make sure all the aspiring BMXers read this interview?
About the Comp III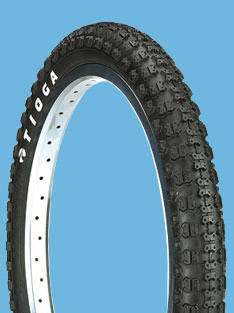 bmxultra.com: I remember the time when Comp III tires were introduced to the racing scene in the early 80's and the huge impact they made. It was the only tire to race with for a whole lot of years. When they first came out they were branded Mitsuboshi (or something similar), how does Tioga fit in the picture?
Kai: Aw, you're making me dig into the Tioga history books eh?  Actually, I can answer this one as I've been asked this many times before.  The short answer is that Mitsuboshi is a manufacturer who developed and produced the Competition III tire with guidance and design input from Tioga.  It's a collaboration between a manufacturer and a design company.
bmxultra.com: The Comp III tire must have been Tioga's bread and butter for a long time, with all the changes in the sport how do you think it is that the tread pattern has managed to stand the test of time?
Kai: Without a doubt, it's all the loyal BMXers that continues to keep the Comp-III tires relevant.  Before the Comp-III, most BMX tire designs were based on motorcycle motocross tires.  The Comp-III tire was the first tire designed exclusively for the specific needs of BMX.  The result was a tread pattern unlike any other with undeniable performance benefits.  To this day, on track or trail conditions with looser dirt, enthusiasts know there's no better tread pattern than the Competition III.
bmxultra.com: The Comp IV tire was the follow up to the Comp III, from memory it was foldable and had a more spaced out tread pattern with smaller tread blocks, it was popular and stuck around for a few years, but why do you think it was out lived by the Comp III?
Kai: Yes, you are right that the Comp-IV knobs are smaller and spread-out compared to the III.  Now I can only guess here but I think that people generally found the III to be better suited for a much greater variety of terrains so they stuck to it.
bmxultra.com: The Comp III tires have been OEM on a number of compete bikes over the years, are they still used as OEM on many brands?
Kai: Yes, the Comp-III are still the preferred OEM tires of Redline, Free Agent, and others.  But while the Comp-III tires will still be available in the future, you will see more complete race bikes making the switch to Tioga's new Power Block tires.
bmxultra.com: There is no doubt about it, the retro BMX thing is here to stay, and many brands are making retro replica complete bikes. Do you have any plans to do any retro replica tires for collectors, or old school enthusiasts?
Kai: Absolutely, it's already in the works!  But you'll have to stay tuned for more official info.
bmxultra.com: Coloured Comp III were very popular in the 80's is there any plans to bring them back?
Kai: We occasionally discuss this internally so the possibility is certainly there, but no immediate plans yet.  You'll be one of the first to know!
bmxultra.com: Tell us about the Comp III 25th anniversary tire. I haven't seen it on the shelves here in Australia, is it a popular tire? Is it limited edition?
Kai: The concept of the 25th Anniversary Comp-III was to modernize the original tread by utilizing lower profile knobs and harder rubber compound to better accommodate today's harder packed race tracks.  While the popularity of the 25th Anniversary Comp-III cannot be compared to the original Comp-III, it has recently started to find its way into the dirt scene here in the US.  Dirt and trail riders are finding that the lower profile 25th Comp-III exhibits a good balance of low rolling resistance and traction so critical for their needs that we are starting to see some sales there.
I'll see what I can do about getting them into more shops in Australia.
bmxultra.com: From memory the Comp range of tires have jumped from Comp IV to Comp X. Were there any designs in between?
Kai: No, not in the "Competition" family. Actually there was a Comp-V, it was a sew-up version of the Comp-III.
bmxultra.com: The Comp X tires have been a very popular and reliable all-round performer, but also very difficult to locate right now, will you continue to make them?
Kai: Thanks and yes, the Comp-X will continue to be available.
Tire tech talk
bmxultra.com: BMX tracks in Australia are very different to the tracks in the US in the way they are surfaced. Since BMX racing in Australia isn't a huge sport there aren't a lot of indoor races so our tracks need to be able to cope with all weather conditions. What tire would you recommend for tracks with a clay base and a sandy surface?
Kai: How thick in the "sandy surface?"  If it's a thin layer of sand, the Power Block should still offer the intended benefits, otherwise I would recommend the Comp-X or Comp-III.
bmxultra.com: What will happen to a tire if you constantly run pressure higher than the maximum recommended pressure? For example I run 80PSI in a tire if it can cope or not, when you weigh around 230lbs, anything less just feels too soft.
Kai: There's no easy answer for this.  In general, I would recommend not exceeding the manufacturer's recommended pressure for safety reasons.  Running higher than recommended pressure increases the likelihood of the tire blowing off while also shortening the life span of the tire (particularly degrading strength of the tire's casing).
bmxultra.com: What will happen if you run less than the recommended tire pressure?
Kai: Similar to over inflating the tire, an under inflated tire also increases the likelihood of the tire coming off the rim (less than optimal bead contact with rim) as well as shortening the life span of the tire.
bmxultra.com: Do you have any tricks to extending the life of a tire?
Kai: Yes, don't skid!  Seriously though, there's really no "tricks" per se but having properly inflated tire is a good start.  People have told me that alternating their tires helps to extend its overall useful life-span but I have no data to confirm or deny this.
I'd like to add that racers who wish to get the most performance out of their race tires should diligently inspect their tires often.  Tires with visible wear are likely to exhibit some loss in intended performance.  I recommend saving a good fresh set of race tires for the crucial races.
bmxultra.com: What is TPI and how does it effect a tire?
kai: "TPI" stands for "Threads Per Inch."  The casing or carcass of the bicycle tire is actually made up of nylon threads that are infused with rubber.  A carcass with less nylon threads require more rubber to fill in the spaces, and as rubber is heavier and harder than nylon threads, results in heavier and stiffer casing or sidewall.  Conversely, a higher thread count carcass utilizes more nylon threads and less rubber so its result is a thinner, lighter weight casing.  There are certainly occasions where stiffer, stronger carcass or sidewall is needed on a tire, but for BMX racing, the lighter casings are optimal.
bmxultra.com: What is the difference between a foldable tire and a standard tire with wire beading?
kai: The bead of the tire is what "locks" the tire in place on the rim.  There are a few different bead reinforcement options for bicycle tires with two types being most common – steel and Kevlar.  Characteristically, steel is hard and not "foldable" compared to Kevlar, which are essentially strands of very strong fibers developed by DuPont – the same materials used for many lightweight bullet proof vests – so tires with Kevlar beads are referred as "foldable."
Besides being able to fold down for ease of storage, Kevlar beads are also much lighter than steel beads (but more expensive) so if reducing weight is important, as it is in racing, Kevlar is a good substitute for steel as reinforcement for the tire bead.
bmxultra.com: Do you use a special type of rubber for Tioga tires?
Kai: Yes, the rubber blend used on Tioga tires are proprietary formulas.  Since each rubber formula yield different riding characteristics, we will apply a specific formula based on the intended usage of a particular tire. Since Tioga offer tires from MTB to BMX, we have developed and formulated many types of rubber formulas unique to Tioga.
bmxultra.com: Do you think with everyone turning to environmentally friendly alternatives that we will see tires made of recycled materials?
Kai: Actually recycled materials are already used to manufacture many bicycle  tires today, though at the moment I don't know to what extent.  But with improved recycling technology and a shared feeling of environmental consciousness among designers and manufacturers, we should see greater use of recycled materials in tire production in the near future.
bmxultra.com: How should people dispose of old tires?
Kai: I know in the US, consumers are free to drop off used tires at their local dealers who are usually set up as collection points with recycling services.  Tires are absolutely recyclable for various other uses so I encourage all to make some efforts to properly dispose of unwanted tires.
The Olympics

bmxultra.com: What did you think of the USA Olympic BMX team race gear and the owed to the Comp III tread pattern with the subtle chequered tread pattern on the white panels? (I tried getting a replica jersey for my collection but was just too slow.) http://www.nike.com/nikelab/site.html?en_US#/product/bmx-jersey-pant/detail
Kai: Wow Shane, you have serious "eagle eyes" to notice the Comp-III knob on the official USA BMX team jersey.  Might I also add that the Olympic host nation, China, also utilized the same design on their uniforms. From what I understand, Nike designers were inspired by the mid 80's BMX visual and even received some design input from BMX legend Bob Haro. Though I'm not sure what inspired them to use the Comp-III knob as a visual element, Tioga is nonetheless flattered that the Comp-III knob is chosen as an iconic symbol of BMX.
bmxultra.com: Were there any riders using Power Block tires at the Olympics?
Kai: Donny Robinson ran the 1.75″ Power Block (still a prototype at the time) in the rear during the Olympics, capturing the Bronze Medal.  At the time, Donny did not have a tire sponsor so he had a choice to run anything he wanted.  Naturally Tioga was thrilled that Donny had confidence in the Power Block to use it in the Olympics!
Spiders everywhere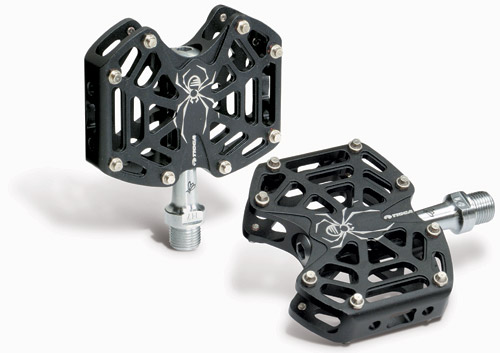 bmxultra.com: What's with the reoccuring spider theme in the pedals and the seat?
Kai: The webbing design first made its debut on Tioga's original Spyder saddle for the road market.  The webbing design is a necessity as the cut outs provided flexibility in the shell needed to create a saddle with an unmatched level of shock absorption in such lightweight package.  The same design concept was applied to the D-Spyder BMX saddle, and though the BMX saddle is made more durable at the expense of greater flexibility, it still offers enough flex for noticeable difference.
In the case of the pedals, the webbing provided not so much a functional purpose but a visual distinction.  Tioga does currently have and will introduce more conventional looking pedals for BMX but for individuals who prefer functional pedals with unique visual presence, the Spyder pedals fits the bill nicely!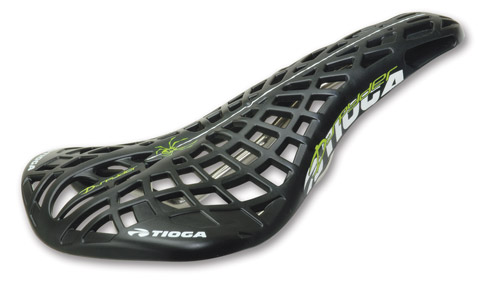 bmxultra.com: Do you think we'll see a Spyder tire?
Kai: Not yet…though we are always looking for ways to limit the use of heavy rubber on the sidewalls so we may start cutting into it like a web to reduce weight…just kidding, but not really, I'm kidding…
What ever happened to…
bmxultra.com: What ever happend with the Factory MX tires?
Kai: The Factory MX was discontinued.  The Factory MX didn't quite find its audience and with the introduction of the Comp-X a few years ago, it didn't make sense to have both models in the line.
bmxultra.com: What about the MX Pro pedals?
Kai: This pedal is still alive and well.  Tioga quietly introduced this pedal about 5 years ago and it continues to enjoy steady demand today.  We will offer less expensive variations of pedals inspired by the MX-PRO design later in the year, but the original MX-PRO will continue to be available.
The current product range
bmxultra.com: Can you tell us more about your racing saddle, pedals and lock-on grips?
Kai: Sure. The D-Spyder saddle is inspired by the simplicity of the plastic BMX saddles popular in the 80's but completely updated with modern technology and aesthetics.  The plastic saddles back then were durable and light weight (relatively speaking), but quite uncomfortable.  The D-Spyder, named for the web-like cutouts of the shell, is designed to conform and flex so the end result is a light weight, durable bare shell saddle that rivals padded saddles in comfort.  It really is quite unique as you can see.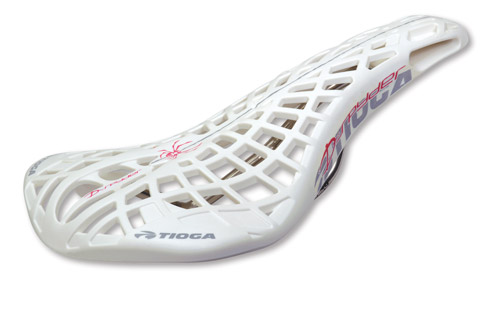 The D-Spyder pedal is super low profile platform pedal that's as durable as it is light.  The unique element of this pedal (besides the unique look) is the application of Tioga's TRPL3 Sealed Bearings in the axle. Instead of choosing larger axle bearings for strength, we applied three smaller sealed bearings to better spread the load to prevent blowing out the bearings while still maintaining a light, low profile body.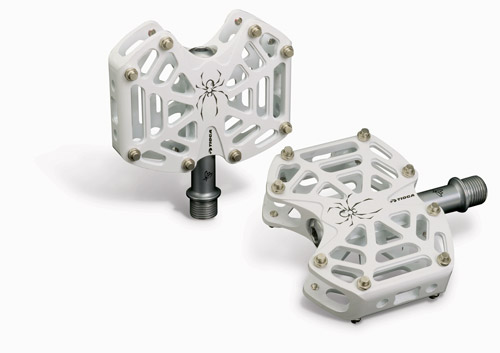 The Slim Lock-On grip, as it's name suggests is a small diameter grip which we feel offer riders better tactile control on the bar.  It's a small change that makes a big difference.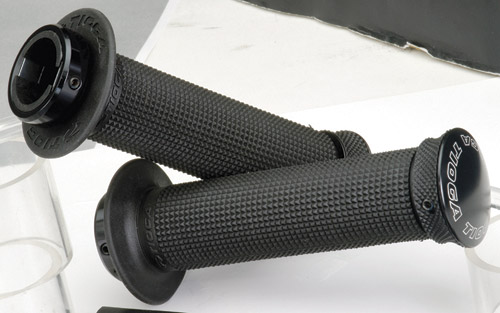 bmxultra.com: Back in the day Tioga produced headsets, chain rings, chain wheels, spiders, and bottom brackets, are there any plans to move into those areas?
Kai: Tioga will continue to look for ways to advance the limits of all components.  I know this sounds like a "corporate answer" but what I mean is that if we feel we can bring something new, fresh or innovative to a particular component, we will do so.
bmxultra.com: Which Tioga pedals would you recommend for the flat pedal racers out there?
Kai: For racers looking for the best Tioga has to offer, there's the MX-Pro or the D-Spyder pedal.  Tioga is currently developing some lower price point options for 2009 so I'll keep you posted.
The Power Block tire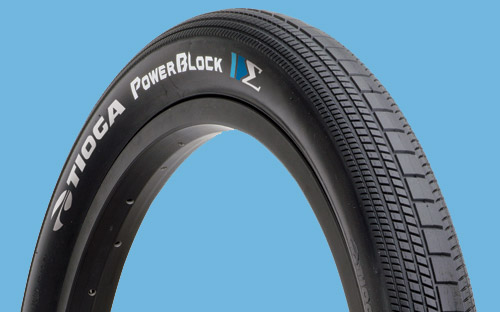 bmxultra.com: Who/what influenced the development of the Power Block tire?
Kai: Racing enthusiasts influenced the development of the Power Block, from the pro level riders to the aspiring racers at local tracks.  Without their knowledge and feedback, we will not be able to deliver our promise that "BMX racing is about to get faster."
bmxultra.com: Who have you been using for feedback for the development of the tire?
Kai: I must admit that Tioga does have an advantage here.  The BMX community in general continues to have such fond respect Tioga that when we approached them about developing a race tire, we were overwhelmed with very valuable insights.  We received feedback from top pros, many of whom are not Tioga sponsored riders (so I won't mention any names!) down to aspiring racers (including parents of many young racers).  But I must single out the guys at Redline Bicycles, from their product guys (JQ, KDB, Steven and gOrk) to their factory team riders for working with Tioga every step of the way to make sure we "got it just right."  With all the support we received from the BMX community, it'd be hard not to have gotten it right!
bmxultra.com: It seems to be a tire that would fit in a category with the ITS micro knobby and Kenda Small Black Eight, with low profile tread that looks like it would be perfect for indoor racing. The micro knobby and the Small Block Eight aren't much good in the mud though. How will the Tioga Power Block be any different?
Kai: Actually Shane, I would not put the Power Block in the same category as the Micro Knobby and the Small Block Eight.  To be sure, I respect those tires as they brought in innovative ideas in their own right.  What sets the Power Block apart is that it's designed to complement the racer. Racers' movements and maneuvers are distinct at starts, at turns, and at sprints.  Accordingly, the Power Block tread is designed so that very little momentum is lost during these transfers.  The Power Block is about generating and retaining momentum – it's beyond fast rolling or corner gripping which it already encompasses.
Now back to your question about mud performance.  The Power Block is indeed designed for harder pack courses.  Mud is a whole different element that requires a different solution than the Power Block.  For muddy conditions, I recommend the Tioga Comp-X.
bmxultra.com: Are Power Block tires directional?
kai: Yes.  If you notice the knobs to the sides of the central tread zone, they are arranged diagonally and both sides together sort of "points" to the direction the tire should roll.  Also, closer inspection of the center block knobs show slight ramping in the direction the tire should roll – this ramping helps to reduce rolling resistance once the tire gets rolling.
bmxultra.com: What sizes will the power block be available in?
Kai: 24×2.1; 24×1.75; 20×2.1; 20×1.95; 20×1.75; 20×1.60; 20×1-3/8; 20×1-1/8
bmxultra.com: When do you expect that the Power Block will be available to the public?
Kai: January 2009

Comp III 25th Anniversary

Comp X

Factory MX
Posted in: Interviews