Troy Lee Designs with Johnny Jump
About Johnny Jump…
bmxultra.com: How did you first get involved with TLD?
Johnny: I started 9 years ago right out of college. I had raced BMX when I was a kid and rode motocross growing up. I had to sell my dirt bike to go to college and then bought a mountain bike. When I started racing I bought a Troy Lee Designs/Shoei RC3 helmet from the local bike shop. I thought that was the coolest MTB helmet cuz it was a TLD. After graduation, I replied to a newspaper ad and interviewed, right away I was flown out to Vermont for a NORBA MTB national setting up booths and selling product.
bmxultra.com: What do you do at TLD?
Johnny: I started as handling distributor sales, including all export, domestic MX dealer sales, marketing, and pricing for all products. I wrote all the copy for the ad's, catalogs, brochures, etc. I still proof and write some of the copy for these things. Soon, I started a small domestic sales force and was able to focus mainly on distributors around the world, trying to dial in most major countries. When I started we had 13 exporters, 2 years ago when I stopped, we had more than 60 distributors in 43 different countries. I handed off the export/distributor responsibilities to "Big" Chris Scott here in my office. I now work with sales to bring new products to the table, oversee product development to create and manufacture these products, then see these products through the sales "life" of the products. Including sourcing, pricing, ads, forecasting, inventory, testing (that's the good part), and finally when to finish it off.
bmxultra.com: What's your favourite part of your job?
Johnny: Coming up with ideas for new products and actually seeing them work. Good sales, means that people dig 'em.
bmxultra.com: Is it just a coincedence that your surname is Jump and you work at TLD or does Troy make people change their name to something cool when you join?
Johnny: yea yea yea, Troy calls me "Can't Jump", like that is what I was s'posed to be named. I think I might be the best jumper we got, employed that is.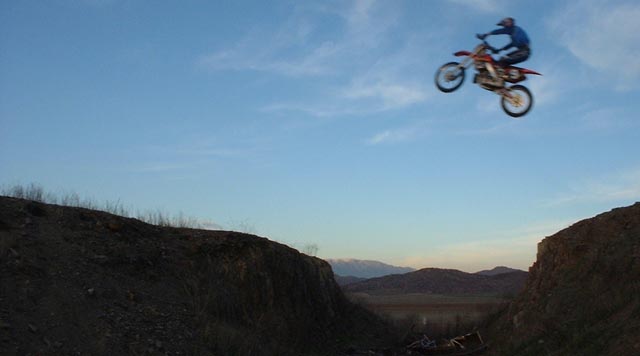 How TLD all began…
bmxultra.com: When and how did TLD start?
Johnny: 1981, Troy Lee was racing professional motocross for the Pro Circuit/Husqvarna team out of Aneheim Calif. his dad was a well known artist so Troy was always messing with paints. He always painted his own helmets with his name and number, but he decided to do a really cool one. All his buddies, Danny McGoo Chandler, Jeff Ward, Goat Breker, etc saw it at the races the next day and were all, "dude can you paint me one?". He started doing them for a lot of the local pros and after a while he had so many he could hardly make time to train for racing. Obviously he hung it up and started up shop, in his garage!
bmxultra.com: What was the original audience for TLD products?
Johnny: Motocrossers and BMXers, He made a visor in 1984 to replace the Bell 3 snap visors. It fit right onto the helmet all snug and clean, everyone had to have one. Bell ended up copying it and offering OEM without his consent. Then in 1986/1987 he created the Aero II visor. Every BMXer south of the Mississipi had to have one, they were sweet!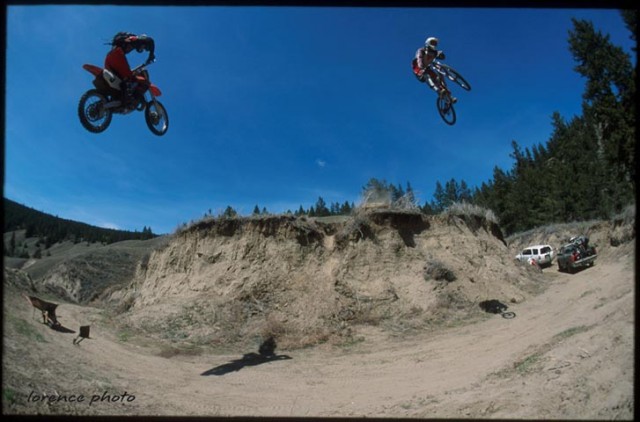 bmxultra.com: How long did it take for TLD to start exporting?
Johnny: In 1986 with the Aero II, Japanese FET Trading, customers started contacting him from all over the world. All the top guys ran Troy Lee Designs visors and a lot of them had painted helmets too.
bmxultra.com: With Troy's MX background how did he ever get involved in BMX?
Johnny: BMX is Motocross with human powered motors. It didn't take too much for a BMXer to want a TLD visor on his lid, to be the sh!t. Half the guys who worked here rode BMX. It's whatever your involved with. Everything is a natural progression. Mountain biking came around, Motocrossers were MTB'ing to get in shape and then we were involved with MTB. Luckily no one here races horses or something. Heck, we've got rally car drivers wearing XC gloves now?
bmxultra.com: Does Troy still have an active involvement in the company?
Johnny: Of course, he's here almost everyday. He plays a major role in the product development, designs, racer support, etc. He is a friend of about every single racer we help out. Most of the time the way we end up helping guys are from Troy's relationships with the riders. He can see eye to eye with them, as he used to be in their shoes, so to speak.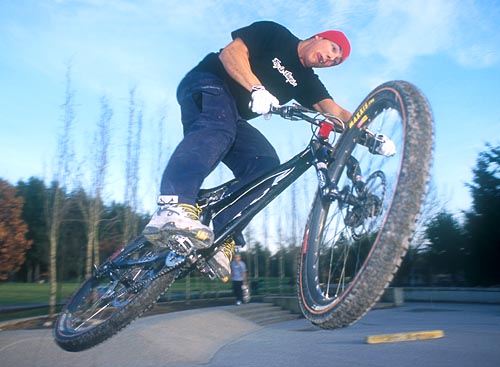 bmxultra.com: Does Troy still paint helmets or design t-shirts?
Johnny: ALL of the above. He has his hands in every single aspect of this company. We all handle the day  to day activities, but he has the final say on each.
bmxultra.com: Does Troy still race?
Johnny: He's racing the Pike's Peak race at the end of this month on a Husky 610. He is racing a rally car race next month for Hyundai. He rides Motocross every week and races a few times a month. He IS the fastest rider that works here, hands down.
TLD and Sponsorship…
bmxultra.com: Which BMXers are sponsored by TLD?
Johnny: Danny Nelson, Thomas Allier, Robert DeWilde, John Purse, Christophe Leveque, John Smart, Jamie Lilly, Jarl  Jenson, Craig Sainsbury, Team bmxultra.com, haha
bmxultra.com: Ok, let's talk about sponsorship, you must have a bunch of people everyday asking you to hook them up?
Johnny: Uh yeah, a few thousand a year.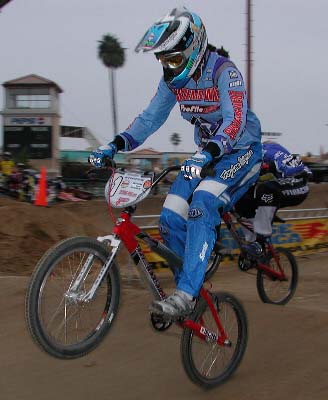 bmxultra.com: What does it take to be sponsored by TLD?
Johnny: Good penmanship? cute sister?
bmxultra.com: Has Troy ever seen someone ride and said "I want this guy to ride for us"?
Johnny: Yeah, all the time. Actually, that's how we got John Smart. Practically, Shaun Palmer too!
TLD and the internet and promotion…
bmxultra.com: How important is the web for TLD sales and promotions? 
Johnny: Pretty Important. My Goal is to show EVERY SINGLE ASPECT of our company on the web, its a tool that no catalog or story can keep up with, when done right. Its just a tough job getting it to that point. Never ending battle.
bmxultra.com: Which websites do you work with and why?
Johnny: Supercross.com, Cyclenews.com, bmxultra.com, BMXBible.com, BSX.com, MTBR.com, broform.com, MXGIRLS.com, thats all I can think of. Cool people, cool sites, good results. Hey, I check web results and news all the time. I imagine, I'm not the only one who does it.
bmxultra.com: Do you still do trade shows and events to promote your products?
Johnny: Of course, we have to. Really we need to get our sales force more involved with that. It is always hard to try and get these guys to wanna work on weekends to promote the products.  Usually it's damn fun, it is just hard to get people to commit anymore.
bmxultra.com: …has any of that changed since 9/11?
Johnny: No, hey we take our business relations seriously. it's really hard to build the relationships that we have with our dealers, distributors, vendors, artists, etc. We need to be sure that each and every day we take care of them and work closely with them to make sure business continues to run smoothly. I think 9/11 has made all of us realize that you cannot take anything for  granted anymore.
bmxultra.com: I work in the software industry where someone will come up with an idea then announce it on their website and the next day all their competitors will say they have a new idea which is the same thing…does that happen to TLD?
Johnny: There are few people that have done that to us, not too much lately, but then again, we might have found some ideas on other peoples products that work good too.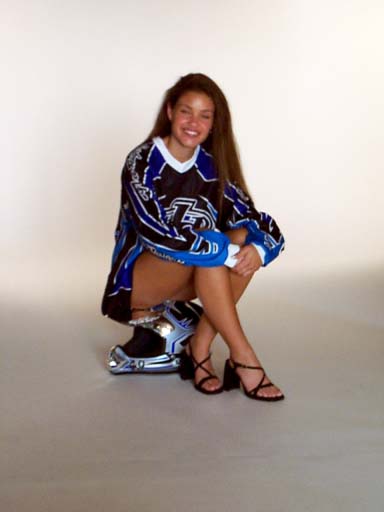 The famous TLD lobby…
bmxultra.com: Who's idea was it to do the full interactive view of the famous TLD lobby on the website?
Johnny: A friend of mine brought me a CD of some chicks at the races, and it was 360 degree, pretty fresh. We were rappin about it and he said he could come in and do one of our showroom. I said to him,"when can you be here". After that, we set it up online. It's cool! But, you should see it in person!
bmxultra.com: What's your favourite thing hanging up in the lobby?
Johnny: Shaun Palmer's 1996 World Championship custom painted Intense DH Bike that he got 2nd behind Nicco on OR the 1981 DMC Eddie Hicks "WERX" YZ 80 Mini with aluminum tank, frame, handmade swingarm, triple clamps, hubs, machined fork legs, front and rear disc brakes(1981?) Water cooled(1981???), it is FRESH!
bmxultra.com: I was in awe when I saw the Shaun Palmer Intense hanging in the Lobby and the indy car…is that stuff on loan or is it all part of Troy's personal collection?
Johnny: It is all the athlete's stuff, they like Troy to have it. He get's people to see it, they would never see it in someone's  house or in a warehouse, etc.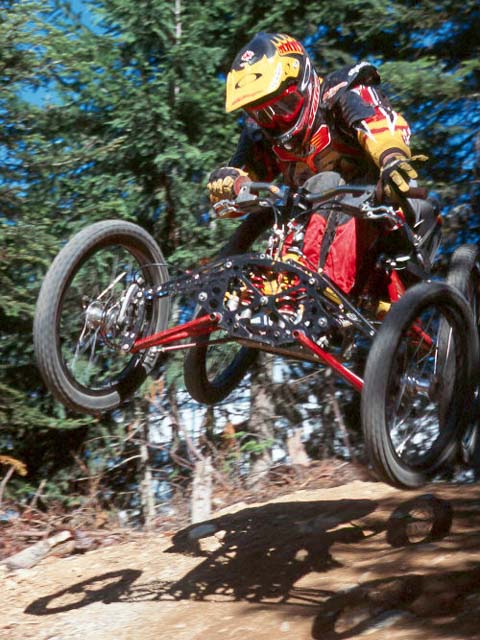 bmxultra.com: Is anyone allowed to go to TLD head office to check out the lobby and buy products?
Johnny: Of course, we get people everyday buying products, getting custom helmets designed, picking up brochures, checking out the receptionist!
TLD and the movies…
bmxultra.com: How did you get involved with "The Fast and the Furious"?
Johnny: Troy did that, he is friends with James Cameron "Titanic" so he finds out weird stuff all the time. They wanted to have the movie show what the radical side of speed and racing was about. AKA: the d2 helmets, the showroom of the road race helmets, the graphics on the Celica Supra, etc.
bmxultra.com: So Troy is often rubbing shoulders with Hollywood's finest?
Johnny: I don't know about that, but he does have more and more friends in that industry due to Day in the Dirt, etc…
bmxultra.com: Did you get to meet any of those guys in the film?
Johnny: Troy did, he was down in Long Beach for many of the shots where the helmets were included. They wanted Troy to do some of the stunt stuff, he's like, "I'll pass. thanks for the invite though! " haha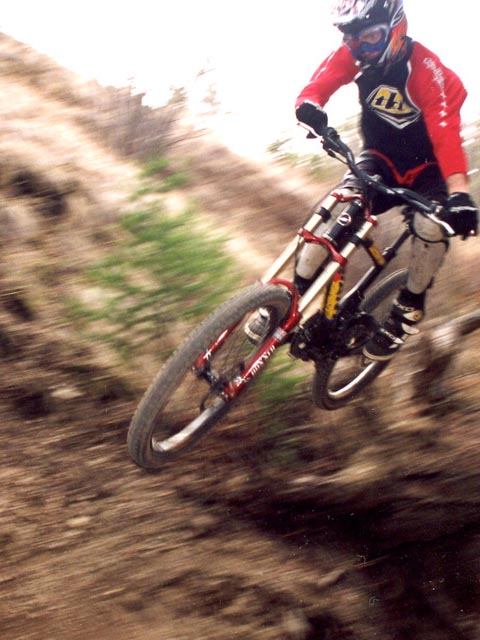 bmxultra.com: Are there any other films that you have done work for?
Johnny: Yeah, the movie Motocross from Disney, haha, many garage style MTB films, we have done helmets for Ashley Judd, Arnold Schwarzenegger, Charlie's Angels, Brian Setzer, Dennis Donnell(Social Distortion) to name a few…
bmxultra.com: With the extra publicity through the movies do you think people will be considering TLD a "sell out"?
Johnny: I hope not. Hell, our sh!t is more underground than most of the products out there. We appear big, cuz we like to do everything top notch.
bmxultra.com: Do you do a lot of cars now since The Fast and The Furious?
Johnny: No not really, we dont paint cars. We have done some special edition Auto Graphics for a few different companies though.
Working at TLD…
bmxultra.com: How many people are employed at TLD?
Johnny: 40 or so…
bmxultra.com: How can people come to work there?
Johnny: Wait till we need someone or find something you can do here and show that we need you!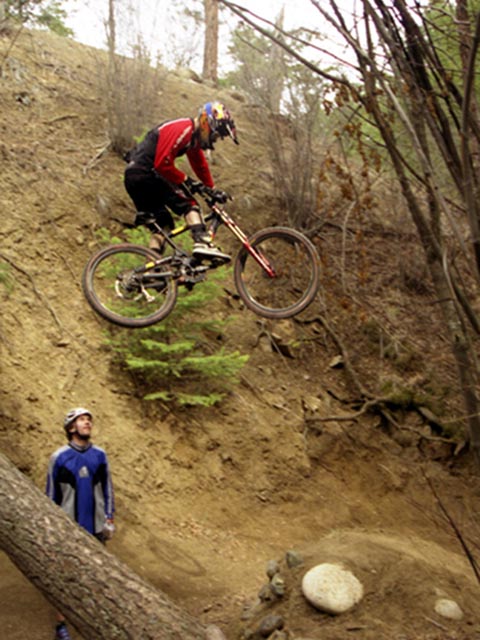 bmxultra.com: What are the types of job roles in at TLD?
Johnny: I think almost everything. Product development, design, purchasing, sales, shipping, receiving, packaging, receptionists, helmet painting, preparation, helmet painting, accounts payable, accounts receivable, invoicing, you know, all the fun stuff!
bmxultra.com: How many designers, painters, etc?
Johnny: 3 designers, 6 painters, and Troy.
bmxultra.com: Is your job the typical 9-5 office job?
Johnny: Mine? Nope? I meet almost every morning with some aspect of design, purchasing, or sales, or any combination of the above. Unfortunately, I don't get out of the office until around 7 pm or so each night. I leave early a couple times a week to get a ride in (MTB/MX) but that's the schedule.
bmxultra.com: With the crazy hours you do, do you ever think, there must be an easier way to make a living?
Johnny: Yea, got any ideas?
bmxultra.com: You must really look forward to weekends and holidays?
Johnny: I do, except one thing every country in the world has different holidays that we do. And Many work during Saturdays also. Not to mention, we are behind the 8 ball on Mondays already every country has had their Monday before us. It is so hard to get ahead that way. Here's a little side note for you, my chick is a teacher, when she is sick she has a substitute come in and take care of business. When I'm (we're) sick or miss work, the work is still here. Like when your in school, you get behind on your homework, you'll be behind until the next semester starts!
About the products…
bmxultra.com: What's available in the TLD product range?
Johnny: Our goal is to offer a complete kit for BMX/MTB/MX racers and trail riders(training for racing). We offer, helmets, jerseys, gloves, pants/shorts, protection, casuals, luggage and accessories.
bmxultra.com: What is the best selling item to the BMX market?
Johnny: The D2 by FAR, it RIPS!
bmxultra.com: What's your favourite item?
Johnny: The D2 Helmet, cuz it's better than any other helmet in its class. Next would be the Combat Guards – Shorty, cuz they were my first project and they are badass!!!
bmxultra.com: TLD put out a catalog twice a year. I must say it's the most awesome catalog I've ever seen and each one just gets better everytime you put a new one out. How hard is it to do a catalog like that so frequently?
Johnny: We actually found that were confusing our customers too much, so were going back to one catalog per year and a supplement in spring whent he hot weather products come in. our customers are basic. They just want to know what you have. We don't need to confuse them by offering too many things or too many new things.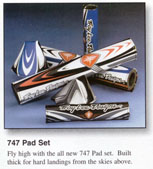 bmxultra.com: It was 2000 when the 747 BMX pads and plate came out, have you guys started working on any new designs?
Johnny: Yeah, we have some cool designs on the drawing board now. Wait a month or two. You'll see.
bmxultra.com: If someone has a really cool design or idea and they send it to you would you use it?
Johnny: Yeah, if we all dig it, of course. We have a lot of things like that.
bmxultra.com: What do you think of these: BMX pads with a pocket to hold car key(s) while you race.
Johnny: Sounds cool. But 75% of the riders don't even own car keys, haha, I think kids would put there stash in there while they are dirt jumping. Good idea? haha
bmxultra.com: TLD goggles.
Johnny: Yeah, people have said that for a long time. We've even talked about wild or cool goggle straps that fit on Dragon, Oakley, Spy, Smith, Arnette's etc. It's hard to do everything. Those guys have cool stuff already.
bmxultra.com: or what about MTB/BMX shoes.
Johnny: Go to www.alpinestars.com
bmxultra.com: Since the movie "The Fast and The Furious" has TLD been looking at making a D2 style helmet for Motorbike riders and truck hijackers?
Johnny: We always are working on something man. I don't know about truck hijackers. If anything we'll develop a way to hang them bastards!
bmxultra.com: TLD products are high quality, but not cheap, do you think that has worked against the growth of the company?
Johnny: Yea a bit, however EVERYONE perceives TLD as High Quality. Even though not EVERYTHING we build is the best, the intention was for it to be. It's sorta hard, you definitely don't want every kook at the track wearing your stuff, otherwise the cool kids won't want to wear it anymore.
bmxultra.com: Are there countries that suffer because of exchange rates?
Johnny: Uh, EVERY!? Especially Australia.
bmxultra.com: Is there anything you can do about it?
Johnny: We try to offer special prices for it. It's hard though, we have to pay for the products that we have on the shelves and we need to pay the people to design them and ship them out. You can only lower prices so much.
bmxultra.com: How much does it cost for a custom paint job for a helmet?
Johnny: Minimum: $450.00, Average: $700, Maximum ? $1,500-$2,000.00
bmxultra.com: How long is the wait for a custom paint job?
Johnny: Anywhere from 8 to 16 weeks depending on the seasons.
bmxultra.com: Are all of your products made in USA?
Johnny: Nope, tee shirts, stickers yeah, but for the most part the rest is made overseas. We must to compete in our market.
bmxultra.com: How do you ensure that every product is is a high quality?
Johnny: Cross all your t's and dot your i's. When it comes into stock, make sure it's right. It's not that hard. The company is small. E.g. stickers won't fade – UV coat them, t-shirt colours don't run – wash em, t-shirts don't shrink – wash em again. That sort of thing.
bmxultra.com: Is there anything new on the cards?
Johnny: Yea, we have some sweet new graphics coming out for the D2's and also a Freeride Shorty Visor that allows for more visibility and better airflow for high speed DH/BMX.
You can check out the lobby and online catalog at www.troyleedesigns.com.

Posted in: Interviews