Anarchy Australia team update
Anarchy Australia press release
The Anarachy Australia team have been ripping it up from coast to coast.
Kat Hopkins second at State Championships
Kat Hopkins finished second in the Elite Women's class at the Western Australian State Championships on the weekend. Cat took 2-2-2-2 in the qualifying heats and second in the final to top off a great year.
James Lautier second at Cash Dash
James Lautier was on the podium again at the Cash Dash. After going 3-1-1 in the qualifying heats and following that up with a win in his semi final James was looking the goods for a win. A small mistake on the first jump cost James but he made up ground down the first straight and pulled clear into second place where he stayed until the line.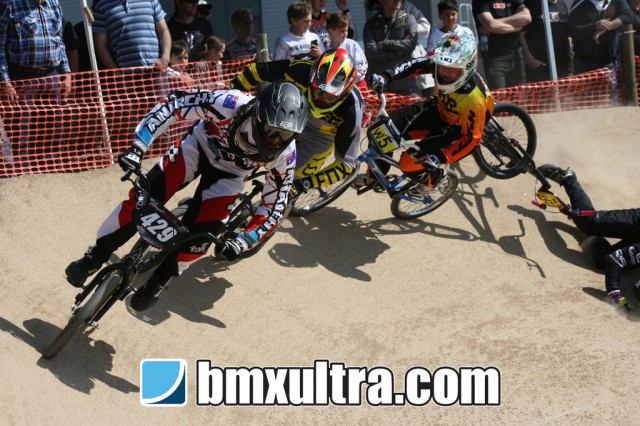 About Anarchy BMX Australia
2012 saw the rebirth year for Anarchy, new owner, new identity, new bike, new team.
Starting with the heritage, of the original Anarchy Race Frames, we have gone back to the drawing board and built the best 7005 Race frame we could. We use Easton ULR Ultra Light Race Tubing that features Easton's taper wall technology, we have lowered the profile to be light, stiff and responsive, the seat stays utilize a pierced wishbone design to offer a sleek look and an elongated weld area, not to mention a cool place for the Anarchy A logo at the end.
The CNC'd dropouts are extra thick where your axle bolts on to optimize the stiffness and strength while minimizing weight. Pass through cable guides show the race lineage by making it easy to tear down for travel and allowing the full length housing for optimal braking.
The Australian Anarchy factory team includes Victorian Pro James Lautier and Western Australian Pro Cat Hopkins.
For more information about Anarchy BMX products check out www.anarchybmx.com or visit our Facebook page at www.facebook.com/pages/Anarchy-BMX-Australia/
If you would like to purchase Anarchy BMX products in Australia please have your local bike shop contact us. Please note, we do not sell direct to the public. We support the Australian BMX Industry! Do You?
For more information and dealer enquiries email sxaustralia@supercrossbmx.com.
The Anarchy BMX Australia team is co-sponsored by Madera, Supercross BMX, Speedline Parts, Alienation, bmxultra.com and Dirt Designs.
Posted in: News