Supercross BMX Team update
Supercross BMX Australia press release
Esther Woodward
Esther Woodward has been focusing on her jumping and it showed at the Cash Dash where she was leaps and bounds ahead of the field. Esther took straight wins in her qualifying heats. When the gate dropped in the main she got away with an early lead and kept building on it.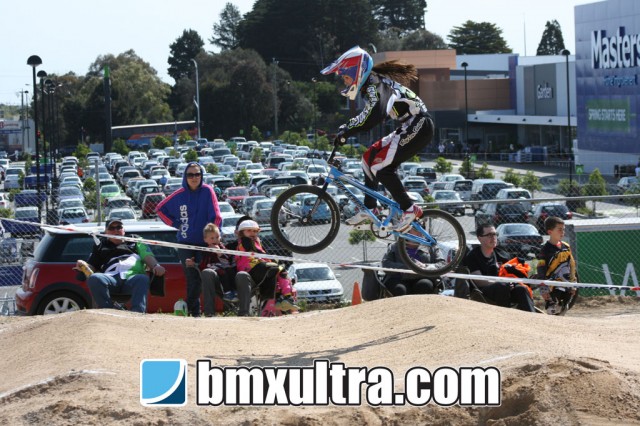 Jade McPherson
Jade returned to the bike in fine style at the Western Australian State Championships. After more than a year off the bike Jade blitzed the 30+ Class with straight wins in his heats. He then went on to win his semi and the final.
Peter Little
Peter was racing in the Junior Elite Men's class at the Queensland State Championships. He made the main with a 2-5-5 in his heats. Despite having to start from lane 8 Peter finished up with fifth place.
The Supercross BMX Australia factory team is co-sponsored by Alienation, Speedline Parts, Dirt Designs, and bmxultra.com.
2014 Supercross Catalog
Don't forget to check out the 2014 Supercross BMX Catalog. There's bound to be something there to whet your appetite.
https://bmxultra.com/news/the-2014-supercross-bmx-catalog/
About Supercross BMX Australia
Supercross BMX Australia are supporters of BSX and the Royal Children's Hospital and while we have our own Supercross and Speedline/Supercross teams we also co-sponsor the bmxultra.com team and the Anarchy Australia team.
Did you know that Supercross BMX Australia is the exclusive distributor for Supercross, Speedline and Anarchy products?
We only sell our products through reputable stores who can provide you with the service and expertise that will help you get the most out of your bike and your dollar.
If someone walks up to you and asks you if you are interested in buying any of these products ask them what store they are associated with, ask them what their post sales support is like, ask them if they offer a Supercross standard crash replacement warranty, ask them where the money goes. Most importantly ask a Supercross dealer for a quote before you make a big mistake and hand your hard earned cash over to the wrong person.
Supercross only offer warranty and support for the products purchased through our approved dealers.
We are proud to support local industry and local riders who also buy local.
To find out more information about Supercross BMX products, Anarchy BMX frames and Speedline Parts check www.supercrossbmx.com.au
If you would like to purchase Supercross BMX products in Australia please have your local bike shop contact us. Please note, we do not sell direct to the public. We support the Australian BMX Industry! Do You?
For more information and dealer enquiries email sxaustralia@supercrossbmx.com.
Posted in: News